Shopping is a wonderful experience for all, but wait is it true? Well, not for the pet parents. For pet parents shopping is nothing but a stressful experience. As pets are not allowed everywhere they have to unwillingly leave them alone at home.
Homebase[1] is one of the retailers and garden centres with stores spread across the entire UK and Republic of Ireland. With around 144 stores and 5600 team members, Homebase is one of the well-known hardware stores all over the UK.
Many of you might have visited Homebase, but are they dog-friendly? Are dogs allowed in the Homebase store? Here in this blog, we will try to provide you with all the required information saving your browsing time.
Why You Might Want To Bring Your Dog to Homebase?
There are many reasons why you may want to take your dog to Homebase. Here are a few of those reasons: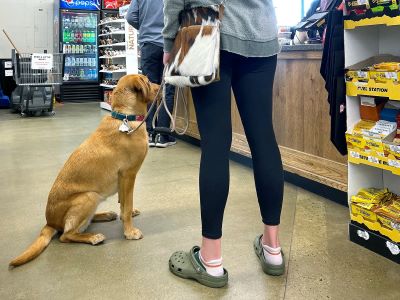 You don't wish to leave your dog alone:
One of the most prominent reasons why you may want to take your dog along with you to Homebase is not leaving them alone. Being a paw parent you have only love and affection towards your fur baby and want to make them part of everyday activities.
As mentioned by Wendy Bedwell Wilson, in bechewy, "It's common for dogs to whine or fuss a bit when you're leaving the house without them—they don't want to be left out! But a true anxious episode might persist the entire time you're gone, and could have harmful physical and mental effects on your dog."
To enjoy the shopping experience:
Shopping with your dog is really great experience, as you no longer have to worry about them being alone at home and can enjoy the entire day with them.
Shopping with your dog may help strengthen your bonding with them. It is a great thing to do to deepen your connection and make your fur baby feel loved. By accompanying them you provide them assurance that they will never be left alone.
Homebase Official Policy Regarding Dogs
According to official policy regarding dogs, Homebase allows only service dogs. Service dogs[2] are dogs trained to accompany disabled people. However, they claim to be dog-friendly and some of their stores allow dogs but may have to follow certain rules.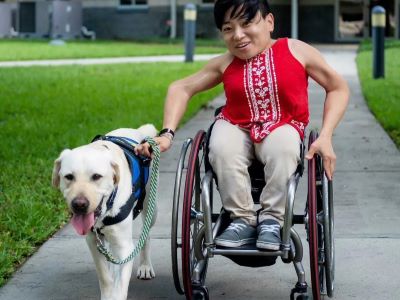 Whenever you are taking your pet along with you for shopping you must keep the following things in mind:
A dog should be on a leash.
A dog should be well-behaved.
Damage to any property by a dog will be charged to the owner.
Protection of pets is the responsibility of pet parents.
If your dog dirties the place, it's your responsibility to clean it up.
How Dog-Friendly Are Homebase Locations in Reality?
How dog-friendly are Homebase locations, in reality, can only be known by the customer's experiences:
Positive experience:
According to some customers, the Homebase store's staff was extremely understanding and helpful. They not only wholeheartedly welcomed them but also provided them with facilities like a cart, water bowl, treats etc.
Negative experience:
Some customers claim to have negative experiences too. As per them, their dogs were not allowed in the store as some of the staff members were allergic to dogs. There were constant complaints of dogs barking and creating disturbance from their side.
Thus, how dog-friendly Homebase locations are is not based on just their dog-related policy but is dependent on the behaviour of staff and other customers too.
FAQs
Can I bring my dog to Homebase?
According to Homebase's official policy, only service dogs are allowed in the store, however, there are many Homebase stores that allow dogs. As long as your dog is on a leash and is well-behaved, some of the Homebase stores welcome them.
How can I make sure my dog behaves well at Homebase?
Dogs tend to get anxious in unfamiliar places and behave recklessly. So if your dog is paying a visit to a Homebase store, you need to be careful. To make sure your dog is well-behaved train your dog to follow your command and often take them to new places so that they get habitual to it.
How can I find out if my local Homebase allows dogs?
To find out if your local Homebase allows a dog or not you can either directly pay a visit to the nearby Homebase and get the details regarding their dog policy or get information through their website. On their Homebase website, numbers of all their stores are available, you can even call them and seek the information.
What are the risks of bringing my dog to Homebase?
Accompanying your dog along with you to Homebase can be risky and be the reason for headaches for you. Homebase is a hardware store, so there are higher chances of your dog injuring himself and apart from that if he accidentally damages any store equipment then you may have to pay for it too.
Are there any other stores that allow dogs?
Yes, there are many other stores that allow dogs. Stores like John Lewis, Marks & Spencer, and Pets at Home including many other stores in the UK allow dogs in stores and have dog-friendly policies too.
Conclusion
Pet parents want their fur babies to accompany them wherever they go, but not every place is dog-friendly. So before you decide to go on a shopping spree with your dog it is good to get information about that place beforehand in order to avoid any discomfort.
In this blog, we tried to provide sufficient information on whether you can take your dog to the Homebase store or not. We hope that this information turns out to be helpful for you.
Reference:
Wikipedia contributors. (2023, September 12). Homebase. Wikipedia.
Purdue News Service. (n.d.). Service dogs benefit the well-being of their handlers, research shows. Purdue University News.