As a dog parent, you have to take care of your dog, you cannot leave him alone at home. And that is the sign of a good dog owner. But are dogs allowed in post offices of Uk? You must have faced these kinds of questions till now, whenever you want to go out with your dog, you have to check the rules and regulations of whether that place weather they allows dogs or not.
Post offices in the UK are not dog friendly. You are not allowed to take dogs to the post office unless they are assistants or guide dogs. In the UK assistance and guide dogs are allowed almost everywhere, including in post offices.
Unfortunately, pet dogs are strictly prohibited in the post office. Because of the risk of nuisance and disturbance. Let us discuss other reasons why dogs are not allowed in the post office of the UK.
Dogs in Post Offices in the Uk
As dogs are not welcome in the post office because of many reasons. But if you have assistance or a guide dog, then they are allowed because the person who is having an assistance dog must be physically challenged and cannot walk without their dog.
According to Assistance Dogs UK "Assistance dogs are trained to support disabled people and people with medical conditions in a variety of ways. From guide dogs to medical alert dogs, from autism dogs to hearing dogs, assistance dogs change, and often save, the lives of their owners and their families."
So the question of nuisance and disturbance can not arise with assistance dogs. They are well-trained to behave well with people in public places.
Why Dogs Are Not Allowed in the Post Office?
You might be wondering if you have a very small breed of dog and he doesn't even bark at someone, then why is your dog not allowed? The answer to this question is, It is not all about nuisance and disturbance in the post office. Rules must be the same for all.
The post office is a workplace and the workplace must be safe for its employees. What if a dog is aggressive and bites someone? Not only that but also If someone is allergic to dogs and finds dogs in their office, they will face some serious health issues.
Moreover, many dogs also carry germs with them and someone can get infected if they leave those harmful bacteria behind. Additionally, if the dog does his business there, the question of cleaning will remain the same. Therefore, it is better to keep dogs outside of the office.
What to Do If You Have an Assistance Dog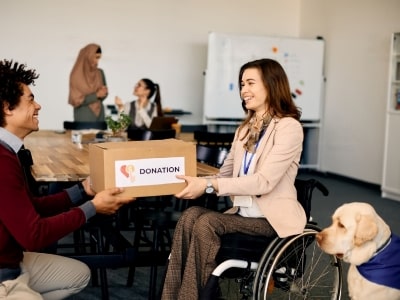 Before you take your dog out in public, there are some measures you should consider.
Train your dog with commands. Master basic skills to control your dog in a panic situation like Teach sit, down, leave it, and go to your bed. This will help you to remain relaxed in public as you know he will obey your command.
Socialize your dog. Take him to the crowded places gradually. Introduce him one by one to people so he gets familiar with strangers and doesn't get panic or anxious in public. For this, you can use a reward system.
Also, you should tie his identification and harness on the whole time. He should be easily recognized by the security at the gate. so they you enter with the dog.
Generally, assistance dogs are allowed everywhere, including in the post office. But it would be better if you read their guidelines before you left home. In case they have any special requirements.
Lastly, if you can bring someone with you then that would be more convenient for you. So pre-plan accordingly.
FAQs
Are dogs allowed in post offices in the UK?
Except for assistance or guide dogs, dogs are not allowed in the post office in the UK.
What is the penalty for bringing a dog into a post office in the UK?
There is no specific penalty mentioned by them. But office staff might ask you to leave the office, in case you bring a dog without their permission
Are there any exceptions to the rule of not allowing dogs in post offices in the UK?
There is no specific rule for it but some post office allows dogs because they are located inside a larger store. Therefore, it is better to check their guidelines before you visit there.
Why are dogs not allowed in post offices in the UK?
Dogs are not allowed in post offices for the welfare of the staff and hygiene of the office premises. Also, it is to avoid the good for the safety of customers.
Conclusion
Your doubt about whether are dogs allowed in post offices in the UK must be solved. We can conclude that in the UK dogs are not allowed in the post office. But if you have assistance or a guide dog, you can bring your dog with you with some precautions.
Definitely, exceptions are always there as some post office allows pet dogs, but most of them don't. Therefore, you should check the instruction of the post office before you visit the post office.
Reference:
Government Digital Service. (2014b, November 19). Controlling your dog in public. GOV.UK. Retrieved February 16, 2023, from https://www.gov.uk/control-dog-public
Blue Cross. (n.d.). Dog laws UK. Retrieved February 16, 2023, from https://www.bluecross.org.uk/advice/dog/wellbeing-and-care/dog-laws-uk
nidirect. (2022, November 1). Controlling your dog in public. Nidirect. Retrieved February 16, 2023, from https://www.nidirect.gov.uk/articles/controlling-your-dog-public
Information for Service Providers. (2022, August 30). ADUK. https://www.assistancedogs.org.uk/the-law/