A cockapoo's coat is unique and it varies in length, colour, and texture. As a cockapoo dog owner, you know that to maintain a good coat condition you'll have to trim or cut their hair at regular intervals. Also, for the best grooming experience, you will need the best dog clippers for cockapoo. So, if you were seeking a dog clipper for your furry friend then your search ends here.
This article includes a well-curated list of some of the best dog clippers for cockapoos. You will also find useful information regarding the different features of dog clippers, the benefits of using dog clippers, factors affecting their prices, tips on usage, drawbacks and things you must avoid while using a dog clipper for grooming your cockapoo.
Best Dog Clippers for Cockapoo
A dog clipper is a crucial device that helps maintain a dog's coat health and improve the overall grooming experience. The dog clipper helps in trimming or shaving the hair of your cockapoo to keep it clean and prevent possible issues like infection or skin irritations.
However, there are many dog clipper devices available and each has their unique design and specification. You need to pick the one which suits your cockapoo friend and can provide the best results. So, below are some of the dog clipping devices that you can consider for your cockapoo.
1. Pet Union Professional Dog Grooming Clippers
To groom a cockapoo with a thick coat layer, Pet Union Professional Dog Grooming Clippers are very helpful. It has double-sided stainless steel blades with low vibration design which ensures a safe and pressure-free grooming experience. The low-vibrating precision motor makes sure there is less noise from the device while operating.
In addition, the device is made such that you can access areas such as the tail, paws, and face in your cockapoo for minor touch-ups.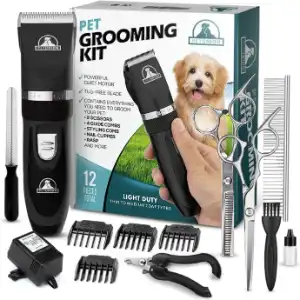 Key Features:
Tug-free blade
Powerful quiet motor
Low-vibration and Low-noise
Further, the manufacturer provides a complete grooming kit, which includes scissors, nail clippers, a trimmer, dog thinning scissors, and a few sets of brushes for styling and grooming.
Perks
Cordless dog clippers
Ergonomic design and rechargeable battery
Precision-titanium cut blades, no risk of dog hair getting snagged or pulled
Drawbacks
Not suitable for long-term grooming
2. Oneisall Dog Clippers
If you need a dog clipper that has an adjustable speed motor that facilitates quick trimming then, Oneisall Dog Clippers are suitable for your cockapoo. The design of this dog clipper is such that it can easily cut through the thick fur of your cockapoo without pulling out the hair.
Also, the heavy-duty motor of this dog clipper allows dog owners to adjust the speed and provide the trim to their cockapoo accordingly.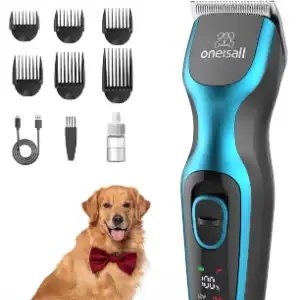 Key Features:
Low noise design
Sharp carbon metal blade
Adjustable speed motor (heavy duty)
Additionally, the sound of the clipper remains below 50dB so, your furry friend is likely to face any issues while you are trimming the fur.
Perks
Long-lasting battery
Removable blade for easy hair cleaning
Cordless dog clippers provide more flexibility
Drawbacks
Blades can get clogged if fur is too thick
3. PANGU Dog Clippers Professional Pet Grooming Kit
For dog owners who prefer a complete kit, PANGU Dog Clippers Professional Pet Grooming Kit is an option they must surely consider. The acute-angle titanium blade and the movable ceramic blade provide sharp and smooth cutting of the cockapoo's fur. Also, the fine-tuning knob is for adjustment for precise cutting.
These dog clippers come with ten other tools that help provide proper grooming for your cockapoo friend. The combination of tools includes one electric hair clipper, a long dog grooming comb, a nail clipper, a nail file, two combs, scissors, one cleaning brush, and a bottle of oil.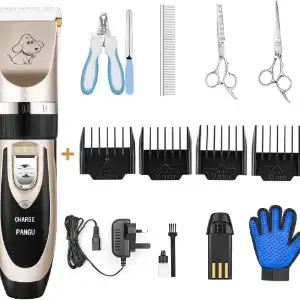 Key Features:
Cordless design
rechargeable battery
Adjustable fine-tuning
Titanium and ceramic blade
Further, the blades are removable and you can clean them to prevent any damage and use them for longer periods.
Perks
Smooth and sharp haircutting
Powerful motor but, low vibration
Fine-tuning makes grooming easy, safe, and comfortable for the dog
Drawbacks
Charging light malfunction
4. PetLab Dog Clippers Professional Dog Grooming Kit
PetLab Dog Clippers Professional Dog Grooming Kit includes all the items that you may need for your cockapoo friend's grooming. The dual-blade combination of ceramic and titanium blades is sharp and can cut through the thickest of hair on a cockapoo's coat. While it does this, it ensures the process remains smooth without making the dog uncomfortable.
The dual blades are anti-blunt and will cut through the dog's fur without getting jammed. The design of this clipper is such that it can help dog owners form different styles with the trimming.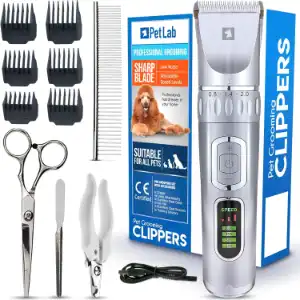 Key Features:
Low-noise
Trimming length adjustment
Sharp dual-blade technology
The device will produce minimal sound and less vibration which reduces the risk of the dog getting anxious while you are using the device.
Perks
Unique blade combination
No jamming or other random failures
Cordless operating, no movement restriction
Drawbacks
Grooves in the blades are tiny
5. Unibono Dog Grooming Clipper Kit
To access sensitive and narrower areas like ears, paws, and eyes while grooming the cockapoo's coat, the Unibono Dog Grooming Clipper Kit can come in handy. This dog grooming clipper kit includes different cutter heads so, easy for you to change them to cut the hair as per your preferences.
The replaceable cutter heads are – a standard cutter head, narrow cutter head, small cutter head, and nail-grinded head. Also, the noise levels are low and gripping this dog clipper is easy so, trimming hair is done smoothly without any snags.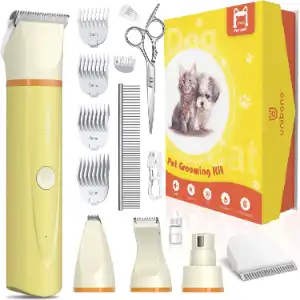 Key Features:
Less noisy
Heavy duty motor
Titanium ceramic blades
Further, the manufacturer of this device also provides a manual on how dog owners can operate the device and use different replacements and attachments.
Perks
Snag-free cutting
Cordless and less noisy
4 replaceable cutter heads
Drawbacks
The on-off button may malfunction
6. BEBANG Dog Clippers 
BEBANG Dog Clippers are suitable for dog owners who are looking to buy a heavy-duty dog clipper for their cockapoo at a low price. This dog clipper is heavy-duty as it uses a high-power motor. The cutter heads are durable, and efficient, and deliver top-notch cutting for the cockapoo.
The design of this heavy-duty dog clipper is rounded to ensure the safety of the dog. Also, the high-power motor doesn't make much noise and so, there is no risk of distraction for your cockapoo.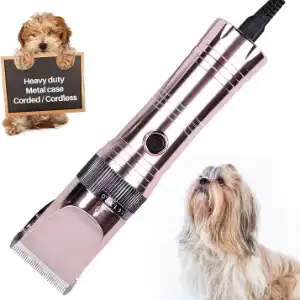 Key Features:
Low-noise
High-power motor
Dual blade combination
Further, the running time of this dog clipper is high in comparison to other clippers. On a single charge, it can operate for roughly 5 hours.
Perks
Washable blade
Two adjusting modes for clipping hairs
Drawbacks
The button position on the device is awkward
7. WAHL Colour Pro Rechargeable Pet Clipper
Sometimes making the distinction between different adjustments can get tricky as the colour is the same, WAHL Colour Pro Rechargeable Pet Clipper is tailored to tackle such an issue. It features comb attachments with different colour codes which makes it easy for dog owners to recognise which one to use for getting the preferred length.
The clipper works nicely leaving no clipper tracks and no snagging. The taper lever on the side of the clipper moves the blade very smoothly to provide different cutting lengths.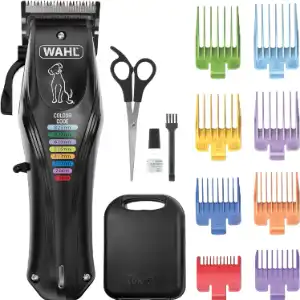 Key Features:
Colour-coded
Cordless power
High-carbon steel blades
Further, the ergonomic design of this dog clipper makes it easy for dog owners to control the device and get proper cutting for their cockapoos.
Perks
Self-sharpening blades
Taper lever for different length cuts
8. BarberBoss Cordless Dog Grooming Clipper
If you are looking for a dog clipper that has a long-lasting battery then, the BarberBoss Cordless Dog Grooming Clipper is an option you must certainly explore. This cordless grooming clipper is made using high-quality material and the blade remains sharp for a longer duration.
The design of this dog clipper is such that it remains quiet and has low vibration while operating on the dog's fur. In addition, the waterproof trimmer feature of this dog clipper allows you to operate in both wet or condition. Also, the clipper comes with different tools which helps improve the overall grooming experience.
Key Features:
Splash proof trimmer
Titanium and ceramic blade
Precision cutting adjustment
Furthermore, the precision cutting adjustment allows you to operate in five different cutting positions for cutting the hair of your cockapoo friend as per your preferred length.
Perks
Long-lasting battery
Waterproof trimmer
Low noise and two-speed setting
Drawbacks
More suitable for weighing hair
9. Professional Dog Clippers Set by Masterclip
The Professional Dog Clippers set by Masterclip make the cut in the best dog clippers for cockapoos because the manufacturer has specifically designed this dog clipper for grooming dogs like cockapoos. With the clippers, you will find comb attachments that help in setting up different lengths.
The wider teeth of these clippers ensure the thick and curly coat of a cockapoo is easily fed for coat blending or thinking. Also, the teeth on skip blades are set apart to help feed the hair into the cutter.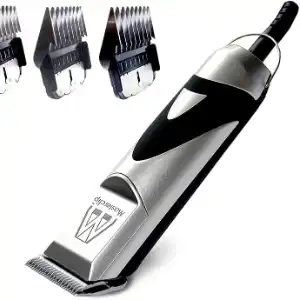 Key Features:
Toughened steel
Two-speed motor
Detachable blades
Further, to ensure the longer usage of the device, the manufacturer suggests that the device must be kept out of direct sunlight.
Perks
Tailored for use on cockapoo
Blades are compatible with other clippers
Drawbacks
Cost is high
Demands more maintenance
10. Dog Care's Heavy-Duty Dog Grooming
If you are seeking a dog clipper that has smart features then the Heavy-Duty Dog Grooming device from Dog Care will surely match your preferences. This device has a strong algorithm and intelligent smart mode that is sensitive to the level of thickness of the dog's hair. The speed adjustment is automatic and there is no need for you to learn any particular skill while operating this dog clipper device.
In addition, the aerodynamic design of this smart clipping device enables secure trimming by minimising the risk of clogging. Also, on full charge, the device can operate for about three hours which helps in grooming approximately six dogs so, you can complete your cockapoo's grooming easily.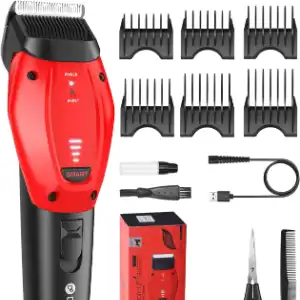 Key Features:
Smart technology
Auxiliary light design
Removable sharpened blade
Further, the double spotlighting design in this dog clipper device ensures that you get a suitable lighting experience while trimming, even in the darker areas, without any hassle.
Perks
Quiet and gentle clipping
Cordless clipper with long-lasting battery
Drawbacks
Finding matching blades for replacement is tough
Buying Guide: Best Dog Clippers for Cockapoo
The list of different dog clippers for cockapoos may have confused you like which one will suit my cockapoo the best? To provide clarity on such queries, I have included different details pertaining to cockapoo clippers. You can analyse and use the information to make a better decision. Let's begin with understanding the features.
Dog clippers – features
Dog clippers are tools that are helpful to cut, trim, or shave the hair of the dogs. In general, these dog clippers are battery-operated and you can pick from the one based on the type, dog breed, and grooming requirements. The device helps in removing dirt, mats, tangles, and excessive hair keeping dogs healthy.
Here are some of the common features to look for in a dog clipper:
#1. Blade size – the size of the blade must be proper to cut or trim the hair of the dog properly. The number of a blade refers to how close it will cut the hair. So, the lower the number, the less likely you will get a proper cut. For instance, a blade with the number 10 will leave about 1/16 inch of hair whereas a blade with the number 40 will leave only 1/100 inch of hair.
#2. Speed – the speed of the blade movement i.e. back and forth will show how quickly it could get rid of the fur. The faster the movement of the blade of a dog clipper, the more likely you'll have better and smoother trim. But, high speed often generates more sound and more heat which can cause issues for some dogs. So, you might have to look for a dog clipper that has an adjustable speed feature.
#3. Noise levels – the sound levels of some dog clippers are high. This can scare off the dog and their rapid movements while you trim the fur may cause injury. So, you need to ensure you buy a dog clipper that doesn't have high sound levels.
#4. Weight and grip – a clipper that is lightweight and has an ergonomic design that is easy to control. The weight and grip provide comfort to dog owners and they can use it to trim the dog fur without any issues.
#5. Battery life – the battery life of a dog clipper is a crucial feature. It indicates the runtime of a dog clipper on a single charge i.e. at full battery level. So, you need to pick a clipper that has a long battery life and is rechargeable (quick recharge time). This will make sure you don't run out of battery while grooming the dog.
So, these are the features the dog clipper must have for proper grooming. Now, below are some of the features you need to look at in a dog clipper that you plan on buying for grooming cockapoo:
Variable or two-speed clipper
This feature is crucial for you to look for. This is mainly because it can help in adjusting the speed of the blade as per the coat thickness and texture of the cockapoo. So, if you want the hair to remain dense, you can increase the speed and for thinner hair lower the speed.
Thus, the variable speed feature will allow you to cut the hair of your cockapoo friend smoothly without pulling or snagging. Also, it will not cause issues like overheating or overloading which can damage the blade or the motor of the clipper and compromise dog grooming.
Cordless or long cord clipper
Long cord or cordless clippers can move around easily without causing tangling or pulling. The grooming is convenient and comfortable for the cockapoo. The cordless or long cord clipper allows to prevent shocking incidents that are triggered because of cords when in close proximity. This often scares the dogs but cordless or long cord clipper keeps dogs safe and secure.
An adjustable blade of number 10 will help in getting the uniform length of the coat of your cockapoo. The best thing about such adjustable blades is that you can use them around the majority of the body area of the dog except for the ears, paws, face, and tail. This helps in avoiding the risk of possible injury or infection in these sensitive areas.
These were some significant features dog owners need to have a peek at before deciding on buying a dog clipper for their cockapoo. I say this because these are also the buying prospects.
Factors affecting the price of dog clippers for cockapoo
The features mentioned in the previous section influence the prices of a cockapoo clipper. But, these features are not the only factors affecting the prices of dog clippers for cockapoo. There are plenty of other prospects that influence the prices of a cockapoo dog clipper. So, let's see how these features and factors are affecting the price of dog clippers for cockapoos:
The features of dog clippers vary and some of them tend to elevate the prices of the dog clippers. The cordless or long cord, adjustable blades, or variable motor speed features in a dog clipper will cost more. The reason is the utility they provide and manufacturing such dog clippers with these features can increase production costs.
Accessories of dog clippers
The accessories that are present in dog clippers improve the dog grooming experience and make it more versatile. Accessories such as extra blades, comb attachments, blade brushes and oil, thinning shears or scissors, nail clippers or grinders, ear cleaners or cotton balls, etc can increase the prices.
The durability, sharpness, and smoothness of the clippers will influence the prices. For example, some of the blades of dog clippers are made using ceramic material and stay cooler and last longer in comparison to the steel blades. So, it's obvious that the cost is high for such dog clippers.
In addition, the reason for the high cost is that ceramic blades are stronger and harder than steel blades which indicates they can cut through a dog's hair with more precision and safety. Also, they generate less heat so, it can stop the dog's skin from irritating or burning.
The reputation of a particular brand of dog clipper can be high in comparison to another brand even if they both provide the same features. Surprisingly, the high cost doesn't stop dog owners from buying the branded dog clipper for cockapoo as the manufacturer of the branded dog clippers provides reliable products of high quality.
Also, the customer reviews of these branded dog clippers lure other dog owners to buy them. Some of the dog clipper manufacturing brands provide a warranty on the product which makes the price of the dog clipper go up.
Availability of dog clippers
There are ample dog clippers that are in demand but, their availability is less or restricted to certain shops. Also, some dog clippers are available as limited editions. The high demand for the specific dog clipper can elevate the price if the supply is low.
Factors to Consider Before Buying a Dog Clipper for Cockapoo
Now, when you decide on buying a dog clipper for your cockapoo friend, it's crucial that you ask some questions yourself for clarity purposes. I assure you, ask these questions to yourself and you will know which dog clipper you need for grooming your cockapoo friend.
#1. What is my cockapoo's coat thickness and length?
The length and thickness of cockapoo's coats vary based on their age, genetics, and health condition. Normally, cockapoos have wavy or curly hair which ranges from fine to coarse, and from short to long. You can also check the length and thickness of the cockapoo's coat with your fingers or measure it using a ruler. This is crucial to get a rough idea about the blade that will suit their coat the most and provide proper grooming.
#2. How frequently do I need to groom my cockapoo?
Your cockapoo's coat thickness and length will give you an approximate idea of how frequently you might have to use the dog clipper to trim the coat. In general, a cockapoo needs grooming every six to eight weeks but, based on the condition of fur on your dog, you may have to use it more or less. So, once you ask this question you will have a clear view on whether you need the dog clipper that will work for a longer time or for occasional grooming.
#3. Will my cockapoo be able to handle noise and vibrations?
This is a significant one to ask. I say this because many of the trimming devices for grooming will generate loud sounds and vibrations. The noise-handling capacity and response to different vibrations of each cockapoo are different. So, based on the temperament, personality, and behavioural prospects of your cockapoo you need to pick a dog clipper that generates low sound and is bearable for your cockapoo.
#4. How much time can I spare on grooming my cockapoo?
You need to decide the exact time that you are willing to spend on grooming your cockapoo. This is crucial as some dog clippers may have small grooves and take more time in comparison to others who facilitate quick trimming. The devices that facilitate quick cutting of a dog's hair are expensive. Thus, you need to analyse your budget for the device, and the amount of time you can invest in grooming your cockapoo.
Additional factors
Asking these questions will help you narrow down your search. To make it even better, here are some additional factors that you should consider while buying the dog clipper for your cockapoo:
Handling and manoeuvrability – the dog clipper you think of buying must be easy to handle. It should be flexible and should enable you to manoeuvre through the dog's fur. Also, the handle of the device must have an ergonomic design for easy shaving. You can analyse the weight and balance prospect of the clipper as both of these aspects can influence the grip and control.
The heat generated by the dog clipper – these grooming devices generate heat that can cause irritation or a burning sensation to dogs while in use. As a responsible dog owner, you need to pick a dog clipper that will not generate excessive heat. Buying a dog clipper that is made of ceramic can resolve the overheating issue as it stays cool for a long time. The price will be more but, it will keep your cockapoo safe.
Power of the Dog Clipper – the dog clipper you buy should be powerful enough to cut through your cockapoo's thick coat. For better trim or cut, you pick a dog clipper that provides adjustment in motor speed. This can help in cutting the cockapoo's coat in a specific pattern or texture.
No snagging or pulling – the dog clipper you buy must give a smooth and clean cut or trim for your cockapoo. There should be no snagging or pulling. The dog clippers with adjustable or, detachable blades can cut through without getting stuck. Some clippers come with different omb attachments or blade sizes which can help achieve the best length or style of the dog coat.
Tips on Using dog clippers on a cockapoo dog
After analysing the features, factors affecting cost, and buying prospects, you must have decided on which dog clipper will help you get the best cut or trim for your cockapoo. However, you can only get the best results if you know how to use it effectively. So, this section will provide you with tips on how to use cockapoo clippers properly.
But, if your cockapoo is new to the grooming experience, or simply not used to you using the device to cut their hair, it can pose some challenges. So, it's crucial to train the dog to comply and behave while you use the device for grooming. Here is a stepwise guide that you can follow:
Step #1: Introduce your cockapoo to the device
You need to positively introduce the device to your cockapoo friend. By being positive, I mean you need to have patience and think of it as another training routine where your furry friend is being introduced to a new device. Their normal response to a new toy or stuff is the same, they sniff and explore it.
Once they start to sniff the device, praise them and provide food treats or toys as a reward if they are maintaining positive behaviour. If their behaviour is positive, you can try turning on the device. Observe the reaction and if they exhibit proper behaviour, you can pat them or massage on their coat. This will help them associate the sound of the device with a positive instance.
Step #2: Clip the dog's coat in the proper environment
When you use the dog clipper device on your cockapoo for the first time, you need to ensure that you pick a suitable environment. This means, pick a spot where your cockapoo normally rests or feels comfortable. Make sure you pick a quiet place. The device will make some sounds while you use it, and other sounds may distract your dog.
The distraction may trigger certain movements, and it can cause them to move and if the blade hits them it can cause a serious injury. To completely avoid such instances, use a grooming table or a mat to keep your dog in one place. Have some food treats and toys side by to reward their co-operation.
Step #3: Follow your pre-planned trimming plan
You may have decided on a specific pattern or cut for your cockapoo. Follow that plan and begin to clip their coat in the direction it grows. Start from the neck and move towards their tail. For adjusting the length and pattern, you can use different blade or comb attachments.
While cutting the hair, remember that too much cutting may disrupt the look and clipping closely may cause issues on the dog's coat.
Step 4: Use a safe approach
The faster you try to trim or cut the hair, the risk factor of your cockapoo getting injured elevates. You need to be cautious and use the dog clipper device on the cockapoo gently. Avoid exerting pressure or making fast movements. This can cause injury to their skin.
The movement must remain steady and if the hair is not the desired length, you can always trim or cut again. Repeat the process until you get the desired length but, don't hurry unnecessarily. Also, make sure you continuously check the blade temperature, it can heat up quickly. Use a coolant spray or blade oil to keep it cool.
Following these steps will make sure your dog is having a smooth grooming experience with the dog clipper. Now, below are some tips for you to consider when using a dog clipper for your cockapoo for effective use:
Pick a dog clipper with proper features – the dog clipper you buy must have proper power, speed, and blade, to cut through your cockapoo's fur. It should not get snagged in the fur. Also, the battery life should be long enough for you to complete the grooming of your furry friend. In addition, the noise and vibration levels must not be high.
Prepare your dog before using the device – before you use the clipper on your dog, make sure you wash, dry, and brush your cockapoo's coat. This will get rid of dust, tangles, mats, or loose hair residing on the coat.
Have a pre-planned plan for cutting hair – you need to have an approximate idea of how you will cut or trim the hair. This will allow you to use the device more effectively and also adjust the length. Initiating the use without any plan may not work well and the fur will look disorganised because of unprecise trimming.
Be gentle with the device – the pressure must remain low while you use the device otherwise the skin of your furry friend may suffer injuries. You may have to spend some more time re-visiting the area to trim but, the risk of injury will be less.
Lastly, if your furry friend is exhibiting positive behaviour while you are using the dog clipper device, provide them rewards and food treats. This will register a positive response in their mind and they will not resent the use of the dog clipper device next time.
Perks of using dog clippers for cockapoo
If you manage to follow the tips and train your dog to comply while using a dog clipper device, the grooming will go smoothly. Your cockapoo will benefit from such grooming. Below are some of the prominent perks of using dog clippers for your cockapoo:
#1. Maintains coat hygiene
Dog clippers can help maintain coat hygiene and improve your cockapoo's skin health. The use of the device involves washing the dog before and after the trimming or cutting of hair is concluded. This cleaning removes unnecessary dirt, dust, tangles, loose hair, or mats and prevents any infections or skin issues.
Thus, the overall condition and quality of your dog's coat will improve and reduce the risk of bacterial or fungal growth, odour, and skin irritation. Good coat hygiene ensures a healthy dog as it also boosts the immune system of the dog.
#2. Removes fleas and ticks
Fleas and ticks can cause different issues like scratching, biting, itching, hair loss, infection, inflammation, or other disease. Using dog clippers can help get rid of fleas and ticks that are infesting your cockapoo's fur. You can also use a tick remover or a flea comb to remove the fleas and ticks.
The removal of these parasites can help prevent the spread of the parasites to your own body or other canines if you have multiple dogs.
#3. Easy to recognise skin disease
When you use clippers, the detection of skin diseases or identifying any anomalies in your cockapoo's fur becomes easy. This is mainly because of the trimming and cutting. The spots where the infection resides are exposed and visible. So, if there is any redness, warmth, or swelling, you'll be able to see it.
The early detection of skin disease or any other issue can help avoid any escalation. The disease can be treated by the vet before it gets worse. Hence, when you trim or cut your furry friend's hair and observe such abnormality you should take them to the vet.
#4. Stylish appearance of the dog
The dog clipper device comes with different attachments and you can use them to give your cockapoo the best look. Different blade sizes will give different lengths and textures. Also, with additional tools like scissors or thinning shears, you can trim excessive hair on the cockapoo's body.
If the hair on the fur is more, you can try different styles on your furry friend and use them using your imagination to showcase your creativity and make your dog look different from another canine.
#5. Less shedding of fur
Cutting or trimming the extra hair from the cockapoo's fur will significantly reduce the shedding. While the shedding of fur in cockapoo is lower than in other dogs, it does suffer some hair loss. Also, the loss of hair can get knotted, tangled, or matted.
So, a dog clipping device can reduce the shedding and keep the cockapoo's coat in good condition. Less shedding of fur also keeps your house clean so, it's a win-win situation for you.
#6. Removal of hair mats
Hair mats are clumps of hair that get tangled in a dog's coat. Often these mats can trigger pain, infection, or cause discomfort to the dog, especially if they manifest in areas where your cockapoo's hair is denser or longer.
Further, the clumps formed can also, interfere with vision or movement. So, using a dog clipper helps avoid these issues.
#7. Saves money
Professional grooming charges are high, especially if you like to maintain your furry friend's fur at a certain length. On average, you can expect one grooming session to cost about £30-£35 in the UK. But, based on your requirements and dog these prices may elevate. So, if your requirement is only to get rid of the extra fur, opting for professional grooming services can be an expensive deal for you.
Instead, you can buy one of the dog clippers mentioned in our article and save money. Some of the clippers mentioned also come with other tools that are helpful in dog grooming. The kit might appear expensive but, if you have, let's say, three grooming sessions in five or six months and pay £35 or more it will round up near £120-135 or even more. But, buying a quality cockapoo dog clipper for a lower price or even a complete kit will save lots of money.
Drawbacks of using dog clippers for cockapoos
The benefits of using dog clippers are visible but, there are many disadvantages as well. Below are some of the drawbacks of using dog clippers for cockapoos:
#1. Risk of overheating and burning
Dog clippers often tend to overheat after continuous use. This can always pose a risk of burning the skin or the hands of the user. The overheating can lead to pain, inflammation, or infection issues. Also, the blades and motor of the clipper can get damaged when the temperature is high.
Hence, dog owners need to make sure they don't overuse and also, check the temperature regularly while using the device. If it keeps getting high, they might have to use a spraying coolant or some other substance to cool down the blade.
#2. Loud noise and high vibration
While you use the dog clipper device for your dog, the noise levels and intense vibrations generated from the device can cause discomfort to your dog. The noise can disturb them and damage the ears. Also, when the sound and the vibration are causing too much of an issue, your cockapoo will probably try and escape.
In addition, some cockapoos will try and bite on the clippers or resent the use of the device. They will exhibit aggressive behaviour and make the grooming process tough for both you and your cockapoo friend.
#3. Maintenance and cleaning
Grooming devices need proper cleaning and maintenance for longer sustainability. Dog clippers are no exception. As a dog owner, if you wish to save money on grooming sessions, you'll have to regularly execute different cleaning and maintenance tasks. These tasks will consume time and may cost you a little extra money as well.
Oiling of the blade – for a smooth grooming experience, oiling the blade is crucial. It helps reduce friction, and heat and prevents corrosion, rust, and dullness. However, you must use oil that is compatible for use on the clipper model. Using random oil may not provide results or worse, damage the blade. Apply a few drops of oil before and after the use with your fingers or a soft cloth. Further, make sure the blade is not over-oiled or under-oiled.
Replacing the blade – even if you are regularly oiling the blade, after some time, you'll have to replace it. The reason is simple, it is worn out, too dull, worn out, and possibly damaged. So, if you continue using the blade, your furry friend may suffer injuries or reactions to the corroded blade. Replacing the blade can safeguard your cockapoo from such instances. Remember, the new blade must match the model of the device you use. Follow the instructions or guidelines mentioned in the manual for attaching the blade securely.
Cleaning the blade – after using the dog clipper device, you need to clean it thoroughly. Cleaning is crucial to remove oil, dog hair, or other dirt elements. A thorough cleaning will ensure there is minimal risk of overheating, clogging, or infection issues. You can use soap and water to clean the blade or a special clipper cleaner. Also, make sure you clean the blade of the clipper after each use and dry it after cleaning.
Sharpening the blade – to get the best possible result while cutting your cockapoo's hair without snagging or pulling, you need to sharpen the blade. The sharpening of the blade will maintain the quality extend the life of the blade, and provide proper grooming. To make the surface sharper, you can use a professional sharpening kit, or service that matches your clipper model. In addition, you must sharpen the blade as per the instructions and guidelines or get it done by a professional, overdoing the sharpening can pose a risk of injury to the cockapoo.
Pluck out the hair from the blade – to avoid tangling, matting, or shedding the cockapoo's coat while clipping, you have to pluck out the hair stuck in the blade of the device. In addition, removing hair from the blade will stop jamming, overheating, or restricting the motion of the dog clipper. Use a small toothpick or a toothbrush to remove the hair out of the gaps in the blade.
Charge the battery – the dog clippers that have a rechargeable battery need frequent charging. This is mainly to ensure the device doesn't run out of juice while in use i.e. facilitates uninterrupted clipping. Regular charging ensures complete power and healthy battery life.
These are some of the basic prospects involved in maintaining the dog clipper device. This is time-consuming and may require dog owners to spend some extra money but, if executed properly the device life is extended.
#4. Insufficient power and blade damage
Sometimes the dog clippers you buy may not be of sufficient power and the blade may also be vulnerable to corrosion and damage. The insufficient power and damaged blade make it difficult to cut through the cockapoo's fur. This will make the cockapoo's fur appear uneven or patchy which will make it look unattractive.
In addition, damage to the blade can compromise fur and if used more, can cause infection, skin problems, or injuries. Such blades need to be replaced immediately.
#5. Damage to coat and health issues
The sharp edges of the blade can damage the cockapoo's coat. For instance, the blade accidentally cuts the skin or there is a scratch caused by the clipper. Such damage to the skin can rapidly lead to issues like bleeding, bruising, scarring, or infection.
In addition, if there is the slightest rash or swelling on the skin of the cockapoo it can cause pain, and discomfort which can also increase the risk of inflammation or infection. If the damage to the skin is extensive the healing or regeneration of the skin is also compromised. In cases of infection, the manifestation of pus, odour, discharge, or fever on the cockapoo's skin will cause health issues
#6. Inconsistent grooming
The inconsistent grooming is a result of short battery life. The dog clippers which run out of charge soon will not provide a proper grooming experience. The cutting or trimming of the cockapoo's fur will remain incomplete and the appearance will also be dull. Such a situation is frustrating for both the dog and the owner.
In addition, the immediate power loss while operating the device on the cockapoo's fur may risk entangling or injury, as the device stops while in the process of cutting or trimming the hair of the dog.
Things dog owners must avoid while using dog clippers on the cockapoo
We saw that there are many instances where a cockapoo can suffer from serious injury or have health issues if dog owners are not careful with the usage of dog clippers on their coats. To avoid such instances or any such issues, here are some processes dog owners must consider avoiding while using dog clippers on cockapoos:
#1. Avoid using low-quality dog clippers
A low-quality cockapoo clipper will not cut through the tight curls and micro-knots of the coat. Such dog clippers may lead to patchy or uneven clipping, and possibly damage the clipper blades. Also, a low-quality dog clipper may generate too much vibration and noise which can be discomforting for the dog.
In addition, the uneven trimming or cut can make the look cockapoo unattractive not to mention, the open spots on the fur can also expose them to parasites, infection, or skin problems. Further, the low-quality dog clipper device may malfunction or completely stop working. This can elevate the expenditure post-buying. So, dog owners must not buy a cheap quality dog clipper for their cockapoo.
#2. Avoid operating cordless clippers without complete charge
If you buy a dog clipper that operates on a rechargeable battery, make sure it's fully charged before use. If not, the grooming experience will not be so soothing for your cockapoo friend. A low battery charge may cause the device to shut down while you are adjusting the hair of your furry friend.
The incompleteness in the adjustment of the hair length may leave you frustrated as the look of your dog will be unappealing. So, it's crucial for you to ensure that the battery levels are full and for uninterrupted grooming have backup batteries ready as well.
#3. Try not to use clippers with high vibrations or noise
High vibration or noise made from a dog clipper can be unsettling for your cockapoo. The vibrating movement can scare off your dog and the loud noise can irritate them and make them fearful or anxious. The main reason for this is the unfamiliarity with such a sensation or sound.
Hence, if your cockapoo is in a stressed or anxious state due to high vibration or noise then, the grooming process will get more complicated. They will try to escape or even bite the dog clipper you are using. Such instances are not good, especially if the device is on. It can cause injury to your dog and you as well. So, make sure you avoid using such dog clippers to ensure the safety of you and your cockapoo.
#4. Don't cut or trim too fast or too close to the skin
Blades of any dog clipper can cause injury to your furry friend if used very closely, especially if the motion is quick. The risk of such movements using dog clippers is that the device may get stuck on a particular spot and injure the dog. The wound damage to the skin can lead to infection or irritation issues.
Further, the sharp blades of a dog clipper can scratch the fur or accidentally expose the dog's skin to a new parasite or bacteria. Accidental exposure mainly occurs if the blades are corroded or of low quality. Regardless, it can trigger itching, or cause issues like swelling, bruising, bleeding, rash, pus, or fever on your cockapoo's skin. Thus, to avoid such issues and keep your dog's regeneration and healing capacity intact, be gentle with the device and operate smoothly, especially in sensitive areas.
#5. Ignoring maintenance and cleaning
Maintaining and cleaning the dog clipper device is tough and probably a bit expensive but, you must not avoid this prospect. Neglecting cleaning and maintenance of the dog clipper device directly compromises the operating efficiency and the performance and durability are also not so good.
Not maintaining and cleaning can corrode the device, or it may become broken, overheated, clogged, rusted, burned, or infected. Any of these issues will make the device not function properly. This means it will not cut or trim as usual and instead cause discomfort to the cockapoo. So, maintain the device and clean it regularly to avoid breaking the device and saving your cockapoo and money.
FAQs of Best Dog Clippers Cockapoo
How much will a dog clipper for a cockapoo cost in the UK?
In general, the cost of a dog clipper for a cockapoo in the UK roughly falls between £20 and £150. However, based on factors such as quality, type, utility, and tool combinations, the prices may even surpass the £150 mark. For instance, a dog clipper that includes other tools and attachments for efficient grooming of cockapoo will have higher prices in comparison with the ones that don't include such additional tools. Also, the speed variations in these devices will have a significant impact on the prices as the motor mechanism might differ and the materials used will be of different quality.
Is it okay to use human clippers on cockapoo dogs?
No, it's not recommended to use human clippers on cockapoo dogs or for that matter on any dogs. They are not powerful enough to cut through the fur of the dog and may overheat, cause friction or worse, injure the dog if used on dogs. Cockapoos are likely to face issues because of curly and wavy fur. Also, human clippers are not as reliable and durable as the dog clippers. They are not made to run for longer periods and hence, not suitable for dog grooming.
Which is the best feature of a dog clipper used for cockapoo?
It is hard to specify one feature that suggests the best dog clipper for a cockapoo, but there are a few features which make it the best and dog owners must look closely at those features. These features are power and performance. The reason is simple, a dog clipper with high performance and power features will provide consistent and quality grooming of the cockapoo. The clipping time is less and cockapoo can have comfortable grooming.
Is there an ideal speed for dog clippers while grooming cockapoos?
There is no ideal speed for dog clippers for cockapoos. It totally relies on the requirements of the dog owner and the fur of their cockapo. Still, there are different speed variations that suit the needs of different cockapoo owners. These variations are single speed, variable speed, slower speed, and faster speed. Single-speed clippers are lightweight and helpful for dog owners who occasionally trim their dog's fur at home and are not looking for a precise cut. Variable speed clippers allow modification of speed to groom a dog's coat with more precision. Slow-speed dog clippers are suitable for dog owners who are looking to groom sensitive areas of their cockapoo. Faster-speed dog clippers which have 5000 to 6000 strokes per minute are efficient in cleaning and trimming cockapoo's fur with more thickness, or curliness.
Final Review on Best Dog Clippers for Cockapoo
Buying a dog clipper for a cockapoo can get tricky as there are many factors involved. As a dog owner, you need to consider the power, performance, durability, and blade quality, and check whether the dog clipper is corded or cordless. Also, the dog clipper you pick for your cockapoo must not produce loud noise or high vibrations for a better grooming experience.
In addition, the cockapoo clipper you choose must also be easy to handle and maintain for prolonged usage. In the process of curating the list of dog clippers for cockapoos, I have consulted different professional dog groomers and analysed various prospects with my team at Wewantdogs to provide you with a list of some of the best dog clippers for cockapoos out there in the market.
The reviews on different dog clippers were given based on various parameters and our team has made the best attempt to include the most accurate details regarding each product. But, to make a proper purchase you must thoroughly go through the buying guide that provides insights into different perks, possible drawbacks, and other prospects. Also, if you have any prior experience with one of the devices mentioned in the list, do share it in the comments with fellow readers and help improve their cockapoo grooming experience.