If you are an enthusiastic dog walker, you know how different gadgets can help improve the dog walking experience. However, new dog owners can often get confused by various choices of gadgets and accessories for dog walking that are available online. So, if you are looking for the best gadgets for dog walkers, then you have chosen the right article to narrow down your search.
After analysing different gadgets with my team at Wewantdogs, I have curated a list of the best gadgets for dog walkers to enhance their overall dog walking experience. For better insights and understanding regarding different gadgets, there is a buying guide which provides information about different prospects like perks, drawbacks, and tips on how dog owners can use gadgets while dog walking.
Best Gadgets for Dog Walkers
Walking with dogs is one of the best ways for dog owners to improve their existing relationship with their dogs. It helps provide much-needed exercise, stimulation, and exposure to the outdoor environment for better health. But, at times dog owners and their dogs need a little excitement in their routine walk.
Dog walking gadgets can help in providing much-needed change to dogs and dog owners while walking. Below is a list of different gadgets for dog walkers to consider for improving their daily walks with their furry friends:
1. Cheerble Interactive Dog Toy Ball
Interactive toy gadgets can reduce boredom in dogs, Cheerble Interactive Toy Ball is one such gadget that helps dog owners provide some excitement. When turned on, this smart gadget automatically scrolls, shakes, or bounces. While it bounces, the LED light inside changes colours on each bounce.
The three interaction modes i.e. normal, gentle, and active for luring dogs. So, dog walkers can adjust the modes and use them to stimulate the dog's chasing instincts while walking.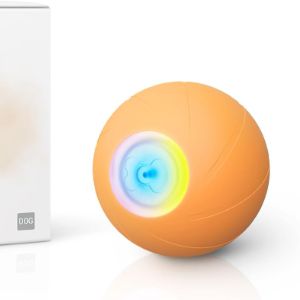 Key Features:
Smart design
DC rechargeable
3-interaction modes
Further, this gadget is suitable for dog walkers because its smart design avoids obstacles while rolling. Dogs will definitely have a sense of excitement while walking or running chasing this interactive toy.
Perks
Makes the dog feel excited
Low noise is produced while playing
Made using durable rubber material
Drawbacks
Regular dog walkers may have to recharge the battery frequently
2. Tractive GPS Dog Tracker
The Tractive GPS Dog Tracker is one of the best gadgets for dog walkers, especially for owners whose dog tends to escape more often. It helps in tracking the location of the dog without any distance limit. This is possible because of the notification feature, when the dog is out of range, the owner receives a notification.
In addition, this GPS Dog tracker also monitors the dog's activity patterns and sleep. The activity patterns can help dog owners decide how much walk their furry friends need.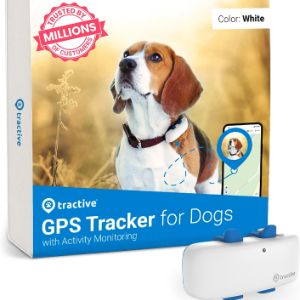 Key Features:
Escape alerts
Health alerts
Real-time GPS tracking
Further, the battery life of this GPS dog tracker is about 3-10 days so, suitable for dog walkers who prefer long walks with their furry friends.
Perks
Helps find lost dogs
Real-time location tracking
Monitors dog's health and activity
3. Pecute Hands Free Dog Running Leads
Many dog owners like to run with their dogs, Pecute Hands Free Dog Running Leads is a suitable gadget for them. These leads come with a waist bag and dog owners can walk or run with the dog hands-free. The leads attached to the waist bag allow dog owners to control the dog when needed.
In addition, the waist bag can hold bottles, smartphones, money, poop bags and other necessary items dog owners may need to carry.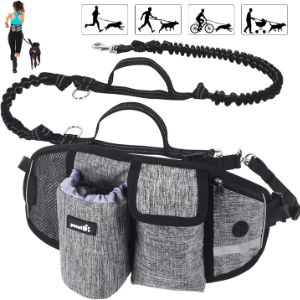 Key Features:
Double elastic cable
Double springs and stainless steel clips
The leads attached to the waist bag can handle shocks, pulls and vibrations from dogs weighing up to 220 lbs.
Perks
No strain on the dog's neck
Hands-free dog walking experience
Breathable and waist-protective bag
Drawbacks
Poor stitching on waist bags' pockets
4. Doggie Don't Device
For controlling dogs' aggressive or dangerous behaviour, dog owners can use the Doggie Don't Device. It's a feasible solution as it can be used to prevent behaviour such as excessive barking, biting or chewing, fighting, jumping, food stealing, and other such behaviour.
A dog owner has to pick one command and stick with it. Once the button is pushed, the dog will hear a loud noise that will distract them easily. This will help in stopping the radical behaviour.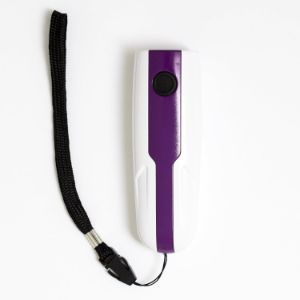 Key Features:
Loud-noise
Non-shocking
Lithium-battery (rechargeable)
Further, this device needs to be kept at a safe distance to avoid any issues with the dog's ears ( keep the device at arm's length).
Perks
Stops aggressive barking
Safe, humane, and effective
Can help keep the dog safe from stray dogs
Drawbacks
Some dogs may take more time to adjust to the louder noise commands
5. LumoLeaf Portable Dog Water Bottles
LumoLeaf Portable Dog Water Bottles are more of an accessory rather than a gadget. But, the design and feature of these bottles makes them similar to a gadget. It has a two-in-one design and dog owners can turn over the leaf and make a shape like a water bowl.
The quick-release buttons help in handling the water flow. Also, the opening of the bottle mouth is wide (1.8 inches) and water can be filled easily.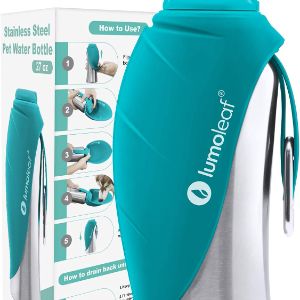 Key Features:
Aluminium buckle
Durable stainless steel
Wide and soft water bowl
In addition, these bottles can also hold ice cubes and dog owners can hook the bottles to their backpacks while walking, camping, or hiking with their furry friends.
Perks
Foldable leaf-shaped bowl
Suitable to use for all dog breeds
Drawbacks
Holds less than 1 litre of water
6. Idepet Dog Paw Cleaner
The Idepet Dog Paw Cleaner is a portable dog paw cleaner gadget that can help dog owners keep their dog's paws clean while walking. This cleaner is made using natural rubber and the cup shape allows dog owners to put their furry friend's paw inside and rotate it for cleaning.
The silicone bristles are of good quality and they get rid of dust, mud, dirt, sand, or ice melt very rapidly.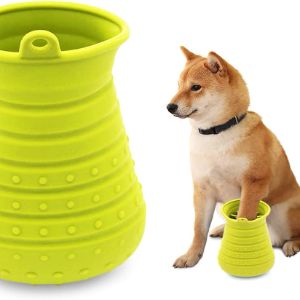 Key Features:
Soft silicone bristles
Lightweight and durable
Further, the two-in-one design allows dog walkers to use this paw cleaner as a brush as well. So, bathing the dog is also feasible using this dog paw-cleaning gadget.
Perks
Portable design, easy to use
Multiple use, clean paw and body
The Hook design helps to carry while walking, hiking, or on a trip
Drawbacks
The flexibility of the material makes it tough to put this cleaning gadget down
7. PitPat Dog Activity and Fitness Monitor
For fitness freak dog owners who like monitoring their furry friend's fitness, PitPat Dog Activity and Fitness Monitor is the gadget they are looking for. The manufacturer claims to have made this device with vets for monitoring dog's vitals with accuracy.
The device measures distance and calories and shows details after daily walks or exercise. Dog owners can use these insights and alter their furry friend's diet or walking distance accordingly.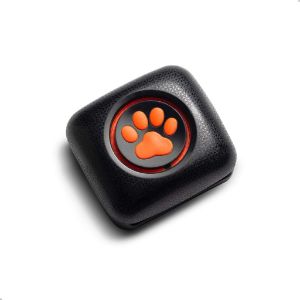 In addition, this activity and fitness gadget fits any dog collar or harness so, easy for dog owners to use it.
Perks
No subscription required
Comfortable for dogs to wear
Drawbacks
Not rechargeable so, batteries need to be replaced
8. Pet Room Dog Treat Pouch Bag
To make the dog walking experience easier, Pet Room Store brings its Dog Treat Pouch Bag. This treat pouch bag comes with a training clicker, poop bag, collapsible dog water bowl, poop bag holder, shoulder strap and an adjustable belt. So, this bag is basically a fully-equipped dog training bag.
It has two side mesh pockets to put small things, and the main compartment of this treat bag includes front zipper pockets for putting valuable items for dogs. The heavy-duty metal clips in the bag secure attachment with the belt and facilitate hands-free use.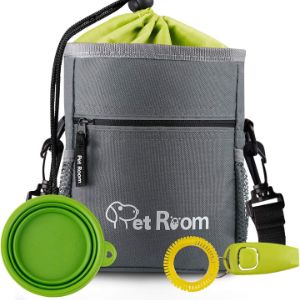 Key Features:
Reflective stripes
Waterproof lining
Drawstring closure
Large capacity and durable material
In addition, the poop bag dispenser is made of silicone and allows to pull out the waste bags through the back pocket.
Perks
3-way wearing
Made using Oxford cloth
Hands-free use makes dog walks simpler
Drawbacks
Stitching quality is poor
Buying Guide: Best Gadgets for Dog Walkers
After having seen the different dog walking gadgets on the list, you may have decided on the gadgets that meet your preferences and can improve your dog-walking experience. However, it's also possible that you might have not found some product type that meets your requirements. This buying guide will help you understand how the list was conjured up and provide some useful insights.
Gadgets for dog walkers – what are they and why do dog walkers need them?
Gadgets for dog walkers are some accessories and devices that can improve their dog walking experience. These gadgets may seem fancy but, they resolve some common issues dog walkers face while walking their dogs, like, aggressive behaviour, boredom, lead pull, and distraction.
Dog walking gadgets – buying prospects
Buying dog walking gadgets requires a thorough analysis of features. This helps in ensuring the gadget you buy solves the issues faced while dog walking. Below are some of the features/buying prospects you need to consider for gadgets for dog walkers:
Functionality – the gadget functionality must help you solve the issue you are having while dog walking. For instance, if your dog is aggressive and tends to pull the lead and run, you need a retractable dog lead. In addition, based on the problem different gadgets are available and the prices vary as per the features that are present in the gadget.
Usability – if the gadget you buy has features that are pristine or are simply hard to use, it's of no use. Thus, it's crucial for dog owners to pick a gadget that is easy to use. This means it should not have a heavy set-up or high maintenance. A portable poop scoop is a perfect example of easy to use dog walking gadget. But, the prices of such gadgets are normally high.
Affordability – prices of gadgets are high, and the more the features and functionalities the higher the price. It is important for dog owners to consider whether they need additional features in their gadgets.
Compatibility – some gadgets are made using materials that may harm dogs or dog owners. They can also have a negative impact on the surrounding environment. So, dog owners must analyse the gadget and ensure it is compatible and adaptable. The cost of such a gadget may be higher than usual.
Reliability – the durability of a gadget is an important buying prospect. You don't want to end up buying a gadget that is less durable and may malfunction quickly. Yes, the cost of a highly durable gadget will be but, it will work for a longer duration without any hassle.
Types of Gadgets for Dog Walkers
The product list shown in the previous section of the article includes different types of gadgets for dog walkers. To understand them better, let's get into some details and also, check if there are any additional types of gadgets available, apart from the common types of gadgets for dog walkers.
#1. Interactive toys
While dog walking, you may have observed your furry friend get bored or lose interest in walking longer distances after some time. Interactive toys are helpful in tackling such boredom. These toy gadgets can play sounds for dogs to fetch, chase or listen to, launch balls, or toss treats.
When using such gadgets dog owners can easily adjust the angles, distance, or frequency of tossing or launching. In addition, dog owners can use these interactive toys to make dogs drop the balls and treats in the gadget itself and make it a part of their exercise routine.
#2. Safety tools
Safety tools include lead, a collar, and a GPS tracker. A GPS tracker will help keep tabs on the dog's location if they ever get lost while dog walking. This gadget is handy for dog owners whose furry friend is an escape artist. Their movements can easily be tracked using a smartphone and finding them is easy.
In addition, GPS trackers nowadays provide details such as activity level, and health vitals. These features help dog owners keep track of their furry friends' health.
#3. Lighting gadgets
Many dog owners prefer walking their dogs during nighttime. Lighting gadgets like dog walking torches are helpful for dog walkers who walk their dogs at night. Dog walking torches are available in various types and you can easily find the ones that are attachable with the dog's collar, harness, vest, or lead.
#4. Grooming tools
Dogs get dirty while walking so, dog owners will need grooming tools to keep them clean. Gadgets such as portable dog washers, grooming gloves, hair trimmers, and hair removal rollers help keep dogs clean. Portable dog washers provide the best cleaning and dogs get rid of dirt, dust, and bacteria.
#5. Communication gadgets
Devices that allow communication are useful as dog owners can provide commands to the dogs while they are away from them. Gadgets like a two-way talking dog collar can help dog owners to communicate with the dog and other devices such as wireless earbuds, or smart watches can help in accessing the phone without having to leave the control of the lead.
Additional gadgets for dog walkers
If you are looking for some more options, there are other gadgets and accessories that can help you improve your dog walking experience.
Calming devices – these types of gadgets help in relaxing the dog by reducing their anxiety and stress levels. It can be worn by the dog or sprayed on their collar. The soothing scent released can help calm the dog and help contain its aggressive behaviour while walking.
Hand warmers /dog walking gloves – hand warmers help keep dog walkers' hands warm and they can have better control over the lead. Some of them have special material that helps dog owners use other devices or accessories.
Dog poop dispenser – this accessory helps in clearing dog's waste without using the hands. Some dog poop dispensers have clips, zippers, hooks, and velcro straps that enable dog owners to attach them to the lead and the backpack.
Whistle or clicker – Normally this device is used to train dogs but, it can help dog walkers communicate with their dogs while walking in a crowded area. A clicker or a whistle generates a loud sound and is consistent. It grabs dogs' attention and the dog owner can make them follow the instructions.
Treat pouch – these are very useful while dog walking. It carries treats for dogs and can be distributed on long walks without spilling or making a mess. These pouches can hold plenty of treats and are not split because of the easy access and opening mechanism.
Tips for Using Dog Walking Gadgets
It's crucial for dog owners to consider their own preferences and needs before deciding on which gadget they will use while dog walking. So, before I share some tips for using dog walking gadgets, here are a couple of prospects dog owners to consider before buying dog walking gadgets:
Intent – dog owners must have clarity on which dog walking gadget they need and why.
Convenience – the gadget picked must serve the purpose but, also be easy to use and maintain.
Using dog walking gadgets
Once you have clarity upon the intent, you can buy a dog walking gadget that meets your convenience, is durable and easy to use. Below are some tips to consider for using dog walking gadgets effectively:
#1. Follow the guidelines and instructions
The majority of the dog walking gadgets will have an instruction manual that can help dog owners use the device safely and effectively. Dog owners need to have a thorough look at the guidelines and instructions mentioned in the manual to understand how the dog-walking device operates.
In general, the instruction manual will mainly include details such as checking the battery level, mode, and temperature before using the device. In addition, some devices that are rechargeable will have specific instructions on how often dog owners must charge the device.
#2. Use the device in moderation
Dog walking gadgets help improve the dog walking experience but, relying on these devices for regular walks with the dog is not a good idea. I say this because more usage of smart dog walking gadgets or devices can compromise your bond with the dog.
For instance, using interactive dog toys for a longer duration can make dogs think that it's the way you will play with them. So, next time you use a simple toy they might show aggression. Also, continuous usage can bore and frustrate them. It's best if you keep the usage minimal.
#3. Observe the dog while using any gadget
Introducing dogs to new gadgets and making them comfortable is a challenging task. What's more challenging is that you have to continuously observe them while using a new gadget. This helps in ensuring that the dog is not showing any aggression or having health issues.
Thus, if you observe any changes in their behaviour or observe any side effects of using any gadget, you must stop using it instantly. For example, if you are using a clicker or whistler, you can try lowering the frequency or stop using it for some time. Likewise, using any portable dog grooming tool while dog walking may cause an allergic reaction. If you see one, stop using the device immediately.
If you have any reservations regarding the usage of a gadget, consult the vet. Ask them whether the gadget is suitable for use. Also, if the vet gives a go-ahead, make sure you still monitor your dog's behaviour and health for the dog's safety.
Perks of using dog walking gadgets
Now, if you manage to follow the tips for using different dog-walking gadgets, you can leverage many benefits. Following are some of the prominent perks of using dog walking gadgets:
Improves dog walking experience
The common issues faced by dog owners while walking their dogs are resolved when they start using dog walking gadgets. So, when dog owners use an LED light collar, they get better visibility while walking, the use of a portable water bottle helps keep them hydrated, and a GPS tracker helps keep track in case they get lost.
In addition, dog leads, dog walking bags, and portable grooming are also some handy gadgets for dog walkers.
Helps control dog behaviour
If a dog is showing signs of excessive barking, or chewing, or is an escape artist. Using gadgets that can help control their behaviour can help in correcting such behaviour. A clicker or whistle is the type of gadget which helps improve such behaviour.
These gadgets help dog owners communicate with their dogs and control their behaviour. In addition, if a dog is stressed or anxious, using a gadget like a calming spray can reduce the stress and anxiety.
Improves overall dog walking experience
With the help of devices like interactive toys, dog walking torches, dog walking bad, dog lead, portable dog washers/cleaners, GPS trackers, etc. dog owners get to enjoy walking their dogs. In addition, the bond between them is also improved because of the gadgets.
In addition, the gadgets for dog walkers save time and money as well. A simple example, instead of tagging different tools separately, they can have all the gadgets and equipment tagged with them on a bag or a waist backpack. Portable poop scoops, bottled water, and grooming device are suitable examples.
Drawbacks of Using Dog Walking Gadgets
If dog owners are not careful with the usage of dog walking gadgets, then instead of leveraging the benefits of dog walking gadgets, they might end up facing different issues while using dog walking gadgets. Below are some of the drawbacks of using dog walking gadgets:
The gadgets for dog walkers that use batteries, and need proper replacement or have specific charging methods, increase the cost of maintenance. This is mainly because of the configuration of the batteries. Also, some gadgets like GPS dog trackers or fitness and activity monitors have subscription-based services and are not affordable for many dog owners.
Temporary solution and addictive
Not all the gadgets help in resolving issues or improving the dog walking experience. Also, on the contrary, some of the gadgets may be so luring that dogs might get addicted to them and will demand more from such devices. The automatic interactive toy in the product list is the perfect example. Dogs can get addicted while playing with it and resist playing with the normal ball.
Dog walking collar torches, LED lights on dog collars, or GPS tracker dog collars can irritate dogs and the pressure exerted around their necks can cause issues. This happens when a collar is too tight around a dog's neck. Also, some gadgets like calming spray can cause allergic reactions in dogs and it can lead to irritation, inflammation or infection issues.
Owner-dog bonding weakens
Interactive toys that operate on their own can minimise human interaction and using such automated toys or devices to make dog walking fun can weaken the relationship between the dog and the dog owner. This happens more when dog owners rely on such automated interactive toys while playing, walking, or exercising with their furry friends.
Things dog owners must avoid while using dog walking gadgets
Dog owners have to be careful while using dog walking gadgets. Because if they are not, there are some consequences. Below are some things dog owners must avoid when using a dog walking gadget:
#1. Using random collar or lead
The lead or collar gadget used while dog walking must fit properly and not cause any issues for the dog's neck. It must be durable and allow you full control over your dog. Using random lead or collar can cause issues like choking, or tangling.
In addition, dog owners must also try and avoid using extendable leads as they can cause cuts, burns, and accidents.
#2. Not following instructions
The gadgets you use for dog walking have specific guidelines and instructions on how you can use them. Ignoring these instructions can lead to different issues, especially if using battery-powered devices or any gadget that involves electronic components. Your furry friend may get hurt if you ignore the instructions from the gadget manual.
These manuals usually have information on how to use the device and what the preferable mode, temperature, battery level or frequency dog owners need to maintain before using the device.
#3. Not evaluating the dog's reaction
Once you begin to use the gadgets for dog walks it's crucial to observe your furry friend's reaction. If they are showing any signs of discomfort then you must stop using the device immediately. Some dog owners don't evaluate or monitor their furry friend's reaction. This negligence often leads to health issues and alters the dog's behaviour.
#4. Overusing or Misusing the gadget
When the dog responds well to the usage of gadgets, often dog owners make the mistake of using them more than necessary. Some of them even try and use it in different ways (misuse). The overdoing or misusing of the gadget can unsettle the dog.
Again, I will use an interactive toy example, it works automatically and using it frequently for walks, playtime, or exercise reduces human interaction and the bond between dogs and their owners is weakened. The guilt of such instances can break down dog owners so, it's for the best if gadgets for dog walkers are not overused or misused.
Lastly, if you have some doubts regarding a gadget you bought for dog walking, not consulting your vet or a professional dog trainer will be the biggest mistake. As a responsible dog owner, you must consult the vet or professional dog trainer before using any gadget for dog walking.
Tips on How to Introduce Dogs to New Gadgets
New gadgets can intimidate dogs, especially the ones with automated functionality. The sudden movements or noises can trigger aggressive responses so, it's crucial for dog owners to introduce their dogs to new gadgets with proper planning. Here are some tips to consider while introducing new gadgets to the dog:
Start small – based on your furry friend's behaviour, you can start with the small gadget. It's crucial that the gadget you pick suits them otherwise they may resent it. For example, pick a small interactive toy if the dog is highly energetic.
Command train- your dog must obey your commands, especially the common ones like come, stop, stay, up, and heel. It's crucial to make sure they obey these basic commands before you introduce them to the new gadget. It helps in controlling their behaviour while using new gadgets.
Allow sniffing – after you feel confident that your dog is command-trained, introduce the gadget. Put it near their crate or any other location where they feel comfortable. Allow them to sniff the gadget and get a scent of it. Reward them with a food treat if their behaviour remains positive.
Train in the backyard – once your furry friend is used to the scent of the gadget, you can begin training them in the backyard itself. This will allow you to analyse their response in real-time, and correct it using different commands if necessary.
Analyse the outcome – after training your dog to walk with the new gadget, analyse the outcome. This means, analysing their behaviour and activities. Also, see if there is any health issue or discomfort. This helps in determining whether to continue using the gadget or not.
FAQs for Best Gadgets for Dog Walkers
What is the general price for gadgets for dog walkers in the UK?
The price of gadgets for dog walkers in the UK varies as there are ample types of gadgets at dog owner's disposal. Still, dog owners can expect to get some common gadgets within the range of £5 to £20. However, based on the quality, requirement, brand, and type of gadget, these prices may be higher. For instance, a GPS dog tracker will cost between £20 and £100, and a handsfree dog walking belt may cost between £10 to £30. It completely depends on the type of product a dog walker purchases.
Are there any dog breeds that resist the use of dog walking gadgets?
In general, it's difficult to answer which dog breeds might resist the use of dog walking gadgets. This is mainly because every dog's behaviour is different and they respond to different situations and objects differently. For instance, some dogs are curious to explore new stuff and some are not. Some are aggressive in nature and may show destructive aggression when a new gadget is introduced. Whereas, some dogs are obedient and trained well to adjust to the changes. So, based on these prospects breeds like Chow Chow, Shih Tzu, and Dachshund resist the use of dog walking gadgets. Chow Chows are stubborn so will resist gadgets, Shih Tzus are affectionate and prefer interacting with owners directly, and Dachshund do not like restrictions and are stubborn.
Which dog walking gadgets should I use to make dog walking fun?
To make dog walking fun, you can use an interactive ball launcher, treat dispenser, puzzle feeder, or dog speaker. An Interactive ball launcher allows dogs to play fetch themselves and using it on walks can help make it more exciting. A treat dispenser helps in providing the food, and a puzzle feeder makes things more interesting. Using a dog speaker is probably more exciting. This device makes different sounds and you can play music to cheer or calm your dog while on a walk. Some devices also allow recording so, you can record different commands in your voice for a better experience.
What should I do if my dog gets addicted to dog walking gadgets?
Using dog walking gadgets makes the dog walking experience exciting but, some dogs get addicted to the device. This happens because they feel stimulation, excitement, and comfort, or get more food treats from its owner than usual because of the excessive usage. This addiction can hinder the relationship between a dog and its owner and needs to be contained before escalation. So, you must identify the cause of addiction and try reducing the dependency on that particular gadget. Use an alternative toy or tool. A simple example – use the normal ball to play with your dog while walking instead of an interactive one.
Final Remarks on Best Gadgets for Dog Walkers
I hope the reviews helped you get insights into different gadgets for dog walkers. Our team at Wewantdogs tried to conjure up a list that includes some of the best dog gadgets that can make walks more fun and exciting for dog owners and their furry friends. In this list of the best dog walking gadgets, you may have seen interactive toys, GPS trackers, lead, dog treat pouches, bags, etc. All of the mentioned gadgets can help improve the dog walking experience.
In addition, some of the gadgets mentioned can help monitor dogs' health, and some can help track their movements. A GPS tracker can help analyse their movements and help dog owners find their lost dog if they escape while walking. Some of these trackers have a feature which also monitors dog's vitals. However, dog owners need to be cautious while using different gadgets, especially the ones with electrical components or automated features. These types of gadgets are appealing and dogs can get attached to them as they get stimulation and excitement.
Remember, the gadgets for dog walkers mentioned in this article are not ranked, meaning, all of these products are the best in their category and you can pick the one which you think will help improve your dog walking experience. Now, if you have prior experience of using any of these gadgets, share it with our readers. Also, If you think our team might have missed some of the dog walking gadgets, mention them in the comments.