As a dog owner, you are aware of the fact that how crucial it is for your dog to have their regular walk. Some dogs prefer walking way too early or during nighttime. You may have tried walking them on both these occasions but, may have faced challenges in the dark. So, to counter this situation, you need to get the best torch for dog walking.
You'll need a torch device that emits enough light and provides the required visibility during the dark. So, to help you get the best torch for dog walking, I have formed a list analysing various parameters. In addition, you will also find some tips on using the torch and how to train your dog to walk with the torch outdoors.
Best Torch For Dog Walking
A dog walking torch is not like any ordinary flashlight. It has some additional features, and functions that are tailored keeping in mind the dog walking situations for different terrains. You will find different functionalities in different torches.
For instance, these torches have high brightness, better battery life, durability, and, more utilities in comparison with a traditional torch. So, here is a list of some of the best torches for dog walking that you can consider buying:
1. LE LED Torch Rechargeable
For owners who are looking to get a multi-use torch, LED Torch Rechargeable from LE is a nice option. Because you can use this super bright torch while walking with your furry friend and also, use it for hiking, cycling, camping, preparing, or jogging.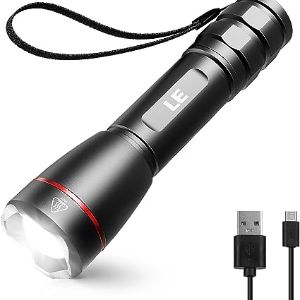 The torch has a built-in battery and you can connect it with the power bank as well. Also, the material is durable and can operate well in rainy and snowy environments.
Key features:
Portable
USB charging
Durable and water resistant
Further, the torch is made for multi-purpose use so, it has a powerful LED which provides 1000 lumens output in large areas.
Perks
5 light modes
LED torch is super bright
The zoom function is available
Users can pick a focused spotlight beam with a distance of 250m using the zooming feature
Drawbacks
Light wears off quickly
Flashes on and off even when fully charged
2. LE Small LED Torch Battery Powered
The LE Small LED Torch Battery Powered is a cheaper option than the previous product. This torch is small and has limited features compared to the previous one mentioned. For instance, this torch runs on a battery and is not rechargeable.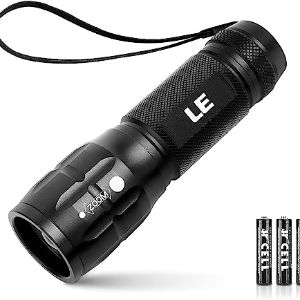 Regardless, the torch is still useful while dog walking. Because it can easily emit a focused spotlight beam at a distance of 150m.
Key features:
Water-resistant
Adjustable focus
Single button on-off
The material is durable and the torch is also helpful while going camping, cycling, hiking and other outdoor activities.
Perks
Small size
Super bright
Single button operation
The anti-slip design makes it easy to grip
Drawbacks
Not rechargeable
Frequent battery replacement required
3. Flexi attachment LED Lighting System
For dog owners who are looking for a handheld torch that is attachable with the retractable dog lead, the Flexi attachment LED Lighting System is a good option to consider. The torch has a single mode and button switch.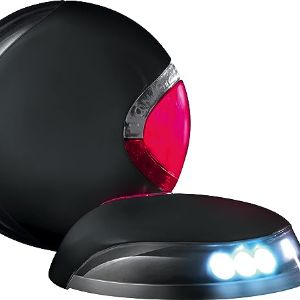 Further, the torch is easy to attach and detach with the retractable dog lead and is lightweight and compact. Also, the torch has 2 AAA batteries.
Key features:
LED lighting system
Water-resistant
Shock-resistant
You can easily use it and navigate it during your dog walks at night, the range of this torch is 10 meters.
Perks
Long-lasting battery
Useful in early morning walks as well
Suitable for both right and left-handed users
Drawbacks
May not attach with other leads
Battery replacement is needed
4. Suptig Running Light
Dog owners who prefer to jog or run along with their dogs can use Supting Running Light. This body torch dog walking is chest type and is preferred by many dog owners who exercise along with their dogs. The chest light wear allows owners to walk, jog, or run along with their furry friends.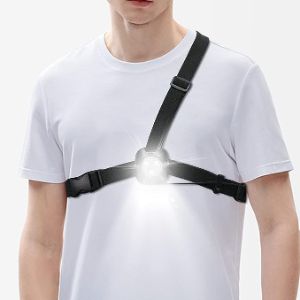 This chest light torch has a wide-angled floodlight design and is waterproof as well. In addition, it also has SOS flashing mode but, still is usable for roughly 7 hours.
Key features:
2-way wear
3 light modes
USB charging
Further, the chest light torch is a 2-way wear so, you can also wear it as a belt.
Perks
Adjustable light angle
Lightweight and comfortable
Rechargeable lithium battery
Drawbacks
Light fades away after the first recharge
The belt is not suitable for every individual
5. REHKITTZ LED Torch
Many dog owners seek durability when buying torches. For such owners, the Led Torch by REHKITTZ is a perfect option. The manufacturer claims that it can survive a 10-foot drop. This led torch is bright and bulky.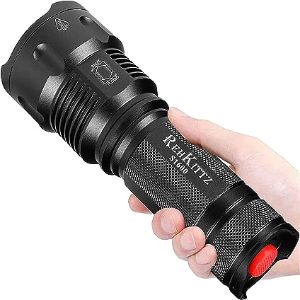 In addition, there is a zooming feature that helps the user to focus on objects that are hundreds of feet away. Also, the size of this torch is not that big and can easily fit in your backpack.
Key features:
Brighter light
Long battery life
Smart zoom design
The torch is suitable for dog walking but, you can also use it for camping, emergency blackouts, patrols, fishing, hunting etc.
Perks
Stable brightness
Beam distance 300m
Military-grade water resistance
Drawbacks
Batteries are not included with the torch
Not as bright as the manufacturer claims
6. Blukar Head Torch Rechargeable
If you are looking for the best head torch for dog walking, Blukar Head Torch is a good option to explore. This torch is rechargeable and has a long-lasting battery. The torch uses advanced COB-LED technology and the headlight provides a stable, bright, and uniform light.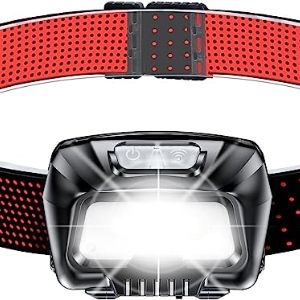 On a full charge, the torch will operate for longer periods while you are outdoors.
Key features:
USB charging
6 lighting modes
Motion sensor mode
The motion sensor mode feature allows users to wave their hands within a 15cm distance of lights and turn them on or off.
Perks
Lightweight and waterproof
Adjustable headlight base
Drawbacks
Flickers a lot after frequent usage
Battery power reduces after a few recharges
7. Zenoplige Running Light Lamp
Zenoplige Running Light Lamp is specifically made for night runners. But, if you plan on using it while dog walking it's still suitable for use. You can wear it on your chest comfortably and adjust the length as well.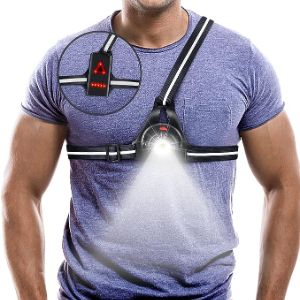 In addition, this torch has 3 different light modes. The three modes of switch are low mode, high mode, and strobe mode.
Key features:
Waterproof
Rechargeable
USB charging
Further, you can also use this chest torch while jogging, hiking, camping, fishing, etc.
Perks
Adjustable beam
Easy to wear on the chest
Drawbacks
Charging port breaks easily
Elastic strapping comes out of clips
Frequent usage makes the torch break easily
8. AVANTO PRO Clip On Running Light
AVANTO PRO Clip On Running Light is for individuals who look to attach the torch near their waist. It's hands-free and you can clip it on your cloth with the super strong magnet. The size of this running light is compact and dog owners can take them for hiking, or camping as well.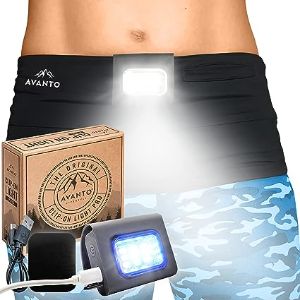 In addition, the torch is also lightweight, water, and dust resistant and is usable during snowy or rainy days.
Key features:
SOS mode
USB charging
Extended battery life
Further, the batteries are included in this torch and you won't have to buy them separately. Also, the brightness is 300 lumens which is ideal for use while dog walking.
Perks
Attachable to a magnetic surface
Cover made from recyclable material
Drawbacks
Cost is high
Poor charging port design
Rattling sound inside of light after frequent use
9. LUMEFIT Run light
This outdoor sports chest lamp from LUMEFIT is made keeping in mind the running prospect. So, you can anticipate that the material used for this run light is of good quality. It has a powerful frontlight, safety-warning rear light with straps.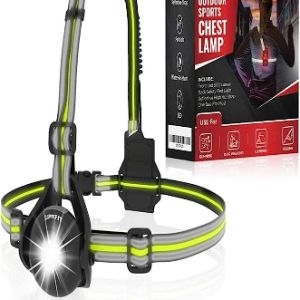 In addition, this torch light is embedded with 3 other reflective bands for better visibility. The good thing about this torch is that you can adjust the beam angle while walking or running.
Key features:
Rechargeable by USB
Back safety red light
ABS plastic body (water resistant)
While walking, running, or even cycling, you will not experience any movement or bouncing of this torchlight.
Perks
Shockproof
2 modes for brightness
Adjustable beam and strap
Drawbacks
Charging port issues
Light pops out of the holder sometimes
Fragile plastic material overcharging dock
10. MOWETOO LED Torch
For dog owners who go out less with their furry friends on walks during nighttime or early morning, MOWETOO LED Torch is perfect for them. This torch is cheap but, serves its purposes for owners looking for occasional night walking.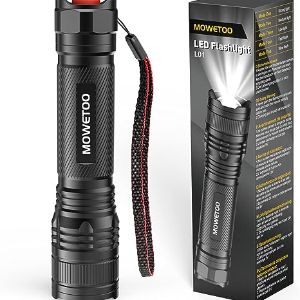 The torch has low, medium, high, strobe, and SOS modes in it. You can switch different modes using a single switch.
Key features:
Anti-slip handle
5 lighting modes
Further, the zoomable design enables you to adjust the focus of light as per your preferences.
Perks
Low mode extends battery life
A durable material used for water resistance
Drawbacks
Batteries not included
Switch for on/off is difficult to handle with a single hand
Buying Guide: Best Torch For Dog Walking
The list showed some of the best torches for dog walking. However, not all these torches are made the same. Some of them are better than others. So, if you still have some reservations about which is the best, keep reading this buyer's guide.
You will find out different prospects involved with torches used for walking dogs. For instance, types, factors affecting cost, and usage tips. But, before that let's have a peek at some of the crucial prospects that a dog owner needs to consider before buying a torch for dog walking:
Type of watch
Battery life
Size and weight
Durability and water resistance
Types of torches available for dog walking
There are different types of torches you can pick. Each of them serves a purpose and has its benefits and disadvantages. So, you can pick the most suitable torch for your dog after analysing the benefits of different torches.
#1. Handheld torches
These torches are traditional types of torches that you can hold in your hand and attach to your pocket, belt, or bag. You will also find a cylindrical switch for on and off. In addition, the handheld torches will come in different sizes, dimensions, weights, durability and battery life.
Further, some torches may also have additional features like strobe mode, zoomable focus, or stun gun. Dog owners who are comfortable holding the torches in their hands while walking their furry friends can use this type of torch.
Benefits of using a handheld torch
Simple operating mechanism
Has additional features
Powerful and adaptable light source
Variable brightness, durability, battery life, and water resistance
Disadvantages
The dog owner needs to hold it in their hands all the time
Some of them are quite heavy
Not everyone will feel comfortable using it
#2. Head torches
Dog walking head torches are comfortable and hands-free. A dog owner can easily wear them on the head or mount them as a helmet. With the torch on the head, you can easily direct the light in the area you need it.
In addition, based on different models, you may also get additional features such as a motion sensor, red light, or rechargeable battery.
Benefits of using a head torch
Hands-free and comfortable to use
Easy to wear on head
Flexible and adjustable for directing the light direction
Varies in brightness, battery life, water resistance, and durability
Disadvantages
Light is not bright enough for some situations
Can trigger distress in the head and sweating issues
May not fit some hade shapes
#3. Neck or chest torches
Neck or chest torches are hands free torch for dog walking and a dog owner can easily wear them around their chest or neck using a cord or strap. These torches have a front and backlight that provide visibility and safety.
Based on the model, they may vary in battery life, brightness, durability, and water resistance prospect. However, chest or neck torches fail to provide a directional or focused light in some situations. This happens because they are compact and flat.
Benefits of using chest or neck torches
No usage of hands
Easily wearable around the neck or chest using a cord or strap
Has a front and backlight for better visibility and safety
Includes additional features such as USB charging, reflective strips, or speaker
Disadvantages
Light is not focused or directional in certain situations
Can irritate the owner as it interferes with their clothing or gear
Not stable sometimes
Factors Affecting the Costs of Torches
The price of torches not only depends on their types but, also on various other factors. Different brands and models will have different features and functionalities so, the price variation is still noticeable even with identical operating features. Still, here are some of the common factors that affect the cost of torches:
The brightness for the torch is gauged in lumens. This parameter indicates how much light is produced by the torch. But, lumens also refers to high energy consumption and low battery life. Thus, you don't need a bright light torch but, one which offers a fair enough brightness and meets your preferences.
So, a battery with 100 to 300 lumens should just be fine for dog walking. In addition, different modes in the torch emit different brightness. However, you must pick the battery as per the terrain, distance, and darkness you usually encounter.
The battery life for a torch is measured in hours. In general, this refers to how long it can last on a single charge or the set of batteries it comes with. The longer the battery life, the more reliable and useful the torch is. But, longer-life batteries as usually bulky and the size affects the weight of the torch.
This doesn't mean you don't get one, it's just that the weight can cause distress to you. So, if your dog's walking schedule is not long or frequent a torch with 2-8 hours of battery life is just fine.
Further, battery life also relies on the capacity of the battery. Because some manufacturers provide rechargeable batteries and some use disposal batteries or have different battery mechanisms. So, the cost varies accordingly, for instance, rechargeable batteries or one with USB charging port will have a higher cost.
The size and weight of the torch are in centimetres and grams. This helps in determining how bulky the torch is. Normally, it's good to use a portable and light torch as it is easy to handle. But, it will have less brightness or battery life.
The reason for this is simple, the space for battery components is less and hence, the low battery life and less brightness. So, pick a battery that is not too small or big and provides a good beam of light. Also, the shape and design of the torch will have a significant impact on the weight of the torch.
Durability and water resistance
The durability and water resistance factors indicate how strong the torch is. So, if the torch is durable it can handle heavy impact, drops, dust, scratches, moisture etc. The water resistance feature is helpful for rainy and snowy conditions.
While the notion of durability and water resistance is appealing, it comes with a high price. As the material used is also more and it increases the cost of the torch. So, make sure you pick a torch that is durable and water-resistant but, also within your budget.
In general, a torch with an IPX4 rating is more than enough for dog-walking situations. However, if your region has unpredictable weather conditions or potential hazards nearby you need to consider highly durable torches.
Dog Walking With a Torch
Once you pick a suitable torch as per your preference i.e. battery life, brightness, size, durability, and water resistance, the job is only half done. What I mean is, before going out, you can train your dog using a torch at home itself. This will help them gain confidence and make them feel comfortable around the torch. Here are a few tips that may help with their training at home:
#1. Introduce the torch
Allow your dog to sniff the torch first. This will help them get used to the scent. Afterwards, turn the torch on and off, the transition may unsettle them but, if they are showing positive behaviour, provide them with rewards. Repeat this a few times to make them feel okay around the torch.
#2. Walk and command train
Once your furry friend is used to the presence of the torch in your hand, next, you can make your dog walk while the torch is on. If they comply, associate some commands so that they can remember this instance. For example, use cues such as "torch", or "light".
Some dogs tend to get distracted because of the torchlight. For such instances, use some toys or food treats to redirect their attention. Likewise, if they remain close to you without getting distracted, you need to praise this behaviour. So, when the next time you are on a walk outside, they will remember their training and won't resist walking.
#3. Train them to walk with obstacles
When your dog is following your cues while you use a torch and walking, it's time to train them to change directions, adjust speed, and increase the distance. Because while you are outdoors, there is no predicting regarding the obstacles, weather, or any such prospect. So, it's best to train them at home to counter such challenges.
You can begin by taking your dog to different rooms with a torch on. Also, use some toys as obstacles. If your dog is following your cues and walking correctly, you can use the same obstacle toy as their reward. Conduct this training for a few days, and place a food treat in one of the rooms. Make this room the final destination.
Placing a food treat in the destination room will help the dog feel joyful after having the treat. This instance registers in their minds and you will see them reflect similar behaviour while walking outside with a torch in your hands.
#4. Train in different lighting conditions
Now, if your dog is following the previous training steps, it's time for the final showdown. In this step, you need to try and walk them in different lighting conditions. So, keep switching the lighting for the next few days while walking with a torch in your hand, make it dim for one day, then bright, and lastly no light at all.
Further, while you change the lighting conditions in the rooms, make sure you switch light modes with your torch as well. This will help your dog get used to the variation of the beam and would not get surprised or get distracted by the switch while walking outside.
Tips to consider before dog walking with a torch
Once you are done with the training your dog walk with a torch in your hand in the house, and it's time to take them outdoors to walk. You can take them for an early morning walk or during nighttime. But, first, you need to have proper preparation for that. Here are some tips to consider for preparation:
You need to pick a location before you decide to go out for an early morning or late night walk with the torch. Your furry friend must be familiar with the terrain if you are walking with them using a torch for the first time.
Further, make sure that the weather is safe because if not, it can cause some issues for you and your furry friend.
While going for a walk, make sure you have the crucial supplies such as food, toys, poop bags, water, and bags with you. For safety purposes, you must also carry lead or a harness. Along with this, make sure you have your items as well.
Also, make sure you have the collar on your dog with a dog tag or a tracker on it. This can help in finding them in case they get lost at some point.
As per the location you decide, you may have to pick a torch that suits the best. For instance, in urban areas, the handheld torch is a good option, and in rural you can pick a head torch for dog walking or a chest or neck torch for better convenience.
If you are using a torch that operates on batteries, you need to check whether it's working or not. If it's not functioning you can replace them before going out for a walk. Likewise, if your torch is rechargeable, you need to make sure the battery is charged at an optimal level.
You don't want your battery to wear off while you are out there walking in the dark with your furry friend. Take the charger with you and the power bank as a backup for safety. In fact, keep an extra torch with you just in case the main one malfunctions.
Based on the torch you have, wear it properly and set it up before you go outdoors. Adjust the angle of light at your convenience. As per the weather and the environment, set up the light mode that suits the best.
These were some basic tips to consider. In addition, for better safety and visibility, you can also make your dog wear a reflective vest or collar.
Maintain Dog Walking Torch
Regardless of the dog torch you buy, if you don't maintain it or use it properly, the torch won't work for a longer duration. Doesn't matter if the brand provides a 1-year guarantee or high durability, you have to use it safely. Below are some of the tips you to maintain a dog walking torch for longevity:
#1. Regular cleaning of the torch
Dust, dirt, and debris can gather up in the lens, surface or switch of the torch. This can compromise the brightness, beam, and other functionalities of the torch. Hence, you must clean the dog torch regularly using a dry clean cloth.
Further, you can also use a soft brush to remove any dirt or leverage compressed air to blow out any residue or dust from the torch lens or the button.
#2. Replace the batteries regularly
If your touch has replaceable batteries, you need to change them frequently. Because old batteries are weak and affect the power and performance of the dog torch. So, replace such old batteries with new ones and make sure the size and the type are the same.
Thus, replacing batteries will maintain the same battery performance and if you insert them properly and clean up the slot regularly there will be no issue with the terminals and the torch will operate smoothly.
Also, make sure the quality of the battery is good otherwise you may risk overheating your torch or worst, it might explode.
#3. Charge the battery
If your dog torch is having a rechargeable battery, you need to charge it frequently. Because if you are not charging the battery for longer periods, the battery may lose its performance power and capacity to hold a charge like before. So, the brightness will also get reduced.
In addition, the battery may also begin to drain quickly because of the damage caused because of undercharging or overcharging. In fact, in some cases, it stops working completely.
#4. Lubricate the o-rings and threads
Lubrication to the threads and o-rings of the torch is crucial for preventing corrosion. So, make sure you are regularly oiling them using silicone grease or oil. This will ensure they don't crack. If the ring and thread are cracked, you need to immediately replace them.
#5. Store in a proper location
Torch when exposed to extreme temperatures or moisture can cause damage and hence, it's crucial for you to store them in a dry, cool, and a place where there is proper ventilation. This will help prevent mould, rust, or corrosion.
Now, even if you have a durable torch with you that is designed to handle different weather conditions, you still need to store it properly after using it. Otherwise, the battery may get damaged because of corrosion.
So, while not using the torch, the best way to store it will be to remove the batteries and keep them seperate from the torch. This ensures there is no overheating, leaking, or exploding of the torch in different weather conditions while not in use and at home.
#6. Continuous inspection
You'll need to continuously inspect the torch after each use. This will give you an idea of whether or not there is any damage or defects. Likewise, every time you plan on using the torch for dog walking, test its brightness, light modes, and beam. If there is any change, address the issue.
FAQs
What features to look for in the best torch for dog walking in the UK?
The weather in the UK is unpredictable at times, especially in July and August. So, for picking up the best torch for dog walking, you must consider the durability prospect. Other prominent features to look for in the best torch for dog walking in the UK include – brightness, rechargeable, water resistance, adjustable focus, and usability. There are many other prospects involved but, these are some of the must-have features.
What is the general price range for a dog walking torch in the UK?
In general, you can expect a quality dog walking torch to cost you between £5 to £30. Obviously, the price varies as per features, brands, and the material used in the torch. Some torches have more extensive features. So, if you find a torch costing more than £30, it's quite common. But, before you buy, make sure the features are suitable otherwise, you will face trouble while you are outdoors with your furry friend.
Which type of batteries to look for in a torch for dog walking?
The battery material of the torch for dog walking in the UK comes down to your preferences and requirements. In general, you will find Alkaline, Lithium-ion, and NimH batteries in the torches. The alkaline batteries are cheap, and light, but, not rechargeable. Lithium-ion batteries are used for torches with higher power consumption requirements, and NimH batteries are useful in warm conditions.
What torches are not suitable for dog walking in the UK?
There is no precise answer or specific guideline for this but, if a torch has low brightness, is heavy in weight, has short battery life, or has poor quality material, then the torch is not suitable for dog walking. Again, user preferences play a crucial role as some may prefer better battery life and some prefer durability. So, it's possible that the best torch for dog walking is not suitable for some dog owners and one with less capacity but, meeting preference is suitable for them.
Best Torch For Dog Walking
Picking the best torch for dog walking in the UK is a challenging task. There are ample factors to consider and many options available. But, with genuine efforts and thorough research, one can easily narrow down the list based on their preferences.
So, the list provided in the article must help you kickstart your research and hopefully guide you in picking the best dog walking torch. Whether you need a battery-operated torch or a rechargeable torch for your furry friend, you will find both types of torches on our list. In addition, you will also find torches based on their types i.e. handheld, chest was, or head torch.
However, before you buy the torch, make sure to check out the features, and specifications, and also peek at some of the reviews for getting better insights. I don't want you to regret buying a torch that is not suitable or in accordance with your preferences.
Lastly, whatever torch you buy, you'll have to maintain its condition and use it wisely. Because, regardless of its durability, if your use is rough, it will not work for a longer period. Hence, use it properly and enjoy the dog walking experience in early morning walks or at night.