Turmeric is a sub-continental spice and has been used in cuisine and in traditional medicine over the years. It belongs to the Ginger family and is widely used in Ayurvedic and Chinese medicines. You might have used it to leverage medicinal benefits yourself and might have wondered whether your furry friend might also, benefit from it. This article is perfect if you are seeking to explore medicinal benefits for your dog as it includes some of the best turmeric for dogs UK.
Also, there is a detailed buying guide which will help you get a proper perspective into various aspects that you might have to consider before you buy the best turmeric product for your furry friend. In addition, you will also find some tips regarding how to use it safely for better results and avoid potential issues that might transpire.
Best Turmeric for Dogs UK
Turmeric has curcumin compound which has anti-inflammatory, anti-oxidant, anti-microbial and anti-cancer properties. It helps dogs get relief from joint pain, improves their cognitive capacity, boosts the immunity system, improves liver function, and comes in handy to treat wounds.
As a dog owner, you need to analyse purity, bioavailability, absorption, quality, and other such aspects before buying the best turmeric for dogs UK. But, before we get into such details, take a look at these products mentioned below and see if any turmeric product stands out and is suitable for your furry friend.
1. Pets Purest 100% Natural Premium Turmeric For Dogs
If you need a turmeric product that is made naturally and helps deal with different health issues of your dog, Pets Purest 100% Natural Premium Turmeric is the product you are looking for. The active ingredient for this turmeric product for dogs is Bioperine and it increases the absorption of curcumin in the dog's hip, joints, and bones significantly.
The composition of these turmeric products is such that it supports the hip and joints of dogs and improves their condition. There is no presence of substances like grains, or gluten which can cause issues for the dog.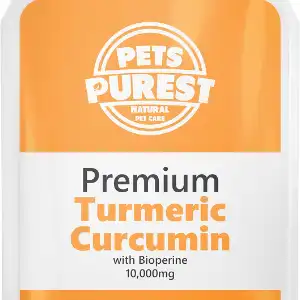 Key Features:
Capsule
Natural turmeric
Active Bioperine
In addition, these turmeric capsules also improve the immunity system of dogs, and the curcumin helps with digestion, discomfort, and mobility.
Perks
Boosts immune system
Improves joint mobility and flexibility
Natural ingredients (No grain or gluten)
2. Turmeric For Dogs – Food Supplement by Supplements Wise
For dog owners looking for a flavoured turmeric supplement for their furry friends, Turmeric For Dogs by Supplements Wise is a suitable choice. These turmeric supplement tablets are chicken flavoured and also have black pepper extract for better effectiveness. The black pepper extract has piperine which helps with quick absorption.
These turmeric tablets are easy to feed as dog owners can easily break them and mix them with the dog's regular food. The composition of the tablet ensures the dog gets relief from pain in joints and improves overall mobility as well.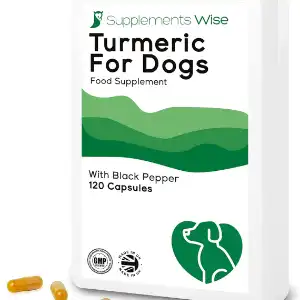 Key Features:
Capsules
Chicken flavour
Black pepper extract
In addition, these capsules are made in the UK, following human GMP standards to make sure the dog receives good quality and high-purity vitamins.
Perks
Suitable for usage on all dogs
No presence of wheat, gluten or lactose
Improves mobility by reducing stiffness in joints
Drawbacks
Strong smell so, some dogs resent having these capsules
3. Spice Root's Organic Turmeric Powder
For dog owners who regularly provide their dogs with a vegan diet, Spice Root's Organic Turmeric Powder will be a suitable choice. This turmeric powder is organic and grown naturally to retain all nutrients. You will find no additives or chemicals in this turmeric powder.
You can use this powder on your furry friend's wound to facilitate healing. In addition, it can be mixed in their diet to improve their overall health condition.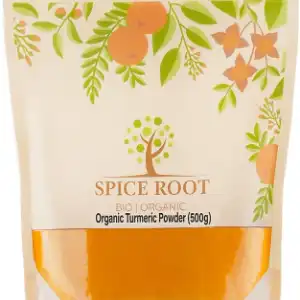 Key Features:
Organic
Powder type
Re-sealable pouch
Furthermore, dogs can have this powder in more quantity in their meals to improve mobility and support the immunity system.
Perks
Heat-sealed and re-sealable pouch
Helps resolve gastrointestinal issues in dogs
No additives, flavours, stabilisers, or food colour
Drawbacks
Re-sealable feature malfunctions
4. MySuperfoods Organic Turmeric Powder
MySuperfoods Organic Turmeric Powder has high protein and helps improve a dog's overall health. The high protein percentage also helps in maintaining muscle mass and keeping the bones healthy. Also, the turmeric powder is grown naturally without the use of pesticides and is certified organic.
In addition, the powder is feasible to use on your dog's wound to facilitate healing and fight infection. Also, it helps deal with gastrointestinal issues such as ulcers, diarrhoea, and inflammatory bowel disease.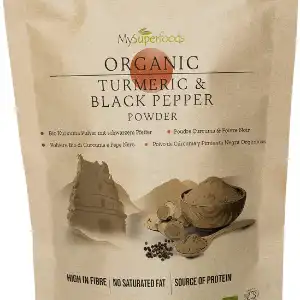 Key Features:
Powder type
Black pepper and ginger mix
Further, this powder can also help in regulating blood sugar levels and manage diabetes as well. Not to forget the black pepper and ginger mix helps in enhancing the absorption and bioavailability.
Perks
Made using naturally grown turmeric
Helps reduce inflammation, and tackle oxidative stress in dogs
Black pepper and ginger mix for more absorption
Drawbacks
Too strong and dark colour
5. Primary Pets Premium Pet Supplies Organic Turmeric for Dogs
If you need organic turmeric for your furry friend with high bioavailability then, Primary Pets Premium Supplies Organic Turmeric for Dogs is the option you must consider. These turmeric capsules are often referred to as golden turmeric. Its absorption capacity is high i.e. 600 mg of these capsules can provide an equivalent effect to 1200mg of normal turmeric.
Also, the organic black pepper extract i.e. Piperine helps increase Curcumin bioavailability. So, the high bioavailability helps in providing dogs with joint pain relief. In addition, the antioxidant and anti-inflammatory properties help reduce inflammation and joint damage.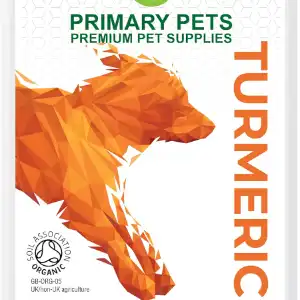 Key Features:
Capsule form
Black pepper extract
Furthermore, the capsules can be hidden in your furry friend's regular meal or sprinkled over as per your preference.
Perks
Improves mobility and soothes sore joints
Suitable for all dog breeds and easy to administer
Drawbacks
Some dogs will face difficulty while swallowing the capsules
6. Turmeric Paste by The Golden Paste Company
Turmeric paste by The Golden Paste Company is suitable for dog owners who are looking to use paste from turmeric for the health benefits of their furry friend. The paste form comes in handy as it can be easily included in the meal or applied to their wounds.
This turmeric paste for dogs includes black pepper, apple cider vinegar, and Ceylon cinnamon in the mix. The composition of these elements helps in improving mobility in dogs.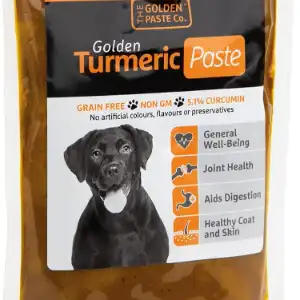 Key Features:
Paste form
Black pepper
Apple cider vinegar
In addition, the natural anti-inflammatory property of this paste and quercetin compound in the apple cider vinegar helps improve dogs suffering from joint pain, swelling issues, and arthritis.
Perks
Allergen free
Improves dog's mobility
Drawbacks
Squeezing paste out of the pack is difficult
7. Healthy Hounds Turmeric K9 for Dogs
If you need dog turmeric supplements for your furry friend then, Healthy Hounds has made Turmeric K9 Curcumin capsules which you can use to improve your dog's health. The bioperine black pepper extract speeds up the gastrointestinal process and helps improve digestion in dogs.
Also, the powerful anti-oxidants used in these capsules help reduce oxidative stress and prevent various health issues in dogs.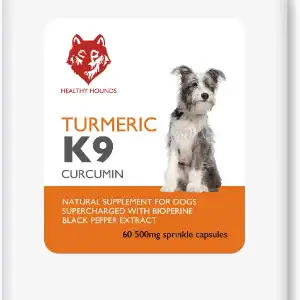 Key Features:
Salmon flavour
Strong formula
Further, the manufacturer claims that their Turmeric K9 for dogs can be used with Scottish Salmon Oil, or Omega Wild Fish Oil to provide more nutritional benefits to the dog.
Perks
Optimal Curcumin levels
Effective hip and joint care
No colourings, fillers, or gluten
Drawbacks
Turmeric may stain
Dogs might resent the smell
8. Turmeric & Black Pepper by Pawbits
Pawbit's Turmeric & black Pepper capsules are helpful for dog owners who prefer natural remedies to help their dogs. These turmeric capsules use natural remedies to help with the dog's joints and overall health. The black pepper extract and natural anti-oxidants in the mix of ingredients help with healthy digestion, support hips and joints and improve the dog's overall health.
In addition, the black pepper extract helps with the absorption of turmeric which helps in boosting the effectiveness of these natural remedy capsules.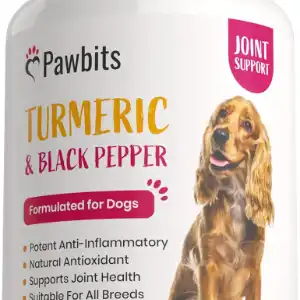 Key Features:
Black pepper extract
Natural anti-oxidants
Further, the manufacturer also claims to have made these capsules matching GMP standards so, safe for usage.
Perks
Improves dog's cardiovascular health
Easy for dogs to swallow the capsules
Drawbacks
Only suitable for dogs who are over 8 weeks old
Buying Guide: Best Turmeric for Dogs UK
The list mentioned in the previous section highlights some of the best turmeric for dogs which you can buy. However, the variation in ingredient composition and brand may confuse you. This buying guide will help you get a proper view of different aspects to help you pick the best turmeric for your furry friend.
Turmeric for dogs – quality and ingredients
Turmeric is a natural spice ingredient and, has been used for thousands of years in Asian medicinal practice. It has a compound named curcumin that contains anti-oxidant, anti-inflammatory, and anti-microbial properties which makes it suitable for medical use.
Turmeric has shown significant effectiveness medically when used on people so, many individuals use it for dogs as well. However, it's crucial to consider the quality and ingredients of turmeric before using it on a canine. Below are some of the prospects for you to consider in terms of quality:
Medicinal quality – the turmeric product you buy must have medicinal quality. This means it should retain curcuminoid compounds as the active ingredients. The reason is simple, these compounds have anti-inflammatory, anti-bacterial, and ant-oxidant properties that help deal with medicinal issues. Checking medicinal quality is crucial because culinary turmeric is made for taste, not for the quality of curcuminoid compounds.
Standardisation – turmeric's composition and potency rely on different factors like harvest time climate, soil and processing methods. To make sure you are buying a quality turmeric product, you need to verify the quantity of curcuminoids used. The quantity must meet the standard, meaning, the number of curcuminoids per dosage or serving must be proper. This helps in providing the turmeric to the dogs easily.
Purity – this prospect refers to the amount of impurities and contaminants that are possibly present in the product. The potential substances present are microbes, pesticides, heavy metals, or other substances. Such substances in turmeric can be dangerous to use for the dogs. So, you need to make sure the turmeric's purity is tested and marked safe for use.
Sustainability – the turmeric plant grows in a tropical area, mainly in India. The cultivation of this spice takes lots of water and land which suggests the environmental and social impact. So, it's important to check whether the turmeric used in the product is sustainable and grown using trustworthy practices.
Bioavailability – turmeric is not absorbed by the human body and the same goes for dogs. Also, the small digestive tract of these dogs means the majority of the turmeric given to the dog will pass through their body without being used at all. The turmeric must include additives and enhancers that assist the dog's body to absorb more curcuminoids.
Types of turmeric for dogs
The turmeric spice is useful for dogs but, because it is difficult to absorb, it is available in different forms. Based on different types of turmeric, the dosage is adjusted and given to the dogs for better effectiveness. Here are different types of turmeric you may find:
Turmeric powder – this form of turmeric is the cheapest and most common in use. You can mix it with honey, coconut oil, food, or yoghurt to feed it to your furry friend. But, the powder turmeric normally has less potency and bioavailability. To improve the absorption, you may have to combine it with black pepper or other additives. The turmeric powder may cause digestive upset in dogs so, it should be given properly.
Turmeric liquid – the liquid form of turmeric is concentrated and comes in a dropper bottle. You can add a few drops to your furry friend's daily meal. In comparison with turmeric powder, liquid turmeric has higher potency and bioavailability. The additives in liquid turmeric are responsible for the higher potency and bioavailability. But, compared to turmeric powder, the impurities in the liquid form will be more. Thus, you need to verify the purity of the turmeric liquid you plan on buying for your furry friend.
Turmeric chews – turmeric chews are soft and retain other ingredients as well. These chews can be given as a treat or supplement. The turmeric chews have nutritive flavour and the additives or enhancers make them moderate in terms of bioavailability and potency. So, the higher potency and bioavailability of the chews help dogs absorb more curcuminoids. At times, there are traces of some artificial flavours or fillers that are unnecessary or harmful to the dog.
Turmeric chewable tablets – the chewable tablets don't require any preparation like mixing. The turmeric chewable tablets can help you deal with issues like diabetes, arthritis, digestive disorders, and other health issues your furry friend might face. They are not as soft as turmeric chews but, are effective from a medicinal perspective. Their potency and bioavailability are moderate like chews, and may also, contain some fillers in them. A vet consult is a must before feeding chewable turmeric tablets to the dog.
Factors Affecting the Cost of Turmeric for Dogs UK
The cost of turmeric for dogs is based on different factors. Knowing the factors influencing the prices is crucial for you as it impacts your budget and requirements. It also helps you pick the best possible turmeric for your furry friend. Here are some of the factors affecting the costs of turmeric for the dogs:
#1. Type and form of turmeric
In the previous section of the article, I mentioned different types/forms of turmeric that you can use as a dog owner. The form of the turmeric product you pick will have a significant influence on the cost. The reason is simple, each type or form has different potency, bioavailability, palatability, and purity. The turmeric product type that is concentrated with more additives is expensive.
For instance, liquid turmeric products are more expensive because of the high potency, bioavailability, and additives present in the composition. Thus, based on the type of turmeric, the prices vary.
#2. Ingredients and quality of the turmeric
The turmeric of high quality and purity, will have more portion of curcuminoids as an active ingredient. The higher the proportion of curcuminoids, the more health benefits to dogs. This also means that the price of turmeric products with a high percentage of curcuminoids will have more price compared to other turmeric products, regardless of form or type.
In addition, the quality of the turmeric for dogs is also based on the additives or enhancers added to the composition. For example, many manufacturers add coconut oil, black pepper, or hemp oil to improve the absorption and effectiveness of turmeric. Also, the product is tested and certified with the help of third-party agencies to make sure it's safe and pure. Hence, if the turmeric product is of high purity, it will cost more.
#3. Dosage quantity
The Turmeric dosage that a dog may need or prescribed by the vet will have a significant impact on how costly the turmeric product is. The dosage quantity refers to the proportion of curcuminoids that the dog needs so, more dosage means higher prices.
The dosage administered by the vet will vary as per the form of turmeric product i.e. powder, liquid, or chewable tablets. Liquid turmeric products are likely to have higher costs among the three types mentioned. The reason for it being expensive is that the dosage quantity of this turmeric type is more compared to chewable tablets or powder.
#4. Availability and demand
The turmeric spice is grown in India and needs lots of water and land for proper cultivation. So, based on the seasonal production in the region, the prices of turmeric usually fluctuate. So, if the demand for turmeric is higher in comparison to its availability, the cost will be high. Also, diseases, pests, changes in climate, and other factors reduce its overall production.
Hence, less production of turmeric will elevate the prices of different products that you use. Further, based on seasons the cost of turmeric keeps changing. For example, during winter the supply is more so, less price but, in summer and rainy season it will cost more.
#5. Brand of the turmeric product
The turmeric available for dogs comes in different forms and many brands manufacture these different turmeric products. The processing and packaging procedure influences the cost of turmeric significantly. For instance, some brands use natural and advanced methods to process and package their turmeric products. These turmeric products are high in purity and have a longer shelf life.
Hence, such turmeric products will cost more. In addition, some of the brands even verify their products and attain different certifications to showcase the authenticity of their product. So, higher compliance and verification costs will elevate the overall cost of such branded turmeric products.
Turmeric for Dogs Benefits
Turmeric comes in handy for dealing with various health issues and improving the overall health of dogs. It is not a substitute for a medicine or a cure so, as a responsible dog owner, you need to follow the vet's instructions when providing the turmeric dosage to the dog. If you follow the instructions, below are some of the prominent perks you will leverage while using turmeric for dogs:
#1. Improves dog's joint health
Turmeric reduces pain and inflammation in dogs suffering from arthritis or joint pain. The reduction of pain and inflammation is possible due to the curcumin compound that is present in turmeric. It blocks the activity of enzymes and molecules such as COX-2, NF-kB, and TNF-alpha.
#2. The digestive system gets better
If the dog is having digestive tract issues or inflammatory bowel disease, using turmeric could help improve the condition and also, protect the digestive tract. The curcumin compound interferes with the production of pro-inflammatory chemokines and cytokines in the intestinal mucosa.
In addition, you can also expect turmeric to prevent stomach ulcers, and infections, by stopping the growth of dangerous bacteria like Escherichia coli, Helicobacter, and Salmonella Typhimurium.
#3. Makes the immune system stronger
Turmeric increases the antioxidant defences and helps the dog's immune system to tackle different kinds of fungi, bacteria, parasites, viruses or dangerous microbes. The dog's immune system gets better because the curcumin in turmeric eliminates free radicals and increases the activity of antioxidant enzymes like SOD (superoxide dismutase), CAT (catalase), and GPx (glutathione peroxidase).
Further, the curcumin compound in turmeric can also slow down the growth of some types of cancer cells by interfering with the blood supply and metabolism. It has anticancer effects by modulating the expression of proteins and genes involved in cell cycle regulation, apoptosis, angiogenesis, metastasis, and invasion.
#4. Healthy heart
Turmeric can help improve a dog's heart health by lowering blood pressure, cholesterol, and triglycerides. The curcumin compound in turmeric relaxes the blood vessels and reduces the resistance to blood flow. In addition, it also minimises or prevents the risk of blood clots and strokes by stopping platelet aggregation.
Curcumin has antiplatelet effects as it interferes with the activation of platelets and synthesis of TXA2 i.e. thromboxane. TXA2 is a platelet aggregator and patent vasoconstrictor.
#5. Improves Cognitive function
Dog's brain function needs to remain proper as it influences their mood, behaviour, memory, and learning capability. Turmeric helps enhance the cognitive capacity of dogs by safeguarding the brain cells from inflammation and oxidative stress. This is possible because the curcumin compound has neuroprotective effects and it reduces the levels of ROS i.e. reactive oxygen species and pro-inflammatory cytokines in the brain.
In addition, turmeric also delays the initiation of neurodegenerative diseases like Alzheimer's by clearing amyloid plaques and improving memory and learning. Also, the curcumin compound has anti-amyloid effects as it stops the deposition of amyloid-beta peptides in the brain.
#6. Treating wound
The wounds sustained by dogs can be healed by using turmeric topically. The anti-inflammatory, anti-bacterial, and anticoagulant properties of turmeric make it suitable for treating wounds. Anti-inflammatory effects make sure the swelling, irritation, or pain caused by inflammation is reduced, and Anti-bacterial properties ensure there is no infection.
In addition, the anticoagulant properties reduce the formation of blood clots that are responsible for bleeding or blocking blood flow. Turmeric slows down the bleeding process and facilitates healing. Below are some ways you can use turmeric on dogs' wounds:
Use warm water and soap to clean the affected area of the dog's skin and make it dry using a dog-drying towel.
Mix the turmeric powder with a slight amount of olive or coconut oil and form a thick paste. For better absorption and speedy healing, add black pepper to the mix.
Take the paste and apply it gently on the dog's wound. Make sure you use a clean cotton ball to apply the turmeric paste and if using fingers, make sure they are dust-free. In addition, you can also use a syringe or a dropper to apply the paste to areas of the wound which are not accessible with fingers.
After applying the turmeric paste, the wound needs to be covered using a gauze pad or bandage. This is to prevent the licking or scratching behaviour of the dog. In addition, the bandage needs to be changed once or twice a day for proper healing. For better results, clean the wound every time you apply a new layer of the turmeric paste.
Additional benefits of using turmeric for dogs
The perks mentioned previously are some of the prominent ones but, not the only ones. I mean if you use turmeric for dogs, there are some other benefits you can leverage for your furry friend:
Turmeric increases the production of bile and enzymes which can help protect the liver from toxins and damage. The bile fluid helps digest fats and get rid of waste products from the dog's body. The enzyme produced helps speed up the chemical reaction to break down the toxins.
Further, turmeric can also prevent or help treat liver diseases like hepatitis or cirrhosis. The spice simply reduces the oxidative stress and inflammation to treat these liver diseases. Hepatitis disease is mainly the inflammation caused in the liver and cirrhosis is referred to as scarring caused by some chronic damage.
Inflammation in the eyes and oxidative stress is reduced by turmeric and this prevents cataract in dogs. The impairment of vision in dogs is caused because of the accumulation of liquid deposits in the length. This is triggered by inflammation and oxidative stress.
Turmeric manages to scavenge the free radicals and inhibit pro-inflammatory cytokines in the eyes. This prevents or delays the formation of cataracts in the dog's eyes. Along with this, turmeric naturally makes a dog's vision better as it improves oxygen and blood flow delivery to its eyes.
Epilepsy is a neurological disorder which causes seizures. These seizures are recurrent and a result of abnormal bursts of electrical activity in the brain. Turmeric helps in modulating such abnormal activity of brain chemicals and neurons and prevents deterioration of the dog's epilepsy condition. Sometimes the cause of epilepsy is also genetic, brain injury, tumours, metabolic disorders, or infections.
Turmeric modulates the activity of neurotransmitters such as GABA, serotonin, glutamate, and dopamine. In addition, it can also regulate the activity of ion channels such as potassium, sodium, and chloride which are involved in transmitting electrical signals between neurons. Thus, by balancing brain chemistry and function, turmeric might reduce the frequency and severity of seizures.
The fleas, ticks, worms, and mites that pose a threat to dogs can be killed using turmeric. It has anti-microbial properties which hinder the growth of bacteria, helminths, viruses, protozoa, and fungi, or eliminate them. In addition, turmeric has a strong smell and flavour which can act as a bad smell layer that can repel these bacteria and pests and prevent biting.
Drawbacks of Using Turmeric for Dogs
There are ample benefits of turmeric for dogs but, if not used properly, there are some significant drawbacks as well. Even with proper usage, there are certain risks involved while using turmeric for dogs. Below are some of the drawbacks that you need to be aware of before using turmeric for your furry friend:
#1. Digestive issues
Some dogs cannot handle the turmeric and often suffer from digestive upset or constipation. This happens because turmeric can irritate the lining of the digestive tract and change the gut flora. It can also reduce the absorption of iron and various other minerals from the food which ultimately leads to nutritional deficiencies.
A dog is more susceptible to digestive issues or constipation if the amount of turmeric used is more than what is normally used or exceeds the vet's recommended dosage.
#2. Risk of kidney stone
Turmeric can elevate the amount of oxalate in a dog's urine which can increase the risk of kidney stone. Oxalate is a waste product that blends with calcium and other minerals to form crystals and stones in the kidneys and bladder of our canine friends.
These stones can cause severe pain, infection, and blockage of the urinary tract. The risk of the stones is higher in dogs who have a prior history of kidney stones or disease.
#3. Side effects on drug interaction
If your dog is already on medications, turmeric may cause disruption and medicine won't work. Also, the reaction with medications can affect the enzymes which metabolise these drugs in the liver. The interaction with different drugs can lead to various health issues or have severe side effects.
One thing that is for sure is that the effectiveness of a specific drug or medication will be compromised because of the turmeric. So, as a responsible dog owner, you must avoid such mix-ups or consult your vet before using turmeric on your furry friend.
#4. Premature labour for female canines
Estrogen hormone regulates the menstrual cycle in female dogs and turmeric's anti-inflammatory and estrogenic properties can mimic the behaviour of estrogen hormone trigger contractions and induce premature labour in pregnant female canines. Hence, dog owners need to remain cautious and avoid giving turmeric to pregnant female dogs.
Additional drawbacks of using turmeric for dogs
There are several other disadvantages of using turmeric for dogs. Below are some of the additional drawbacks of using turmeric for dogs:
Low blood sugar levels in dogs are problematic. More than often, turmeric is responsible for low levels of blood sugar in dogs if they have had some in their regular meal. It can lead to diabetic issues or hypoglycemia. A dog will feel weakness, tremors, seizures, lethargy, or worse coma.
Turmeric also interferes with diabetic medications like insulin or metformin and the reaction may compromise its overall efficacy. This hindrance often results in hypoglycemia or diabetes.
Blood clotting is compromised
The anti-platelet and anticoagulant properties of turmeric stop blood from clotting in a normal way. The compromise in blood clotting instantly elevates the risk of more bleeding or bruising. The risk factor is high if the dog has had surgery or sustained some heavy injury.
In addition, turmeric can also cause reactions with blood thinner medications such as warfarin or aspirin and lead to thrombosis or haemorrhage issues. These situations are quite fatal for any dog. So, if your dog has sustained injury, has a massive wound or will have surgery you must avoid using turmeric.
Some dogs will not be able to handle the curcumin compound present in this spice and will exhibit allergy. Normally, dogs who are not comfortable with the use of turmeric will show signs of itching, have trouble breathing, or hives. This allergic reaction is also persistent because some dogs are allergic to ginger and turmeric belongs to the ginger family.
The common signs you may observe in dogs after having an allergic reaction to turmeric will be swelling, rashes, hives, itching, or breathing issues. In addition, these symptoms can escalate quickly and can transit from mild to severe and if it's anaphylaxis, life-threatening.
Turmeric causes can reduce the iron absorption from the food which can lead to iron deficiency in dogs. The efficiency impacts the production of red blood cells and haemoglobin in dogs. The blood doesn't carry enough oxygen to the tissues and this eventually leads to anaemia.
The dog will show symptoms such as weakness, loss of appetite, fatigue, pale gums, weight loss, or elevated heart rate. The reason behind the iron deficiency is that the turmeric binds and forms complexes that are not absorbed by the intestines.
Tips on Using Turmeric for Dogs
The drawbacks mentioned are concerning and if you are not careful with the usage of turmeric for your furry friend, the outcome will be unpleasant. To help you avoid such issues I have provided some crucial tips that you need to follow effective use of turmeric for dogs.
#1. Consult with the vet
Before you plan on using turmeric for your dog, it's crucial you consult with your vet. This will provide you with some insights into whether or not your furry friend can handle turmeric or not. Based on your dog's medical history and current condition, the vet might also suggest how and which type of turmeric will be suitable for your dog.
Further, you will get specific instructions regarding the dosage, frequency, and duration of turmeric usage from your vet. In addition, if your dog is on certain medication, the vet might suggest you not use turmeric or use it differently to avoid the reaction.
#2. Pick a suitable turmeric type
The turmeric you choose must contain a high percentage of curcuminoids to leverage health benefits. The composition of this compound varies in different forms and as per vet instructions and your preference you can use them. Below are some ways to how you can use different types of turmeric for dogs:
The powder form is easy to use for dogs. You can simply sprinkle them on your furry friend's food. However, it is not considered optimal to help dogs. This is mainly because it is less absorbent in its pure or raw form.
Thus, you might have to add some additives such as black pepper, or healthy fats like fish oil, olive oil, coconut oil, or flaxseed oil, to improve the absorption and enhance its effectiveness. These additional ingredients are easy to serve as you only need to mix them in your furry friend's food or water.
A paste of turmeric is formed by adding different healthy fats and black pepper to the mix. So, you are basically using powder form but, in a different way for leveraging the benefits of this spice for your furry friend. There are ample turmeric for dogs recipes to pick from and if you prefer simple serve, mix the turmeric in water and cook it after adding different oil and black pepper.
The paste of turmeric is not only helpful in feeding dogs but, also helps with wound healing. Hence, both ways of usage give paste turmeric an edge over the powder.
Turmeric capsules or tablets
If you need to address health prospects or help dogs suffering from arthritis then, turmeric capsules are efficient and will provide better results in comparison to turmeric powder or paste. Turmeric capsules or tablets are made using specific methods and maintain precise proportions of curcumin and other ingredients for optimal results.
A simple example is the use of Bioperine, or lecithin to improve the absorption. However, the turmeric tablets or capsules need to be given to dogs as per vets' instructions. You don't want to overdose on the dog or use less. In addition, these capsules can be directly included in a dog's regular meal or you can open the casing and sprinkle it.
#3. Gradually introduce your dog to turmeric
You need to allow your furry friend to adjust to the change in their regular diet. Turmeric has a strong smell and some dogs might resent it, especially if the quantity is more. Start small and gradually increase the intake/dosage of turmeric for your dog. Below are the recommended dosages for different forms of turmeric that you will probably use:
Powder turmeric – you can use 15 to 20 mg of turmeric powder per pound of your furry friend's weight. But, is better if you stick to a 5mg dose. The lower dose will not harm your furry friend. Observe the changes your furry friend goes through, and after some time based on the response of your furry friend, you can either increase the dosage or stop giving turmeric powder to them. Monitor their urine colour and look for signs of discomfort for better assessment.
Paste turmeric – the recommended dosage for paste turmeric is roughly 1/4 teaspoon per 10 pounds of body weight of dogs and you should begin with a small dose. Based on your dog's response to the small dosage, increase or decrease the quantity of the turmeric paste you use. Keep an eye on the urine or stool colour, it will help in knowing the effects of the paste.
Turmeric capsules – the concentration of curcumin compound is different in various capsules. Based on the brand of the capsules the dosage will differ. So, before using any such capsules consult your vet or simply use vet-recommended turmeric for dogs. The general dosage of turmeric capsules for dogs is one capsule per 10 pounds of body weight.
#4. Monitor dog's health
You need to monitor your dog's health continuously after using turmeric for the dog. The reason is simple, many dogs will not respond well to this spice and may exhibit allergic reactions among other issues. Thus, look for signs of anomaly and contact your vet if your furry friend has shown signs of discomfort after ingestion of turmeric during their daily meal or, if wound infection is elevated because of the powder form.
Things dog owners must avoid while using turmeric for dogs
If you follow the tips for using turmeric for dogs, you will leverage several benefits for your furry friend. However, there are many drawbacks and to avoid them you need to avoid certain prospects while using turmeric for your dog. Here are some of the things to avoid while using turmeric for dogs:
Excessive use – turmeric surely helps in solving various health problems but, it also poses certain risks, especially if it's used excessively. Overusage or overdose can cause severe health issues for dogs. Hence, as a responsible dog owner, you need to ensure you follow the guidelines mentioned by the manufacturer or instructions provided by the vet.
Avoid giving to dogs suffering from severe health issues – turmeric does help in relieving pain and deal with other health issues but, you must avoid using it for dogs suffering from kidney disease, kidney stones, or gallbladder issues. Also, please don't use it on pregnant dogs, turmeric spice can stimulate the female canine's uterus and trigger contractions. This induces premature labour in pregnant female dogs. So, avoid using it on pregnant female canines.
Don't use turmeric if its ingredient may cause allergy – some dogs are allergic to ingredients that are used in the turmeric, especially if they contain additives to improve the overall effectiveness. It may lead to issues like itchiness, make breathing difficult, or hives.
Avoid random mixing – turmeric contains different ingredients and its active ingredients i.e. curcumin compound may react with other elements of food items and trigger reactions that may cause digestive issues or other health problems.
FAQs on Best Turmeric for Dogs
Is there any optimal turmeric for dogs dosage?
No, there isn't. The reason is the variation in the composition of different forms of turmeric. For instance, powder turmeric for dogs can be given about 15-20mg per pound of dog weight, turmeric capsules can be given one per 10 pounds of body weight, and paste is served 1/4 teaspoon per 10 pounds of body weight. So, this variance is the reason why there is no general dosage of turmeric for dogs.
What is the general price of turmeric for dogs UK?
It is difficult to estimate the general price of turmeric for dogs in the UK as it varies based on different factors like type, brand, quality, and quantity. For instance, powder turmeric will cost roughly £2-£10, capsules are available at £5-£10, and paste roughly cost between £5-£15. Remember, the prices of these turmeric products will vary and some of the turmeric products will cost more than £15 or £20.
Do dogs like the taste of turmeric?
The smell of turmeric is strong and the taste is bitter. So, not every dog likes the taste of turmeric. Some dogs will not like the taste of turmeric and some of them will resent the strong smell. However, some dogs like the taste and will show no hesitation if it is mixed into their regular meal. For dogs that don't like the taste or smell, dog owners can use olive oil or coconut oil to make the taste bearable. Using this oil can also increase the absorption and bioavailability of curcumin in a dog's body.
What is the worst possible side effect of turmeric for dogs?
Blood thinning is the worst possible side effect of using turmeric for dogs. Turmeric interferes with blood clotting and lowers the blood pressure in some dogs. Dogs who are on blood thinning medication or have bleeding disorders are vulnerable to turmeric use and are likely to suffer from this side effect.
Final Remarks on Best Turmeric for Dogs UK
Turmeric is useful from a health perspective for dogs, and if used properly, there are ample benefits that dog owners can leverage. The turmeric contains compounds that help in reducing inflammation, stop cancer, tackle oxidative stress, and kill microbes. In addition, it also helps in dealing with skin allergies, arthritis, skin issues, and infections.
However, for better results, dog owners need to use it wisely as there are some severe consequences of negligence while using turmeric for dogs. For instance, excessive feeding can lead to digestive issues and excessive application of turmeric on a dog's wound could cause skin stains, or allergic reactions. Hence, as a responsible dog owner, you need to conduct a thorough analysis of various prospects such as potency, quality, purity, ingredient composition, and dosage.
I hope that the article was able to provide you with insights into how you can choose the best turmeric for dogs UK. Make sure you go through the buying guide and pick the best turmeric for your furry friend. This is important as all the turmeric products are made differently and it's possible that some of them might not work on your furry friend or cause an adverse effect.