"Smile! Santa is coming to the town."
Gear up, it's time to work on your Christmas gift list. Shopping for friends, and family, don't forget you have to prepare a special gift hamper for your furry pal as well.
Along with decorating the house, and baking cookies & cakes for dear ones, shopping for your furry pal is also a priority.
Key Takeaways
The Holiday season is coming up, and we are ready with our ideas for Christmas gift hampers for your furry pal.
You can spoil your dog by gifting a gourmet cookies set.
The box, full of personalized Christmas clothing, will add a spark to your dog's personality.
You can also gift Holiday props for your dog, it will make him feel happy. Plus, you can click cute snaps with your dog.
So, to help you out we have jotted down a few ideas for Christmas gift boxes for your dog, which he will surely like, and will enjoy his Holiday. Without wasting more time, let's scroll and explore.
Happy Holidays!
Unique Ideas for Christmas Gift Boxes for Dogs
The holiday season is coming up, and we are here to help you choose the best Christmas present for your dog. So, let's not waste time and directly dive into the idea list.
1. Gourmet Cookies Set
This Christmas, surprise your fido with a special hamper which includes only gourmet cookies for him. Premium quality treats with Xmas theme are all you need to order for your dog. That special hamper will include vegan cookies, and be formulated in such a way that it stays crunchy for a longer period of time.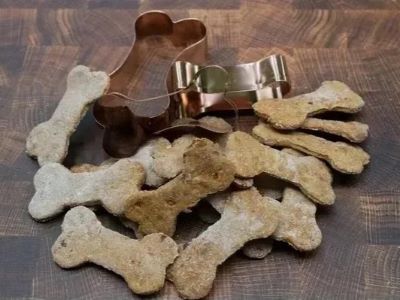 Crunchy bone shape cookies
Paw shape cookies with a Santa theme
Xmas theme Macron cookies
These Christmas cookies are easy to bake, or you can also place an order, and your dog's Christmas present is ready. Plus, these theme cookies are photo-worthy for your social media feed!
2. Cute Christmas Clothing
You can also gift personalized Christmas clothing to your dog. From Santa jacket to Xmas jumper suit, create a customized clothing box for your furry pal. The box will include the following clothing, which will make him more adorable.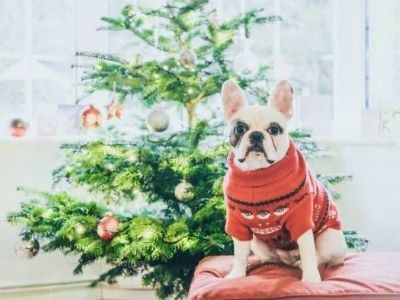 Christmas Jumper Suit
Knitted Snood
Santa Jacket
Holiday Dog Dress
Snowman Bow
Warm Red Socks
These cute clothes will add more cuteness, and you can also take the best twinning Instagram snaps with your pooch for your social media feed. However, do not forget to take the measurements before you order one for your furry pal.
3. Holiday Props for Your Pooch
Are you planning to take cute pictures of your dog on Christmas? If you want to highlight the best holiday photo of your dog, we recommend giving him a box full of cute holiday props, he will feel cute wearing these cute holiday props.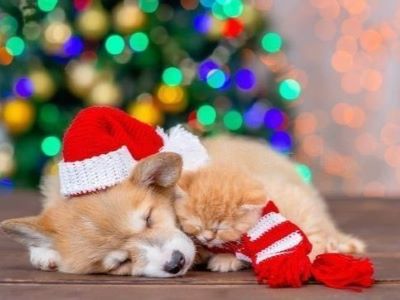 The box will include cute stuffs like:
Snowflake collar
Reindeer Antlers with Ears
Festive Scarf
Santa Cap
Snowman hat
Jingle bell collar
Xmas stick
Pack all these cute props in one box, and gift them to your dog. Try all these things on your dog and take a cute holiday picture of him to add to the memory book. The props will make your dog feel festive and will add spark to his holiday portrait.
4. Personalized Coats
Cute winter coats will definitely be appropriate for the Holidays. This is because it is not only a great idea to gift, but also protect your furry pal from shivering.
Red and white stripe coat
Reindeer hoodie
Coat with name initial
Knitted Red coat
Santa theme dry Towel coat
There are good-to-go ideas which add a festive touch and serve the winter purpose as well. Plus, these cute coats will make your fido look more adorable and worth uploading photos on Instagram.
5. Box Full of Cute Squeaky Toys
As we know, dogs love to play with squeaky toys, the sound gives them pleasure and a kind of mental satisfaction. So, a box full of cute squeaky toys will be a great idea and look for colourful Xmas based theme toys. It will match with the festive theme and your furry pal will get a variety of toys to play.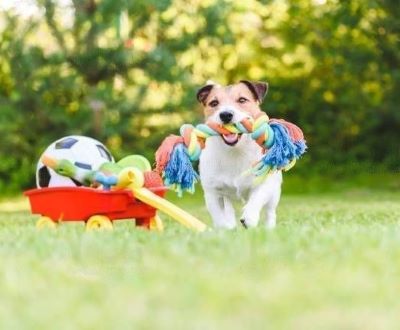 You will easily get these toys online from any online shopping website.
Trendy Goody Boxes for Dogs
Ho Ho Ho! It's Christmastime.
We have listed a few trendy, cute gift ideas for your dog, which you can place online to make it more special for your furry pal. Let's check out.
1. Kudes 2 Pack Snowflake Dog Collars
Snowflake collars by Kudes is a great idea to gift to your furry pal. It's an adjustable one, and great for all dog breeds, and sizes. These collars are one of the best gifts to decorate your pet and ready him for parties. Plus, the bow tie is detachable, so you can easily remove it if your furry pal just wants to wear the collar.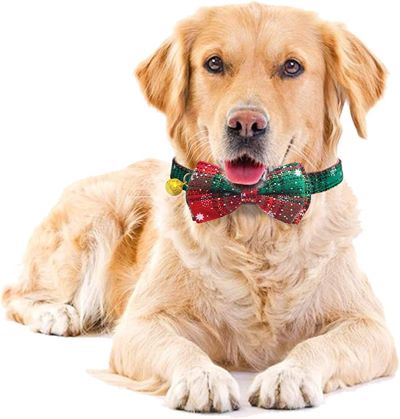 2. Crunchy Dog Cookies by Modern Gourmet
This Christmas season, shower cookie love on your dog by Modern Gourmet. Your dog is going to enjoy the taste of these cookies, which are decorated with high-quality ingredients. Each of the delicious cookies is wrapped with colourful wrapping paper, pamper your pooch with these delicious Xmas theme cookies, and enjoy the eve.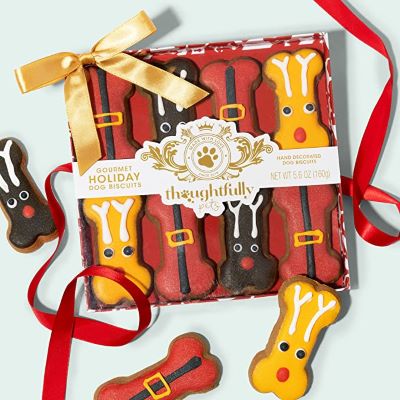 3. Christmas Dog Shirt by Futmtu
This Merry Christmas pattern shirt by Futmu will give your furry pal a stylish look and will keep him warm. It offers you various colour options, and sizes, so no need to worry about it. Plus, it's great for playing games, or carrying out any activity with your dog will feel comfortable, and you can take a cute snap with your pooch.
FAQs
Do dogs like to open Christmas presents?
Dogs do get excited when it's come to exploring any new thing. Yeah, we can say that they really enjoy opening their Christmas presents. For example, when you give them their gift box, watch their body language. They will wag their tail continuously, and jump on you to get the gifts and look at them.
Do dogs know it's Christmas?
Not exactly, they know that it's Christmastime. But dogs can sense seasonal change, they are a good observer. So yeah, they get a rough idea by seeing decorations, lights, and all that it's a festive time.
Do dogs like Christmas lights?
As per a study, it has been noticed that dogs can see a few colours which include shades of grey, blue, and yellow. Dogs do get attracted by the Christmas decor, like gifts, yummy cookies, lights, Xmas props, etc. So, yeah, they like gazing at Christmas lights but make sure they don't injure themselves by chewing the wire.
Is wrapping paper safe for dogs?
Wrapping papers are safe for your dogs if it doesn't include a metallic, or glittery thing. Your furry pal can safely open his gifts by himself. Even crêpe paper is also fine, when you are gifting anything to your dog make sure you are not using any chemically formulated wrapping papers.