The human obsession with chocolate is evident and it's instinctive to share this snack with our furry friend. But, are you aware that chocolate is bad for dogs? Well if not, let me break it down for you. Chocolate retains a chemical compound Theobromine which alters its composition after ingestion and turns into Xanthine.
The change transpires into a dog's lever and it's not good. This is mainly because xanthine interrupts with some crucial phosphodiesterase inhibitors which elevate the heart rate and causes an overload of central nervous system activity. So, if you are thinking of feeding your dog some chocolate out of love, think twice.
However, there is an alternative i.e. dog chocolate, that you can use to feed instead of the actual one. You are like -really? Is it possible? Well, yes! So, what is dog chocolate made of? Let's find out.
You Might Also Like:
Scooby Snacks Doggy Choc Drops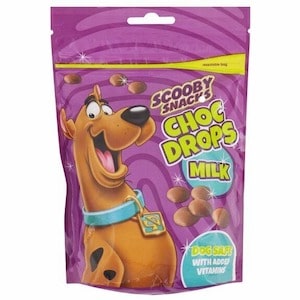 The Regal Mutt – Rawhide Chews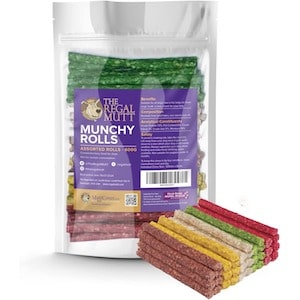 Good Boy Pawsley Calcium Bones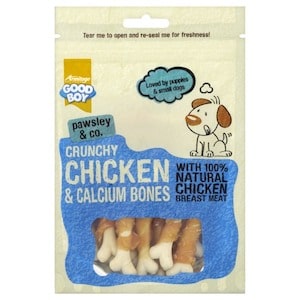 What Is Dog Chocolate Made Of?
Dog chocolate is made of a substance called Carob. This substance is derived from the Carob tree and doesn't contain Theobromine. It is extracted from the carob bean and can be easily mixed into chips or powder form.
Further, there is no trace of Theobromine in carob. It retains some healthy vitamins and nutrients. You will find Vitamins A, B, and D in the carob. Along with the vitamins, you will also find some healthy elements like iron, calcium, and magnesium. In fact, carob can also turn out to be a good source of fibre for your furry friend.
Nowadays, you'll easily find dog safe chocolates in stores and bakeries. These are made using carob and similar sources that are not harmful to dogs, for example, milk or cream.
Furthermore, if you are wondering whether or not you can make dog-safe chocolate on your own, the answer is Yes, you can make dog chocolate at home.
How to make dog safe chocolate at home?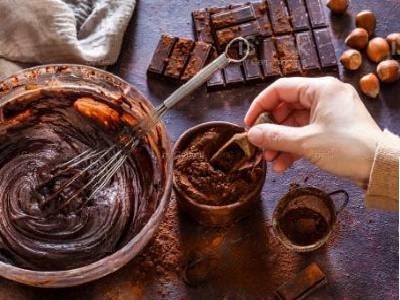 In order to make dog safe chocolate at home, you'll need to make sure that you have chocolate that retains non-toxic ingredients. To begin with the process you can follow the below-mentioned steps:
Pick a chocolate that doesn't retain artificial sweeteners.
Melt the chocolate slowly at a low temperature.
Make sure you don't overheat because the quality ingredients may separate from the chocolate. For instance, if there is cocoa butter, it will separate and this will make the chocolate much tougher to digest for the dogs.
Once the chocolate is totally melted, add a small amount of cream or milk. This will make chocolate thin and make it easy for the dog to ingest.
Pour the mixture into a flat surface and allow it to cool down.
When the mix cools down, you will have dog-safe chocolate at your disposal. Further, you can also mix small pieces of ingredients such as blueberries in the chocolate mix which are healthy for dogs.
Further, if you wish to make dog chocolate using carob you can follow this same procedure. Here is a simple outline for making dog chocolate using carob:
Mix half a cup of carob powder with 1/4 cup of water
Add one tablespoon of coconut oil to the mix
Stir the mix until it blends properly
Pour the mixture into an ice cube tray or silicone mould
Allow the poured mixture to freeze for a couple of hours
Once frozen, you can take out the chocolate and serve small pieces to the dog.
Chocolate Poisoning In Dogs – How Bad Is It?
It's possible that your furry friend managed to grab some chocolates within the house and eat them. As mentioned earlier, toxic theobromine will cause issues once your dog ingests regular chocolate. Dogs' bodies have difficulty breaking down the content of regular chocolates. So, whether your dog ate an excessive amount of chocolate or small, the damage is done.
Now, when your furry friend eats regular chocolate, you will likely see them suffer from vomiting and diarrhoea. However, sometimes dog owners tend to miss these signs. This happens because initially dogs exhibit signs of excitement after ingesting the chocolate. Even if the owner knows that the dog has eaten the chocolate, the exciting behaviour misdirects them into thinking nothing is wrong with them.
So, what happens if the signs are ignored or misunderstood? Well, the situation escalates quickly. The dog will start exhibiting some severe symptoms afterwards. These symptoms are:
Seizures
Muscle tremors
Heart arrhythmia
Nerve damage
Brain damage
Chocolate variants that are poisonous for dogs
Regular chocolates are harmful to dogs but, there are many other chocolates that can cause fatal issues. Following are some of the variants of such chocolates that you need to avoid giving your furry friend:
Chocolate with dried fruits
Ingesting raisins, currants, sultanas and other dried fruits can lead to health sickness, and diarrhoea and probably cause fatal kidney failure. You will see your dog urinating less and increase their thirst. But it's unclear how much-dried fruit is poisonous for dogs. Because many dogs who have eaten a large number of such fruits have not shown any severe symptoms and some show sick behaviour after eating some.
Chocolate with nuts in them is going to cause health problems for your furry friend. They will suffer from stomach aches, vomiting, and diarrhoea. In addition, black walnuts and Macadamia nuts are more fatal.
Macadamia can weaken your dog's overall health. They will feel weak in their limbs, and appear wobbly while walking. Also, your dog will exhibit symptoms such as tremors, lethargy, and fever after ingesting chocolate with macadamia nuts in them.
The presence of the alcohol scent in the chocolate shells is harmful to dogs. In comparison to humans, if dogs consume chocolate with infused alcohol, the ethanol which is present in the mix will get into the dog's bloodstream a lot quicker.
So, intake of such chocolates will make the dog feel drowsy and dizzy on their feet. If the consumption is more, the situation may get out of control. The dog will start suffering serious symptoms such as seizures, low blood sugar and body temperature, and respiratory failure.
In general, white chocolate contains less Theobromine. But, they retain high-fat and sugar content which can cause stomach issues for your furry friend.
So, as a dog owner, you must completely avoid giving any of these chocolates to your furry friend. In addition, if you have kept some wrapped easter egg chocolates or any chocolate with wrapping foil, you need to keep them away from the dog. The foil wrappers that protect the chocolate can obstruct the dog's gut. This can cause lethargy, vomiting, and constipation. At times, the situation gets worse and a vet might have to execute a surgical procedure.
FAQs
Are dog chocolates safe?
No, they are not. But, some sog bakeries do make some which contain less proportion of Theobromine. Those chocolates are relatively safe. Also, some use carob as an ingredient which is safe for dogs. But, still, vets suggest dog owners avoid giving chocolates to their dogs.
What does dog chocolate taste like?
Dog chocolate contains carob powder. To tell the exact taste is difficult but, carob powder does have a naturally sweet, mild and chocolate-like flavour. The taste is unique and better than regular chocolate as the cocoa present in them is bitter and sweetened for better taste.
How much chocolate is bad for a dog?
This solely depends on the type of chocolate you provide. For instance, ingesting 1.5 or more ounces per 10 pounds of body weight is toxic. Your dog will need immediate medical assistance. Likewise, for milk chocolate, if the dog ingests about 3.5 or more ounces, it's poisonous.
Why do vets give dogs chocolate?
Normally, vets are against giving the chocolate but, when a dog is euthanised or going to die because of a medical condition, they give them a bite of the chocolate as a farewell gesture. Many hospitals use this method as a last goodbye.
What's the difference between human chocolate and dog chocolate?
Theobromine is the main distinction between human chocolate and dog chocolate. Normal chocolate has this substance and is toxic for dogs, whereas dog chocolates are made using substances like carob reducing the toxicity.
What Is Dog Chocolate Made Of – Final Remarks
When it comes to giving dogs chocolate, make sure you don't provide a regular one. Not even a small piece. Because according to Whitecrossvets, if a dog eats a full bar of 70% chocolate, then there is a risk of poisoning. So, as a responsible dog owner, you must resist the temptation to feed them normal chocolate. Also, remember, the darker the chocolate more toxic it is for the dogs.
However, if you are hellbound on giving one, use the ones made using Carob. They are not toxic. Also, if you make dog-safe chocolate at home you can offer them to your dog.