Every dog parent considers their pet dog a family member, not a pet. So they always want to keep their dog with them. Also, dog owners like to take their dogs wherever they go, but they might have questions about whether dogs are allowed on buses.
Sometimes, because there is only one dog owner, they cannot always leave their dog alone at home. So he needs to take their dogs with them because of safety concerns.
You do not have a car! Don't worry. Dogs are allowed to travel on not only buses but also many public modes of transportation in the UK, like trains, trails, and taxis. But not every dog can have permission to travel. You need to ensure that your dog is not jeopardising the safety of other passengers and vehicles.
Whether your dogs are allowed on buses or not also depends on what type of public transportation you are using and where it is in the UK. Let's discuss this.
Can Dogs Go on Buses?
Definitely, you can take your dog with you on the bus journey. The only thing you need to know is that there are some exceptions and precautions. Do they allow dogs on board? That depends on a number of factors, including the company operating the bus, where you want to travel in the UK, how many dogs you have, and a few others.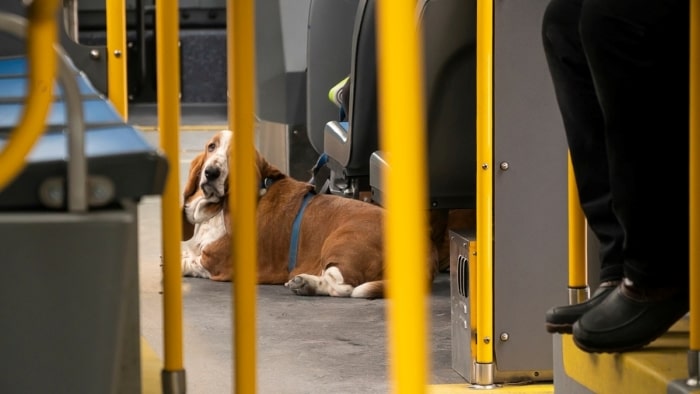 Let me clear your doubts one by one.
Major UK Bus Companies That Allow Dogs
Most buses in the United Kingdom allow dogs to travel as long as you follow their rules and guidelines. Here, there are some bus transportation companies that allow you to travel with dog-like Arriva, Go-Ahead Group, First Group, and Stagecoach.
Also, people who are travelling in Transport for London (TfL)are allowed to travel with their dogs. You can use TfL buses regardless of which company has been contracted to run the bus.
Which Uk Bus Company Doesn't Allow Dogs?
You will be delighted to know that you can travel on buses in Uk with your dog on most of every bus except National Express and Megabus. You can only travel with dogs on these buses when you fulfil some conditions and show relevant identification and evidence as they only allow assistance and guide dogs on National Express and Megabus.
Sometimes they accept dogs at the driver's discretion, they also consider whether any other dog is on the bus already. But disabled people who have their dog for assistance and guidance are always allowed to bring their dog on board.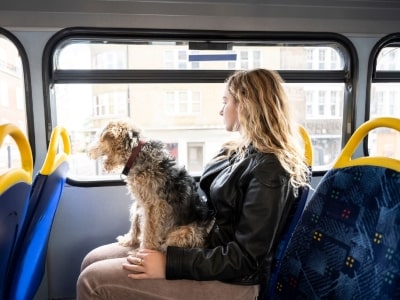 Factors to Consider
There are some cases where your dog will not allow to travel. If your dog is not obeying your orders, then it might be dangerous for you to take him on public transportation. Secondly, if your dog has gone through some operation or surgery, then you should not take your dog anywhere for some time.
Avoid travelling during rush hours. You should decide the time of the day when you will travel. Travelling in less crowdy buses will be easier for you and your dog. The sudden crowd can make your dog stressed. thus, select the timing when people are using the transportation at a minimum.
Before leaving your home, check the route, time, and bus company of buses you can travel on.
Do not forget to take your dog to the toilet before travel. Also, you should avoid any meal 2 hours prior to travel. It will save him from throwing food out due to motion sickness.
Dogs are not allowed to sit on seats, so do not let your dog sit on the seat.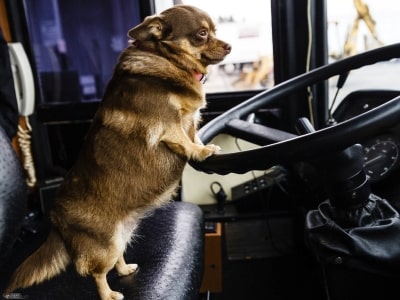 Not everyone likes dogs. Therefore, by respecting their own space, do not let your dog go up to anyone.
If your dog starts barking if he sees any other dog, then before entering the bus, ask the driver if there is any other dog on the bus already. Avoid those buses where there is one dog already on board
Take your dog neat and clean on a bus, do not take dirty and muddy dogs on a bus. People can get offended if the bus starts getting dirty and smelly.
Usually, most buses allow a maximum of two dogs per owner. You can check it on their website if you have more than two dogs.
What to Take With You
When you are travelling on public bus transport with your dog, you need to take care of the needs of your dog.
Before taking your dog on public transport you should take your dog's health and welfare into consideration. Motion sickness is very common in dogs, if your dog has the problem of motion sickness then you should avoid bus travel. Instead, you can use train transportation.
"The reason for this is because the ear structures used for balance aren't fully developed in puppies. This isn't to say that all dogs will outgrow travel sickness, though many will" says Amy Flowers, DVM from WebMd. SO if you have puppy then avoid traveling.
Water
Like humans, dogs also need water during their travel. Bus transportation is usually hot. the chances of getting dehydrated are high.
If they allow dogs to travel. Otherwise, it may ruin your day.You should take water with you but make sure you do not let your dog drink too much, or else he may pee on the bus.
"Dehydration in dogs is a serious condition that should never be ignored — especially considering a dog's body is made up of 60 to 70% water," Says DR. Sarah Wooten from HillsPet
Dog Poo Bags
I wish that you meet any poo accidents with your dog during your bus travel. you should carry a poo bag with you in case your dog surprises you even after you took him to the toilet before the travel.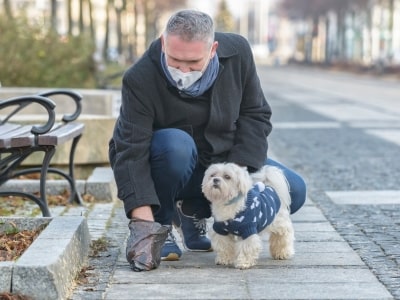 Treats
Treats and rewards are very helpful for you. In initial travel make your dog familiar with bus travel. The best way to train him is using a reward-based method. Whenever your dog behaves appropriately, you can give him a treat. In case you need to control your dog or are on a long journey, it is best to entertain your dog.
Meals
If you are on a long journey, your dog may get hungry. And "a hungry dog is always an angry dog". It is better to take his meal. You can feed during breaks.
FAQs
Do you have to pay for dogs on buses UK?
No charge for dogs, especially on border buses always welcome dogs on their buses. You just need to make sure that your dog won't sit on the seat, but on the floor.
Are dogs allowed on trains?
Yes, each dog owner is allowed to bring two dogs on the train, if you want to take your 3rd dog on board, you might need to pay extra fees. You might be charged half of your ticket price if you have a fully grown adult dog. Maximum it can go up to £5 for a one-way ticket or £10 for a return ticket.
Can bus travel make your dog sick?
Yes, dogs can easily get motion sick. if your dog doesn't have any experience in travel, especially in a bus or car, then there are chances that your dog vomits or gets sick during the travel.
Where should I put my dog when I bus travel?
You are supposed to keep your dog beside where you sit. Make sure you have a firm grip on his neck belt. As long as he lay on the floor and doesn't trouble any passenger, he is allowed to travel
Are dogs allowed on the underground?
Your dog is allowed to travel not only underground but also overground. You just need to take precautions and you are good to go with your dog on the bus.
Conclusions
Now you will never be hit with the question Are dogs allowed on buses? In short, by applying three steps you can travel with your dog on the bus. First teach your dog the required skills, so that you can control him outside, Make him similar with travelling and take care of rules and regulations. That's it, you are travelling with a dog in the UK.
Reference:
Animals taking public transportation. (2022, February 10). In Wikipedia. https://en.wikipedia.org/wiki/Animals_taking_public_transportation
Motion Sickness in Dogs | VCA Animal Hospital. (n.d.). Vca. Retrieved January 19, 2023, from https://vcahospitals.com/know-your-pet/motion-sickness-in-dogs
How to Train Your Dog & Top Training Tips | RSPCA. (n.d.-b). Retrieved January 19, 2023, from https://www.rspca.org.uk/adviceandwelfare/pets/dogs/training