If you are bored with the traditional carpets in your living room, kitchen, or laundry room you might have looked for different carpets in the market. Some of you are probably seeking a new one because your furry friend damaged the previous one. In any case, to make your house shine I have included some of the best colour carpet for dog owners out there in the market.
Keep reading this article and you will get details on which colour carpet will suit your house and also, provide comfort to your furry friend. Also, for a better understanding of quality, features, perks, installation, etc, you will find a comprehensive buyer's guide as well. This guide will highlight significant features, and help you pick the best colour carpet.
Best Colour Carpet for Dog Owners
Colour carpets provide variety in terms of contrast and colours which help dog owners make their house look decent. They improve the look and make it more soothing and comforting for visitors as well. Some of the colour carpets for dog owners even have noise reduction and insulation.
In addition, these carpets are stain resistant and durable material making them last longer. Dogs can enjoy on the carpet or relax. Below is a list of colour carpets for dog owners to consider:
1. The Rug House Durable Colour Carpet
The Rug House Durable colour carpet is grey in colour and made of nylon material. It is durable and stain-resistant. So, dog owners do not have to worry about wear and tears resulting from pawing. The rubber backing makes it non-slip hence, there is no sliding movement on the floor.
In addition, the material used in making this colour carpet for dog owners also ensures that it resists liquid spills and odours.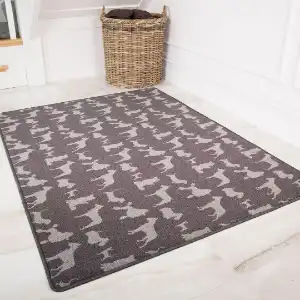 Key Features:
Nylon material
Stain-resistant
Machine washable
Non-slip rubber support
Further, this coloured carpet is available in seven different sizes so, you can easily match your hallway or kitchen area dimensions and pick the one that fits the best.
Perks
Easy to clean
Fun and contemporary design
Neutral colour hides dirt and dog hair
Drawbacks
Frequent washing can compromise rubber support
2. The Rug House Hardwearing Beige Multi-Purpose Colour Carpet
The previous carpet is more suitable for the kitchen but the Hardwearing Beige Multi-Purpose Colour carpet from The Rug House is versatile and can be adjusted in different areas of the house based on your preference or furry friend's convenience. You can use it as a runner for the hallway, and as a mat or rug for your patio while relaxing with the dog.
The carpet is made with nylon and is durable enough to withstand dogs' paws and claws. The carpet will not break or get damaged.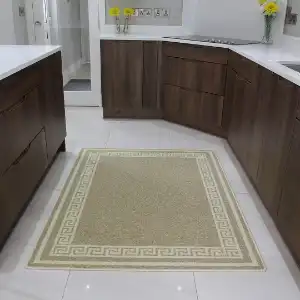 Key Features:
Non-slip latex
Nylon material
Machine washable
Further, the material mix also includes polypropylene and the beige colour and diamond pattern ensure that the carpet hides stains, dirt, and dog hair.
Perks
Easy to clean and stain-resistant
Low-pile height so, no snagging
Available in 16 different designs
Drawbacks
The colour is yellowish rather than beige
3. Relax Rug by The Carpet
If need a coloured carpet that is environment friendly and has a soft pile for making the dog feel comfortable then Relax Rug by The Carpet is a suitable choice. This carpet is not as durable as nylon material carpet but, its ease of maintenance makes it suitable for dog owners who prefer buying environment-friendly products.
The carpet has anti-slip backing so, you don't need to worry about slipping or sliding. It is safe to use in the house and even with high traffic of children or dogs, the carpet will stay firm to its designated area.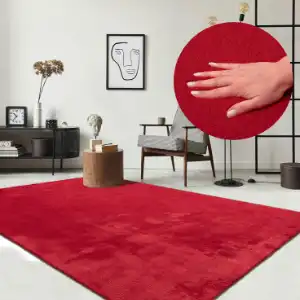 Key Features:
Anti-slip backing
Polyester material
Further, the manufacturer also claims that their carpet will be compatible with underfloor heating systems.
Perks
Low-pile height easy to clean
Soft and comfortable for the dog
Stylish design and visually pleasing
Drawbacks
Dirt and dog hair are visible
4. ABWXN Faux Sheepskin Fur Rug
The ABWXN Faux Sheepskin Fur Rug is made using premium faux sheepskin fur. The material is soft and is helpful in keeping dogs warm and comfortable. The rug can be easily placed in the living room or bedroom as per your furry friend's convenience.
The rug is versatile and can be easily set up in different areas. You can place it on the sofa, or chair, or use it as a dog mat.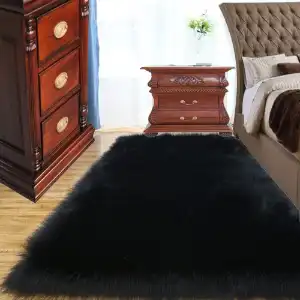 Key Features:
Faux wool material
Lightweight and durable
In addition, this carpet for dog owners is durable and will not shade, fade, or wear off even if used frequently.
Perks
Easy to vacuum the surface
Washable on soft mode cleaning
Drawbacks
High piles and not exactly a carpet
5. Homcomodar Low Pile Carpet Runners
If you need a low-maintenance carpet, Homcomodar Low Pile Carpet Runners is an option you must certainly explore. It has a neutral grey colour and can easily blend in with the decor of your house. Also, the versatile feature of this carpet makes it easy for you to place it in the kitchen, hallway, or living room.
The design is fashionable and if you have a highly energetic dog then this carpet might come in handy as it is made to sustain heavy traffic and a dog running on it would not compromise the material.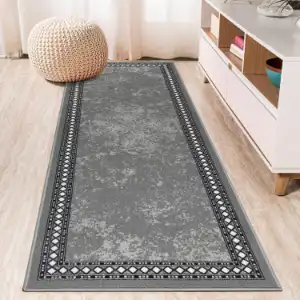 Key Features:
Versatile
Non-slip
Nylon material
Further, the manufacturer suggests ironing the carpet on arrival to make it flat as it comes in folded packaging. The recommended temperature while ironing is low to medium.
Perks
Elegant and fashionable design
Stain-resistant and non-shedding
Suitable for hallways, kitchen, living room, and laundry room
Drawbacks
Needs to be ironed to avoid creases
6. BPIL Shaggy Rugs
If you are looking for a carpet that can help your dog relax and also, create an inviting environment then, BPIL Shaggy Rugs are the ones you must consider. These stylish carpets can provide a contemporary accent to your room and are dog-friendly. The rug is durable and it makes sure that you and your furry friend get comfort while using the carpet.
The rug is manufactured to sustain heavy traffic and can be set up in the busiest areas of the house. If maintained well, it will last for a longer duration without breaking or wearing off.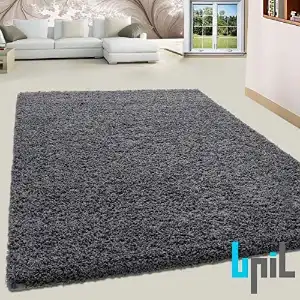 Key Features:
Shaggy appearance
Polypropylene material
Durable and non-shedding
Further, the strong non-shedding fibres used in this carpet make maintenance easy as dog owners can vacuum it regularly.
Perks
Stain resistant fibres
Washable and non-shedding
7. JURLEA Area Rugs
JURLEA Area Rugs are heavy, non-slip, and made of cashmere. This carpet is of grey beige and light yellow colour and low-pile. It can be set up in the living area, bedroom, or any other room in the house. The texture of this coloured carpet is good and makes it a nice decor as well.
The cashmere material used in this coloured carpet is skin-friendly so both you and your furry friend are safe. The material gives a cosy feeling while you rest.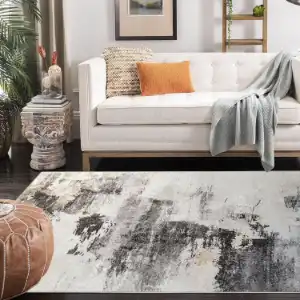 Key Features:
Non-slip
Low-pile
Cashmere material
Further, the carpet is washable but, the manufacturer suggests using only mild detergent that too while hand washing the colour carpet.
Perks
Easy to vacuum
Dog-friendly material
Low-pile and anti-slip design
Drawbacks
Price is high
Not machine washable
8. Paco Home Living Room Rug
The Paco Home Living Room Rug is available in different colours to help dog owners create a trendy atmosphere in the house. The fibre material used in this colour carpet for dog owners provides reliable footfall and thermal sound insulation. The low-pile feature of this carpet makes it soft and comfortable for dogs.
The durability of this rug makes it suitable to install in the area that is heavily visited by the dogs and other family members.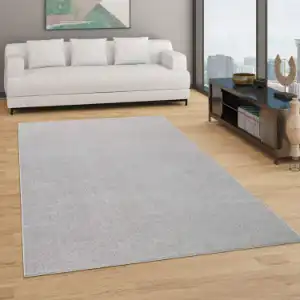 Key Features:
Low-pile
Polypropylene material
Further, these carpets are tested for harmful substances to assure dog owners of safety.
Perks
Easy to wash using hands
Feasible for underfloor heating
Buyers Guide: Best Colour Carpet for Dog Owners
Now that you have seen some of the best colour carpets available for dog owners in the market, you must have filtered the options and narrowed it down to one or two dog-friendly colour carpets that might suit your dog and also, cover the area in the house perfectly.
If you are stuck in a decision loop, don't panic. This buyer's guide is specifically written to help you make such decisions without compromising on quality or any other prospect. Let's begin with understanding the features of colour carpets for dog owners.
Colour carpets for dog owners – features
Colour carpets for dog owners are basically a type of carpet which is suitable for dogs and is easy for dog owners to set up in the house. As a dog owner, you want a colour carpet that is strong and makes your furry friend feel comfortable as well. To get the best colour carpet for your dog, here are some of the features that the carpet must have:
#1. Colour matching and contrast
Colour match and contrast are among the prominent features. These features refer to how well the colour contrast of the carpet matches with your furry friend's fur colour. It may seem unusual but, for better visibility of the dirt and dog hair on the carpet, it's crucial for dog owners to have the carpet with matching contrast and colour.
Neutral colours or patterns in a colour carpet are the best choice for dog owners. The reason for this is simple, they conceal both dark and light dog hair. So, dog owners don't have to clean or vacuum the surface every time there is the slightest shedding of their furry friend's fur. However, as a dog owner, you need to make sure that the colour and contrast of the carpet are not an exact match or completely different.
#2. Material durability
The colour contrast and match are important but, dog owners need to check the durability as well. The colour carpet may look appealing and comfortable but might not sustain for too long. The material must be durable enough to withstand the pawing and not break when your furry friend's claws hit the surface.
Nylnon, poly-nylon blends, or wool are durable materials. The colour carpets made of such materials are strong, resilient, and resistant to abrasion. Also, avoid materials that are rough or too soft because such carpets are more susceptible to damage and are easily scratched by the dogs.
#3. Stain resistance
The material of the carpet should be stain-resistant. Otherwise, the spills and odour can spread and cleaning the colour carpet will get difficult. The colour carpet you pick must resist the spills to keep the surface clean.
Stain-resistant colour carpets for dog owners are made of materials such as Nylon, wool, or poly-nylon blends. These material carpets will have a special coating for repelling liquids and preventing stains. Avoid buying colour carpets that have high absorbing capacity or are porous, such carpets will soak up the spilt liquid and make it hard to clean the carpet.
#4. Fibre type and Pile height
Pile height refers to how dense the fibres of the carpet are. The arrangement of fibre i.e. twisted shows how susceptible the carpet is to tearing or matting. It also reflects how comfortable the carpet is to walk on. High pile height is not good for dog owners as it is susceptible to matting and tearing (dog paw). This can trap dirt and debris into the carpet.
So, make sure you get a coloured carpet with low pile heights and looped fibres. These are your best bet as they stop matting or tearing issues. Also, maintaining and cleaning coloured carpets of low pile heights is easier in comparison to high piles.
#5. Design and style
The design and style features mainly refer to the personal preferences of dog owners. Some dog owners prefer having a coloured carpet that is of a specific design or style. The common preferences observed are fleck pattern carpets or the ones that match house furniture and are suitable for the dog.
Fleck pattern colour carpets make the debris and dirt almost invisible and complement the household furniture as well. However, dog owners should avoid styles or designs which do not complement the furniture pattern and make the house look dull or unattractive.
Factors affecting the price of colour carpets for dog owners
Features mentioned in the previous section do impact the prices of coloured carpets for dog owners. But, there are many other factors that influence the prices of coloured carpets for dog owners. These factors also show how strong the carpet is and whether it will be suitable. Below are some of the factors that affect the prices of colour carpets for dog owners:
The material used in different colour carpets will be different and the prices will vary accordingly. This means, the durability and quality of these materials will also be different and so, will the price. For example, Nylon material carpet will cost more as it is strong, resists odour, is stain resistant, and is easy to clean.
On the other hand, carpet made of wool material is natural and prone to staining and fading. Also, the price for such carpets is high which makes it an expensive purchase. In addition, carpets made using synthetic material cost less but, can attract dirt or wear off quickly.
The quality of a colour carpet for dog owners relies on several factors like pile height, fibre type, and density. Higher-quality carpets have lower pile heights, looped fibres, higher face weights, and higher density. All of these prospects contribute to making colour carpets for dog owners more durable, comfortable, and resistant to tearing by dogs or matting.
Low-quality carpets will have less price and if you are lucky it may work just fine but, normally its effectiveness wears off after a certain period and you might have to buy another one. So, if you plan on buying a colouring carpet for long usage you must be prepared to pay more.
Design and style of the carpet
The colour, pattern, texture, and shape of the carpet have a huge impact on the prices of coloured carpets for dog owners. This is mainly because different textures, colours, and shapes require different processes and making the carpets with different specifications, especially for variations in colour and texture can increase the production cost and elevate the price.
Also, at times, carpets of specific texture or colour are in high demand and if the supply is limited the prices are likely to elevate. In addition, if the design or style facilities features like anti-slip, water-resistance, and dirt hiding the cost will be more.
Installation and maintenance
Installation and maintenance don't impact the prices of coloured carpets for dog owners but, indirectly. Many of the carpets need professional help for installation and some specific tools to set up in the house. The price of carpet is not high but, the tools, labour, padding, and cleaning that are involved while installing the carpet increase the expenditure.
In addition, some carpets need continuous vacuuming or steaming from professional cleaners to get rid of the stains or dog hair and prevent possible damage. This adds up as an additional expense and hence, quite costly for the dog owner, especially if they have to pay regularly for cleaning or buy a vacuum cleaner themselves.
Perks of Using Colour Carpets for Dog Owners
Till now you had a glimpse of the features of colour carpets and some of the factors that affect the prices. The price factor may cause slight hesitation while buying the colour carpet but, after analysing the perks you will definitely try installing one at home. Below are some of the prominent perks of using colour carpets for dog owners:
#1. Makes the house look good
One of the prominent perks of having a colourful carpet as a dog owner is that the house looks good. Now, if the colour and contrast of the carpet complement the surrounding furniture and other arrangements, the appearance is more appealing.
Also, if the carpet provides comfort to the dog, along with the appearance this prospect makes the dog owner's house more inviting. Fellow friends or other people will find the house more welcoming.
#2. Improves air quality and reduces noise
The material used in the carpets can absorb sound and trap dust particles, allergens, and dog hair. The absorption of sound minimises the noise and the trapping of dirt improves the air quality. Also, some of the carpets have insulation and can provide dogs with much-needed warmth during cold weather and also keep their fur cool in hot summer.
#3. Helps in hiding dog hair
The coloured carpets for dog owners help in hiding dog hair easily. The hiding feature works better if the carpet's colour and contrast match the colour of a dog's fur. In addition, a colour carpet also disguises stains and liquid spills making it look clean. The result is better when the colour is dark but, for better visual neutral colours are more suitable.
On the contrary, the extra dark texture and colour of the carpet can highlight the dog hair and dog owners can easily vacuum those areas to keep it clean. Further, multi-coloured carpets can be useful as they can hide stains and dog hair better than lighter-coloured carpets.
#4. Prevents damage and odour-resistant
Nylon material used in many colour carpets makes it durable enough to prevent possible damage from pawing. These types of carpets are normally stain-resistant and are easy to clean. It also repels dog hair and odour better in comparison to carpets that use different materials, for instance, wool material carpet.
The reason why natural materials such as wool don't resist odour is simple, the material doesn't stick dog hair or repel odour like it does in the nylon-based colour carpets.
Tips on using colour carpets for dog owners
In the previous section, we analysed some of the benefits that dog owners can get while using colouring carpets. But, to leverage those perks while using colour carpets, dog owners need to follow certain prospects. Below are some tips you can consider while using colour carpets:
#1. Pick a colour carpet that suits your dog
The colour of the carpet you choose must suit your furry friend's size, hair, breed, and personality. This helps in making a pleasant and happy environment for your furry friend and you. For instance, if you have a large dark-coloured dog that sheds fur a lot and is prone to behaviour like scratching or digging, then you need a dark-coloured carpet that doesn't show dog hair and also hides the damage sustained from scratching and digging.
#2. Durable colour carpet
If you want to avoid damage from the dog's paws and make sure the carpet remains in top-notch condition even if the dog exhibits aggressive behaviour such as scratching or biting then, you need to pick a durable colour carpet. A durable colour carpet will resist damage done by a dog's paws and also, keep it stain free.
Nylon material colour carpets are durable and are known to have stain-resistant and damage-resistant capacity. They also keep bad smells away and trap dirt particles.
#3. Regular cleaning using a vacuum
The colour carpet that traps dust and debris will need to be cleaned for the sake of the health of both the dog and the owner. Also, regular cleaning will ensure that the appearance of the carpet remains appealing. In addition, the quality of air also remains proper reducing the risk of allergies and possible skin irritations issues.
#4. Steam clean the carpet
The carpet will have liquid spills, stains, bacteria, odour, and moulds after a long time of usage. You need to ensure that you steam-clean the carpet at regular intervals to get rid of the stains and other harmful substances. Not cleaning might cause discolouration or fading in the coloured carpet.
So, using a steamer cleaner at a high temperature, high pressure, and low moisture level you can clean the carpet properly. Now, normally dog owners should steam clean their carpet once every six months but, if the stains are heavy they might need to steam clean more. In addition, if the colour carpet for dog owners is showing signs of discolouration or fading after a steam clean, it's best to wash it with hands or in the machine (if feasible).
#5. Dry the colour carpet and sunlight protection
After washing your colour carpet it's important to make it dry. This helps in stopping the growth of unwanted bacteria, and mould, and also, prevents fading and discolouration. The appearance of the coloured carpet remains good. You can keep the carpet in sunlight and to speed up the drying process, try using dehumidifiers, or fans, if drying inside use an air conditioner or heater.
However, keeping the carpet out in sunlight for more duration can break the material or cause wear and tear. To avoid this situation, use curtains, blinds, shades, pads, mats, or other such protectors. These products can help protect the carpet from UV rays, reduce friction, and improve colour retention, stain resistance, and durability.
Drawbacks of Using Colour Carpets for Dog Owners
While there are many perks of using a colour carpet for a dog owner, there are quite a few disadvantages as well. Some of these drawbacks are dependent on how dog owners maintain the coloured carpets and some are just based on some common factors. Let's have a closer look at these drawbacks:
#1. Less availability and high price
In general, there are many carpets available but, colour carpets for dog owners with specific design and durable material is hard to find. Some colour carpets for dog owners are costly and are not available because of high demand and popularity.
In addition, the limited choices of coloured carpets for dog owners make it tough to replace the carpet in future. This is mainly because the carpet with the same design and texture might not be available. It will be difficult to adjust a new colour carpet with a new design that matches the furniture theme, curtains, and walls of the house.
#2. Bacteria and mould growth
The carpet after a certain duration begins to manifest different bacteria, fleas, ticks, and mould growth. These bacteria and fleas can cause health issues for dogs and their owners. The colour of the carpet can infest these harmful bacteria into the house and impact other family members as well.
The risk of such manifestation is high, if dog owners are not cleaning the colour carpet regularly. Dog is likely to suffer from issues like skin irritation, infection, or other disease. If dog owners ignore cleaning and maintenance, washing the carpet will not work and they might have to get help from professional pest control services to get rid of the fleas, ticks, and other organisms.
#3. Requires regular vacuuming
The dog fur sheds on the carpet and it can make infest bad smell on the carpet if not cleaned. Not to mention the risk of bacteria and mould growth is also there. Dog owners have to regularly keep the coloured carpet clean.
For keeping the carpet clean, continuous vacuuming is required. In addition, if there are frequent liquid spills, dog chewing, scratching, vomiting, or urinating incidents, regular washing of the carpet becomes mandatory.
#4. Risk of discolouration and fading
The colour carpet is always at risk of discolouration and fading, especially if it is constantly exposed to sunlight. Regular washing can also cause discolouration and fading of the coloured carpet. Also, the chemical reaction to the sunlight or dog urine can lead to fading and discolouration issues of colour carpets for dog owners.
#5. Allergies
Some carpet materials can trigger allergies or worse asthma in dogs and their owners. This happens because they are sensitive to mould spores, dust, pollen, or other such organism. These organisms are trapped in carpet fibres and often trigger issues like asthma.
At times, you may dogs also suffer from issues like sneezing, coughing, itching, wheezing, or rashes as a result of the allergic reaction caused by the germs manifested on the carpet. To avoid these issues, steam cleaning of carpet is crucial.
Things dog owners must avoid while using colour carpets
In the drawbacks section we observed some of the issues dog owners and dogs face while using colouring carpets. The majority of the issues are the result of a lack of cleanliness and maintenance. To avoid different issues there are some things dog owners need to avoid while using colour carpets. Here are a few things to avoid:
Using harsh or abrasive cleaners
Every colour carpet is made differently and only a bunch of them are machine washable. You may have observed in the product list that some of them are only washable using a mild detergent and that too with hands. The main reason behind such restriction is the chemicals present in the cleaning substances can damage the carpet.
Some cleaners include substances like ammonia, bleach, or vinegar which can compromise the durability of the carpet and cause discolouration or fading. Also, the fatal gases released can irritate the eyes, nose, throat, or lungs of the dog. Hence, dog owners need to avoid using abrasive and harsh cleaners that may contain toxic substances.
Avoid using excessive steam and water
Dog owners can use water and steam to clean the coloured carpets but, they must not overdo it. Excessive use of water and steam for cleaning will make the drying process more difficult. Not to mention at times, there is slight moisture left inside the carpet and this encourages growth of the bacteria and mould.
In addition, excessive use of steam and water can also cause the carpet to shrink or warp. The shrinkage can cause wrinkles or gaps on the carpet which will make it look dull. So, as a dog owner, you need to avoid using excessive water and steam, if there is some moisture left, you should use the air conditioner, fan, or heater to make it completely dry.
No use of incompatible mats
Using incompatible mats with colour carpets can cause staining, bleeding, or fading. The colour of mats transfers to the carpet because of wetness or sunlight. Such a transfer of colour is caused because of the natural dyes or bright colours that are exposed to sunlight mixed with the moisture of the carpet.
Avoid exposing the carpet to excessive sunlight or heat
As I keep mentioning, exposure to sunlight can compromise the carpet's structure and possibly cause discolouration and fading issues. The UV rays break down the colour dye molecules of the carpet and it loses its intensity. Likewise, keeping carpets near heat sources such as fireplaces, lamps, or radiators can also cause significant damage to the structure. The carpet might burn, melt, or scorch if in close proximity to such devices or areas.
Spilling liquid substances on colour carpet leaves stains, and odours, and potentially causes damage to the material, especially if you spill hot tea or coffee. So, as a dog owner, you need to ensure that you don't spill such liquid substance and if you accidentally do spill it, immediately clean it up.
Immediate cleaning is necessary to make sure the carpet doesn't begin to smell bad. Also, spilling of liquid must be avoided to protect the fibre material used in the colour carpet for dog owners. In addition, dog urine must be dealt with instantly as it can trigger chemical reactions which harm the carpet release a bad smell and get absorbed in the carpet if left for a longer duration.
Installation of Colour Carpets for Dog Owners
The installation price for coloured carpets can add up to the cost and possibly compromise the dog owner's budget. To help ensure the expenditure is less and within the budget range, below are some instructions for dog owners to follow for installing colour carpets on their own.
Step #1. Analyse room dimensions
You need to measure the room or area where you plan on installing the coloured carpet. Measure the length and width and see if the dimensions of the colour carpet match. Also, make sure you measure the curves or corners in the room as well.
For accurate measurements, use a tape or laser measure tool. Add a few extra inches to the original measurements for later adjustments.
Step #2. Pick a proper carpet and underlay
Even if you are buying the carpet online, you can visit your local stores that have identical colour carpets for dog owners. Have a closer look and physically analyse the carpet. This will give you an idea of whether the one you plan on buying online will be suitable.
In addition, select an underlay that complements the colour of the carpet and is easy to adjust. The underlays are made using materials such as rubber, foam, cork, or fibreboard. Just like the carpet, you can check out different underlays near your store and compare prices before buying.
Step #3. Gather tools for installing the coloured carpet
Before you begin to install the coloured carpet, you need to gather the tools. If there is an instruction manual for installing the carpet use it. The common tools you may need to install the carpet are – carpet glue, seam iron, seam roller, knife, stapler, stair tool, tape, knee kicker, cushion-back carpet cutter, tack strip cutter, and hammer tracker.
Now, let's have a closer look at the Instructions for installing coloured carpet using tools:
Glue – use carpet glue and apply it near the area where you wish to install the carpet. This will stick the carpet to the floor and prevent issues like sliding or any such movement. Use a brush or a towel to spread the glue and allow it to become sticky or tacky before putting the carpet on.
Knife – using a knife cut the carpet as per the dimensions of the room. You can also use a cushion-back knife cutter that has a blade that can cut through the backing of the coloured carpet without damaging the fibres. Leave some extra inches near the edges for fitting and trimming adjustments later on.
Seam roller, seam iron, and stapler tape – for joining two pieces of carpet, you can use a seam iron and a seam roller. These tools help to melt and press the seams together. Seam iron is a tool that has a heated plate and can melt the glue that you apply on the back of the carpet. A seam roller is a wheel-type tool that presses the seams together making it smooth and invisible.
Power stretcher, knee kicker – a knee kicker and a power stretcher help in stretching the carpet and get rid of wrinkles or bubbles. Knee kicker tool has teeth on one end and a padded bumper on the other. Place the knee kicker tool towards the edge of the carpet and hit the padded bumper with your knee to push the carpet to the wall. With the power stretcher tool can you place the head on the wall and the base on the opposite wall as the stretcher has teeth on one end and a base with a lever on the other. Pushing down the lever will help stretch the carpet across the room.
Stair tool, hammer, tack strip – these tools help in tucking the edges of the carpet into space between the tack strip and the baseboard. The stair tool has a flat blade with teeth on one end and a handle on the other, this helps in placing the blade under the edge of the carpet and hitting it using the hammer to push in the gap. The tack strip has nails sticking out of it and is helpful in holding the carpet along the wall.
Lastly, you might have to use a carpet tucking tool or say box cutter to smooth out the rough edges of the coloured carpet. The curved blade of this tool ensures the carpet can be tucked in any loose fibres or threads into the edge of the carpet.
Step #4. Installing underlay
You have to install underlay before installing the carpet as it offers insulation and protection. The tools that are useful in installing the carpet will come in handy while installing the underlay. The instructions mentioned for installing the colour carpet for dog owners are identical and can be followed for installing underlay with slight variation. Let's see how:
Prepare the surface – this refers to cleaning the surface and ensuring there are no particles that may interfere with the installation of underlay and carpet. The surface must remain clean and even for better installation. Vacuum the area thoroughly and also trim any skirting boards or doors near that might hinder the installation process.
Install carpet grippers – the carpet grippers are strips of wood that have nails sticking out. They are useful in holding the carpet along the walls. Also, you need to measure and cut these carpet grippers to fit properly on each wall. In addition, there must be a gap between the gripper and the wall is equal to three-quarters of the thickness of the carpet. The nails should face towards the wall and not towards the centre of the room.
Set the underlay – once you are done installing the gripers you can set the underlay for insulation, support, noise reduction, moisture protection, and support. The underlays come in different materials such as rubber, foam, cork, or fireboard. Set the underlay perpendicular to the direction of the carpet.
Trim or cut the underlay – using a cushion back carpet cutter you can cut through the backing of the carpet without damaging the fibre. Further, join the seams of the underlay with staples or tape.
Once you trim the underlay, you need to tuck the edges of the underlay behind the carpet grippers that you previously installed. You will need a stair tool or a carpet tucker to adjust the underlay.
Lastly, if you have the slightest hesitation while installing the underlay and carpet, leverage professional services to avoid any issues, yes, it may cost more but, the installation of the carpet will be done with utter precision.
FAQs for Best Colour Carpets for Dog Owners
What is the general price for colour carpets for dog owners?
The general price range for colour carpets for dog owners in the UK is  £20 to £50. Based on material, size, durability, and other factors this price range may vary. For instance, nylon material colour carpets for dog owners are expensive, especially if they are big in size and include different features. The estimated price per square meter is between  £5 and £30. Colour carpets made using natural fibre material like wool may roughly cost between  £10 and £50 per square meter.
How to get rid of dog urine smell from carpet?
There are different ways to get rid of dog urine smell from colour carpets for dog owners but, dog owners have to be careful while using them. The substance involved can cause damage to the carpet. The common methods dog owners can leverage to get rid of the dog urine smell from coloured carpets are – using the mixture of white vinegar and water, enzymatic cleaner, hydrogen peroxide and baking soda mixture, or club soda. While using white vinegar and water, dog owners can sprinkle the baking soda after sprinkling it. Leaving it overnight will get rid of the smell.
How much will I have to pay to install colour carpet?
Installation cost of colour carpet for dog owners in the UK relies on factors like room size, carpet size, thickness of the carpet, and labour expenses. Also, the tools used for installing the carpet will add to the expenses. But, based on square metres, dog owners can expect to roughly pay between £4 and £6 per square metre for the installation of colour carpets. The underlay for protection of the colour carpet from moisture, and offering insulation or features like noise reduction also influences the installation price. The underlay will roughly cost £1 to £4 per square metre.
Which colour carpet for dog owners will not look dirty?
It is hard to specify one colour that will not look dirty but, some of the prominent colour carpets that will not look dirty are neutral colour carpets, dark brown, or multi-coloured neutral carpets. Dark brown colour, neutral or multicoloured carpets can hide the dirt well because they conceal, the dirt, debris, and dog hair. In addition, they are also stain resistant and blend well with warm colours and earth tones. So, if dog owners pick any of these colour carpets then they are likely not to look dirty. However, cleaning these carpets is crucial at regular intervals.
Final Remarks on Best Colour Carpets for Dog Owners
Selecting the best colour carpets for dog owners is a tough task. There are many prospects dog owners have to consider, for instance, colour contrast, cleanliness, material type, price etc. They also have to match their furry friend's fur colour and other preferences while buying the best colour carpet which also helps comfort them.
Dog owners have to consider the style and theme of the house as the colour of the carpet affects the mood and atmosphere of the house. So, if the dog carpet is visually attractive, it will also, make dog owners' houses more appealing. In addition, the carpet needs to be installed properly to leverage different benefits and dog owners can install it if they have any prior experience of installing such colour carpets.
Lastly, I hope the list of best colour carpets for dog owners curated by me with my Wewantdogs team helped you find a colourful and suitable carpet for your furry friend. Conduct thorough research before you purchase any specific carpet and if you get stuck and have any query regarding the product mentioned in our article, share it with us. Our team will sort out your query instantly!