If you are in search of the best dog chews UK, then this article might just help you find the best dog chew for your furry friend. I have analysed different dog chew products with our team here at WeWantdogs and picked some of the best dog chews available for dogs.
Further, to help you pick the best suitable dog chew products for your furry friend, I have also included a buyer's guide which will provide you with some useful information. So, if you get stuck with a choice, this guide should help you filter out the choice. Also, to avoid any health issues, there are some useful tips on how you can use dog chews effectively.
Best Dog Chews UK
Dog chews are the items that help dogs bite, nibble, or chew on for satisfying their chewing urges. They are made of different materials and have different types as well. You can use it for improving a dog's dental health.
There are many dog chews available in the market so, I have curated a list that highlights some of the best dog chews in the UK.
1. WHIMZEES Dog Chews
For dog owners preferring natural ingredients in dog chews for their dogs, WHIMZEES Dog Chews are a feasible option. These dog chew sticks are grain-free and you can use them for preventing dental plaque in your dog. In addition, it also helps in reducing tartar and freshens up the dog's breath.
Further, these dog chew sticks don't have any artificial ingredients in them and are low in calories.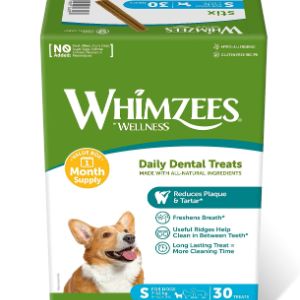 Key Features:
Natural ingredients
Low fat and high in fibre
Grain-free and Gluten-free
These dog chews are made for small breed dogs and you can provide them with one snack per day.
Perks
Easy to digest
Long chewing time
Vegetarian ingredients
Drawbacks
Not suitable for dogs under 9 months of age
Now, if you have a large dog and want WHIMZEES dog chews, you can buy the Large box that comes with 14 pieces and is precisely made for large dogs.
2. Glandex Fibre Supplements Dog Soft Chews
For dogs having anal gland issues, Glandex Fibre Supplements Dog Soft Chews is a nice option to consider. These dog chews are soft and use powerful ingredients in the mix for supporting anal gland health. It helps with digestion and you can give it once daily.
The ingredients used are of premium quality. You can expect pumpkin seed, apple pectin, flaxseed oil and probiotics in the mix.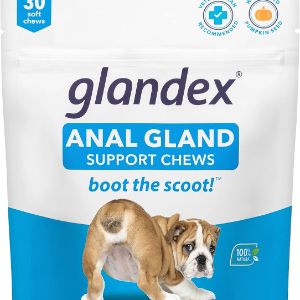 Key Features:
Omega fatty acids
Soluble and insoluble fibres
Probiotics and digestive enzymes
The formula of ingredients of Glandex is patented and is highly recommended by vets.
Perks
Soft dog chew
Helps with digestion
Maintains histamine levels
Drawbacks
Contains peanuts, which may cause allergies
3. Bounce and Bella Natural Dog Chews
Bounce and Bella Natural Dog Chews have beef as the main ingredient. It's healthy for dogs and there are no additives, grains, sugar, or any preservatives in this dog chew which can lead to health issues like obesity, allergic reaction, or gum damage.
These dog chews are dried naturally and unlike rawhide chews, there are no chemicals added for quick drying.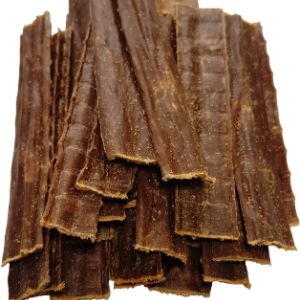 Key Features:
Single-ingredient
Naturally air-dried
One pack of these dog chews will have 100g sticks.
Perks
Low cost
Helpful for dental health
Can be used as a reward treat
Drawbacks
Dogs eat them quickly (less chewing time)
4. Everest Yak Chew
For dog owners looking for stick yak dog chew, Everest Yak Chew is a good option. The manufacturer claims that these sticks are handmade and not over-dried. Also, the Everest yak chew is suitable for heavy chewing and you can expect your furry friend to engage in chewing activity for a long duration.
In addition, these sticks retain a high amount of calcium and protein which is quite helpful for the dog's health. Also, the sticks help in removing plaque.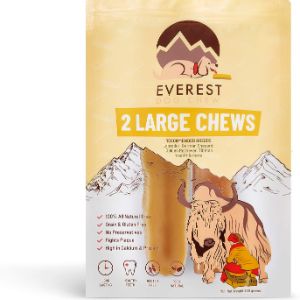 Key Features:
Gluten-free
Natural ingredients
Everest yak chews have no added preservatives or chemicals in the mix of ingredients.
Perks
Minimal salt content
Long lasting dog chew
Low fat and less smoked
Drawbacks
Splinters off in layers (sharp edges)
5. GREENIES Dental Chews
GREENIES Dental chews are suitable for dog owners who prefer having dog chew made of natural ingredients and are good for the gums of their dogs. The manufacturer claims to have made their dog chew with the vets. The ingredients used are – wheat, watermelon, turmeric, and fruit juice.
The unique texture helps improve the dog's oral health and keeps its breath fresh.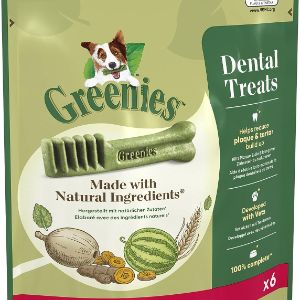 Key Features:
Flexible texture
Plant-based ingredients
Further, you can expect about 36 chew pieces in a single pack.
Perks
Easy to digest
Improved gum health
Helps reduce tartar and plaque build-up
Drawbacks
Soft chew and doesn't last long
Suitable for medium-sized dogs only
6. Pets Purest Natural Dog Treat Chews
Pets Purest Natural Dog Treat Chews is useful for dog owners who are looking to use dog chews as reward treats. This dog chew has pork and beef as the main ingredients. There are no preservatives added to these dog chews.
You can use these dog chews for puppies and adult dogs, especially the ones having sensitive stomachs.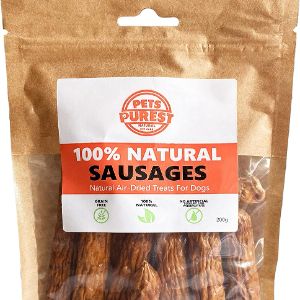 Key Features:
Grain-free
Natural ingredients
In addition, these sticks are hypoallergenic and come in handy while dog training.
Perks
Can be useful for every dog
Helpful for a sensitive stomach
Drawbacks
Expensive
Causes stomach issues
7. British Mini Roasted Marrow Bone
If you are looking for a locally made dog chew treat, British Mini Roasted Marrow Bone by T.FORREST is a dog chew product they can consider. They claim the bones used are sourced locally and roasted for facilitating better gum health.
In addition, the bones are hypoallergenic and also, stronger. It won't break easily so, minimal chances of splintering.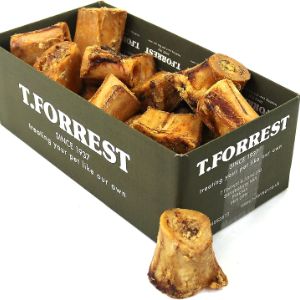 Key Features:
Gluten and grain free
British beef marrow bone
Further, these dog chews can come in handy as a treat because it has high protein and it can help improve a dog's health.
Perks
Improves dental health
Long lasting dog chew
Drawbacks
Diarrhoea issues for some dogs
After shattering, bones have sharp edges
8. Smartbones Sweet Potato Bones
For dog owners looking for a dog chew treat that is free of rawhide and made for improving a dog's dental health, Smartbones Sweet Potato Bones is an option to consider. These dog chews are helpful in improving the dental health of dogs, as the abrasive effect naturally cleans their teeth and keeps their gums healthy.
In addition, these dog chews also retain rich minerals and vitamins that help improve their health as well.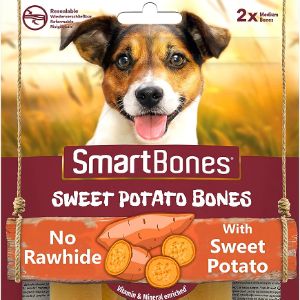 Further, this dog chew treat contains low-fat so, quite easy for dogs to digest.
Perks
Easy to digest
Vegetables in the ingredients
Drawbacks
Expensive
Risk of choking
Only suitable for medium-sized dogs
9. Pizzle Bully Sticks
Pizzle Bully Sticks from Dragonfly are natural dog treat chews that are made for small dogs. The ingredient used is 100% natural beef and is tailored specifically for improving the dental health of puppies who are teething.
The chewing facilitates cleaning of their teeth and also, loosens and removes plaque to make them healthier.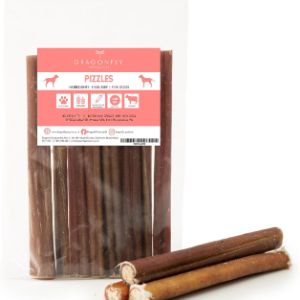 Key Features:
Grain and Gluten-free
Long-lasting natural chew
Further, these dog chew sticks are also hypoallergenic and help in refreshing the dog's breath as well.
Perks
A nice alternative to rawhide
Suitable for teething puppies
Drawbacks
Poor quality
The cost per stick is high
Not suitable for dogs below 12 weeks of age
10. Good Boy Rawhide Cigars
Rawhide Cigars from Good Boy are useful for dog owners who are looking for dog chew treats for their young pups. These Rawhide Cigars are suitable for pups aged below 4 months. In addition, the rawhide texture of these dog chews makes gums clean and stronger.
Further, the long-lasting aspect of these dog chews helps with the stimulation and also, prevents boredom.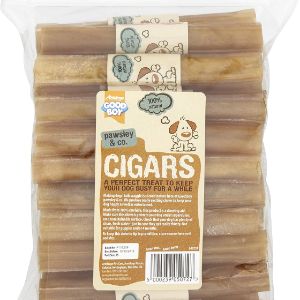 Key Features:
No artificial additives
Wheat and Gluten-free
In addition, you don't have to worry about allergies because these cigars are allergen-free.
Perks
Not hard like antlers
Improves dental health of young pups
Drawbacks
Very thin
The sticky label on the cigar doesn't come off
Buyers Guide: Best Dog Chew UK
Dog chews are basically foods of different shapes for dogs to chew, play, and eat. The above list of dog chews was curated considering various prospects. So, let's get into more details in this buyer guide to understand this product better.
Let's begin with the analysis of some of the basic prospects or features to look for in dog chews.
Suitable for dog – dog chew must be of proper size and not too small or too big. It must be appropriate for dogs as per their age, size, and chewing capability. So, it must also not be too hard or too soft.
Ingredients – the dog chew you pick must have good-quality ingredients in them. Also, it should be made of natural ingredients and easily digestible for the dog. Make sure there are no artificial colours or preservatives in the ingredient mix.
Taste – the intent behind using dog chew is to engage them in chewing, so, the taste must appeal to your dog. Pick the dog chew as per the preference or taste of your furry friend and make sure they enjoy the texture and flavour you pick.
Chewing time – a dog chew must be of good quality and not break easily or wear out. It should last for a long duration for providing proper chewing fun for the dog.
Safe – dog chew must be clean and must not crack, splinter, trigger intestinal blockage or cause choking issues.
Types of dog chew
For different dogs, you have different types of dog chews available in the market. Here are the basic types of dog chew:
#1. Soft dog chews
These types of dog chews are used while training as rewards. They are appropriate for every dog breed regardless of their age, or size. However, they are not useful in cleaning the teeth or match the dog's chewing instincts.
#2. Dental dog chews
The dental dog chews are made for improving the dental health of the dogs. They support the gums and wipe clean their teeth. Dental dog chews are suitable for almost every dog breed as long as they fit for dog's mouth and match their chewing habit.
#3. Supplement dog chews
For providing dogs with specific nutrients, vitamins, or medications, the supplement dog chews are used. These dog chews are feasible for all dogs but, one has to ensure that they are used after the vet's recommendation or prescription. However, supplement dog chews are not a substitute for a regular or balanced diet.
#4. Long lasting dog chews
Dog owners who have dogs with chewing-prone behaviour need this type of dog chew. Because they are durable and made like a toy, so, a dog can enjoy chewing for long hours without getting anxious and get the much-required stimulation.
In addition, the long lasting dog chews are suitable for all canines but, are more useful for dogs who are prone to chewing behaviour.
These were some of the common types of dog chews that you can consider for your furry friend. However, these types are not limited to these, there are some other dog chews that are available in the market. Let's have a closer look at them.
Antler dog chews are made from the shed antlers of elk, deer, or moose. They retain minerals and contain a marrow core which dogs like. Also, they are durable and long-lasting however, for some dogs, antler dog chews are hard and cause oral injuries, or tooth fractures.
Digestible body part chews
These dog chews are made using edible parts of animals like trachea, ears, tendons, oesophagus, bully sticks, or hooves. They are nutritious and natural and offer dogs different flavours and textures.
Further, they are digestible and will not cause any dental problems for your furry friend. However, they do smell bad and may contain some bacteria or hormones.
These dog chews are made using the dried skin of cows and other animals. They are flexible and soft but, once they are dried, are quite hard and tough. Hence, the hardness can satisfy their chewing instincts for a longer duration.
But, with the hardness of rawhide dog chews, dogs are at risk of suffering from intestinal blockage, contamination, or choking.
For more durability, nylon material is used and it can handle intense chewing of dogs. They come in different shapes, sizes, colours, and flavours so, you can pick the one which suits your dogs' preferences.
Nylon dog chews are strong and can clean dog's teeth and also, prevent their boredom because it lasts longer. But, the durability of nylon dog chews can also injure dogs' mouths and tear their gums.
Collagen dog chews are made from protein and it's derived from animal sources like beef, or fish skin. They are chewy and soft and are helpful for the dog's skin, joints, coat, and bones. In addition, these dog chews are hypoallergenic and low in odour.
The yak dog chews are made using the hardened milk of cows or yaks. They contain high protein and are low in fat. Also, the flavour is smoky and dogs like it. In addition, the yak dog chews are hard, durable, and can be softened with soaking or microwaving. These dog chews will not splinter and are easily digestible.
Factors affecting the cost of dog chews UK
You had a peek at different features and various types of dog chews. Both these factors influence the price of a dog chew but, there are many other factors to consider as well. Let's get some insights into some of these factors that affect the cost of dog chews.
#1. Type of dog chew
Different types of dog chews provide different chewing times and serve different purposes. Also, they differ based on durability, quality, and safety so, the prices will vary accordingly. For instance, antler's dog chews will be more expensive in comparison with nylon dog chews.
#2. Size of dog chew
The bigger size of dog chews will cost more than the smaller ones because they are likely to have more chewing time. Small-size dog chews will not have more cost. However, small-size dog chews might be available easily and that too with more quantity.
#3. Brand of dog chew (Quality)
The reputation of the brand will have a significant impact on the cost. The reason behind the high cost of the product is that the best brands use premium quality ingredients in the mix. They ensure the quality of the product is not compromised and also try and provide different varieties of the products.
#4. Demand and supply of dog chew
Dog chews are subject to demand and supply in the market so, this prospect impacts their prices heavily. The increase in demand for a particular dog chew will have higher prices, especially during the peak seasons or any promotional event. The prices of dog chews get low when there is a decline in the demand or the production of these dog chews is more than the demand.
Lastly, the platform you prefer for buying the dog chew will also influence the prices. For instance, buying a product online may cost less in comparison to buying it from the supermarket.
Perks of Using Dog Chews
You have observed the factors affecting the price and analysed the features as well. Now, let's have a peek at some of the benefits of using dog chews for our canine friends.
The plaque and tartar build-up are reduced when dog chews are used for satisfying the chewing urge of the dogs. The chewing scrapes of bacteria and debris may trigger dental problems for dogs.
While dog chews are not particularly a food treat, a long lasting dog chew can provide some nutritional benefits. The dog receives protein, calcium omega fatty acids, and other such nutrients while chewing on the dog chews.
Chewing can help dogs cope with anxiety and relieve them of stress. The continuous stimulation received while chewing will keep them distracted and they will not get bored. In general, long lasting dog chews are used for helping dogs to relieve their stress and prevent boredom.
For puppies teething, dog chews are useful as they reduce pain. The taste, texture, or flavour helps in diverting their attention from the pain and the chewing will massage their gums and make them stronger.
Some of the dog chews are made using ingredients that help freshen the mouth. These are precisely formulated for removing bad odour and improving the dog's breath.
How to use dog chews effectively?
To leverage the benefits mentioned in the previous section, you will have to use the dog chews wisely. Because there are many varieties with different ingredients and you need to ensure it's not harmful or toxic to your dog's health. Here are some of the tips you can consider for using dog chews effectively:
#1. Pick a feasible dog chew
You need to have the perfect size dog chew for your furry friend. Otherwise, the irregular size will either make them choke or swallow it completely. Thus, make sure the dog chew you pick is not too big or not too small. In addition, you need to also ensure that it's not too hard as well because it could damage the dog's teeth.
#2. Monitor dogs while they chew
You'll have to supervise your dog closely while they are chewing on a dog chew. This is crucial because they might choke on it, get discomfort while chewing or suffer from dental injury. Look for signs of bleeding or any behaviour suggesting distress or an injury.
#3. Limit the chewing time
Your dog must not chew every day or for a long duration on a dog chew. This is mainly because it can lead to digestive issues, dental problems, and worse, they will begin to prefer dog chews instead of their regular food treat.
#4. Keep it fresh
Keeping dog chews fresh is crucial to avoid health issues in dogs. You need to keep them away from direct sunlight, away from moisture or heat. Store them on the shelves where they won't get spoiled and dispose of them after the expiration date even if they seem fresh.
Now, if your furry friend is showing good behaviour while having dog chews, you can use the regular food treat as the reward and acknowledge the positive behaviour. This will ensure that they don't get addicted to the dog chews or begin considering it as their regular meal.
Drawbacks of Dog Chews
If you are not careful with the usage of dog chews, instead of leveraging the benefits your furry friend will have severe health issues and their dental health will also be compromised. Here are some of the potential drawbacks of dog chews for dogs:
The dog chews you use may get stuck in the dog's oesophagus and cause choking issues. This happens because the pieces are either too small or big. In addition, there is a risk of intestinal obstruction as well.
If the dog chews very hard, then it's possible that your dog will suffer from cracks or break their teeth completely. This can cause severe pain and treatment for recovery is also quite expensive.
Digestive issues or allergic reaction
Many dogs have sensitive tummies and if the ingredients in the dog chews are not suitable for them then, they are likely to have digestive issues. In addition, some dogs are sensitive towards grains, proteins, or additives and suffer from an allergic reaction.
Dog chews are addictive for dogs. Addiction is a definite prospect if it is used more frequently by dog owners. Some dogs begin to consider them as their regular meal. They also get aggressive if not given or served.
Feeding Guide
Apart from the drawbacks, the health of dogs is compromised if you are not careful while using the dog chew. Hence, it's crucial for you to feed them properly and use different types which can benefit your dog.
Here are some feeding prospects for different types of dog chews:
#1. Hard chews
These are hard dog chews and can withstand the strong and intense chewing of a dog. You can expect an appealing texture and flavour in the hard dog chews. Here are some simple steps to follow while feeding such chews:
Pick the perfect size (not too small or big). This helps in reducing the chances of choking or swallowing.
Check the chews before feeding them. Look for wear and tear, or rough edges and if you see any, dispose of them.
Wash the chews (use warm water and mild soap). Rinse it thoroughly to avoid any potential allergic issues that may be caused.
Keep an eye on your dog. Because after long chewing the hard chews begin to break and if ingested the shape edges can cause some serious obstruction issues.
Keep chewing time for roughly 15-20 minutes per day. Excessive chewing may lead to obsessive behaviour or cause dental or digestive issues.
#2. Soft chews
These chews are made using soft materials and are tailored for flossing dogs' teeth and massaging their gums. They have bone-like shapes or come in the form of balls. Following are the steps you can consider while using soft chews for your furry friend:
Pick a soft chew that is of the right size and is not too small or thin for the dog's mouth to avoid swallowing or choking hazards.
Inspect the chew properly before feeding. Check for any breaking, fraying, or wear and tear.
Using warm water wash the chew and rinse it.
Monitor the dog while they are chewing their soft dog chew to ensure they don't choke on it.
Restrict their chewing time. Allow them to only chew for 10-15 minutes per day. This is enough for improving their dental health and not let them get obsessed with the dog chew.
#3. Edible chews
Edible dog chews are made with the ingredients like meat, vegetables, rawhide, or grains. The intent is to provide some nutritional benefits to the dog while leveraging its intense chewing behaviour. The majority of these dog chews are in stick form and you can follow these steps to feed them:
Pick the edible chew that meets the dog's nutritional needs. Avoid chews that have harmful or unknown ingredients in them. It may cause allergic reactions.
Check the expiration date before you feed any edible dog chew sticks to your furry friend. But, if there is any damage or signs of spoilage, you need to quickly get rid of it without looking at the expiration date.
The chances of a dog choking are less but, you need to monitor them while they are chewing.
The time for chewing must be less because if the dog chews them for a longer period, they will suffer from vomiting, diarrhoea, or obesity.
FAQs For Best Dog Chews UK
Are dog chews safe?
In general, dog chews are safe but, depending on their size, type, shape, ingredients, and quality of chew you may encounter some dog chews that are not safe for use on your furry friend. For instance, too much hard dog chewing may lead to broken teeth and thin material dog chewing i.e. sticks may break easily get stuck inside, and create blockage inside. Also, some dog chews are way too soft and dogs swallow them directly which increases the risk of choking. So, while dog chews may seem safe, dog owners must take proper precautionary measures to avoid such issues.
What is the general cost of dog chews in the UK?
The general cost for dog chews in the UK falls between £1.87 to £52.49. The range is big as there are many factors that influence the prices of dog chews. Depending on the size, type, brand, and quality of the dog chew, you will observe different costs for each. Always compare the prices and make sure you pick safe dog chews that are within your budget.
Which one is better – hide dog chews or no hide dog chews?
If you are looking for safe dog chews, you must go with no hide dog chews. These dog chews are made using natural ingredients and are quite easy to digest. They also provide the necessary vitamins, minerals, and protein for better health. On the other hand, hide dog chews are hard and made of animal skin and have some additives which are quite tough for dogs to digest. This can lead to blockage or irritation issues in the stomach or the intestine and possible infection.
What types of dog chews are dangerous for dogs?
Types of dog chews that are dangerous for dogs are soft chews, indigestible chews, chemically treated chews or extremely hard chews. These types of dog chews can cause issues such as infection, tooth damage, blockage, or choking issues. Thus, pick safe dog chews, and make sure they are suitable for your furry friend in terms of size, and shape, not to mention the ingredients.
Final Comment On Best Dog Chews UK
Dog chews are effective for satisfying the chewing urges of dogs. If you pick the right dog chew product for your furry friend, you can also clean their teeth, and gums, and help them get some stimulation. Also, these dog chews can relieve them boredom, pain, anxiety, and frustration in dogs.
The list provided in this article has provided some of the best dog chews and you can analyse their ingredients, type, brand, and quality before you buy one. Because different dog chews are suitable for different dogs and based on your dog's chewing habit you need the one that is not too hard or too soft or has ingredients which can cause health issues for them.
So, make sure you conduct thorough research because it's possible I might have missed a few or two. Also, if you have any questions regarding the dog chews, feel free to ask them in the comments, I will make sure you get a proper solution.