If you are planning your holidays with your furry friend and in search of a location which has a natural elegance and cultural charm, then Cornwall is the perfect destination. This county in the southwest of England is a gem of a place for dogs. This article will provide you with specific details and interesting things to do in Cornwall with dogs.
So, buckle up as I help you plan your next holidays in Cornwall with your furry friend. Cornwall has something special for everyone and you won't regret spending time with your furry friend at this place.
Things to Do in Cornwall with Dogs
Cornwall has roughly 400 miles of coastline, and you will find many dog-friendly beaches. You can enjoy the sand, sun, and surf. Also, you can go on long walks along the cliffs, or explore fishing villages. Cornwall has a lot to offer and before we glide into the details of the things you can do, let's see why visiting Cornwall with dogs is worth it.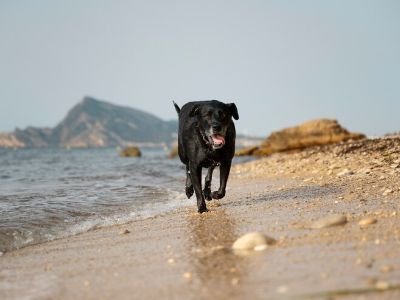 Reasons why you must consider going to Cornwall
One of the main reasons to consider Cornwall is its diverse history and culture. It has its Celtic roots, artistic legacy, and maritime heritage. There are lots of stories you can explore with your dog. From King Arthur to the Poldark novels they have it all. Here are some other reasons why Cornwall makes a strong case for your next holidays with your furry friend:
Warm and sunny – the climate in Cornwall is mild and sunny. It's also one of the warmest destinations in the UK. You can enjoy the beauty of the outdoors all year long and also witness the changing colours of the seasons.
Woodlands and Moors – Cornwall has a rich and diverse countryside as mentioned earlier, with rolling moors, ancient woodlands and wildlife habitats. You can explore the woodlands and moors with your furry friend and also find hidden exotic plants, gardens, and other historic sites.
Soothing atmosphere – the locals of this place adore dogs and the atmosphere is soothing. You can relax with your dog and also make some friends along the way while exploring this place.
Fun and adventure – there are lots of fun and adventurous stuff you could do while in Cornwall. Whether you wish to visit the popular Eden Project, take a boat trip, or hop onto a steam train.
Food – you will find some delicious cuisine with variety, find fresh seafood, traditional dishes, local food and much more. From cornish pasties to cream teas and other treats, you will find many food items for your dog.
Accommodation – the environment is welcoming, and you can find cosy cottages, hotels or campsites that provide doggy luxuries.
Things to Do in Cornwall with Dogs – Places to Visit in Cornwall with Dogs
Apart from enjoying the scenery, there are many things for you to do in Cornwall with dogs. From long coastal walks to surfing and visiting different places, there is much more adventurous and fun stuff you can consider. Here are some activities that you can engage in with your furry friend:
#1. Long coastal walks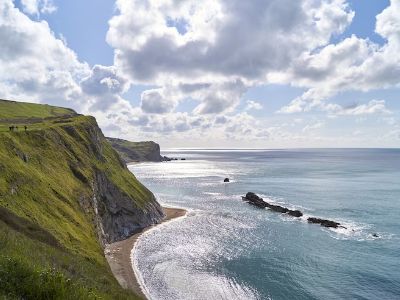 As I keep mentioning, the coastal line is about 400 miles long, you can have long walks alongside the coast. There are many trails suitable for dogs. While walking with your furry friend on sandy beaches, you can admire the rugged cliffs and turquoise water and observe the wildlife.
There are more than 100 dog-friendly beaches for you to pick from. Some of the best picks for coastal walks with your furry friend are Lizard Peninsula, West Coast Path, and the Roseland Heritage Coast.
#2. Surfing
There are plenty of beaches which allow surfing with dogs. Fistral Beach, Watergate Bay, and Perranporth Beach are some of the beaches that allow renting a surfboard, and a doggy life jacket. You can surf with your furry friend and enjoy the waves.
#3. Participate in the dog show
You will find many dog-friendly events in Cornwall. The Royal Cornwall Show, Liskeard Show, or The Stihians Show are some of the prominent events. You can easily register your dog in one of these events into different categories.
Some of the categories you may find include – the most handsome dog, waggiest tail, or best in the show. Regardless of the event results, you will find some other dog lovers to hang out with.
#4. Dog agility class
Dog Agility Cornwall, Kernow K9, and Paws 4 Fun are some of the well-known training centres in Cornwall. Here you can upgrade your dog's skills and also learn to guide them through different obstacles, tunnels, weave poles, and jumps. Your furry friend will enjoy the sessions and feel the excitement as well.
#5. Treasure hunt
This activity is exciting and you get an amazing experience while participating with your furry friend. The treasure hunt activity in Cornwall is carried out at different geocaching locations. St Michael's Mount, Bodmin Moor, and Tintagel Castle are some of the locations.
Geocaching will involve using a smartphone or a GPS device for finding hidden containers i.e. geocaches. In addition, you can also leave some clues for the next finder, for instance, a treat, or toy for their dog.
#6. Dog-friendly food
In Cornwall, there are many pubs, restaurants, pubs, and cafes which allow dogs. In fact, they have food items, dishes, ice cream, and many treats available for dogs. The Watering Hole on Perranporth Beach, The Old Coastguard in Mousehole, or The Bowgie Inn on Crantock Beach are some of the well-known places to eat.
These were some fun activities that you can do with your furry friend in Cornwall. Now, let's have a peek at some places you can visit.
Places to visit in Cornwall with dogs
We had a peek at some of the activities you can do with your furry friends in Cornwall. Adding to the excitement, this section will highlight some of the well-known places to visit in Cornwall while you are on vacation with your furry friend. Here is a list of the places you must visit:
#1. Eden Project
This is a world-renowned attraction featuring miles of gardens and outdoor paths. Here you get to explore the world's biggest indoor rainforest. You also get to observe various exotic plants from distinctive climate conditions and learn about sustainability and conservation.
You can take your dog to the picnic areas and nature trails only. They are not allowed in the biomes or undercover areas. In addition, dogs on lead are allowed in the outdoor gardens and there is plenty of water supply for them throughout the area.
#2. Lost Gardens of Heligan
These gardens were "lost" after world war 1 and later discovered again back in 1990, hence, the name "lost". The gardens belonged to the Heligan estate and are spread across 200 acres of land. Dogs are allowed in the region but, only with lead on.
However, they are not allowed near the jungle, farms, or wildlife projects. While you roam in the gardens, you will encounter many hidden gardens, ancient woodlands, wildlife habitats, and exotic plants.
#3. Geevor Tin Mine
This one is a former mining site that provides a glimpse into the work and lives of Cornish Miners. At this site, you will see various buildings, and machinery which portray the story of the mining industry in Cornwall. Dogs are permitted on the site, apart from the underground area, shop, and cafe.
#4. Lappa Valley
Lappa Valley is quite an attraction because of the miniature railways, boating lake, golf course and woodland walks. You can consider this a leisure park. Apart from the indoor area of this park, dogs are allowed throughout the park.
#5. Newquay Zoo
Newquay Zoo has over 1000 animals in its sanctuary. You can see monkeys, lions, penguins, and many other animals here. Dogs are allowed on the premises except for the Tropical House, the village farm, and some animal coops. You can visit the Zoo and extend your knowledge about different animals with your dog.
#6. St Nectan's Glen
It's a mystical place. You will witness some spectacular waterfalls and rock formations. There is a river descending through trees, and you will appreciate the natural beauty and spiritual energy of this magical place. Because the place has a peaceful and spiritual prospect involved, you need to ensure that they won't cause any issues with their behaviour, especially barking.
#7. Paradise Park
This wildlife park has 650+ animals, birds, parrots, flamingos, otters, and red pandas. You will see flying displays, feeding sessions, and interactive shows, and can also enjoy the garden and playing area with your furry friend. The entry of dogs is only restricted to some animal sections and indoor play areas.
#8. The Minack Theatre
Formed by Rowena Cade in the 1930s, The Minack Theatre is one of the best attractions of Cornwall. It's an outdoor theatre sitting on the cliffs above the Porthcurno beach providing exceptional views of the sea. You can take your dog to this outdoor theatre but, make sure they are on a lead. The only time they are not allowed is when there are plays hosted, but, still, the guide dogs are permitted.
#9. Isles of Scilly
A group of islands off the coast of Cornwall provides a beautiful escape and you can enjoy the sandy beaches, turquoise water, historic sites, and local cuisines of the islands. You can take your furry friend to this island on a boat or plane.
#10. Tintagel Castle
This location has inspired many writers, tourists, and artists and is linked with King Arthur but, was once the seat of Cornish Kings. The links with King Arthur, have been disputed still, there is no denial of the historic attraction of this place. Dogs are allowed on the beaches below the castle but, not in the castle. So, while you explore the historic castle your dog can explore the wild landscape nearby.
Preparation to visit Cornwall with Dogs
You have the places list to visit and the prospects to enjoy with your furry friend while visiting Cornwall. But, it's crucial for you to prepare yourself and the dog before you decide to go on holiday in Cornwall with dogs. Here are some tips you need to consider:
#1. Travel requirements
If you are travelling to Cornwall from a different country, you may have to check the legal travel requirements for tagging along your furry friend with you into the UK. The basic requirements are- vaccination, microchipping, a pet passport and a health certificate. There are specific UK government guidelines for bringing pets to the UK. So, make sure you follow them.
Further, if you are travelling to Cornwall from a location in the UK itself, you won't have the same stringent guidelines to follow. However, you'll have to make sure your furry friend is healthy and fit for travel. In addition, you must also have proper lead or harness to control them.
#2. Select dog-friendly accommodation
You will easily find accommodations that are dog-friendly in Cornwall. However, you need to check the availability of the hotels, campsites, holiday parks or cottages in advance. Analyse the price range, and assess the policies of respective places. This will help you get an insight that which hotels allow dogs on their premises, whether are there any additional costs and so on.
#3. Prepare your schedule
The 10 places to visit that I mentioned are not the only places to visit in Cornwall. There are plenty of other attractive beaches, museums, castles, and gardens to consider. But, you need to prepare a tight schedule. This basically means, inquire the timings, fees, and rules of each place in advance.
This will help in preparing a tight schedule where you can plan different visits to various places. In fact, some places will mandate advance booking so, check thoroughly to ensure you don't miss out on the fun.
#4. Packing for dog
For once, you may forget your clothes or a packed bag while going on a holiday, but, make sure you have all the necessary items with you while you visit Cornwall with your furry friend. Below are the items you may require to pack for your dog:
Food and Treats
Bed and Blankets
Lead, harness, and collar
Feeding bowls and bottles
Chewing toys and normal toys
Waste bags for disposal
Shampoo and towel for grooming
Coat and Boots
Documents and ID
Medications
You can also items such as sunscreen, or raincoats based on the weather conditions. Additionally, if you wish, you can also include items such as a Cooling mat, heating pad, crate, or seat cover as well.
#5. Health condition
Your pup's health must remain in top condition to ensure they are allowed to travel. Thus, it's crucial to get all the vaccinations shots, worming and flea treatments before you plan on visiting Cornwall.
This step is important because, not only safeguards your furry friend from diseases but, also reduces the risk of infection or allergies to other canines or people that you may encounter throughout your journey.
So, these were some significant preparation prospects that you need to consider, before you visit Cornwall with your dog. Make sure your furry friend is microchipped because it gets easy to find them in case they are lost.
FAQs
Why do people stay in cottages in Cornwall with dogs?
People prefer staying in cottages in Cornwall with dogs because they are cosy and comfortable. The cottages offer more space, facilities, and privacy than a hotel. In addition, there is variety in the cottages as well. You will find them of different styles i.e. from rural retreats to coastal escapes. Many of them even have dog beds, endorsed gardens, and all luxuries for dogs.
How to enjoy caravan holidays in Cornwall with dogs?
Caravan holidays are a type of accommodation which involve staying in a static caravan. It is a prefabricated structure that has wheels but, is normally fixed in one place. You can get many benefits in caravan holidays – comfortable stay, different style caravan as per the budget, park facilities (pools, playground, shops), and dog-friendly beaches.
What are the best places to stay in Cornwall with dogs?
Cornwall offers many options for accommodations, and activities, and has many attractive places for you to enjoy with your furry friend. Some of the best places to stay are – cottages, campsites, and hotels.
Which time of year is best to visit Cornwall with dogs and for how long?
In general, May to September is the peak season and you will meet many like-minded people to enjoy. However, if you are looking to enjoy a place with less crowd, and at a cheaper price, you can plan your holidays in the off-season i.e. from October to April. The weather preference is also a crucial prospect in deciding when to visit, for warm weather you'll have to go in peak season and for cold weather in the off-season. How long you should stay completely depends on your activities planned with your dog and budget expenditure.
Is glamping in Cornwall with dogs worth it?
Yes, glamping with dogs in Cornwall is totally worth it. You get to stay close to nature and there are many types of glamping structures such as pods, yurts, cabins, treehouses, and much more facilities available. Also, there are many glamping sites and you can get a unique experience while glamping with your dog.
Final Comment on Things to Do in Cornwall With Dogs
Cornwall is a good destination for spending holidays with your furry friend. You will find plenty of dog-friendly attractions, activities, and places to have fun with your dog. There are stunning beaches, historic castles, gardens, forests, and woodlands. Eden Project, the Minack Theatre, Lappa Valley, and Lost Gardens of Heligan are some of the best experiences.
Further, spending your holidays in Cornwall with dogs has its own perks. Not only you but, your dog gets to experience new environments and adventures at different sites. Also, there are many other dog lovers at different venues, and you might enjoy their company.
In short, there are many things to do in Cornwall with dogs, and it's certainly worth it. It's dog-friendly and you can plan a beach holiday, a countryside escape or a bit of a mix of both. You won't regret it. If you have been there with your pooch, share your experience in the comments to help fellow dog lovers.