If you have a dog who likes to explore stuff and enjoys car rides with you then you may have seen your dog have difficulty accessing higher places like a sofa, bed, or car trunk. Such experience always leads to dog owners looking for dog ramps for their furry friends to help them reach out to these higher places without any issues. But, how pick the best dog ramp?
To help you buy the best dog ramp, I have included details of features to look for in the best dog ramps, also, a detailed buying guide. This guide includes different buying prospects, factors to consider while buying, and some tips on using dog ramps safely. Read the article and you will find out the best suitable dog ramp to use for your furry friend.
Best Dog Ramps
A dog ramp is an accessory that helps dog owners assist their dogs in accessing places that are out of their reach. These places are either too high or too low for their dogs to reach. So, to make them hop onto the sofa, bed, or car, a dog ramp is used.
Dog ramps have sloped or flat surfaces so, dogs can run or walk on them. They are made using different materials and are available in different sizes and types. Here is a list that includes some of the best dog ramps for people in the UK.
1. Masthome Dogs Steps
For dog owners, looking for a soft and comfortable dog ramp for their furry friend to climb the high bed or sofa in the house, Masthome Dogs Steps is a perfect choice. It is a foam dog ramp and is suitable for dogs weighing up to 60 lbs. The non-slip bottom helps dogs to climb up this ramp very easily.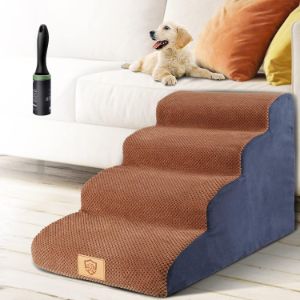 In addition, the waterproof design keeps the inner foam protected from contamination. Also, the zip design makes it easy to disassemble and easy to wash.
Key Features:
4-steps
Zipper design
Non-slip bottom
Soft plush cloth cover
Further, the curves are wide and not too vertical so, dogs will not fear walking up this ramp.
Perks
Machine washable
High-elasticity sponge
Non-slip bottom ladder
Drawbacks
Not suitable for outdoor use
2. PetSafe Happy Ride Telescoping Dog Ramp
PetSafe Happy Ride Telescoping Dog Ramp is helpful in getting dogs up and out of minivans, or cars easily. The adjustable telescoping dog ramp can be set down flat on the ground and you can guide the dog over the ramp.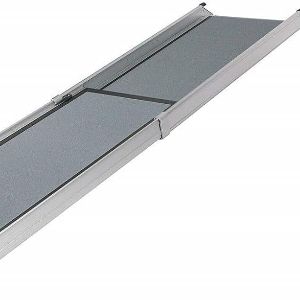 This dog ramp has a high-traction surface and the side rails also, stop the dogs from falling or slipping while on the ramp.
Key Features:
Non-slip
Safety strap
Durable aluminium material
Further, this telescoping dog ramp can handle a weight of nearly 396 lbs without causing any issues.
Perks
Fully-extendable
Provides nice stability
Lightweight and easy to carry
Drawbacks
Non-slip surface emits a strange smell
3. dibea lionto Dog Ramp
For dog owners looking for a lightweight dog ramp, dibea lionto Dog Ramp is the one they must consider. It's lightweight and is made for helping dogs get on the back of the car trunk without any hassle.
This dog ramp is foldable and you can carry it with you in the car making it easy for your dog to get on and off.
Key Features:
Anti-slip
Lightweight plastic material
Further, the strip used in this dog ramp can dry wet doggy paws within a few minutes.
Perks
Durable plastic material
Can handle weight up to 200 lbs
Lightweight and easy to handle
Drawbacks
Tends to break after frequent use
4. PiuPet® Dog steps
For dogs struggling with mobility, PiuPet® Dog Steps is a perfect option for them. This dog ramp is made to help dogs with mobility or joint and back issues access higher locations without any issues. The surface area is large and stable enough to provide safety to dogs.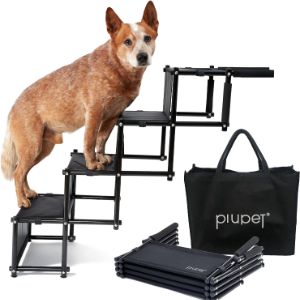 In addition, the double support of steps makes it easy for older dogs to walk as there is no stress on joints.
Key Features:
Sturdy material
Double support of steps
Further, the PVC material used in making these foam dog ramps is easy to clean and is water-repellent.
Perks
Has a security strap
Suitable for bigger and senior dogs
Can sustain weight up to 176 lbs
Drawbacks
Fitting issues with some cars
5. Dog ramp for Couch by PRIORPET 
For dog owners who prefer having a wooden dog ramp for helping their dogs walk up to their couch, a Dog ramp by PRIORPET is an option they must consider. This dog ramp leaves no gap between itself and the couch, and is ideal for dogs having joint issues, or have high body weight.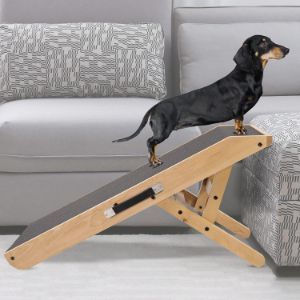 This dog ramp has a landing platform and strong traction making it easy for dogs to reach the top.
Key Features:
Solid birch wood
Anti-slip rubber surface
Further, the ramp comes with a carrying handle so, there are no extra tools necessary for dog owners to use this dog ramp.
Perks
Flat folding
Adjustable height
Wider landing platform
Drawbacks
Cost is high
Rubber material is not so good
6. Youyijia Pet Stair Step Dog Stairs
Youyijia Pet Stair Step Dog Stairs are helpful in getting dogs up on the bed or a sofa without any damage to the material or causing injury to the dog. It is stable and designed such that helps lessen the burden on the dog's legs.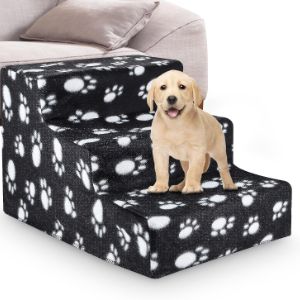 The design of these stairs is such that it is movable and can be placed on high areas of the house so that the dog can easily access those areas.
Key Features:
Non-slip base
3-layers or stairs
Lightweight and portable
Further, this dog stairs ramp may be used indoors but, is suitable to use on cars or trucks.
Perks
Easy to assemble
Waterproof and antifouling
Drawbacks
Material not sturdy
The cover comes off frequently
7. Myiosus Dog Stairs
For dog owners looking for a dog stairs ramp that can help dogs of all ages hop onto the sofas and other places within their house, then, Myiosus dog stairs is a feasible option for them to consider. In comparison, to other dog ramps, these foam dog ramp stairs have wider curves and are not too steep, reducing the dog's fear of walking up or climbing.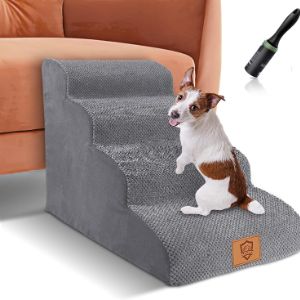 The outer layer of these stairs is soft so, comfortable for senior dogs to walk on. The steps are strong and can handle up to 60 lbs of weight.
Key Features:
Non-slip bottom
Gentle slope design
High-density sponge
Further, the outer layer over these dog ramp stairs is removable as it has a zipper design. You can wash it in the machine and keep the stairs clean.
Perks
Waterproof fabric
Easy to assemble
The outer layer is machine washable
Drawbacks
Zipper breaks easily
Suitable for indoor use
Inner foam is not washable
8. LIEKUMM Dog Car Ramps
LIEKUMM Dog Car Ramps are foldable dog ramps for cars and dog owners can also use them for vans or SUVs to carry their furry friends. It is lightweight and easy to carry around. The 4 rubber feet on the bottom of this dog car ramp prevent the dog from slipping.
In addition, the anti-skid ridges help provide better traction for the dogs, and no sandpaper or carpet in it makes it soft on the dog's paws.
Key Features:
Foldable
Non-slip safe design
Durable plastic material
Further, this dog ramp for cars is designed with a safety lock.
Perks
Anti-slip tape
Easy to assemble
Skin-friendly material
Drawbacks
Expensive
Ramp is steep
Tape is not durable
Buyers Guide: Best Dog Ramps
The product list mentioned above can still be overwhelming for some dog owners. So, to help with the decision-making, this section will provide different prospects dog owners need to consider while buying dog ramps for cars. let's begin with understanding the various features and types of dog ramps available for dog owners in the UK.
Dog ramps – features (buying prospects)
Dog ramps are devices that are useful for dog owners in helping their dogs access higher places like couches, beds, cars, or stairs. Using them can reduce stress on their joints, especially for senior and small dogs. Also, if a dog has mobility issues, these ramps come in handy.
Further, they come in different types but, before that, let's get some insights into the common features or as I like to consider them – buying prospects, for dog ramps.
The size of a dog ramp determines the length, width, and height of it. The length of the dog ramp determines the angle or slope on which the dog has to climb. So, the longer the ramp, the gentler the slope and the much safer for dogs to climb on.
The width of the ramp shows the space the dog will have on the ramp to walk on. A wider ramp provides more stability and makes the dog's walk on the ramp more comfortable. Lastly, the height of the ramp shows how high a dog can reach.
Hence, while buying dog ramps, you need to make sure, you don't compromise on the size. Otherwise, a short ramp, narrow, or too much higher dog ramp can injure your furry friend.
The weight of the ramp points towards durability and portability. If a dog ramp is too heavy it is difficult to carry and store. A lightweight ramp is probably too weak or unstable. So, as per your dog's size, you can pick a ramp that will sustain the weight without bending or breaking.
Thus, you need to pick a ramp that is strong enough to handle the dog's weight yet, easy to control. But, remember, the higher the weight of the ramp, the more suitable for heavy dogs.
Dog ramps are made using wood, plastic, metal, or foam. These material have an impact on the strength and indicates how comfortable it is to use for the dog. Wood ones are natural and aesthetic but, often warp or rot over time. Metal dog ramps are durable and strong but, might get corroded in a moist environment.
The plastic dog ramps are lightweight, and easy to clean however, they may fade under sunlight or crack. In addition, foam ramps are cushioned and soft and provide comfort but, are now very stable to use.
A common design for a dog ramp includes stairs, slopes, platforms, or steps. Stairs dog ramps have multiple levels so, dogs can easily climb one at a time. Platforms or slopes will have a single surface that dogs have to walk up or down, also, some designs will include additional features like handles, hinges, side rails, reflectors, locks, or lights.
These features are buying prospects and dog owners must consider them before buying dog ramps. Because they also influence the prices of different types of dog ramps.
Types of Dog Ramps
Dog ramps are used for accessing higher places like couches, sofas, cars, or stairs. Based on the height and location, you may have to use different types of dog ramps for your furry friend. Here are different types of dog ramps that you will find:
#1. Standard dog ramps
Standard or folding ramps are the ones that come in a single piece or fold. They are easy to store and made using metal, wood, or plastic material. The surface is non-slip and suitable for the majority of dogs. Also, you can use them both indoors and outdoors.
But, standard dog ramps are not portable or adjustable and may occupy more space than other types of dog ramps.
Benefits of using standard ramps
Simple and easy to use – you can unfold them and set up where you want your dog
Non-slip surface – provides friction and grip to the dog's paws and reduces the risk of sliding or slipping
Useful both indoors and outdoors
Drawbacks of using standard ramps
Not adjustable or portable – the length or height cannot be changed as per the requirements and is also, difficult to store and carry around.
Accumulates more space – size is big so, storing needs a large area for the ramp to fit. Also, when not in use, tripping or cluttering must be avoided.
#2. Telescoping dog ramps
These dog ramps are made of aluminium and have a non-slip surface. You can extend or retract them to adjust their length and use them for climbing dogs on trucks, cars, boats, or SUVs.
In comparison to standard dog ramps, telescoping dog ramps are adjustable and portable. But, they are costly.
Benefits of using telescoping dog ramps
Adjustable and portable – dog owners can easily retract or extend the ramp to adjust the length and height as per their preferences. Also, the ramp is foldable in half for carrying it around without any hassle.
Useful for heavy dogs – the material used can sustain heavy-weight dogs without bending or breaking.
Drawbacks of using telescoping dog ramps
Cost is high – there are extra features in telescoping dog ramps so, an expensive purchase.
Steeper slope – in comparison to other ramps, it has a steeper slope and dog owners may have to extend the ramp to create a gentle slope.
#3. Stairs or steps dog ramps
Stairs or steps dog ramps have multiple levels and the dog has to walk on them one by one to reach the top. Technically they are not ramps but, serve a similar purpose to what a dog ramp does.
These are made using foam, plastic, or wood material and have a non-slip surface. In addition, these stairs are cushioned and less bulky so, senior dogs can easily walk on them to reach higher places.
Benefits of using stairs or steps dog ramps
Occupies less space – the stairs or steps dog ramps will not have an extendable feature and are smaller in comparison to the other two ramps. It can be left in a specific location without causing any inconvenience to anyone in the house.
Useful for small dogs – some dogs can climb easily on normal stairs or steps, and using the step or stairs dog ramps can help them make a walk onto a sofa, chair, or bed without any hassle.
Drawbacks of using stairs or steps dog ramps
Stability is less – stair dog ramps or steps can often make senior dogs wobble, collapse, or tip over. Also, if they miss a step, it's likely to cause some serious injury to them.
The surface is uncomfortable – the steps or stair dog ramps have rough surfaces and it can hurt the dog's paws or nails. They have less grip or no traction that stops dogs from slipping or sliding on the steps.
Factors to consider before buying dog ramps
You saw different types of dog ramps that are available for helping dogs climb up and access higher places. I also mentioned the perks and drawbacks of each type. So, you must not blindly decide on one kind of dog ramp and buy it.
There are some factors you need to consider before buying any such dog ramp. Below are some of the factors you have to consider:
#1. Size and weight of your furry friend
Considering a dog's size and weight is very crucial before buying a dog ramp. The reason behind this is simple, if you buy it randomly, the material used or the capacity to handle the weight of the dog ramp may not match your furry friend's weight and height.
In such cases, dogs will have difficulty walking, also, if it's not wide and strong enough it may break as well. Thus, make sure you analyse the dimensions of the dog ramp and its weight to verify whether it can sustain your furry friend's weight.
#2. Intent
The intent behind buying a dog ramp is important to consider before buying the dog ramp. Dog owners must have the clarity of where they wish to use it. For instance, if the dog is comfortable in the house and climbs on the bed or sofa easily, but, is not comfortable hopping on a car, then, a dog ramp for cars is what they need to buy.
Likewise, if a dog owner needs a dog ramp that is suitable for indoor use, stairs or steps dog ramps will do the trick.
#3. Durability and quality
Once you figure out the type of dog ramp to buy, you need to have a proper analysis of its sturdiness. Check the materials used in making the dog ramp and see if it can withstand the weight and not wear off or break down after regular usage.
In addition, before buying the dog ramp, you must ensure that it offers traction and is anti-slip. Also, it must be easy to wash.
#4. Easy to store
While the dog ramps are helpful in getting dogs up on a sofa or to the car, they must be easy to store. A big dog ramp will be difficult to store and also, difficult to carry around.
Training Dogs for Dog Ramps
Your dog needs to be trained for dog ramps because if not, they might get injured or the dog ramp may get broken off. Here are some tips you can consider for training dogs for dog ramps:
Place the ramp on an even or flat surface – ensuring the surface is even or flat will help in securely attaching the ramp. It will also make sure that the alignment is proper with the accessing sofa, couch, or car. You can use locks, straps, or hooks to stop the ramp from sliding or moving.
Low incline and short distance – while training a dog the first time, make sure you keep the ramp on a low incline and at a short distance so, that a dog can get used to it.
Use rewards and treats – you need to encourage and lure your dog towards the ramp using food treats and reward them after each step they take on the dog ramp. Forcing them to move on the dog ramp can make them fearful and you must avoid doing so.
Repeat the process – until your dog manages to walk on the dog ramp with complete confidence, Continue repeating these steps and make sure they get comfortable while walking on a dog ramp.
Maintenance – wiping the dog ramp with a damp cloth or a mild cleaner to get rid of the dirt, debris, or dust is crucial after each use.
Training may seem unnecessary but, it is. If you are wondering why, below are some of the benefits you will get on training your dog for a dog ramp.
Improvement of dog's physical and mental strength
The training for dog ramp provides necessary stimulation, exercise, and challenge for dogs. So, there is a significant improvement in their confidence, agility, and coordination. In addition, it also minimises the risk of injuries triggered by jumping on and off elevated surfaces like beds, couches, or cars.
A dog can easily get access to places that it wasn't able to reach out to before using a dog ramp. This helps them reduce dependency on you and also, provides more freedom which makes them feel more comfortable and secure.
While training your furry friend on the ramp communication with your dog can improve the bond. You understanding their needs and preferences can make them feel good and, because you are using the ramp for their safety it makes them trust you even more in different situations.
Things to avoid while using dog ramps
While you can leverage the benefits of dog ramps if used effectively, there are some things you must avoid doing as well. Otherwise, your furry friend will get fearful of using the dog ramp and resist getting on it.
#1. Force or push to use dog ramp
Forcing the dog to walk on a ramp can make them fearful and scare them. Some dog owners lose their patience and push their dogs onto the climbing dog ramp and it's not good. They might get hurt while being pushed or worse fall off the ramp and face severe injury.
#2. Place dogs on the ramp without training
If you put the dog on the ramp without training them to walk on them they are likely to lose their balance. This can scare them and they will be less confident while walking on the ramp next time. So, begin with the low inclined ramp and make them walk a short distance before you make them walk to hop onto a sofa or your car.
#3. Avoid pulling the dog while on the ramp
Sometimes dog owners randomly pull their dogs off the ramp. They either save their dog from falling off or don't need them to walk, regardless, this can cause injury to them. So, you must avoid pulling them off, especially if their joints are weak, or they have mobility issues.
Likewise, you must not pull them onto the ramp to make them walk on it. Try using lead to control their movement and guide them while they walk on the ramp.
#4. Don't use a weak ramp
Using a dog ramp that is weak or slippery can be dangerous. It can cause accidents, falls, or lead to severe injuries for your furry friend. So, make sure the dog ramp you have is not slippery, can sustain your dog's weight, and is not too narrow or slippery.
#5. Negligence in maintenance
Regardless of the type or the material of the dog ramp, you need to clean and maintain it for longevity and the safety of your furry friend. Not cleaning the ramp, or storing it properly can compromise its structural integrity causing damage such as tears, cracks, loose parts, or dents. These issues can trigger different injuries.
In addition, if dirt, debris, or dust are not cleaned regularly, your dog might get exposed to unwanted bacteria or allergens which may trigger health issues.
FAQs for Best Dog Ramps
Which one is more costly dog ramps for beds or dog ramps for cars UK?
In general, dog ramps for cars are more costly than dog ramps for beds. However, there are many factors like material, design, size, and type of dog ramp one chooses which can influence the prices. The brand of the dog ramp will also, have a significant impact on the prices and it's possible that some dog ramps for beds might cost even more than the dog ramps for cars.
What is the general cost of dog ramps in the UK?
The general cost of dog ramps UK ranges from £40 to over £100. This estimation is based on various factors like size, material, type, and brand of ramps that are available in the UK. For instance, dog ramps for cars are expensive and can cost even more than £100 because of the features added to those ramps whereas short and narrow dog ramps used for beds or indoors may even come for less than £40.
Are dog ramps for car side doors different from other dog ramps?
Dog ramps for car side doors are designed to connect with the side door of the vehicle instead of the back door or the trunk. Such a design helps dogs get into the car from the sideways. Also, dog ramps for car side doors are normally narrower and shorter than the other dog ramps. Thus, the dog ramp will have a steeper angle and is not suitable for dogs with joint problems. In addition, the mechanism of this dog ramp will vary from the other car dog ramps but, will be easy to store and transport.
What features will the best dog ramps for large dogs have?
Best dog ramps for large dogs will have the following features material, surface, size, weight capacity, design and a good mechanism. The size and weight of the ramp will be enough to handle the dog's weight without breaking, quality of the material and surface will ensure proper traction. In addition, a dog ramp with a good mechanism is easy to set up for dog owners without any hassle.
Final Remarks On Best Dog Ramps
Dog ramps for cars, beds, or sofas are handy and dog owners must use them if their dogs are not able to access the higher places in their house or having difficulty getting into the car. But, as a dog owner, to pick the best dog ramp for your dog you need to analyse the size, weight, design, quality of material, surface area, and cost of the ramp before buying one.
In addition, you need to measure your dog's weight and height to make sure the ramp is suitable for them. Heavy-weight dogs are likely to break the dog ramp and it will be difficult to use the dog ramp once it's damaged. Also, assessing the behaviour of your dog is crucial as some materials can cause discomfort to some dogs and can lead to aggressive behaviour.
I hope the list of best dog ramps helped you narrow down the search and you were able to pick out the dog ramp that is suitable for your furry friend. Still, if you are having concerns over which type of dog ramp will be suitable for your dog, mention your queries in the comments. I will be happy to assist you.