Do you love your dog, but hate your lawn? Well, many pet owners do and the most efficient solution for your dog 🐶 is artificial grass. You might want to consider installing artificial grass for dogs. Artificial grass is a synthetic turf that looks and feels like natural grass 🍃 but requires little to no maintenance.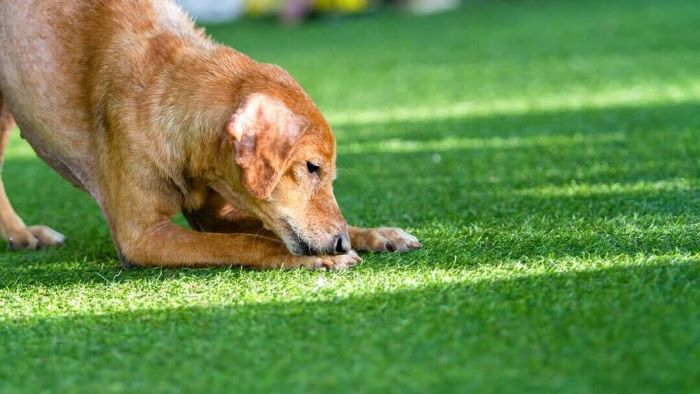 It is specially designed to withstand the wear and tear of your dog's activities, such as running, playing, digging or peeing. It is also safe and comfortable for your dog's paws 🐾 and skin, as it does not contain any harmful chemicals 🧪, allergens, or pests. But, how to lay artificial grass for dogs? Read further to know the detailed guide!
Benefits of Artificial Grass for Dogs
For all those with organic grass, it would have been challenging to maintain the grass quality all over the year and protect the Fido from harmful pests and bacteria. Here is when artificial grass 🌿 comes into the picture. You can easily maintain those synthetic fibres while enjoying the feel of natural grass.
Benefits of using artificial grass:
Easy to clean – You can simply hose down the artificial grass to remove any dirt, urine or faeces. You can also use a mild detergent or vinegar solution to disinfect the area if needed.
No chemicals – Harsh chemicals in fertilizer and pesticides are harmful to your dog, but organic alternatives tend to be more expensive.[1] Artificial grass requires none at all.
Fewer ticks and fleas – Even without chemicals, artificial grass is far less attractive to these little pests that can infect the dog.
No bacteria – Brown spots on your grass 🍂 lawn isn't the only problem resulting from your dog 🐶 urinating in the same area over and over. Bacteria forms in those places over time. Neither of those is a worry with artificial grass.
No digging – If your dog is an expert in making the ground level uneven, then you don't need to bother anymore.
No mud after rain – You don't need to worry about those muddy paws 🐾 all over the house after the fun playtime on the lawn.
Long-lasting and cost-effective: Artificial grass 🌿 can last for years without fading or tearing. Also, it does not require any watering or weeding, which can save your time and money in the long run.
No more grass stains from rolling – If you've ever wondered why do dogs roll in the grass, artificial grass takes away this temptation. Thus, in all ways, artificial grass is the best choice for you as a pet owner. It can keep your dog away from pests, bacteria and infection and keep the grass clean and spotless.
How to Lay Artificial Grass for Dogs?
Most of all get their artificial grass installed by a professional, however, you can take up this job in your own hands too. Installing grass is an easy task if done correctly. So. how to lay artificial grass for dogs? Here, is a step-by-step guide using which you can install the grass 🌿 on your own. When choosing artificial grass for dogs UK, opt for a pile height between 20-40mm for comfort and durability.
Step 1: Measure and Prepare the Area
Firstly, you need to choose a suitable area that is flat and well-drained. You can use a measuring tape 📏 to measure the area where you are going to install artificial grass. you can also create a blueprint 🗺 for the same if you want to.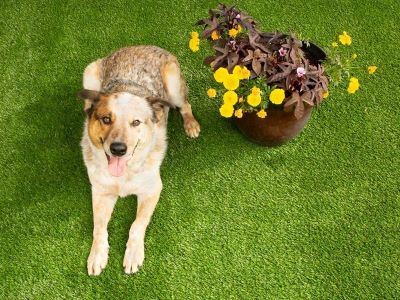 To prepare the area for installing the artificial roll, you need to remove existing grass 🌱 or vegetation using a shovel or simply using your hands. You should also clear any rocks, debris or roots that may interfere with the installation.
At last, level up the surface using a roller or a leveller and compact the soil. You should aim for a smooth and even surface that is slightly sloped away from your house 🏡 or any structures.
Step 2: Choose the Right Type of Grass
You need to consider certain factors when choosing artificial grass 🌿 for your dog. Here are some factors that you might need to contemplate before buying one.
Pile height: A higher pile height means thicker and softer artificial grass, but it also means more maintenance and higher cost. A lower pile height means thinner artificial grass. For dogs 🐶, you should choose a pile height that is between 20mm to 40mm.
Pile density: This is the number of blades per square meter. A higher pile density results in fuller and more realistic artificial grass, but it also increases weight and cost. You should choose a pile density that is between 10, 000 to 20, 000 stitches per square meter.
Pile colour: There are many colours to choose from, such as green, brown, beige or grey. You should choose a colour that matches your preference and your surroundings. You should avoid any colours that are too bright or too dark, as they may attract more heat or dirt.
Backing material: This is the material that holds the blades of artificial grass 🌿 together. There are two main types of backing material: latex and polyurethane. Latex is cheaper and more flexible, but it also tends to absorb more water and odour. Polyurethane, on the other hand, is more expensive and rigid, but it drains better and resists bacteria more effectively.
Step 3: Lay the Artificial Grass
Finally, unroll the artificial grass in the targeted area making sure there are no wrinkles and folds. Once the turf rolls are in place, you can begin cutting ✂ the seams and glueing them together. Make sure that there are no gaps or overlaps.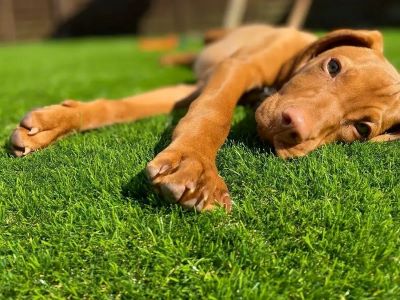 You should use nails or glue to secure the artificial grass to the ground. Space the nails or glue evenly along the edges and the seams of the artificial grass 🌿, making sure that they are not visible. Get the nails 🔨 as far down as you can to make certain the turf is secure and without tripping hazards.
Finally, mark the desired area with chalk or a marker and cut the extra edges of the artificial grass to fit the shape and size of your area. Also, trim the blades that may stick out from the edges or the seams.
Step 4: Add the Infill
Add infill material to the artificial grass to make it more comfortable and durable. Infill material is a granular substance that fills the gaps between the blades of artificial grass, providing stability and drainage. There are many types of infill material that you can use.
Some infill materials used:
Sand
Silica sand
Rubber
Zeolite
In order to add the infill, you should spread the infill material evenly on the artificial grass. Using a broom or brush you can brush the infill material into the artificial grass 🌿, making sure that it reaches the bottom of the blades. Water 💧 the infill material lightly using a sprinkler.
FAQs
How long does artificial grass last?

The lifespan of artificial grass for dogs depends on the quality of the artificial grass, the frequency and intensity of use, the weather conditions and the care and maintenance. According to some estimates, the average lifespan of artificial grass for dogs is between 10 to 15 years.

How do I clean artificial grass for dogs?

Cleaning artificial grass for dogs is easy and simple. Firstly, remove any solid waste with a scoop or a bag. Rinse the artificial grass with a hose to wash away any urine or dirt. Spray the artificial grass with a mild detergent or vinegar solution to disinfect and deodorize the area.

Is artificial grass safe for dogs?

Artificial grass is safe for dogs if you choose the right type and quality of artificial grass and infill material. You should avoid any artificial grass that contains lead, cadmium or other toxic substances that can harm your dog's health. Look for artificial grass that is soft, non-toxic, anti-microbial and odour-resistant.

What are the benefits of artificial grass for dogs?

Artificial grass can benefit your dog and your home in many ways, such as it can provide your dog with a soft and safe surface to play and relax on and reduce your dog's exposure to harmful chemicals, allergens, and pests. It can also eliminate your dog's digging or chewing habits.
Final Thought
Congratulations! You have succeeded in laying artificial grass for your dog. Now, you can enjoy the fetch game 🥏 with your Fido in a more open and natural environment. Let your dog roll, jump and cuddle with you on the artificial grass.
So, how to lay artificial grass for dogs? Laying artificial grass is a very simple process. Just measure, cut and install, that's it! By following these steps, you will be able to transform your backyard into a doggy paradise that both you and your dog will love. ❤🐶
Also if you want to know about what happens if a dog urinates on artificial grass, check out our guide for more information.
References:
Yard and Garden Safety – Oklahoma State University. (2016, September 15). Oklahoma State University.