Camping is exciting and if you are an enthusiastic camper you may have looked for different types of tents, especially if you have your furry friend as the companion. So, if you were looking for the best tents for camping with dogs then you have picked the right article to narrow down your list.
If you haven't yet bought a tent, great! I say this because I have curated the list of best tents for camping with dogs which includes different types, materials, and sizes. You can analyse these prospects and select the best tent. But, because of the vast variety of tents, you will find some of them which don't have a certain facility or some will have a material that will be not suitable for the dog.
So, to provide you with clarity, I have also included a buyer's guide. This guide includes the prospects you should consider while buying tents, the features, perks, drawbacks and some tips on how you can use it efficiently.
Best Tents for Camping With Dogs
Picking the best tents for camping with dogs can get overwhelming as you have to consider various factors such as features, material, types, ease of set up and other prospects like duration of camping, and weather withholding capacity.
Also, your dog's behaviour and personality play a crucial role as you have to pick a tent that will be able to handle their chewing or scratching behaviour. After conducting an extensive analysis of various tents with the help of my team at Wewantdogs, these are some of the best tents you can consider for dog camping:
1. BETENST Camping Tent
If you wish to enjoy your camping trip with your furry friend and other family members, friends, or colleagues, then, BETNEST Camping Tent is the perfect choice. This camping tent is made using polyester material and is spacious as it can accommodate four persons. So, it's suitable for a group of 3 people having one dog with them.
The tent has good ventilation, two large mesh doors and windows, and a mesh tent top creates ventilation. Also, the zippered access allows a dog owner to adjust the vent from inside. In addition, the bugproof mesh panelling and door provide nice visibility and ventilation.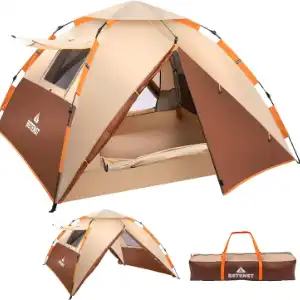 Key Features:
Nice ventilation
Two-layer dome
Windproof and waterproof
Automatic hydraulic system
Setting up the BETNEST Camping Trent is easy as it has an automatic hydraulic system which allows the tent to open within a few seconds. The material is strong and can withstand different weather conditions.
Perks
Detachable outer canvas
Strong plastic fibre poles
Large space and UV protection
Big vestibule to store dog gear or other equipment
Drawbacks
Quick setup but, needs two people
2. Vango Odyssey Inflatable Family Tunnel Tent
For dog owners who frequently go camping with their furry friends and family, the Vango Odyssey Inflatable Family Tunnel Tent is a suitable option. This tunnel-shaped tent for camping with dogs has an inflatable AirBeam structure which makes it easy for dog owners to set up the tent within minutes. This is possible because of a double-action pump. Also, the fabric used in this tent is durable and keeps the dog and owner warm.
The manufacturer also claims to have used a patented TBS II tension band system for better stability of the tent in windy conditions. So, you will find a cable entry point with tidies, a zipped entry point for the power cable, with touch fastener tidies.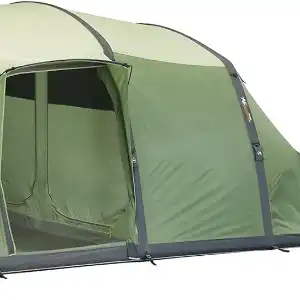 Key Features:
AirBeam Technology
Integrated mesh door
Strong waterproof material
Further, this camping tent has a full mesh front door and a side door with a canopy that is connected to the living area floor of the tent.
Perks
Double action pump for easy set-up
'Diamond clear' windows to enjoy views
Large and can accommodate five people
Drawbacks
Takes roughly 8-10 minutes to set up and is expensive
3. OUGE Portable Folding Dog Tent
Some dog owners prefer having personalised space for their furry friend and OUGE portable Folding Dog Tent is one such camping tent. This portable folding tent is designed for accommodating dogs and small pets only. The best thing about this dog tent is that it opens up instantly and is easy to set up.
The material is strong and you won't have to worry about the dog scratching the tent. Also, the design of this tent is such that it will keep the dog warm in winter and cold in the summer.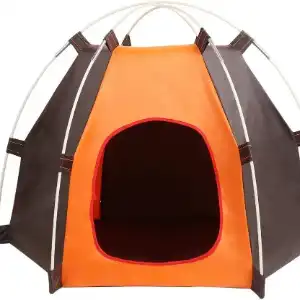 Key Features:
Portable
Durable material
In addition, this tent for dogs is easy to close just like it opens up quickly while setting up.
Perks
Easy to set up and carry
Strong material to prevent paw scratches
Drawbacks
Can only accommodate small dogs
4. Amflip Camping Tent
If you are looking for a pop-up tent that is easy to install and can accommodate both you and your dog then, Amflip Camping Tent is an option you must consider. The tent can be set up within a minute thanks to the lightweight sturdy poles. These fibreglass poles are made with a windproof structure and provide nice ventilation in the tent.
In addition, the inner and outer doors of this tent are made of breathable polyester to provide privacy and safety. Also, the tent is rainproof and its detachable outside canvas makes sure that it remains stable in different weather conditions.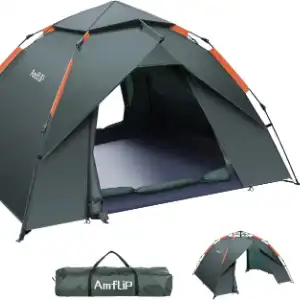 Key Features:
Spacious and portable
Durable and Waterproof
Automatic hydraulic system
Furthermore, the raindrops will not fasten the surface of the tent and the heat-sealed appears of the connection area stopping water from entering the tent.
Perks
Versatile use (sunshade, gazebo, canopy, etc)
Spacious, can accommodate three to four people with a dog
Two-layer construction material keeps the tent insect-free at night
Drawbacks
Zip may break off after continuous use
5. PUREBOX Camping Tent
For dog owners who only have their dog as a companion for camping trips, PUREBOX Camping Tent will be a suitable option for them. The tent is made using a high-quality Oxford cloth and the seams are completely sealed. The material structure is waterproof and insectproof. Also, the outer tent canvas ensures that the tent remains steady in windy conditions.
The design of the door is D-shaped and has dual zippers to improve air circulation in the tent. In addition, the tent also provides a high level of sun protection and is perfect for use in summer.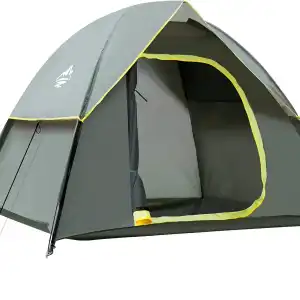 Key Features:
Lamp hook
Double zippers
Strong fibreglass pole
Further, there are some inner pockets available in the tent for keeping small dog gear or other items.
Perks
Foldable and easy to carry
Insectproof, and privacy protection
Can withstand heavy sunlight (UV Guard)
Drawbacks
Takes about 15 minutes to set up
6. Qisan Automatic Camping Outdoor Pop-up Tent
For dog owners who go camping in different seasons, the Qisan Automatic Outdoor Pup-up Tent is the right choice. This tent is made using strong material and is water-resistant. The high-density fabric also provides protection from insects without making you or the dog warm and dizzy in hot temperatures. In addition, sunscreen fabric gives UV protection so, no harm is done in extreme sunlight.
For better privacy, the tent has two doors and four windows with a single layer. The inner layer is zippered mesh and the outer is zippered nylon. So, it secures the tent while keeping room for air to circulate for proper ventilation.
Key Features:
Strong zippers
UV resistant
Waterproof Oxford fabric
Further, this tent has a seperate storage space to keep different dog items or other stuff to keep it clean and tidy for nighttime.
Perks
Automatically opens up in a minute
Detachable outer tarpaulin for versatile use
Spacious for fir four to five family members
Drawbacks
Gentle rainproof tent (will have difficulty withstanding heavy rain)
7. Sunnykud Teepee Dogs Tent
Sunnykud Teepee Dogs Tent is a good option for dog owners who are looking to have a small personalised Teepee Dog Tent for their small furry friends. The size of the tent is small and provides privacy for the dog. Setting up this tent is simple. You have to begin by folding this tent like an umbrella.
The tent has a leather buckle and a wooden buckle which makes its appearance stylish. The thick cushion is soothing for dogs and they can have a relaxing sleep during your camping adventure.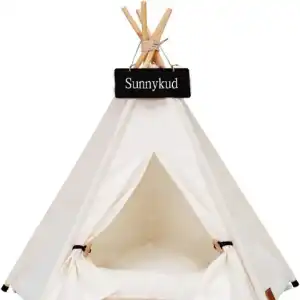 Key Features:
Thick cushion
Foldable and portable
Durable and breathable fabric
Further, the thick comfortable and smooth cushion of this tent can also be used separately as a bed.
Perks
Suitable for small dogs
Can be used both indoors and outdoors
Precise sewing, the material is machine washable
8. Coleman Skydome Camping Tent
If you need a tent for camping with dogs that is made to sustain tough weather conditions, especially heavy rain then, Coleman Skydome Camping Tent will be a suitable pick. It takes less than five minutes to set up and the vertical walls offer more headroom and wider space.
The tent is tailored to handle rainy and windy conditions. It has a tub-like floor, welded corners, and inverted seams which keep the water out and can withstand up to 35mph wind.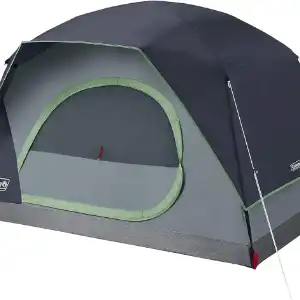 Key Features:
Weather protection
20% extra headroom
Wider door and mesh window
Further, this dome-shaped camping tent is available in different sizes, and the highest accommodation capacity for the tent from the Coleman Skydome Camping Tent is eight people but, quite expensive.
Perks
Has large space
Water-resistant fabric
Wide mesh and doors for ventilation
Drawbacks
Heavy and difficult to carry
9. Pop Up Camping Tent by Kejector Store
The Pop Up Camping Tent by Kejector Store sets up within a minute thanks to the automatic system provided by the manufacturer. The space inside the tent is ideal for a group of two to three persons. So, if you are two persons with a dog, the tent should accommodate you without causing any space issues.
In addition, this tent has two mesh doors and a roof to facilitate proper ventilation. Also, the inner area of the tent includes a small pocket to store different items that are helpful while camping with dogs.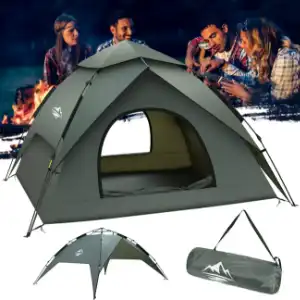 Key Features:
Multifunction design
Insect-proof mesh layer
Durable waterproof material
Further, the material used in this tent is durable, waterproof and has a two-layer construction that keeps it dry and bug-free during the night time.
Perks
Double stitched seam
High-quality zippers for longer use
Hydraulic spring bracket, to set up the tent
Drawbacks
Seam stitching is not waterproof
10. GEERTOP Lightweight Backpacking Alpine Tent
If you are looking for a camping tent that can provide different features and has enough space for you and your dog then, the GEERTOP lightweight Backpacking Alpine Tent for camping is a suitable option. The tent is connected snow guard and breathable nylon mesh that makes the tent ideal for for snowy, cold, or warm weather.
The aluminium adjuster makes it easy for you to install the tent and the aluminium poles are durable enough to provide proper stability.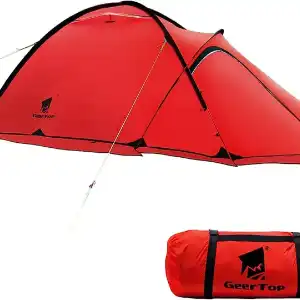 Key Features:
Double zipper
Criss-cross pole sleeve
Strong and durable aluminium pole
Further, this tent is suitable for use in four seasons but, is specifically made to withstand snowy weather conditions.
Perks
Four season tent
Compact and lightweight
Reflective strips for visibility at nighttime
Drawbacks
Expensive
Suffocating in hot temperatures
Buyers Guide: Tents for Camping With Dogs
You had a peek at some of the best tents available for camping with dogs. But, this list can often create confusion in the mind before buying a dog camping tent. To help you have a better perspective before buying, I have provided some useful insights on tents for camping with dogs in this buyer's guide.
You will find information like features to look for in a tent for dog camping, factors affecting cost, perks, drawbacks and some tips on how you can set up and use it effectively.
Features of tents for camping with dogs
Tents for camping with dogs can help provide much-needed shelter to the dog and the owner while enjoying the surrounding natural environment. It can also improve the bond between them. Here are some of the features dog owners must look for in a dog camping tent:
#1. Size and capacity
The size of a dog camping tent needs to be big enough to fit you and your dog comfortably. You need to consider the capacity i.e. how many people and dogs the tent can allow or handle so, that you can accommodate people and plan your camping trip accordingly.
In addition, you need to make sure the size of the dog camping tent is not too big to fit inside the car or a backpack. The capacity of the tent for camping with dogs you buy relies on how many people will be with the dog inside the tent. This means, that, if three people are going to be with a dog, you'll need a tent that can accommodate 4 people.
#2. Shape and design
The shape and design of dog camping tents should allow you to easily set them up, in different weather conditions, especially in rainy or windy conditions. The common shapes of tents for camping with dogs have the shape of a cabin, tunnel, dome, or geodesic. Also, the way these tents are designed is crucial.
For instance, dome tents are usually more stable and spacious but, very heavy and difficult to set up. Whereas, tunnel design dog camping tents are lighter and easier to set up but, not as stable as dome-shaped tents and provide less headroom. In addition, cabin shape tents are comfortable and have more space but, are bulky and heavy. Geodesic tents are durable and stable but, complex to set up and costly.
#3. Material durability
The material of the dog camping tent you choose must be durable. It must withstand extreme weather conditions as you can never anticipate how the weather might change. The most crucial aspect to consider is that it should be waterproof. The waterproof material used in the tent will ensure there is no wear and tear, especially if the dog is prone to chewing or biting behaviour.
Normally, you'll find dog camping tents made of nylon, canvas, or polyester. Nylon material tent is strong and lightweight but, degrades over a period of time. Canvas material is breathable and durable but, heavy and susceptible to mould or mildew. Polyester material in dog camping tents is more resistant to water and UV rays. It is less breathable and more flammable. In addition, you also need to check the thread count, denier, seam, and coating quality of the fabric.
These are some of the main features of a dog camping tent. You can also consider them buying prospects as you have to check each feature thoroughly before buying the best tent for dog camping.
Factors affecting the cost of tents for camping with dogs
The features mentioned have a significant impact on the price of tents for camping with dogs. Let's see how they impact the prices and whether there are any other factors affecting the cost of a dog camping tent or not.
Material – material durability influences the price of tents a lot. It shows the strength of the dog camping tent and which fabric is used. Dog camping tents of high-quality material and durability are likely to cost more as they can handle different weather conditions and also, withstand dog's biting or chewing behaviour. In addition, thread count, coating, and seam quality of tent fabric along with the strength of poles, guylines, zippers, and stake impact the price of the tent.
Size – the size and capacity of a tent refers to people that it can accommodate with the dog. It is measured using parameters like peak height, tent floor area, vestibule area, and packed size. So, the larger the area of a dog camping tent, the higher the price. This is mainly because it will allow more people inside.
Design – the shape and design of a tent will influence the prices as some of them have simple designs and are easy to set up. The prices of such tents are less compared to the ones having complex designs. The tents with complex shapes and designs cost more because they need additional zippers, poles, stakes, or panels to support and secure the structure of the tent.
Accessories – many manufacturers make tents for camping with dogs with additional accessories or features. They seek to provide more functionality and simplify the use making it more convenient for dog owners. For example, dog-friendly flooring, interior pockets, mesh windows, or, a particular dog gear that provides comfort to the dog. However, the manufacturing cost elevates when adding such additional features and accessories so, you can expect the prices of such dog camping tents to be high.
Brand reputation – the reputation of the brand, will have a major impact on the prices of the dog camping tent. Some brands have higher reputations because of the quality they provide. They put high prices and customers pay these prices as these reputed brands justify their prices with proper quality and service.
Demand – dog camping tents that are high in demand will cost more. The demand for tents for camping with dogs is higher during specific durations i.e. hiking or camping season. So, the cost will vary seasonally. For example, the summer season is considered the peak season for hikers and campers. The ones who go camping with dogs look for tents and prices are high. However, in winter, some tents will cost even more considering the weather is cold and many individuals look to secure the most durable tent for camping with their dogs.
Types of Dog Camping Tents
Your preferences for dog camping tents will be different and to make sure it is comfortable for your furry friend, below are different types of dog camping tents from which you can pick the best tent for camping with the dog:
#1. Pop up dog tents
These tents are set up easily. There is no need for stakes, poles, or guylines for setting up this tent. The material used in these tents is lightweight and they are quite portable. So, it's perfect for dog owners who prefer short-duration camping or beach visits.
But, the stability of these tents is not so good and the material is not durable enough to withstand windy or rainy conditions. Also, there is less ventilation and space in these tents.
#2. Dome tents
Dome tents have a curved shape and average height. They offer more space and stability in comparison to pop-up tents. Setting up dome tents is easy and they can handle moderate weather conditions.
Also, there are mesh windows or dog-friendly flooring which can improve the comfort and convenience for dogs. But, there is no storage space to keep dog gear and also, not suitable for large-size dogs.
#3. Geodesic tents
These tents have a complex shape and are low in height. They are made using strong waterproof material that can handle dog activities and also, withstand harsh weather conditions. Geodesic tents are made using strong materials and are ideal for winter camping as they can keep dogs warm. However, these camping tents may not have ventilation and are expensive.
#4. Inflatable tents
Instead of the poles, inflatable tents use AirBeam technology to support the tent. They make it easy for owners to set up the tent and take it down. The inflatable tent can withstand average-level weather conditions. They also have doors, windows, or panels to enhance the visibility and air circulation inside.
However, the inflatable tents are heavy and bulky so, difficult to carry. In addition, these tents need a power source to inflate to deflate and are susceptible to leakage which can compromise the structure of the tent.
#5. Tunnel tents
The tunnel tents appear like tunnels and are narrow and long in shape. You can easily set them down. The space in tunnel tents is more and it has some unique features such as porches or vestibules which offer more space or shelter for the dogs.
Regardless of the space, tunnel tents don't have much durability and will not sustain extreme windy or rainy conditions. Also, it lacks ventilation and doesn't provide much of a visibility.
#6. Teepee tents
Teepee tents can provide lots of space and height. These types of camping tents are of conical shape and have a single pole at the centre. They are lightweight and easy to use. In addition, it also has features like doors and mesh windows to help with visibility and ventilation.
Further, for better water resistance, and durability of the fabric, these tents have a coating or a layer of PU silicone.
Now, before you pick a specific type, it's important for you to match the features and other prospects with your preferences. For instance, if you are planning to go for a longer duration with family on camping along with the dog you may need a spacious tent.
Tips on Using Dog Camping Tents
Handling tents may seem easy but, based on the types you will need to follow different instructions on using dog camping tents. Some tents have different mechanisms and you need to use them properly to avoid any issues like wear and tear or injury to yourself or your furry friend. Here are some tips you can consider to use dog camping tents while ensuring proper care:
#1. Gather gear & supplies
You'll have to gather poles, a tarp, and a rainfly when setting up the tent. Also, consider having a supplemental tarp or footprint if the kit doesn't have one. This can help protect the floor of the tent in rainy conditions by keeping it dry.
In addition, gather the dog's gear such as food, bowl, harness, collar and waste bags to ensure proper dog care. For easy access, have seperate bags for these items and make sure they can be accommodated in the tent.
#2. Pick a suitable spot
The spot where you plan on setting up the tent must be flat, and clear. The tent should be far from sharp rocks, fire pits, or poisonous plants. Also, you must not pick the spot below a tree that may drop sap or branches, or near water sources as it may lure different insects or animals.
In addition, avoid areas where animals roam frequently as it may pose some serious threat to the well-being of both you and your furry friend. Once you find the spot, here is how you need to proceed with placing the tent:
Clean the ground – remove stones, dirt, sticks, or other particles that may interfere with the base of the tent. This is crucial as you or your dog may feel discomfort while relaxing in the tent. Use a broom to properly get rid of this stuff.
Lay down footprint – lay down the tarp or footprint below the tent on the ground with the shiny side facing down. Doing this helps in reflecting heat and moisture away from the tent and also protects from dirt and abrasion. Secure the tarp or footprint using rocks, stakes, or logs and make sure they are smaller in size than the tent floor. This will ensure there is no collection of water around the edges of the tent.
Unfold the tent – lay the unfolded tent over the tarp or the footprints in the direction you want the tent to face. Stake down the corners of the tent and make sure the fabric is smooth and taut. In addition, if the tent you have has more than four corners, you need to stake them down as well.
Assemble poles – once the corners are staked, assemble the poles and insert them via the clips or sleeves of your tent. Based on the size shape, and design of the tent, you may have to cross the poles over each other or attach them to joints or hubs. Use a mallet, or hammer, or simply push the pokes with your foot inside the ground. Fit the poles properly, and make sure they are not bent or twisted.
Add tarpaulin – for additional protection from wind, rain, and sun connect the outer tarpaulin or tent fly over the tent. Use bungee cords, or ropes cords to tie the trarpaulin or fly stakes or poles. Make sure that the rainfly or tarpaulin covers all the sides and doesn't leave gaps or wrinkles. The ropes must not drop and remain tight.
#3. Introduce your dog to the tent
The tent experience will be new for your dog so, introduce them to the tent you set up with ease. Allow them to sniff the tent and explore it at their own pace. This will make them feel comfortable around the tent.
While your furry friend is roaming around the tent, give them some food treat or reward to register a positive association. You can also try providing them with meals inside the tent to ensure the new space is soothing and for relaxation. Remember, forcing dogs into the tent may trigger behavioural issues so, remain calm and patient while helping them adjust to the new space.
#4. Set up the sleeping area
To help your dog relax and have a proper sleep, set up the sleeping area as per their preferences. Try creating an identical environment like the one at home. For example, if your furry friend is a fan of blanket piles, use them or if they have a favourite cushion or dog bed place it inside the tent. In short, makes them feel that it's their home.
To make sure that the dog doesn't feel uncomfortable or get dirty, you need to clean the tent regularly. Also, follow the rules and regulations on the site respect other campers' privacy and enjoy the camping experience with your dog.
Perks of using tents for camping with dogs
If dog owners follow the tips mentioned in the previous section, they can benefit immensely. Below are some of the perks of dog camping tents:
Provides a comfortable and cosy space
Tents offer a safe space for dog owners and their furry friends. It helps dogs and the owners to relax and sleep after camping all day. Dogs once settled, enjoy the enclosed space inside the tent as it feels cosy and safe. The tent ensures the safety by keeping out the insects or other wild animals.
While you are out camping it's possible that your dog may wander off into the wild. This is not an issue until you see them disturb other campers or engage in a fight with other canines or animals nearby. A dog camping tent will put a halt to such activities as they provide zippers to close the tents.
The confined space can actually help dog and dog owners to strengthen their bond. The dog receives stimulation while camping and gets to play with the owner and have different food treats. So, when they relax inside the spacious tent it surely makes both of them feel better. Dogs will associate the camping trip event with a positive experience and next time you plan such trips, they will be excited just by the glimpse of the tent.
Reduces anxiety and stress
The stress or anxiety issues can either be pre-manifested or the new environment can overwhelm them. Tents on camping trips can help reduce stress and anxiety in dogs. They are made using different materials which are comfortable and help them sleep better. Also, the tent has zippers so, safe for dogs to have their nap without any disturbance from other animals or insects.
Many dog owners plan camping trips with their canines and use tents to spend their time in different locations. So, when you are with your dog on a camping trip, you will encounter different campers on the site and this is a great opportunity for you to improve your dog's socialising skills. They can spend some time interacting with other canines and other dog owners. This can make them feel good. So, you must try and make your dog interact with the other dogs.
Exposure to the natural environment
While camping gives the dog much-needed change from its daily routine, the tent keeps them engaged with sights, sounds and smells outside without having to wander around. The windows and doors within the tent provide a new experience to them and they can enjoy the natural environment without having to leave the tent. Also, depending on the weather, the tent keeps them warm, dry, or cool.
Drawbacks of Using Tents for Camping With Dogs
You saw the perks of using tents for camping with dogs. It provides privacy, and shelter, and helps dogs relax while out camping. But, there are a few drawbacks to using tents for camping with dogs. Below are some of the drawbacks of using tents for camping with dogs:
There is always a risk of damage to the tent as dogs will chew, scratch, bite, or shed. The damage sustained is more if the material of the tent is not so durable. This leads to frequent replacement or repair of the tent. Also, the shedding of fur, or the mud the dog brings in will need more cleaning inside the tent and it can be frustrating.
To minimise the damage, you need to ensure that the tent material is durable and waterproof i.e. made using polyester, nylon, or canvas. In addition, you can use a tarp or footprint under the tent to safeguard the floor from abrasion and moisture that can damage the tent.
Discomforting in tough weather
Many dog camping tents are designed to handle extreme weather conditions but, at times, the extreme heat, rain, or cold weather can cause discomfort to dogs and owners even if the tent is made using high-quality material. Cold temperatures can freeze and hot temperatures can cause suffocation. Rainy conditions can wet dogs and cause health issues.
So, to control the discomforting issues, you may have to use an additional layer of insulation to keep your dog warm, use a door or mesh for improving ventilation in hot weather, or add a waterproof fabric layer during stormy conditions.
Regardless of the space in the tent, the dog may feel stressed or anxious because of the unfamiliarity of the structure and the confined space. They may panic resent the small space and behave aggressively. You'll have to make them feel comfortable in the new environment and help them relax.
The task of helping the dog get used to the tent is challenging and time-consuming. In fact, it can stress you out so, make sure you train and familiarise your furry friend to the tent at home.
Tents limit the space and restrict the movement for both you and your furry friend. This is obvious as you both have to share the same space within the tent. Not to mention, you also have to accommodate other necessary items like sleeping bags, or dog gear inside the confined space. Less mobility makes it difficult for you and the dog to rest properly.
To resolve these drawbacks, you can only try and buy a tent that is big enough to accommodate more people so, you and your furry friend can have free movement and rest properly. Also, pick a tent that has inner pockets for storing different items so, it doesn't cover space in the tent and you can put necessary items inside.
The potential risk of escape or injury
The zippers in the tent do provide safety and minimise the chances of a dog escaping but, a dog may still manage to escape or sustain injury if the tent is not secured properly. The dog may rip off the door that is not zipped and run away. In the process, there is a high chance of the legs or fur getting tangled with stakes, cords, or poles which can cause some serious injury issues.
In addition, the dog may also get injured because of the stones, rocks, sticks, or pine cones that are hidden under the tent floor. So, make sure you clean the area before installing the tent and to prevent the dog from escaping, pick a tent that has secure zippers or try to add hooks, clips, velcro, or duct tape to the dog's sleeping area to restrict movement.
Things to avoid while using tents for camping with dogs
While camping with dogs and using the tent, there are some things dog owners need to avoid doing. Otherwise, it can lead to a different set of problems and you will not be able to enjoy the trip. Below are some things you must avoid:
#1. Leaving the dog alone inside
Leaving the dog alone inside the tent is very risky. They can start to chew or scratch on the windows, door, or other materials inside the tent. Also, the dog can get anxious or feel stressed when inside and if the temperature is warm, it could overheat them causing dehydration or suffocation issues.
Further, if there is any accessory that can trigger fire, it will be a disaster. So, as a responsible dog owner, you need to ensure that your furry friend is not left alone inside the tent.
#2. Using lightweight tents
Tents for camping with dogs must not be lightweight. The light material tents are likely to get scratched, or chewed by the dogs. In worst-case scenarios, the tent set-up may fall completely if the dog rushes randomly compromising the stability of the poles. This can trap the dog inside and they might suffocate if there is no way out.
In addition, lightweight tents do not provide much protection to dogs in tough weather conditions. So, you should pick a tent that is not lightweight is made using durable material to sustain extreme weather conditions and is tear-resistant.
#3. Small tents
Small-size tents will have limited space and restrict the normal body movements of both you and your furry friend. Relaxing or sleeping will not be easy and the conditions will get worse if the weather outside is hot and humid. A dog is likely to feel anxious and stressed in such situations. So, dog owners should avoid small dog camping tents of small size.
#4. Try to avoid using tents with mesh walls
Dogs can easily rip or bite off tents that have mesh walls. Also, mesh walls are not secure and will allow animals and other insects to enter the tent. This can cause trouble while you and your furry friend are trying to relax. The privacy is less and mesh walls are not good if the dog is prone to chewing behaviour. So, dog owners must consider having a tent that at least has mesh walls that can be closed or covered.
#5. Don't use tents that are of complex structure
Tents that are complex in structure require lots of effort to set up and are often unstable. Also, the entrance and exit of these tents are not proper and it's difficult for dogs to get inside the tent. In addition, the complex structure makes it impossible to move the tent while the dog is noisy or restless.
Thus, dog owners must try not to use tents which need poles, guylines, or other such accessories to support the tent structure. Instead, opt for tents which are easy to set up and free-standing. Inflatable or pop-up tents are suitable tents.
#6. Ignoring guidelines
Regardless, of the campsite you choose, there are certain guidelines and instructions that you have to abide by. For instance, rules for waste disposal, noise control, dog lead, or wildlife protection. Under no circumstances dog owners avoid these rules.
These rules are made to keep everyone safe i.e. dogs, other wildlife animals, and dog owners. The lead guidelines must be followed, especially if the dog is aggressive and likely to wander off into the wild.
#7. Neglecting dog health
While camping and residing in a tent is a new and fun experience for dogs, it can pose certain health risks as well. The dog might get injured during camping, get hurt inside the tents, get overheated, or suffer from anxiety issues.
Regardless of the issue, it's crucial for dog owners to make sure they don't neglect the signs of discomfort and keep their furry friend hydrated. Also, keep monitoring their behaviour and look for signs of illness or distress in dogs like shivering, drooling, shivering, panting, limping or vomiting.
Lastly, dog owners must not forget to check the weather forecast for the camping sites they plan on visiting. Avoiding this prospect can compromise the dog's safety and health. Having a peek at the weather forecast of the camping site will help you take the necessary items like clothing, bedding, and other gear that will help keep you and your furry friend warm.
FAQs for Best Tents For Camping With Dogs
Is sleeping alongside dogs in tents safe?
In general, it is safe to sleep alongside the dog in a tent while camping if you have a proper set-up of the tent and have taken the necessary precautions. You need to make sure that your dog feels relaxed and comfortable with you being inside the tent. Also, use insect repellents to get rid of bugs, and insects so, that you can have a proper sleep without any disturbance. Because insects may irritate or harm the dog resulting in chaos during nighttime.
How much will a tent for camping with dogs in the UK cost?
A tent for camping with dogs in the UK may cost dog owners between £50 and £100. These prices are just a rough estimate and based on factors like size, type, and quality of the dog camping tent, they may come for more than £100. Still, the cheapest tents for dog camping will cost about £10 or £20.
Which dog breeds will not like dog tent camping?
There is no exact answer to which dog breeds will not like dog tent camping. However, considering factors like size, temperament, weather, and environment there are a few dogs that will not like tents. Chihuahuas, Pugs, English Bulldogs, Chow Chows, and Shar-peis are the dogs that might resent being inside the tent. A chihuahua is a small dog breed and will feel separation anxiety if left alone in a tent for a bit, pugs are sensitive to heat and will have health issues, English bulldogs are prone to breathing problems and heatstroke so, will not like being in enclosed areas, the Chow Chows have high preying instincts and will not like restricted inside the tent, and the Sherpies, are the ones who have similar hunting instincts like Chow Chows and like exploring surrounding environment so, will resent being inside a dog camping tent.
Do I need to buy a specific dog tent for camping with my dog?
No, you don't have to buy specific dog tents for camping with dogs. You can use a simple tent that you normally use on your camping trips. If your furry friend is accustomed to the tent space and comfortable during nighttime, there is no need to buy a specific type. However, there are some risks involved while using simple tents and if your furry friend is highly energetic or aggressive in nature, you need to have a dog tent that is durable enough to handle them. Also, some dogs may not like restrictions or have trouble breathing in confined spaces. So, if you feel your dog may not be comfortable in a simple tent, explore features like durability, size, ease of setup and ventilation in different types of tent and pick the suitable one for the dog.
Final Remarks on Best Tents for Camping With Dogs
The best dog tents for camping have different features and the article has covered many types of tents having different features to provide a comprehensive list of the best tents for camping with dogs. You can pick the tent that is suitable for you and meets your dog's preferences. For instance, if you are planning to go camping with family members or other individuals with dogs, you may need to buy a big size tent i.e. if three persons and one dog, you will need a tent that accommodates four people.
Further, if you plan on going alone with the dog, you may not need a huge tent, make sure the tent is durable and can not only accommodate you and your furry friend but, also provide protection from tough weather conditions, insects, and other wild animals. Also, to make sure there are no issues on a camping trip, practice setting up the tent in the backyard and train your dog to stay inside the tent to enjoy the trip.
Camping with dogs is a nice experience and it can improve your relationship with your furry friend. I hope the recommendations for different tents for camping with dogs helped you narrow down your search for the best dog camping tents. Still, conduct thorough research and make sure that the tent you pick suits you and your furry friend's preferences. Also, if you are already using any of these tents, share the experience in the comments to help our fellow readers get some valuable insights.