All aboard, fellow travellers and four-legged adventures! we are talking about bringing your beloved dog along for the train ride, but can you take dogs on trains?
Our dogs have outgrown the notion that home is just where the bone is, They want to see the world, sniff every bush, and gaze out of the running train into the wide landscape (or so we'd like to think).
Get ready to discover the ins and outs of sharing the rails with your furry friend and how you can have the trip of your life 🐾🚂
You Might Also Like:
ALL FOR PAWS Dog Crate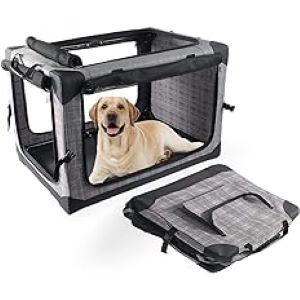 Brentfords Large Sherpa Pet Dog Blanket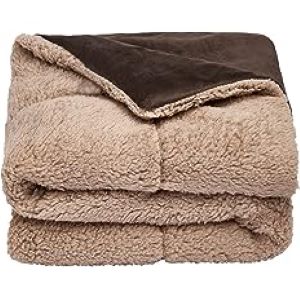 vepoty Portable Dog Pooper Scooper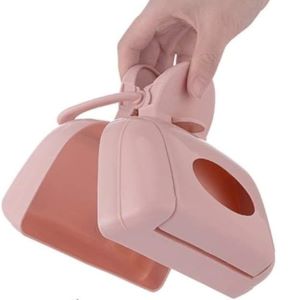 Can You Take Dogs on Trains?
Yes, you can take dogs on trains. Travelling with your dog on the train can be fun but you need to be aware of the regulations and guidelines that may apply. Here are some of them:
Research train policies and dog-specific requirements beforehand. Different train companies and routes may have different rules. You can check their website, contact their customer service, or read official documents.
You may also need some documentation, such as vaccination or health certificates, to prove that your dog is healthy and free of rabies.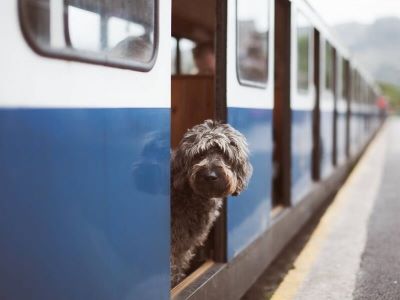 You need to make sure that your pet carrier meets the specifications of the train operator. Dogs are not allowed on the seats, they are reserved for passengers.
Plan ahead in advance as there might be some limits on how many dogs or other animals they can accept on each train, do check the charges. Pack some essentials for your dog.
Travelling by train can be stressful for some dogs, but it is important to make them feel comfortable and safe. Bring water and treats, toys and a blanket to keep them calm. Do not forget to reward their good behaviour.
If the dog needs to go to the toilet, you should take them outside at the station before boarding or during stops, and clean up after them.
You should also avoid letting your dog stand on escalators, as they can hurt their paws. You should carry them instead.
Be considerate and respectful of other passengers and staff. Finally, you should keep your dog safe from tracks and dangerous areas.
Preparing Your Dog for Train Travel
It is vital to prepare your dog for a train journey, here are some tips:
Reserving proper lodgings for all of your travel companions. Check if there are any pet-dedicated pet-friendly cabins or areas. Availability of amenities waste disposal.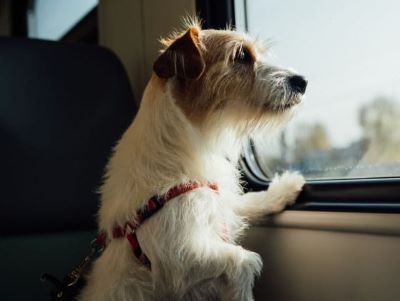 Some trains have specific requirements, so inform them in advance to avoid any issues later.
Plan breaks for your pet depending on the length of the journey. Take amenities and things your pet needs such as food, water leash, and waste bags for your dog.
You should also bring some treats or toys to keep them entertained and calm. If the dog has any special needs or requirements such as medication or a specific diet then you should inform the operator in advance or ask for their advice.
On the Day of Travel
Some tips for a smooth journey with your dog:
Arrive early to avoid unnecessary stress, this way you will get enough to settle down with your dog and luggage.
Before boarding take a small walk around the coach to familiarize your dog with the station atmosphere, this reduces their anxiety.
Reaching early will also provide you with extra time to show the necessary documents. Make sure you have all of them before you enter the facilities.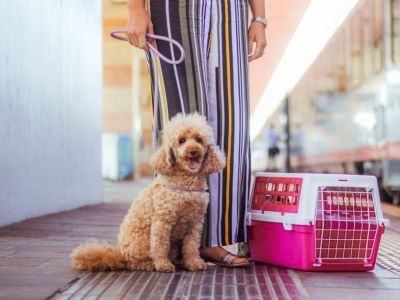 Keep your dog on a leash or in a carrier at all times. Monitor their comfort level, and provide them with food, water, and treats.
If your dog shows any sign of distress such as panting, whining, drooling, or shaking You should move to a quieter area of the train.
You should be respectful towards staff and passengers. You should not let your dog bark, jump, or lick anyone without consent.
Bring the necessary things required to clean up your dog's waste, such as bags, wipes, or towels for this purpose.
Etiquette and Consideration
As a responsible pet parent you must look after some etiquette and considerations, here are some of them:
Keep your dog at a safe distance from others to not let your dog disturb or harm anyone or anything on the train.
Check allergies or fears of fellow travellers and you may also ask them in advance that you will be bringing a special co-passenger.
Keeping them on a leash or in a carrier at all times will ensure that your dog is safe and under your control. You can also use a harness or a collar suitable to your dog's size to make sure you don't accidentally hurt them. Choose according to their breed, size, and temperament.
Avoid your dog wandering away from you without your permission, this will prevent accidents, conflicts, and distractions on the train.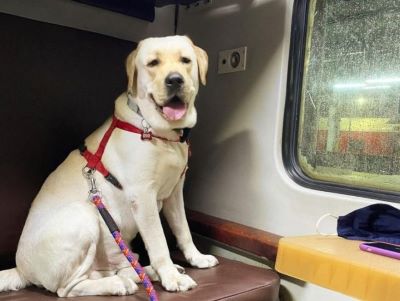 Unexpected Situations
Travelling with a dog can be a fun and rewarding experience, but it can also be challenging especially when unexpected situations arise, here are some tips to tackle:
There are circumstances when a train is delayed or stops. In such situations make sure you have plenty of water and food to accommodate the needs of your dog.
If your dog gets motion sickness or anxiety while travelling, there are several things you can do to help them feel more comfortable. You can give them supplements. You may also bring a toy or blanket, you may also play some soothing music.
While travelling it is important to be flexible and adaptable, try to remain calm and be prepared if something goes off schedule.
At any point, if you feel unsure then it's always a good idea to consult with a vet. They can provide you with advice on how to keep your dog safe and comfortable while travelling.
FAQs
Can You Take Dogs on Trains in the UK?
Are dogs allowed on UK trains? There may be occasions where you need to bring your four-legged friend on one of our services, so you'll be glad to know that dogs are allowed to travel on board any train in the UK provided that they aren't causing other passengers any issues or endangering them.
Do Dogs Need a Train Ticket?
Each passenger has a free allowance of two dogs. Additional pets beyond the free allowance may be subject to a charge of up to 50% of a full adult fare, with a maximum charge of £5.00 for a single journey and £10.00 for a return.
Do Pets Need Passports in the UK?
While official pet passports are no longer valid for travel outside of the UK, you will still need documentation to take your pet abroad. An animal healthcare certificate is likely to cost upwards of £100 and you will need one for your pet each time they travel from Great Britain to the EU or Northern Ireland.
Are Dogs Allowed in Public Transport in the UK?
Dogs are typically allowed on buses in the UK, including all TfL buses, but one major bus company doesn't allow dogs and you may face restrictions from bus companies that normally allow dogs on board.
Taking a Dog on the Train for the First Time?
The dog must be brought to the luggage office for booking at least 3 hours in advance of the departure of the train, whether the passenger holds a PRS ticket or an online ticket booked through IRCTC. Dogs are not allowed to be carried in AC2 tier, AC 3 tier, AC Chair Car, Sleeper Class and Second-Class Compartments.
Summary
So there you have it, we discussed all the possible tips and tricks to have a fun and smooth journey with your dog. You can always take help from the train staff and your vet at any step.
Pack those treats and get ready for a journey that is as exciting as chasing after squirrels. Remember to cherish this trip, have a safe journey and now, all aboard the fun train! 🐾🚂