Dogs owner often asks how to make a dog cone collar at home after they bring their dog home after surgery, or treatment for an injury, licking, irritating, and possibly infecting their wound. sometimes, if your dog is misbehaving and barking then also many vets suggest a dog cone collar (Collar of Shame).
You can also try the Elizabethan collar (e-collar), but your dog may not like it. But nothing to worry you can make a DIY dog cone collar using things in the home. Also making it at home is not rocket science either.
Let us see how to make a dog cone collar at home.
How to Make a Dog Cone Collar at Home
– DIY Alternative
If you bought a new dog or suddenly your vet has suggested a dog cone. But unfortunately, you do not have that so now you want to know how to make a dog cone collar at home. There are many things you can use as an alternative to your dog collar you just need to make sure that your dog feels comfortable in whatever you make.
The most important tip he gives is to make sure the collar is fitted properly. "If it's too big, the pet cannot eat or drink. If too small, your pet will be able to turn around, defeating the purpose," says Jeff Werber, DVM from PetMd.
Towel Dog Collar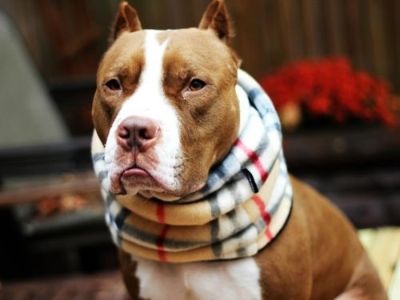 A collar must be comfortable and it should not feel like a cuff on the neck like it is preventing him from licking or barking. This is an easy process and won't take more than 15 minutes.
To make a towel dog collar at home, you need a thick towel, duct tape, and do not forget your dog. You can double it as per the length and wrap it around the neck. and wrap duct tape around it so the towel won't fall off. It should not be too tight and not too loose. You can also adjust it as per needs and the comfort of your dog.
Pool Noodle Collar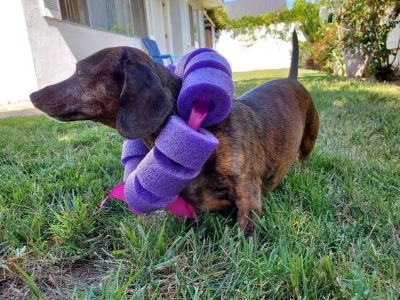 If the collar is soft and the dog doesn't feel the weight of the cone then there cannot be any other better option. A pool noodle collar is exactly what you are looking for.
It is super easy to make a DIY pool noodle dog cone at home, if you have pool noodle then you need a rope of sorts, tape measure, scissors, and a knife. You need to cut it into equal sizes of pieces like donuts. Then according to the size of your dog, make a ring. You need to use rope and pass the rope from the hole of those cut pieces.
congratulations your noodle cone is ready. It is that simple. This will also give him cushioning around the neck, so he won't feel stuck in it.
Bucket Collar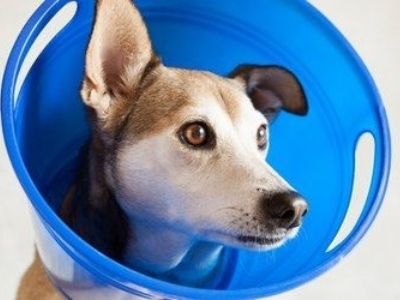 This option is very unique and also a little tricky as you need good hands-on cutting. To make a bucket collar cone for your dog you need a bucket, electric tape, scissor, or a knife. This opinion might be a little heavy and solid for your dog.
You just need to find a perfect size bucket according to the size of your dog. Make a hole in the bottom of the bucket. Make sure the hole is not too big and neither too small as it should fit the dog's neck.
It is better to measure the neck size of your dog before you cut. Because you will not be able to adjust it as it is not flexible material.
After you cut the bottom, you have to remove sharp edges from the cuts of the bucket of the bottom by giving cushioning with tape. It will prevent injury to the skin on your dog's neck.
I would suggest you go with this option only if you have a big-size or a fully grown medium-sized of dog. Bucket cones won't go with the small breed of dogs.
Paper Plate Collar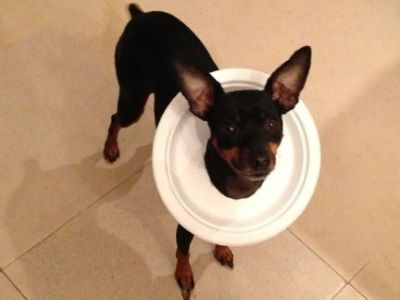 This is the easiest option of all. You need a paper plate, scissors, pencil to make a paper plate collar at home with the least effort.
If you have a small breed of dog then this option is especially for your dog. You can make paper plate cones in only two steps.
First, measure the size of your dog's head by drawing a rough head size on the plate and putting the plate on his head. The second and last step is to cut the drawing area and fit it on the neck of your dog. This is How to make a dog cone collar at home.
Neck Pillow Collar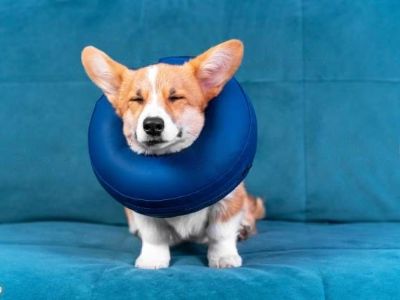 We all travel and we all have neck pillows for good sleep. But have you ever thought that your neck pillow can be a dog cone? But yes you can use a neck pillow as a dog cone.
I think I do not need to talk about the comfort of it. As we all have used it at least once in our lifetime, we know how comfortable it is. And the cherry on the cake, it takes zero effort from you.
FAQs
Can I use other materials besides cardboard or plastic to make the collar?
Yes, you can use other materials to make cardboard or plastic to make the collar. You can use foam, fabric, or even an old t-shirt. Make sure that the material you use must be sturdy so your dog feels comfortable and harmless.
How do I cut the material to the right size and shape for the collar?
There are many ways you can measure the size of your dog's neck. Generally, you can use a ruler or measuring tape to measure and mark the size and shape using a pencil on the material you chose to make the collar. And then cut the marked area with a knife or scissor.
How do I ensure that the collar doesn't irritate my dog's skin?
You can make sure that the material you are using is smooth and soft. Also, observe if it is rubbing with the neck while your dog is doing an activity. To prevent that add padding with electric tape or cushion on the edge of the collar. You can reduce the friction between the skin and collar.
How do I get my dog used to wearing the collar?
It is easy, first, let your dog sniff and inspect it before you put it on him. Then start with a few minutes and gradually increase the time period as he gets used to it. Meanwhile, you can also praise him with treats and check if it is making him uncomfortable or hurting him. If so, change it immediately.
How do I customize the collar to fit my dog's specific needs?
You can customize the collar by adding padding and cushioning. Also, you can adjust the length and shape according to the size of your dog. Moreover, you can add a leash attachment. And there are many other things you can add but before that, I would suggest you consult your vet for it. And after consulting the last approval should be from your furry friend.
Key Takeaways
Keeping your dog healthy is as important as keeping him happy. And for the good of your dog, you have to do whatever it takes. When vets suggest a cone for the dog, many owners like to try DIY dog collars so they search for how to make a dog cone collar at home.
"its purpose is to prevent the animal from biting or licking at its body or scratching at its head or neck while wounds or injuries heal." Stated in Wikipedia.
As you know you can make dog cones by using things that are available at the home. Make sure whatever you are making must be harmless and liked by your dog. There might be a default in the cone since it is made by unskilled humans, but that should not affect your dog.
Reference:
Elizabethan collar. (2022, September 24). In Wikipedia. https://en.wikipedia.org/wiki/Elizabethan_collar
The Cone of Shame makes pets miserable. (2020, March 13). The University of Sydney. Retrieved March 10, 2023, from https://www.sydney.edu.au/news-opinion/news/2020/03/13/the-cone-of-shame-makes-pets-miserable.html
Shenoda, Y., Ward, M. P., McKeegan, D., & Fawcett, A. (2020). "The Cone of Shame": Welfare Implications of Elizabethan Collar Use on Dogs and Cats as Reported by their Owners. Animals : An Open Access Journal from MDPI, 10(2). https://doi.org/10.3390/ani10020333