All paw parents want their dogs to accompany them, not just as a pet but as their best friend and companion. Whether you are grabbing a coffee or heading to a social gathering, your dog becomes your escort buddy.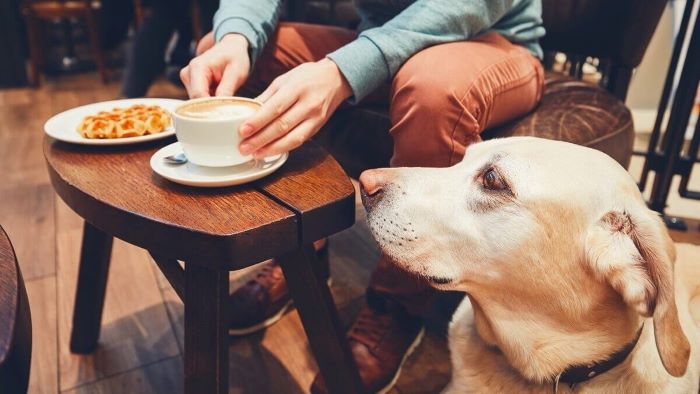 However, if you are planning for a coffee sip at Costa, you need to make sure whether or not dogs are allowed there. Are dogs allowed at Costa? Is Costa dog-friendly?
Is Costa Dog Friendly?
Costa Coffee is a British coffee house chain, founded in London in 1971. It is the largest coffee chain in the UK with approximately 2700 stores. Costa is available to customers all around the UK such as train stations, gas stations and in the corner of a major city.
Before arriving at Costa with your four-legged friend, you should ensure that the staff will allow you to pop inside the shop. Will they let you enter with the dog by your side? Is Costa dog friendly? And a simple answer to this is no!
According to the company's policy, dogs are not allowed in the store, which is enforced nationwide.[1] However, an assistance dog can enter the store legally by law. However, many stores around the Uk welcome pet dogs, which is against the policy of the company. This has created confusion among pet parents.
Said so, you can take your dog along at a particular Costa coffee shop depending on the location, staff assigned at the store and their perspective towards the policy. It is better to confirm priorly by asking the staff or making a quick call.
Why Are Dogs Not Allowed in Costa?
There are several grounds to consider implementing a no-dog policy in Costa. The paramount of them are hygiene and safety. Let us explore some reasons why Costa does not allow dogs.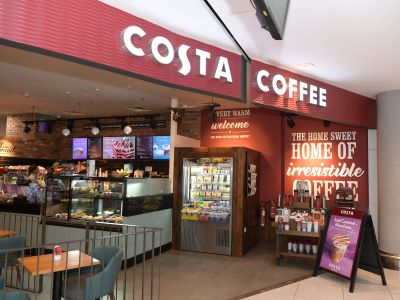 Customer safety
As you are aware that Costa is a food and drink store and the safety of consumers visiting there is the sole responsibility of Costa. Dogs, on the other hand, are difficult to handle. They can pose a danger to the customers.
Not all dogs are well-trained to behave properly in public. Also, many dogs get triggered by some phenomenon around them and start barking. Even their owners cannot have control over them. This can cause a nuisance at a decent coffee shop.[2]
Moreover, many people are afraid of dogs being around and might not feel comfortable with a dog roaming by their side. And as customer satisfaction remains the priority of any business, dogs are not allowed in Costa.
Hygiene
Hygiene is another must factor to be taken care of at a cafe where the eatery is served. It is important to keep the place clean and hygienic for consumers to feel safe and enjoy the meal. From this point of view, it is not a good idea to allow pets around the diner.
Some dogs drool and also shed their fur which can be unpleasant for some customers and staff. Maintaining cleanliness at cafes is already a challenging task and allowing dogs could add up more difficulty. Imagine the situation where a dog would accidentally knock into the waiter carrying a tray of coffee!
Allergies
For Costa, it is crucial to create an environment which is safe and comfortable for their consumers. This is paramount for the customers to feel warmly welcomed and enjoy the ambience. However, since some customers, as well as staff, may have pet allergies, it is a concern of compromising their health conditions. Thus, for a safe and allergy-free environment, Costa restricts the entry of dogs.
Assistance Dogs: The Case of Exception
Assistance dogs are well-trained to aid disabled people to allow them to carry out their day-to-day activities. They support people with disabilities and medical conditions like autism or epilepsy in a variety of ways.
According to Assistance Dogs UK, "Assistance dogs perform practical assistive tasks for their disabled partners to enable them to be independent. Thus, it is reasonable to allow assistance dogs to accompany their owners into most situations where pet dogs would not be permitted."
Since these dogs are highly trained and are necessary to aid their parents, they are allowed in Costa. Legally, assistance dogs should be allowed at all places including cafes and shopping malls. Such dogs are highly trained, going through at least 2 years of training and being trained and qualified by certain organizations like ADUK.
FAQs
Are dogs allowed at Costa Coffee?

No, dogs are officially not allowed in the Costa coffee shop, however, some branches may allow you to enter the premises with your dog. According to their policy, only assistance dogs are allowed in the store.

What is a Puppuccino?

A puppuccino is simply a small cup of whipped cream or milk made especially for dogs to enjoy as a treat. They are typically served as a complimentary item when you make a purchase at a dog-friendly eatery, but can also be bought separately from the menu.

Does Costa serve a Puppuccino?

Costa also serves puppuccinos without advertising them. It is not on their menu but you can order them on the counter for your furry friend to accompany your cappuccino.
Wrapping Up
Is Costa dog-friendly? Definitely not. If we talk about Costa Coffee in general, then according to the company, dogs are strictly prohibited in their stores due to safety and hygiene concerns, unless the dog is a certified assistance dog.
However, this is still a matter of confusion as many stores allow the entry of pet dogs, against the company policy and hence it remains a controversial topic. It is always advisable to check with the store about the entry of your pet to avoid unnecessary circumstances.
References:
Policies and reports | Costa Coffee. (n.d.) from Costa Coffee
Associated Press. (2023, May 19). More dogs could show up in outdoor dining spaces. Not everyone is happy about it. WUSF Public Media.