As a dog owner, leaving your dog with other people while you travel or commute to other places where dogs are not allowed is quite normal. People are used to leaving their dogs with neighbours, relatives or their friends. You leave your dog with them because you know them. But, your furry friend doesn't. So, is it good to leave your dog with other people?
Well, if you give it a thought for getting an answer to this query, you'll have many other questions. For instance, How to pick the right people? Will my dog be safe with them? What preparation is necessary for dogs? And how will I overcome the guilty conscience of leaving your dog behind?
Now, if you are one such dog owner who is preparing to travel or leave their dog with other people but, is concerned about the prospects, and outcome, your search ends here. This article will provide you with ample information on how you can navigate this situation.
You Might Also Like:
PUPTECK Dog Harness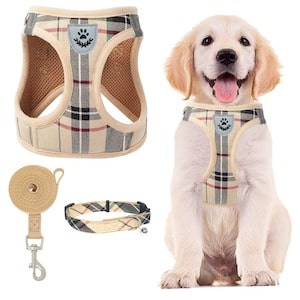 BIGWING Puppy Playpen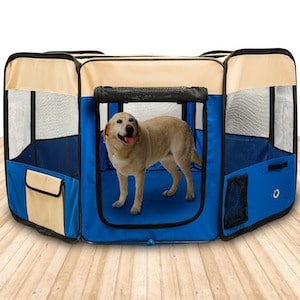 YITAHOME Dog House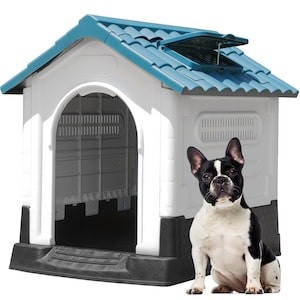 Is It Good To Leave Your Dog With Other People?
Well, if you are worried about the ethical prospect it's completely fine to leave your dog with other people. The concerning thing is what may happen with your dog while you are gone. It's normal for a dog owner to get worried about their furry friend while they are with strangers.
Making a decision of leaving them with others is tough. Let's have a look at some of the factors you must consider before you make up your mind about leaving your furry friend with other people.
Factors to consider before leaving the dog with other people
You cannot randomly pick someone for caring for your dog in your absence. Due diligence is a must and you should have a face-to-face meeting with the people who will take care of your dog. So, here are some of the prominent factors that you need to consider:
Your furry friend's temperament
While you are worried for your dog's safety the people who will take care of your dog also have their plausible concerns about your dog. Hence, it's crucial for you to share the behavioural aspects and the triggers which result in the aggressive behaviour of your dog.
Sharing this information is extremely crucial. Because if your dog ends up hurting one of their family members you may face legal consequences.
You must know the duration and the exact reason why you are leaving your dog for that specific duration. Any miscommunication in the schedule may cause problems for you and the concerned party. The caretaker must also have your contact information and you must have theirs for emergencies.
Availability of the caretaker
It's possible that the caretaker is not available for caretaking while you are gone. Hence, before you plan on leaving your dog you must verify their availability. So, even if they are not available they might provide you with another contact where you can leave your dog.
You must check some basic details pertaining to the caretaker and their family. Because if you don't chances are that they might behave improperly and in a worst-case scenario, your dog may even get hurt.
Discuss the medical aspects and diet
The caretaker must know the details of your dog's food preferences and medical prospects. Thus, if your dog is allergic to any food item you must discuss these with the caretaker. If your dog is on medication, provide the medicines and also your vet's contact number for emergencies.
Provide the stranger with the tools that you use for grooming your dog. This will help make your dog feel comfortable as they are used to the tools. Share your process and style of grooming with the stranger to ensure proper grooming of your dog.
Share your concerns and expectations with the caretaker. This will help in clearing out any concerns and the caretaker will also know whether they can handle the job and meet your expectations or not. Get an agreement on different points, for instance, you need regular updates at a specific time or some photos. Ask them if they will provide such a service.
Get your dog the necessary vaccines before you leave them out with a stranger. This will protect them from any infections or diseases while they are in a new environment. So, even if they come in contact with some other canine, the chances of contracting parasites or disease remain minimal.
These were some of the points you must consider, also, it's crucial you provide a dog tag with the latest details to the caretaker while you are gone.
How to find the right person for dog care?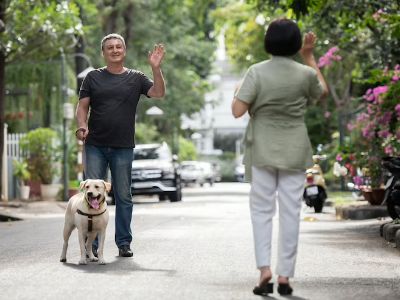 It's crucial for you to find a genuine and caring individual for taking care of your furry friend. As not every individual is fond of dogs or cats. Here are some of the ways you can find the right person for the job:
#1 Search for potential sitters
You will find many profiles online that provide dog care services. All you need to do is verify their authenticity or identity. In addition, there are many platforms which are specially dedicated to pets and highlight different profiles of caretakers.
You can also connect with your relatives, friends or neighbours and see if they are interested in taking care of your furry friend. In fact, if you run out of options professional dog daycare centre is always an option.
#2 Verify the reputation and experience
Well, we all are aware of, a common misdirection of people lying about their experience in a specific work they do. So, while you are out scouting different profiles of sitters, make sure they are not using fake experiences. Because many scammers use this strategy to con people and sell their pets.
Further, you also need to check their credibility or reputation. If they are experienced you can ask them for proof like certification or their training records and some contacts of previous customers. This will help in verifying their repo and you can easily cross-examine their experience.
#3 Cross-check the prices
There are plenty of services available and you may find the right one but, it's possible that prices are high. So, you can cross-check the prices with other services and choose the one which suits your budget.
In addition, it's crucial that you inquire about their rules, cancellation policy, and payment method. Scammers often lure many individuals with low prices and it can get ugly if you fall into such traps.
#4 Dog lover or not
It's quite rare for a person who doesn't adore animals or pets to offer pet care services. However, some people offer caring services despite them not loving the animal. Regardless, of their reasons, you must figure out whether or not the individual is a dog lover or not.
Because even if there is no risk in leaving your furry friend with them, their lack of affection will bore your dog and they might escape the new location. This may seem like a small aspect but, in a bigger context, it's the most significant one.
Finally, when you pick the right individual, ask them for a meeting. This is an indirect way of knowing whether they are genuine or not. Have a thorough discussion regarding every aspect. Make sure they are ready for providing you with frequent updates or any such details while you are gone.
Preparing Dog For Staying With Other People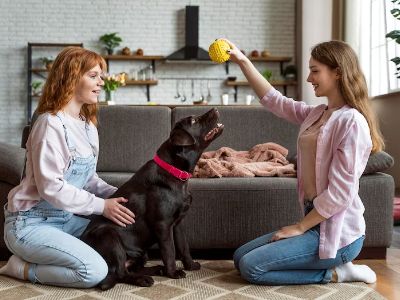 While you find the right individual or have already found one, it's important to prepare your dog for staying with them. Because your your furry friend it's a complete stranger and they will have difficulty adjusting if you don't train them. Here are some of the tips you can consider for staying with other individuals:
#1 Socialise
Your furry friend will have to stay for a few days with their caretaker. The simple way is to socialise more. Take your dog for a walk and make them interact with other people. Do this regularly i.e. till the day before you are planning to leave your dog with a stranger.
There are different social gatherings in the community and you can take your furry friend to such gatherings. Such gatherings will have lots of other canines and your dog will enjoy it. Hence, socialising with your dog will train them not to panic when they meet their caretaker.
#2 Set up a meet
Once your dog starts interacting with people, you can set up a meeting with their caretaker. You can set up this meeting at your place, caretaker's place or at a neutral location in public. Before this meeting, you can request the caretaker to have some small food items with them or a toy.
So, when they will provide any of this stuff to your furry friend, they will get an indication of trust. In addition, you can also allow the caretaker to take them for a walk or spend some time.
#3 Training and exercise
It's crucial to train and conduct exercise sessions before you leave your dog. The release of energy keeps them in a good mood and the transition becomes a lot easier. They will not feel stressed or anxious about separation. You can also request the caretaker to conduct similar sessions or simply play with them.
#4 Supplies, toys, and medicines
Your dog is used to playing with some specific toys. They also have a preference for resting in a particular area where you set up the blanket. Hence, it's for the good that you send such items and toys so, your dog feels familiar with the new environment as well.
In addition, you also need to send medicines in case your dog gets sick. Because the caretaker may not have the exact prescription for such medicine. If your furry friend has some underlying condition, then you'll have to provide it.
#5 Behavioural control tools
Regardless, of the trust you have in your dog, it's important to provide tools such as lead, collar, sprays, or diffusers. These tools will help the caretaker to control their behaviour. Also, the sprays or diffusers will help in calming their behaviour and reduce their stress or anxiety levels.
These tips will surely help in preparing your dog mentally. You can also ask your vet for suggestions on what other things you may need to do before leaving them with another stranger.
Now, that you know how to pick the right person for dog care, and prepare your dog to stay with a stranger, let's have a quick peek at some of the perks and drawbacks of leaving your dog with a stranger.
Perks of leaving your dog with a stranger
The biggest perk is you ensure your dog's safety. It provides psychological relief while you are travelling.
Your furry friend may enjoy the new environment if they like socialising and assuming you trained them for connecting with strangers.
They won't get bored because the caretaker has to ensure they stay in the same state in which you left them with them. Hence, they will try different tricks and play activities to keep them happy.
A professional caretaker has all sorts of toys, equipment and a play area for pets so, your dog will get ample physical exercise as well.
While playing with the caretaker, your furry friend may learn some new tricks or skills. Especially if you mention the caretaker to teach them some commands which you couldn't get them to do, they might learn it from their caretaker.
Drawbacks of leaving your dog with a stranger
Leaving your dog with a caretaker is costly. Yes, the cost varies as per the services provided and terms agreed but, they are still quite high. In fact, you may have to pay extra if you have any additional requests from your end.
Some dogs respond well to the changes but, it's possible that your dog may not feel good about the new environment. The change may upset them and they might also suffer from separation anxiety.
Even if the caretaker comes with a high reputation, there is always a risk of your dog being neglected or not provided proper care.
While your dog is in a new environment, it may suffer from injuries, have an infection or some other physical issue.
If your dog is in a daycare facility, it might not get along with the other canines and may end up hurting itself or a fellow canine.
Looking at the drawbacks you may reconsider the decision and there is nothing wrong with that. But, you also have to consider the fact that many places don't allow dogs on their premises. Another interesting aspect of why dog owners change their minds or have reservations about not leaving their dogs with other people is their inner conscience.
So, before we conclude this article let's have a peek at how you can overcome this guilty conscience.
Getting Rid Of Guilty Conscience
As a dog owner, it's obvious for you to have some reservations or doubts while thinking of leaving your dog with other people. This is a protective instinct and a guilty conscience at the same time.
You are wondering why would you feel guilty. Well, this happens because many owners imagine their dogs getting hurt in their absence and explore the worst-case scenarios. For instance, what if the caretaker hurts the dog or the dog ends up hurting them? There are many such thoughts rumbling in a dog owner's mind.
So, to tackle this feeling, here are some of the suggestions from my side:
Pick a relative, friend or family member as a caretaker. This will provide you with a sense of relief as you are well aware of the nature of your close ones. You will not worry about your dog because you know they will take care of them properly.
For some reason, if you have to pick a caretaker or a dog care service, make sure you conduct a thorough background check. You can refer to the government guidelines for verifying an individual's identity.
Remain in touch with the stranger you hand over your dog in your absence. Call on a daily basis to get an update, they might not like continuous interference but, this will help you assure your dog is in proper condition.
Focus on the perks of leaving the dog with another individual. For instance, imagine your dog will receive proper exercise, socialisation, and playtime. The caretaker may also provide them with different food treats and this can make them cheerful.
Have faith in your dog and don't beat yourself up over the separation. Because if you think negatively you may lash out in anger at your furry friend and this is a situation which you must avoid.
I hope these suggestions will help you cope with the guilt or anxiety you feel. However, if you are having a tough time getting rid of this feeling, get professional help. Have a therapy session with a psychologist and get some tips to deal with this emotion.
The same goes for your furry friend. They too feel anxious and if their behaviour is persistent around the time when you will leave them, have a visit to a pet behaviourist.
FAQs
How long can a dog stay without their owner?
As long as a dog receives the necessary supplies such as food and continuous mental and physical stimulation, they can stay in a doggy daycare or with a caretaker for roughly 4-5 days per week. If you are going out for more time, then you may have to consider leaving them with your neighbour, friend, or relative.
Will my dog be sad if I leave him with someone else?
Regardless of where you keep your dog i.e. at a dog daycare or at a professional caretaker's house, they will feel sad after some time. They will grieve and depending on the duration of your absence, they will continue to express this emotion to their caretaker. Because the exercises, food treats, or playtime will only divert their attention for a couple of days. If you are out for a longer period, they will be sad.
Is it possible my dog won't get back to me after spending time with a caretaker?
Dogs are loyal to their owners but, if they spend more time with other people or a professional caretaker it's possible that they won't get back to their original owner. One of the main reasons is their bonding gets strong. They begin to think that they are their new companion and tend to forget their original owner. Sometimes the treatment that dogs receive from a caretaker is better than the one they get in the house of their rightful owner so, they will resist going back to the original place.
What are some risks of leaving the dog with other people?
Leaving your furry friend with other people i.e. neighbour, caretaker, or a relative can trigger anxiety, stress, or aggressive behaviour. The reason is simple, they don't get affectionate treatment from them in your absence and this can make them feel sad, anxious and angry at the same time. They may also sustain injuries while playing in a new environment. So, it's crucial to pick a reliable caretaker.
Is It Good To Leave Your Dog With Other People – Final Comment
Leaving your dog with other people is not a bad idea, assuming you have planned everything for your dog in advance. Otherwise, your dog may end up spending time in a toxic environment. So, plan the stay of your dog properly and make sure you find the best doggy care, or sitter in your absence for ensuring their safety.
If you can make sure your dog isn't left with a stranger for more than 5 days. Because even if they blend in the new environment, they will miss your presence. On the contrary, if they receive positive treatment that is better than how to treat them at home, they might resist getting back home.