Are you interested in transitioning your dog to a raw food diet? Or already feeding raw food, but facing foodborne illness? Well, no need to worry! It's normal to switch your furry pal's diet to a totally raw food diet. It's just that you need to look after the raw dog food preparation and hygiene guidelines carefully. Follow them rigorously to avoid any foodborne illness, or spreading of bacteria.
As we know, the raw food for dogs demand is increasing day by day among pet parents. And it's good to shift to raw food diet for dogs. But, on the other hand, it's equally important to look after basic hygiene while preparing or storing raw food for your furry pal.
So, on the behalf of you, we have done some fruitful research work, and, jotted down the fundamental guidelines. Plus, also covered the facts, which will surely help you to understand the preparing and storing process. Also, help to avoid the spreading of bacteria all over the house.
Let's quickly dive in and explore the "Raw Dog Food Guide"
Fundamental Hygiene Guidelines to Handle Raw Dog Food
Nowadays, the demand of feeding raw food is increasing rapidly. As many pet parents want to provide fresh, and raw meat to their canine companions. But, unfortunately, improper handling of the raw food is leading to bacterial health issues or foodborne issues in your furry pal, and family.
For your reference, we have jotted down the seven fundamental hygiene guidelines to handle raw dog food. This will help you to feed correctly and reduces the risk associated with preparing raw foods, or bacteria-spreading issue.
1. Separate Food
One of the basic fundamental guidelines that need to follow is to separate the food carefully. In other words, keep raw meat, poultry, seafood, and eggs separate from other foods available in the house or fridge. This is because these raw foods contain pathogens, which can contaminate other food also, or spread the bacteria easily.
Sources like FoodSafety.gov, CDC, or USDA recommend "place raw meat, poultry, and seafood in containers or sealed, leakproof plastic bags. Freeze them if you're not planning to use them within a few days."
Additionally, it will be much better if you use separate utensils, and a chopping board to prepare raw food for your canine companion. As it decreases the chances of spreading bacteria.
2. Only Wash Raw Vegetable and Fruits
Next, the important thing to keep in mind is that only wash raw vegetables, and fruits before cooking or storing them in the refrigerator. Some resources like USDA, and CDC stated that washing or rinsing meat or any other poultry item can increase the risk for cross-contamination in the kitchen, which can cause foodborne illness.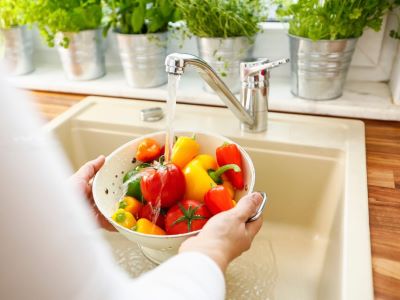 For instance, If you wash meat under the running tap, there are chances of bacteria splashing on hands, clothes, other utensils, food, surface area, etc… It will lead to the spreading of harmful bacteria like campylobacter, or other bacterial diseases.
So, it is best to cook the raw meat thoroughly, in order to kill any bacteria present.
3. Separate the Spoiled Food
Well, yes, separating spoiled food from the bunch of raw food is essential, because it can easily spoil the other good raw food. So, before you keep the bunch for freezing, it's better to check it twice and immediately remove the spoiled one.
In any case, if a spoiled one remains in the freezer, it will contaminate the other fresh food. By spreading bacteria and increases the risk of your canine companion getting affected by it. Once, the food is spoiled, then no matter how much hygiene steps you take, it will remain infected. And will lead to bacterial-related health issues for your canine companion.
Tip: If your dog refuses dry food after transitioning to a raw food diet, check out our tips for how to get a dog to eat dry food.
4. Freeze Raw Dog Food Until It Is Required
Freezing is one of the fundamental hygiene guidelines to handle raw food carefully. Yes, you heard it right, it is recommended to freeze the raw food until it is required. When thawing frozen food, keep one thing in mind: the thawing process will vary. This is because this one is for your canine companion. As your Fido is already equipped to handle more bacteria, it is useful to give them less or no contaminated raw food.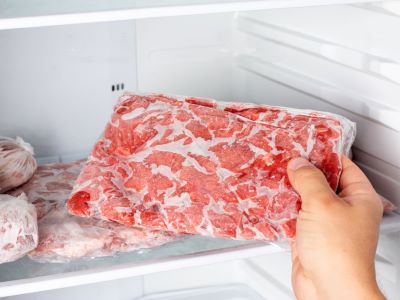 Further, it is suggested to take a bowl for thawing food for your canine companion. Do not let it settle down for a longer period. Once you are done, cook it at a safe temperature, and immediately serve it to your canine companion.
Here's advice for you, do not thaw food in hot, lukewarm water, or microwave because it increases the chances of contamination, and will lead to health issues for your dog. Consider your puppy's age and breed when determining how much raw food to feed puppy per day.
5. Keep the Defrosted Raw Food in the Fridge
Once you have defrosted raw food, it is recommended to store it in a separate airtight container and place it in the fridge. In this way, you can prevent cross-contamination, and maintain freshness. In addition, CDC recommends storing raw food for human consumption is perfectly fine, and can be used in three-four days.
But, not recommended to store the leftover food of your canine companion because it contains saliva and mouth bacteria. This increases the risks of cross-contamination, and there are also chances of your furry pal becoming sick from pathogens.
6. Clean and Sanitize Fido's Eating Place
Well, maintaining a clean area for the preparation of your Fido's food is important, as it prevents cross-contamination. Plus, always sanitize your dog's eating place before and after his meal. Let me explain to you with an example of how to keep clean and sanitize surfaces and surrounding.
For instance, you are planning to serve good raw meat to your Fido for the dinner. To prepare the meal, first, you need to disinfect the preparation surface and defrost the portion of the meat you like to serve to him.
Then wash your hands thoroughly with soap and lukewarm water, now prepare the meal at a safe temperature. Before serving the food, clean the food bowl, sanitize the feeding area and then serve it to your Fido.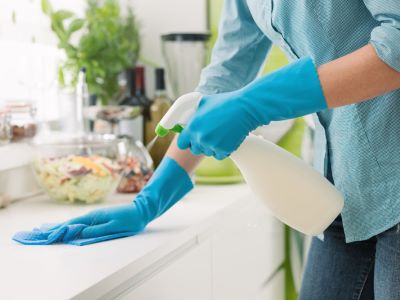 Now, once he is done with his meal, again clean the feeding area, and wash his feeding bowl and cooking utensils. And, if there are any leftovers, keep them in an airtight container and store them again in the fridge. But, if your pup doesn't want to eat it later, then immediately dump it in the trash.
By following these cleaning and sanitising step, you will be able to prevent the bacteria from spreading and reduce the risk of getting ill.
7. Clean Personal Hygiene
Last but not the least, keeping personal hygiene is also important. It not only prevents the spreading of bacteria but keeps you and your furry pal healthy, or disease free. The Centre for Disease Control and Prevention recommend washing hands for 20 seconds before and after the preparation of the food.
So, being a pet parent it's good to adapt a habit of washing hands with soap and lukewarm water. It helps to prevent the bacteria from spreading.
Apart from washing hands, it's important to clean the surface, food bowl, and cooking utensils properly, and throw away the leftover food. In addition, cleaning your canine companion's mouth also prevents the spreading of bacteria.
Additionally, dogs who consume a lot of raw food eliminate pathogens in their faeces, which is not good for human health. So, it's advisable to throw away the stool and wash away the floor immediately.
FAQs
How do I prepare raw food for my dog?
It's easy to prepare raw food for dogs UK, all you need to do is follow simple steps. Take the minced meat of your pup's choice, select the meat organ, cook it thoroughly to kill the bacteria, and later on mixed it with the minced, and add veggies. It's ready to serve t your furry pal.
Can you feed raw dog food straight from the fridge?
It is not recommended to feed raw food directly from the fridge because raw meat contains harmful bacteria like Salmonella, Listeria, E. coli, etc… Cooking raw meat, and veggies at a safe temperature are good for your canine companion's health, it kills the bacteria, and reduce the risk of foodborne diseases or other bacterial illness, which your furry pal might encounter.
How long should I freeze raw meat before feeding to dog?
Well, if you buy fresh meat from the butcher, then it is recommended to freeze it for at least three days before feeding it to your canine companion. It should be stored in a good container because this helps prevent the bacteria from spreading.
How do you get rid of bacteria in raw dog food?
The best way to get rid of bacteria in raw dog food is to store it properly. Only keep the portion your pup is going to eat, the rest should be stored in the refrigerator. In addition, it is also important to clean the cooking utensil, and furry pa's eating bowls, well with soap and lukewarm water. Also, remember after cooking, clean the surface well with soap and throw away the leftover food.
Can I give my dog raw mince?
Well, yes beef mince is safe for your canine companion, it is more or less dame as raw beef, so you can easily feed them. The mince is rich in protein, zinc, and vitamins B12, B3 and B6, which makes it good raw food to eat for your Fido. It gives the same nutrients benefits as the raw beef gives to your canine's body.
Well, It's a Wrap!
Hereby, closing our detailed guideline blog post on: Raw Dog Food: Preparation and Hygiene Guide. Hope, the fundamental guidelines, and the facts will surely help you to correctly feed raw food to your pup and store it properly to avoid the bacterial issue.
Let's quickly recall raw dog food guide!
The hygienic guidelines include regularly washing hands, utensils, and surfaces used for preparing raw meat. It is advisable to use separate cutting boards for meat preparation and store raw meats in the refrigerator until it is required. Further, thaw frozen meats, and discard any leftover food by your furry pal.
While this article has focused on raw meat diets, pet owners should be mindful of food hygiene and storage when preparing vegan dog food too.
By taking these steps, you can ensure that your pup enjoys safe, healthy meals each day without unnecessary risks from contaminated foods