If you are a dog lover, you might be disappointed to hear that some beaches in the UK have banned dogs from visiting during the summer months. So, why this rule and are there any choices for you and your canine friend? Let's find out.
The Reason Behind The Ban
The ban on dogs on certain beaches is an annual rule that comes into effect every year from May to September. The decision for this ban is made to keep the beaches clean and safe during the busier summer period because there are lots of children who are visiting the coast.
It's true that many people clean up after their dogs, but, the poo left behind on beaches by others is a major health hazard, as well as an unpleasing sight and scent. The rules about dogs visiting beaches don't apply to guide dogs, who are allowed to go any place with their owners.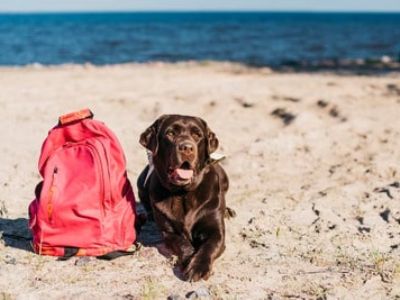 The ban is enforced under a Public Space Protection Order (PSPO), which means that council officers can issue fines to people who don't comply with the order. The fines can vary depending on the area, but they can be up to £1000.
The Beaches Affected By The Ban
The ban applies to different beaches across the UK, depending on the local council's decision. Some of the beaches have a complete ban on dogs, while others have a partial ban, which could mean that dogs have to be kept on leads, or only allowed on certain parts of the beach or promenade.
Some of the areas that have restrictions on dogs on beaches are:
England: Yorkshire, Sunderland, Tyneside, Redcar and Cleveland, Devon, Cornwall, Bournemouth, Dorset, Somerset, Isle of Wight, Kent and Sussex
Wales: Anglesey, Bridgend, Carmarthenshire, Conwy, Ceredigion, Denbighshire, Gwynedd and Pembrokeshire
Scotland: Highlands, East Lothian, Scottish Borders, Inverclyde, Tayside and Nairn
You can check the specific rules for each beach on the local council's website or look out for signs at the beach entrance.
The Beaches That Welcome Dogs All Year Round
If you are looking for a beach where you can take your dog without any restrictions, don't worry – there are plenty of options for you too. Many beaches around the UK allow dogs all year round, as long as they are well-behaved and under control.
Some of the UK's dog-friendly beaches are in locations including:
England: Cornwall, County Durham, Cumbria, Devon, Dorset, East Sussex, Essex, Hampshire, Isle of Wight, Kent, Norfolk, Somerset, West Sussex and Yorkshire
Wales: Anglesey, Carmarthenshire, Ceredigion, Clwyd and Vale of Glamorgan
Scotland: Dumfries and Galloway, Fife, Grampian, Hebrides, Highland, Lothian, Scottish Borders, Shetland Islands, Strathclyde and Tayside
Northern Ireland: County Antrim, County Down and County Londonderry
You can find a list of dog-friendly beaches on websites like The Beach Guide or Dog-Friendly Britain.
What Do You Think Of The Ban?
The ban on dogs on some beaches has sparked a debate among dog owners and beach lovers. Some people think it's a good idea to keep the beaches clean and safe for everyone. Others think it's unfair that dogs have to miss out on the fun of playing in the sand and sea during certain months.
What do you think of the ban? Do you agree or disagree with it? Have you ever taken your dog to a beach where they were not allowed? How do you find dog-friendly beaches near you? Let me know in the comments below.