If you have a cockapoo with you, it's obvious for you to consider serving the best food to them. While homemade dog food for cockapoos is healthy, it might not provide the nutritional balance that is gauged in the dog food packs. Commercial dog food packs have many varieties and nutritional elements in them.
So, if you are looking for dog food for your cockapoo online and are stuck, this article will be your guide in providing the best dog food for Cockapoo out there. Keep reading and you will find out the benefits and drawbacks as well.
Best Dog Food For Cockapoo
The variety of dog food for cockapoos is many, but picking a proper food pack is tricky. Because you have to consider your dog's size, age, and energy levels and ensure the product has suitable ingredients to provide the necessary nutrition.
So, here is a list of some of the best dog food products curated by me considering various prospects.
1. Harringtons Complete Dry Dog Food Lamb & Rice
This Complete Dry Dog Food Lamb & Rice from Harringtons is natural, healthy, and one of the best food for cockapoos. There are no artificial colours or flavours in this dog food product. The food is suitable for adult dogs and is formulated using natural ingredients for better health prospects.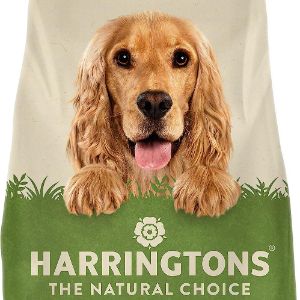 The number one ingredient in this dry dog food product is meat for maintaining its nutrition balance. There is no added wheat or flavours in the mix.
Main Ingredients:
Meat and Lamb meals
Rice
Barley
Maize
There are many other ingredients used in this mix. For instance, seaweed helps with oral hygiene and provides a natural source of vitamins, minerals and trace elements.
Perks
Natural ingredients used for a balanced diet
No artificial sweeteners or additives used
Prebiotics to facilitate better digestion
The presence of omega-3 and omega-6 strengthens dog muscles
Drawbacks
Not suitable for cockapoos' allergic or sensitive Lamb, rice or other ingredients
Cockapoos with high-energy levels may not leverage all the benefits
The packet is roughly 40 pounds and that's why the price may seem a bit high. If you wish to buy different ingredient pack, here are some of the variants of this dog food product:
Harringtons complete grain free hypoallergenic salmon & sweet potato
Harringtons advanced science diet for medium breeds.
2. Percuro Dry Hypoallergenic Insect Protein Dog Food
For cockapoos having allergies or sensitivities to common animal proteins such as lamb, beef, or chicken, Percuro Dry Hypoallergenic Insect Protein Dog Food is a good option. The product has plant-based ingredients. Also, there are no artificial flavours, preservatives, or colours used in the mix.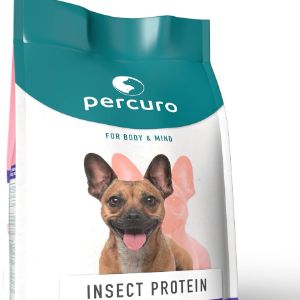 In addition, the hypoallergenic protein sources in this product are free from common allergens. The mix of ingredients is such that it facilitates nourishment of the skin coat. So, it can be considered as one of the best food for cockapoo with itchy skin.
Main Ingredients:
Green peas
Olive oil
Dried Chicory
Algae oil
Dried insects & Naked Oats
The natural ingredients used in this product help with digestion as it retains tummy-friendly prebiotics. In addition, dried chicory supports good gut bacteria.
Perks
Natural calming complex
Insect protein is the main source of protein
No presence of artificial additives or flavours
Helpful in strengthening the muscles of dogs
Drawbacks
The dog may not like the dry food
Dogs with allergies to or sensitivities to insect protein will have health issues
The cost of this product is 13 pounds per pack, for a 2-pound pack, the price is less. Also, below are some other variants you can consider for the product:
Insect Protein Superfood Dog Food
3. Lily's Kitchen Natural Grain Free Complete Adult Dry Dog Food
Lily's Kitchen Natural Grain Free Complete Adult Dry Dog, Shepherd's Pie, is grain-free dry food for adult dogs. The product is made using freshly prepared lamb and proper meat. The manufacturer also claims to have used a low-fat recipe.
The "proper meat" in this product as per the manufacturer means that it's sourced from reliable producers and expert suppliers. So, it would not be an exaggeration to call it one of the best dry food for cockapoo.
Main Ingredients:
Fresh lamb
Apple
Peas and Lentils
Parsley
The package needs to be stored in a cool dry place with minimum exposure to sunlight.
Perks
Helps with digestion
No artificial flavours or additives
Omega 3 and 6 help maintain skin coat health
Drawbacks
The package is open not sealed
Too many ingredients cause health issues for the dog
You can buy Shepherd's pie in other two weight packs i.e. 5.5-pound pack or a 26-pound pack. Also, if you wish to have different flavours or recipes, here are some of the variants you can consider:
Puppy Recipe
Wild Woodland Walk
4. Pooch & Mutt – Slim & Slender
The Slim & Slender Dry Dog Food pack from Pooch & Mutt is tailored with the intent of promoting slim and slender body composition for dogs. Also, the pack is complete grain-free dry food. The manufacturer claims that their pack is vet approved.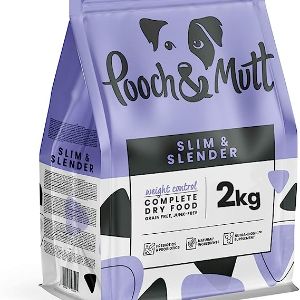 Further, this cockapoo dry food pack contains some supplements as well. But, don't worry they are not artificial flavours or additives. They have used natural additives in the mix.
Main Ingredients:
Chicken (45%)
Pea protein
Sweet potato
CLA
L-carnitine
Glucosamine & Chondroitin
You need to store this food pack in a dry and cool place. Also, while feeding this food to your cockapoo, you need to begin slowly i.e. begin with replacing 25% of their existing meal and increase the ratio progressively.
Perks
Helps with digestion
Makes skin and coat healthy
Supports urinal tract health and reduces stool odour
Drawbacks
The food stinks
Dogs don't like the taste
In addition, you can also buy the same products with the 22-pound weighing variant. Further, there are other variants which are specifically designed to address different health prospects. Some of these variants are:
Calm & Relaxed Complete Dry Dog Food
Health & Digestion Complete Dry Dog Food
Joint Care Complete Dry Dog Food
5. James Wellbeloved Puppy Lamb & Rice
James Wellbeloved Puppy Lamb & Rice is made for dogs with sensitivities and allergies. There are no artificial colours, antioxidants, or flavours added to the mix of ingredients. The pack contains brown and white rice which is digestible.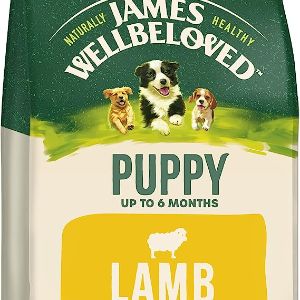 This hypoallergenic food is made using natural ingredients and the taste or freshness is reduced if stored over longer periods.
Main Ingredients:
Lamb
Seaweed
Chicory extract
Brown and white rice
Further, the mixed composition of ingredients is such that it provides balanced phosphorus and calcium that facilitates healthy growth in the dogs.
Perks
Maintains gut flora
Makes poop less smelly
Boosts the immune system of dogs
Drawbacks
Dogs don't like the taste
The variants for this product are:
James Wellbeloved Fish and Veg
James Wellbeloved Turkey, Kale, & Quinoa
6. Barking Heads Bowl Lickin' Chicken Dry Dog Food
For larger dog breeds Barking Heads Bowl Lickin' Chicken is a suitable dog food product. The manufacturer claims to have used 100% natural free-run chicken. This chicken is mixed with other vegetables and herbs.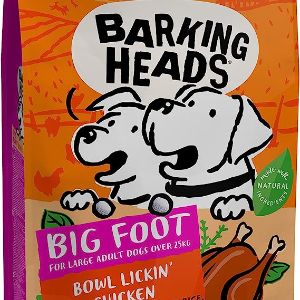 In addition, there is no wheat in the mix of ingredients and also, and no artificial additives or flavours are added as well. The natural ingredients used help with digestion and improve the dog's joint health.
The food pack need to be stored in a cool and dry place to make sure it remains fresh.
Perks
Maintains healthy gut
Joint health remains well because of omega 3 and 6 oils
Helps with gentle digestion and keeps the intestine healthy
Drawbacks
Poor bag quality
The quality of the food is not so good
If you wish to have different packs with different recipes of ingredients, you can consider the following variants from barking head:
Pooched salmon
Fat dog slim
Golden years
Chop lickin' lamb
7. Wagg Complete Wheat Free Chicken Dry Dog Food
Dog owners who prefer products made in the UK itself must consider using Wagg Complete Wheat Free Chicken Dry Dog Food. The food pack is more suitable for adult dogs and is wheat free.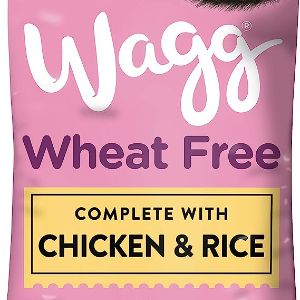 There are no added flavours or colourings in this dog dry food pack. Dogs with tummy issues will not have any issues having this food.
The product is allergen free and retains probiotic MOS to help with the growth of healthy bacteria within the gut.
Perks
Improves digestion in dogs
Vitamin E helps with the immune system
Drawbacks
Even without wheat, causes reactions in some dogs
Dogs don't like eating it
Further, there are plenty of other variants including a variety of ingredients mixed from Wagg, here are they:
Active Goodness (chicken & veg)
Meaty Goodness (beef)
8. Royal Canin Dog Food
Royal Canin Dog Food is made for cocker spaniels but, as cockapoo is a cross between cocker spaniel and poodle, you can use this product to feed them as well. The product is made using antioxidants and vitamins to support the immune system.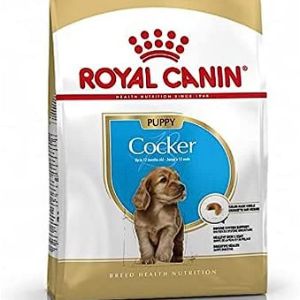 In addition, it also helps with digestion and makes a dog's skin and coat more healthy.
Main Ingredients:
Kibble (Tailor-made)
Vegetables
Dog's gum health is improved as the formula for this food recipe is made to reduce tartar formation.
Perks
Boosts immune system
Helps with digestion in dogs
Makes skin and coat healthy
Drawbacks
Costly
Contains some additives
Buying Guide: Best Dog Food For Cockapoo
After going through the list of the best dog food for cockapoo, you may have picked up the product that is the best fit for your furry friend. However, before you buy one, you need more insights about the best food for Cockapoo. I say this because, the list is curated based on customer reviews, and details provided by the manufacturer.
While these details are enough for picking up the product suitable for your dog, you need to consider different aspects related to the food. For instance, nutritional details, health prospects, and dog preferences. Thus, reading this guide will help you finalise your choice or pick another product that is suitable for your Cockapoo.
Cockapoo dog breed
We know that they are a cross between a cocker spaniel and a poodle. This suggests that they are likely to inherit the characteristics of both breeds.
They are small and medium-sized dogs that roughly weigh between 10 to 40 pounds and have a life span of about 14 to 18 years based on how fit they are. These dogs are active, intelligent, and playful and need ample exercise.
Nutritional Requirements of a Cockapoo
You just saw the details regarding Cockapoos. Now, because there are mixed characteristics in this breed, it's crucial for dog owners to have a thorough understanding in regards with the nutritional requirements of a cockapoo.
These dogs are highly energetic so, they will require a balanced and complete nutritional diet. Below are some of the nutritional elements that must be present in the best dog food for a cockapoo while feeding:
The amount of calories a Cockapoo needs relies on its age, size, weight, metabolism, and energy levels. In general, an adult cockapoo will roughly need 30 – 40 calories per pound of body weight per day. But, a puppy might need more than that i.e. almost twice the amount an adult one will intake.
Hence, considering calories in the best food for a cockapoo is important as it provides them with the energy that is required to execute routine tasks. If they receive less, they might become lethargic, underweight or weak.
The normal intake of fats for an adult cockapoo is about 10-15% of its regular calorie intake. Puppies may need only 8-12%. Chicken, flaxseed, salmon oil, or coconut oil are some of the sources.
Fat in cockapoo's diet is necessary as it facilitates hormone production, improves skin and coat health, and brain development, and absorbs fat-soluble vitamins.
Adult cockapoos will need 18-25% of the daily calories and puppies may need between 22-28% of protein. Fish, eggs, turkey, and beef are some of the prominent sources of protein for cockapoos.
If the protein intake is proper, cockapoos' skin, nails, hair, organs, muscles, and immune system gets better. In addition, it also facilitates the maintenance of body tissues and helps with the growth and recovery process.
Adult cockapoos will need 25-25% of carbohydrates of their daily calorie intake. Whereas puppies will require about 30-35% of carbohydrates. Oatmeal, brown rice, sweet potato, or pumpkin are some of the sources of carbohydrates for cockapoos.
If the proportion of carbohydrates is managed, they quickly provide the dog with energy. This energy is stored as glycogen in their liver and muscles.
For supporting various body functions and stopping diseases in a cockapoo body, the intake of these micronutrients is crucial. For instance, an adult cockapoo who weighs 20 pounds may need 15 milligrams of Vitamin C and 0.7 milligrams of iron.
So, if you thoroughly analyse the proportion of nutrients in different wet or dry food packs, you will be able to pick a cockapoo wet or dry food that forms the best diet for cockapoo.
Buying Dog Food For Cockapoo – Factors to consider
Now that we have analysed the nutritional requirements for the cockapoo dog, it's time to analyse other factors which a dog owner must consider before buying dog food for a cockapoo. Here are some of the factors you can consider:
#1. Size
The product you pick should be in accordance with the size of the cockapoo dog. This means you will have to make a distinction of product with respect to small, adult, or senior dogs and feed them as per their weight.
Small cockapoos need wet food or kibble sizes to avoid choking. Larger ones may need bigger kibble sizes and prevent bloating. Thus, pick the best kibble for cockapoo to ensure proper feeding.
#2. Life stage (age)
You need to select the food product that is suitable for your cockapoo's life stage. This means if the cockapoo is a puppy, the calories and other nutrients to support growth are more in comparison with the adult one. So, pick the best food for cockapoo puppy, so, they can have proper growth.
An adult cockapoo will need a balanced meal that helps in maintaining optimal weight. Less calories but, more antioxidants, fibre, protein, and joint supplements. Proper food will help with their ageing process and prevent muscle loss.
#3. Energy levels
Cockapoos are energetic and thus, the food product you choose is highly influenced because of this factor. When you pick a dog food product for them, you need to match the nutritional intake with their energy levels.
Hence, cockapoos with fewer energy levels i.e. senior-age dogs will need less calorie intake whereas an adult or young pup may need more.
#4. Health condition
The existing health condition of the cockapoo dog will help determine which product is the best fit. Because some of them may have allergies, obesity, joint problems, or heart issues analysing the ingredients becomes more crucial than ever.
For instance, if a cockapoo is suffering from diabetes or obesity, you need to pick food that is low in sugar, fat, or calories.
These are some of the factors that correlate with the dog before you buy any cockapoo dog food product. But, that's not it. You also need to consider some important factors pertaining to food or the product itself. Here are they:
You have to check the ingredient list on the dog food product. This will help in knowing whether the food quality is up to standards. Look for ingredients such as raw meat as the first ingredient and the subsequent ingredients must include fruits, grain, healthy fats, vegetables, and other supplements.
Likewise, you must also make sure that the food product you pick doesn't have artificial colours, flavours, wheat, soy, additives, or preservatives that can cause health issues for your furry friend.
This is a common prospect but, still, people tend to ignore it. Check for the expiration date of the dog food before you order it online and even after receiving the delivery. Also, pick dog food that has a longer shelf life and is not close to expiring.
If you are buying dog food for your cockapoo online, you must check out the customer reviews of it. There are many reviews, especially from cockapoo dog owners. The reviews will help in understanding which product is best fit for your cockapoo because owners share their experiences, share photos and videos of using the product.
Dog Food For Cockapoo: Feeding Tips
You may think that if commercial packs are not healthy how these products will help your cockapoo? Well, as mentioned in the majority of the products, there are no additives or artificial substances that are added to the mix of ingredients. Hence, it's safe to feed dogs. Following are some of the benefits of feeding such products:
Nutrition and quality – this should not surprise you as many online products are backed by top brands. These brands make sure they use the best product that is available in the market and use it in their recipes. The food items are fresh and properly stored. The recipes used in formulating the product are better than other local stores and hence, you get a quality dog food pack for your cockapoo.
Variety – in comparison with local pet stores, you will easily find tons of variety at your convenience online. There are different sizes, formulas, brands, and flavours, available for thorough research. You can pick the best-fit product for your cockapoo.
Health – the ingredients used are of good quality, and some of the products are tailored specifically for handling health issues. You can simply select the product that improves your cockapoo's cognitive function, helps with digestion or resolves any such health issue.
Now, before we proceed with the tips on feeding dog food to cockapoos, let's analyse some of the risk and health hazard factors.
Risks & Health hazards
We saw the benefits of commercial dog food for cockapoos are there but, there are some risks and health hazards as well. Here are some of the potential risks and health hazards of serving cockapoo best food that is bought online:
Risks
Risk of Contamination – many products that show lucrative food ingredients may not follow hygiene and safety standards. You can never be aware of the packaging, or shipping. The risk of contamination is high and the product is exposed to different fungi, bacteria, parasites, or other toxins if not handled properly.
Misleading labels – many product brands hide the list of ingredients to sell the products. Such products may have additional flavours or low-quality ingredients and can cause health issues for dogs.
Expiration – the products online may not contain accurate information regarding their expiration date. The product may either be close to expiry or already expired. This means the food item has already lost its nutritional value and if ingested by dogs, it can cause some serious digestive issues.
The biggest risk factor is receiving damaged or unsatisfactory dog food products for your furry friend. The money you spend is wasted.
Health hazards
Heart problems – many of the dog products online mention they are grain-free but, they retain a high presence of potatoes or high levels of legumes which can lead to dilated cardiomyopathy i.e. DCM. The condition refers to enlargement of the heart and causing congestive heart failure.
Food allergies – dogs are sensitive to different food items and some products won't mention such items. For instance, corn, wheat, dairy items or exotic meats. Dogs sensitive to these items can cause issues such as swelling, diarrhoea, or vomiting.
Food poisoning – some of the products are contaminated and can cause food poisoning in dogs. This can happen with bog brands also because the cause of contamination is difficult to determine but, you will see the dog have high fever, dehydration, diarrhoea, or vomiting issues because of the food poisoning.
Obesity – some dog food products contain way too much fat or carbohydrates and this makes dogs obese. Also, there is a chance of insulin resistance and if this issue is prevalent, the dog may suffer from diabetes. or heart problems as well.
Pica or coprophagia – while this issue is not directly related to the food items. This condition refers to intestinal blockage, nutritional deficiencies, or poisoning that is caused by dogs eating non-food items. This means the commercial food package had fewer nutritional elements which made the dog eat something else.
Feeding tips
The health issues are quite serious and it can make you reconsider feeding the prospect but, if you conduct thorough research on the product then you can leverage the benefits and avoid the risk factors. Here are some of the tips you can consider while feeding your cockapoo:
#1. Pick high-quality food
You need to pick high-quality food and check the ingredients and nutrition. Otherwise, your cockapoo will face health issues. There are many dog products that have low-quality ingredients and cannot provide nutritional value.
#2. Check body condition
Once, you get the food product, you need to analyse Cockapoo's body condition. You can simply use a chart or calculator and enter their weight, energy level, and type of food you plan to serve. This will provide an estimate of how much you can feed them. Using the estimate, separate two portions i.e. one for morning and the other for evening.
#3. Follow the feeding instructions
The packet you order will have feeding instructions on it. Follow those instructions measure the quantity using different bowls and feed it to the dog. Remember, the frequency and quantity are not the same for all dogs and you might want to have a talk with your vet before you feed any of the commercial dog food products to your cockapoo.
#4. Feed progressively
Your cockapoo is already habitual of their regular meal and hence, it's crucial for you to introduce the new food item to them gradually. Here is how you can do it,
Use 25% of the food item in regular meals for the first 2-3 days
If the dog's behaviour is normal, try adding 50% of the new food items for the next few days. Observe the behaviour and monitor their health as well.
Now, if there is no health issue or change in behaviour after changing the food ratio, you can make use of 75% of new food items and add their regular meal to the mix. Continue this for a week and if the dog is fine, you can begin to provide them the full meal itself.
However, do not make the commercial pack food your dog's regular meal. This will cause health issues and your dog will not receive the necessary nutrients like before.
FAQs
How much dog food for a cockapoo is OK?
Generally, the amount of dog food you can feed your cockapoo will depend on their age, weight, energy levels, and metabolism. But, the general guideline is to feed them roughly 30 calories per pound of body weight. If you are feeding the commercial dog food pack you need to check the label and see the instructions for feeding the food.
What is the general cost of dog food for cockapoos in the UK?
The cost of dog food for cockapoos varies based on various factors such as the size of the pack, ingredients, weight, and brand. In general, you can expect to spend a minimum of £5 for a dog food pack for the cockapoo. The maximum price can go up to £50 and even more.
What health issues cockapoo might face after eating commercial dog food?
Commercial dog food will have ingredients which will trigger certain allergies, infections and cause health issues for the cockapoo dog. Artificial additives can cause inflammation, allergens can cause infections, fats present in the food can make the dog obese, and some ingredients may cause gum problems.
Which ingredients used in dog food packs are toxic for cockapoos?
Chocolate, Grapes, Onions, Garlic, Raisins, Xylitol, and Avocado are some of the ingredients that are used in dog food packs which are toxic for dogs. Chocolate can cause vomiting, and diarrhoea, Onions and garlic can cause allergic reactions, Xylitol can lead to weakness, and Avocado can cause intestinal obstruction or choking.
What ingredients make the best food for a cockapoo puppy?
Many ingredients are used in dog food for a cockapoo puppy, but, sweet potatoes, salmon, chicken, peas, and brown rice are the prominent ingredients which make the best food for a cockapoo puppy. So, when you pick the cockapoo puppy food, make sure these ingredients are present. The reason is simple, chicken is easily digestible and a good protein source, salmon is also, a good protein source and can help improve cockapoos' overall health. Likewise, sweet potatoes in the mix of the best cockapoo puppy food ensure they do not run out of energy, fibre, or antioxidants. In addition, peas and brown rice make sure the cockapoo puppy food balances fibre, minerals, carbs, and protein levels.
Final Remarks on Best Dog Food For Cockapoo UK
The list curated in the article shows some of the best dog food that is available for cockapoos. Now, as per your dog's preferences, you can pick the most suitable option. All of the products mentioned are beneficial for dogs and they will certainly help your cockapoo as well.
But, make sure you consult with your vet or nutritionist before buying any product. Discuss the ingredients and the recipe composition with them and find out whether you need the best wet dog food for cockapoo, or the best dry food for cockapoo uk. You will get proper advice from them as they are well aware of the dog's energy level, weight, and health prospects.
Lastly, you must ensure that the product you buy doesn't retain any artificial sweeteners, flavours, or preservatives, because, they may harm your dog. So, I hope that the article helped you at least narrow down your search and get your mind set on buying the best dog food pack for your cockapoo. If so, happy feeding!