As a dog owner, providing the best possible care for your dog is always a priority. So, when you are out for walks with your furry friend, you may have thought of providing more freedom to your dog for making them feel comfortable. The intent is good, but, you may require a strong retractable dog lead for achieving this goal.
If you are already looking for the best retractable dog lead for your furry friend, then keep reading. I have curated the list of the best retractable dog leads out there. Check out the perks, and prices and pick the best leads for dogs that are retractable and strong.
Best Retractable Dog Lead
A retractable dog lead is a type of lead that is flexible. This means you can adjust the length of it and provide your dog with more freedom to roam around. One of the reasons why dog owners prefer using such leads is that they gain better control over their furry friends.
There are many retractable dog leads out there and you can pick the one which suits your dog in terms of length, durability, and comfort. Here is a list of the best retractable dog lead uk for dogs:
1. Flexi Giant Neon Tape Black
Flexi Giant Retractable Tape Lead is a retractable dog lead that provides energetic and large dogs with maximum freedom. This lead is specifically made for large dogs and uses strong materials. The radius of the lead is about 8 or 10 meters. For dog owners, the lead is comfortable.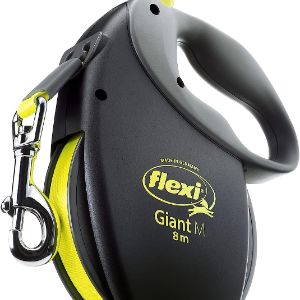 In addition, the single-hand braking and recoil system enables you to gain complete control of your furry friend. You can easily navigate the direction and also make sure they don't get hurt.
Prominent Features
8 m strap tape
Strong material tape
Neon colour tape
Easy to use for dogs with a weight of 25 kg (55 pounds)
The features make a strong case for you should buy this product. Still, here are some noticeable perks and drawbacks of using this lead.
Perks
Compact strength and provides stability
Reliable for controlling dogs
Dogs can enjoy their freedom
Optimal weight distribution
Ergonomic soft grip
Drawbacks
The rotation of lead is not smooth
Retraction issue on frequent usage
2. Fida Retractable Dog Lead
Fida Retractable Dog Lead is made using a durable rustproof swivel hook. It also has a steady impact-resistant material ABS which is suitable for dogs weighing about 110 lbs. The locking system is easy as you only need to use a thumb to roll on and roll off.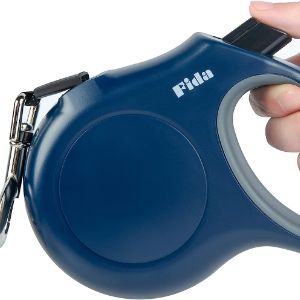 Further, the tape is implanted with reflective materials. The highly reflective cord improves the security and visibility of dogs and their owners during nighttime.
Prominent Features
Strong reflective tape for better safety
Simple locking mechanism
Anti-slip soft handle
Durable rustproof Swivel hook
The material is durable and the lead is easy to use while jogging, walking, hiking, camping, and running. Now, let's have a peek at some of the perks and drawbacks for better insights.
Perks
360 Degree Tangle-free lead
Ergonomic design for better movement
High durability as Core Spring is 30000 times tensile
Consistent retraction and Quick lock, pause and unlock button
Drawbacks
Locks on its own
Retraction issue
3. Pecute Retractable Dog Lead
Dogs weighing up to 65 pounds are easily controlled using Pecute Retractable Dog Lead. The ergonomic grip design makes the handle fit in the hand and is suitable for highly energetic dogs while conducting outdoor activities.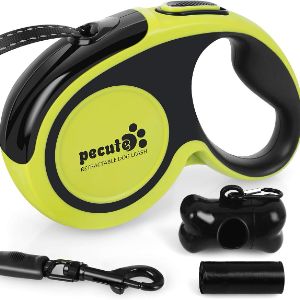 The lock system allows proper control as it has a simple mechanism. Push to brake and slide up to lock. Let's check out the prominent features.
Prominent Features
Vet-approved durable tape
One-button brake and lock
Double-sided reflective nylon cord
The features themselves show why this retractable tape is useful for dogs. Still, for owners having some doubts, here are some perks and drawbacks that might help with the decision-making.
Perks
Quick lock and brake system
Soft grip, suitable for long walks
Has dog poop bags and dispenser
Has a 360-degree tangle-free retractable system
Drawbacks
Snaps if used on high-weigh dogs
Normal size hand people find it tough to reach the lock button
4. Mighty Paw Retractable Dog Lead 2.0
For dogs with more weight Mighty Paw Retractable Dog Lead 2.0, is a good choice for controlling. It provides a good braking mechanism and is quite convenient for dog owners for handling their dogs.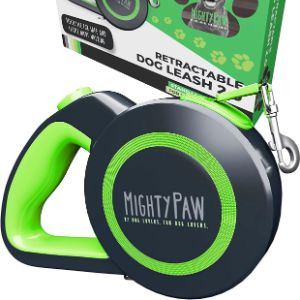 The tangle-free clip used in this lead can handle the most notorious or playful dogs. In addition, the U-shape lead guide minimises the chances of lead getting tangled with a dog's body.
Prominent Features
Retractable Nylon tape lead
Stainless steel internal coil
Ergonomic Handle and bonus ring
If you are looking for more details for clarity, here are some of the perks and drawbacks which may help you decide whether it's suitable for your furry friend.
Perks
Anti-slip handle for control
Suitable for nighttime walks
Durable stainless steel coil reducing jam
Has a D-ring that holds keys or poop bags
Drawbacks
Dogs can chew through the tape
The locking mechanism is good but, gets jammed at times
5. Pecco Retractable Dog Lead
For dog owners looking for retractable leads for their medium and large dogs, Pecco Retractable Dog Lead is a nice option to consider. This best extendable dog lead has one button brake and lock system and is tangle free.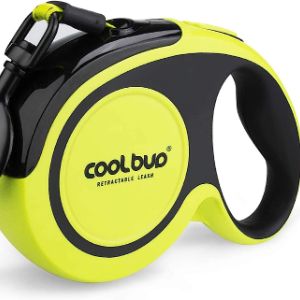 The lead has nylon wide rope with reflective material which provides more safety while walking in the dark. Also, there is quick recovery of the jam prevention.
Prominent Features
Durable strong ABS casing
Luminous reflective stitching
one button brake and lock mechanism
Ergonomic anti-slip grip for better control of dogs
Now, let's see some of the benefits and potential drawbacks of this retractable dog lead.
Perks
360-degree tangle-free design
The lead is extendable up to 16.4 ft
Strong locking mechanism and one-button control
Retractable lead is made of durable material ABS plastic casing
Drawbacks
The locking mechanism is awkward
Frequent use makes lead snap early
Recoil spring is not very sturdy
6. ETACCU Retractable Dog Lead
For dog owners looking for a different locking mechanism the, ETACCU Retractable Dog Lead is an option they might want to consider. There is a pause mode in the lock system and the cable is also strong enough to withstand the pull of dogs.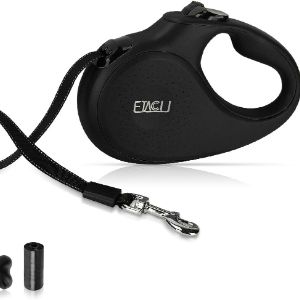 In addition, this retractable dog lead is not only useful for small and large dogs but, one can use this best retractable dog lead for large dogs UK as well.
Prominent Features
Heavy-duty retractable dog lead
Supports dog weight up to 110 lbs
Strong nylon woven and reflective design
Non-slip comfort grip handle for better control
There are three different modes of locking. The pause feature will help in adjusting the length without having to lock the lead.
Perks
Safe walking at night
Anti-tangle feeder and tangle-free convenience
Recoil spring is durable and so large dogs are also easily handled
Drawbacks
3 modes of locking can confuse dog owners
The size is bigger than the owners anticipate
Is quite heavy and causes pain issues for handlers
7. moestar UFO Retractable Dog Lead
The moestar UFO Retractable Dog Lead is made of impact-resistant material and is a stable and sturdy lead. The lead rope spreads in and out without curling. The locking key area is large and comfortable to press.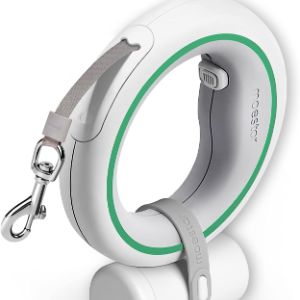 Further, this retractable dog lead has a one-touch latch button. Dog owners can easily brake, pause and lock the lead and keep their dog safe.
Prominent Features
Innovative lock design
U-shaped retractable hole
Stainless steel, rust-proof, and strong hook
There is a built-in latch button that helps with push-in and pulls for locking the rope and preventing the dog from chasing or running off.
Perks
Dog owners can wear it on their wrist
360-degree rotation of the hook so, the lead doesn't get tangled
Anti-collision strip to handle the impact brought by total retraction
Drawbacks
Dogs may chew through the material
Lead snapping is an issue
Keeps getting jammed inside the wheel
8. Fauna Green Retractable Dog Lead
For dog owners looking for large lead, Fauna Green retractable Dog Lead is a suitable option. The lead is heavy-duty and is usable for dogs under 110 lbs. It's made of high-quality nylon material.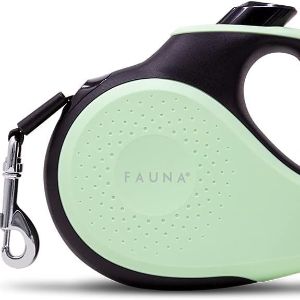 In addition, the quick lock and unlock mechanism helps gain better control over the lead's movement. Also, the anti-slip handle ensures that owners don't face difficulty while walking their dogs.
Prominent Features
Quick lock and unlock
Tangle-free, durable, and weatherproof
360° rotating anti-twist weather-resistant lobster clip
The single lock button can free, pause, lock and unlock the lead. The clip is weather resistant and will not suffer any damage in rainy conditions.
Perks
Chew-resistant lead attachment
360° rotating anti-twist clip
Anti-tangle and Anti-twist feeder
Drawbacks
Length is short
Gets permanently locked
Snaps when used on heavy-weight dogs
9. Rhinestone Retractable Dog Lead Bling
Rhinestone Retractable Dog Lead Bling has soft rubber and provides good control to the handler. The design is specifically made keeping in mind female dog owners.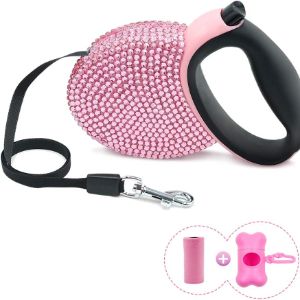 In addition, the handle is not slippery and handlers will not lose their grip or feel tired while walking their dog. This retractable dog lead is suitable for dogs weighing about 35 lbs.
Prominent Features
Retractable strong nylon belt
One button lock and brake
Stainless steel hook
You can press the button to fix the lead and press it again to shrink it. The material is strong enough to sustain strong tension from dogs.
Perks
Made for female dog owners
Spring inside the handle can handle strong pull
The retraction system is smooth, one can easily control their dog
Drawbacks
The cost is high
Only feasible for small or medium-weight dogs
10. Wigzi Two Dog Retractable Non-Tangling Dog Lead
The Two Dog Retractable Non-tangling Dog Lead from Wigzi provides a different Gel handle. Two walks can be walked using this lead at the same time. The lead also uses built-in spinning non-tangling mechanism hence, there is no extra effort needed to untangle the lead.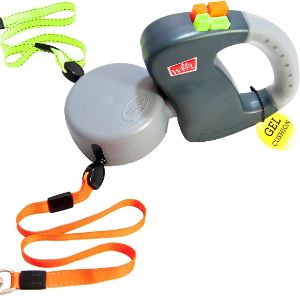 Prominent Features
Gel cushion in the handle
Colour-coded brake buttons
Patented built-in un-tangling mechanism
The lead is comfortable to handle and they have reflective stitching for complete visibility. In addition, both the tapes controlling the dogs have different colours for distinctive purposes.
Perks
Walk two dogs at the same time
Dogs weighing 50 lbs each can walk together
Drawbacks
Cost is high
The material of the lead is not strong enough
Strength wears off after a few walks with dogs
Buying Guide: Best retractable dog lead
A retractable dog lead allows you to alter and adjust the length of the lead as per your preferences. A retractable dog lead has a spring-loaded mechanism and a cord or tape that is easily retracted or extended using a lever or a button.
The lead is useful for dog owners who are looking to provide more leeway to their dogs. They also use it for helping them explore their surroundings freely with more flexibility. The benefits of using retractable dogs are visible but, there are some drawbacks as well.
But, Before we get into the benefits and drawbacks, let's have a look at some of the prospects to consider while buying a retractable dog lead.
Retractable dog lead – buying prospects
While buying a retractable dog lead, you will often get stuck on different opinions and prospects. For instance, some might say you must emphasize the type of material and some length. So, to get you out of this pickle, here are some of the buying prospects you need to consider:
A lead must have proper weight and size. It must be able to handle your furry friend's weight and strength. A large and heavy retractable lead will come in handy and will also provide better control. Because if you get a lightweight or thin lead, it may snap or tangle easily.
As a result, your dog might sustain injuries or worse face accidents. In addition, you also need to consider the length. If the length is too short, you will find it difficult to control and your furry friend's movement is also restricted.
The quality and durability of the retractable dog lead will help you estimate its lifespan and functionality. A low-quality product may compromise your dog's safety and you might regret buying such a lead. Because they may come cheaper but, break easily and malfunction in tough situations.
A lead that is made of high-quality materials is a more suitable choice. Polyester, nylon or metal-made leads are strong and have smooth mechanisms such as coil or spring. They are designed to sustain the heavy-duty and frequency of usage as well. So, pick the best design and material that suits your preferences and dog.
While you decide on picking the lead, you need to make sure that your dog is comfortable and feels safe. This means you need to make sure that it has a proper lock system and an easy-to-use brake for safety purposes.
In addition, the lead you pick must also have features like LED lights, reflective stitching, or padded edges. These features can improve the visibility and protection of you and your furry friend.
You have prospects which you can consider before you purchase the product. Now, let's have a look at some of the perks and drawbacks as well.
Perks of retractable dog lead
Allows dogs more flexibility and freedom of movement. A dog can easily navigate and explore the surrounding environment and stimulate their senses for satisfying their curiosity.
The lead doesn't get tangled or dragged along the ground and hence, reduces the risk of snagging or tripping.
Dog owners can adjust the length of the lead and make sure that it's comfortable for their dogs while going on walks on different terrains.
The dog and the dog owner, both feel comfortable and enjoy the walk. The dogs feel the freedom and owners have the capacity to pull or snack on the lead.
Retractable lead can help train dogs to walk properly without creating any chaos around them.
Drawbacks of retractable dog lead
If the lead gets tangled or wrapped around the dog's leg, it might suffer from injuries.
The lead can trigger behaviour problems as more movement can often allow dogs to complement their primal hunting instincts and chase other animals or people.
Regardless of the durability or quality of the product, frequent usage can cause malfunction.
Some dogs won't benefit from these retractable leads. Because they might break them regardless of the material strength and also compromise the coil mechanism.
The dog may roam around far away and calling them back can get challenging. Also, if they are distracted, controlling them gets tougher. Thus, safety is compromised.
Using Retractable Dog Lead
If you have made up your mind about buying one of the retractable dog lead, great! But, you must also know how to use it. Here are some of the tips that will help you get started with the usage of a retractable dog lead.
#1. Lead train your dog
Buying a retractable lead is not going to help unless your dog is not comfortable walking on a lead. The dog must feel comfortable while walking on a standard lead that is of six-foot in length.
Train your dog using different strategies such as food treats, exercise sessions and so on. Make sure they are not lunging or pulling while you train them. Reward their positive behaviour.
#2. Behavioural training
Once your dog is comfortable walking on normal lead, you still need to train them from a behavioural perspective. This is crucial before transitioning to the retractable lead. You can use different commands like leave it, drop it, heel, come, or watch me control their behaviour.
#3. Understand the mechanism yourself
Your dog is lead trained, and the behaviour is also normal, but, if you are not aware of the mechanism of retractable lead, training your dog can get tricky. So, here are some points explaining the mechanism:
A retractable lead will have a long spool of cord coiled with the handle. When your dog pulls on the lead, the remaining length of the cord unspools.
There is a brake or lock button that helps in preventing further extension of the cord. In addition, the lead only if it's slack.
Make sure you don't allow too much slack to your dog, as the tape can get tangled around them.
The lead release quickly so, don't allow your dog to run off. They might end up damaging their spine or trachea.
This was some of the basic information on how the retractable lead works. You can also refer to some tutorials online to get more information on using the retractable lead for your dog.
#4. Transition
For getting your dog switched from normal lead to retractable lead, you need to set up a safe environment in your yard. You can begin with a standard lead and execute their training, exercise, or simply walk with them.
After a walk, provide them with a reward. Use a food treat and have them rest for a few minutes. Change the lead, and put on the retractable lead. Observe their reaction and body language. If your dog is showing no aggression, you can acknowledge the positive gesture and provide them with some more food treats.
This helps in registering a positive response in their minds. They will consider the new lead similar to the old one, and you won't have trouble navigating their movements. Also, make sure you attach the lead to a back-fitting harness instead of using the collar to avoid injuries.
Things to consider while using Retractable dog lead
The retractable dog lead comes in handy while going out for a walk, or in public. So, when you are out there in public, there are some prospects you need to consider. Here are they:
Read instructions – it's crucial to analyse the instructions mentioned for using a particular retractable dog lead. Using it without proper understanding can cause issues for you and your furry friend.
Monitor your dog – it's important to keep an eye on your dog and the surrounding environment. They might be moving in the direction of potential dangers. Also, you may lose sight of them.
Use the brake and lock buttons carefully – you need to make sure you don't use these buttons suddenly. The disruption can injure your dog. Also, locking the lead on longer lengths can cause tangling.
Back-fitting harness – you must connect the retractable lead to the back-fitting harness to avoid sudden jerk movements and neck injuries. In addition, it also facilitates better control and you can make them change directions easily.
Control dog's movement – while your dog enjoys flexibility and freedom, you need to respect other people's privacy. You must not allow your dog to follow any other dog or individual without their consent or acknowledgement.
Inspect the lead – check your lead regularly, especially if you plan on using it frequently. If you notice signs of fraying or damage, replace the lead. A broken or torn lead can snap while your dog is roaming and it can have some serious consequences.
Tips on Maintaining Retractable Dog Lead
At times, even with quality products, there is a chance of the lead snapping or its strength wearing off. So, it's necessary to clean and maintain the retractable dog lead you are using. Here are some of the tips you can consider to maintain the lead and increase its lifespan:
Constantly check the lead and look for signs of wear and tear i.e. rusting, cracking, or fraying. If it is the slightest damage, you need to change the lead as quickly as possible.
Try not to use lead in extreme temperatures, moist conditions, or near chemicals. Exposure can cause damage to the material of the lead and compromise its durability. If there is excessive exposure, the lead is likely to malfunction.
Store the lead in a cool and dry place. This will prevent any deterioration, warping, or fading.
While cleaning the lead, avoid using harsh detergents, abrasives, or solvents. The chemical reaction can compromise the locks as well and it won't function properly.
If the lead is broken, get it fixed by a professional. Avoid repairing it yourself. The reason behind this is simple, the lead won't function like before and will make noises or worse won't work properly in extensive situations.
FAQs For Best Retractable Dog Lead
Where you can buy a good-quality and affordable retractable dog lead?
In the UK, there are different places where you can buy good-quality and affordable retractable dogs. You can buy one from pet shops, stores, or the supermarket. However, the options might be limited at such places so, it's better you surf online marketplaces. They have a better range of products and are quite affordable.
What is the general cost of retractable dog lead UK?
The general range cost of retractable dog lead in the UK ranges from £6 to £29 and can go much further. The cost varies as per the material, brand, length, and quality of the product. For instance, if we consider the length, the best 8m retractable dog lead might cost about a minimum of £15, a 30m retractable dog lead may cost a minimum of £31, and a 15m retractable dog lead may cost roughly £11.
What are the perks of using a retractable dog lead?
There are some noticeable perks of using retractable dog lead – your dog gets more freedom and flexibility while walking, adjusting the length as per the environment or situation is easy, and makes walking fun for both dog and the owner.
Which one is better – 10m retractable dog lead or retractable dog lead 20m?
In terms of length and flexibility or freedom to dogs, the answer is obvious, a retractable lead 20m is longer and hence, a better option. However, the longer length also causes problems such as tangling, snapping, or losing control of the dog. The retractable lead 10 m will not pose such an issue. Also, for medium dogs that are well-behaved and obedient, using a best 10m retractable dog lead is a more viable option. A 20m retractable lead comes in handy while handling large or strong dogs.
Is long retractable dog lead good or bad?
A long retractable dog lead can retract or extend up to 100 ft. This provides dogs more freedom and flexibility but, also poses some risks. Strong dogs will often roam around and get into crowds which can cause chaos, also, if they run near the streets they might get into accidents if the lead is left off for a longer distance. However, long retractable extendable leads for strong dogs can come in handy to control their behaviour as well.
Conclusion
The best retractable dog lead is useful in controlling dogs and provides them with more flexibility to move around. There are plenty of benefits to using these leads and I have explained the benefits, features, and potential drawbacks of a retractable lead and provided the list which can help you pick your next retractable dog lead.
I hope the list of different retractable dog-lead products mentioned in the article is helpful. The list is based on our team's analysis. If you are able to find a retractable lead that is suitable for your furry friend then, great! Otherwise, you can pick some other product that is available in the market. So, conduct thorough research and the best heavy duty retractable dog lead UK for your furry friend.
Lastly, if you are stuck on deciding whether to pick a long retractable dog lead of 20m, a 10 metre retractable dog lead, or a 15m retractable dog lead UK, share your confusion in the comments. I will guide you and help you decide whether you need a 20m retractable dog lead, or the strongest retractable dog lead for your dog.