If you like taking your dog outside for walks regardless of the weather outside, or you are residing in a location where the weather is uncertain you may have thought of getting a waterproof dog coat. A waterproof dog coat with legs covers the entire body and provides complete protection.
In this article, comparing different prospects such as material, quality, price, and features, I have listed some products some of the best waterproof dog coats with legs in the UK. Keep reading to get useful insights into the perks and drawbacks to pick a proper product.
Best Waterproof Dog Coat With Legs UK
A waterproof dog coat is a piece of clothing that helps in covering the whole body of the dog. Some of the coats are made for protecting the dog's legs as well. These coats are made using waterproof fabric to provide protection to our furry friends from rain, snow, or mud.
Further, there are many other features in these coats such as reflective colours for visibility and hoodie for covering the head. So, here is a list that will help you explore these waterproof dog coat with legs and find out the perfect fit for your furry friend.
1. Geyecete 1/2 Leg Trouser SuitDog, Raincoat Lightweight Pet Waterproof Jacket
Geyecete 1/2 Leg Trouser SuitDog, Raincoat Lightweight Pet Waterproof Jacket is made of nylon and is showerproof. The coat also has a quick fastening zip feature, along with the back and elasticated cuffs that provide a comfortable fit and keeps the dog clean.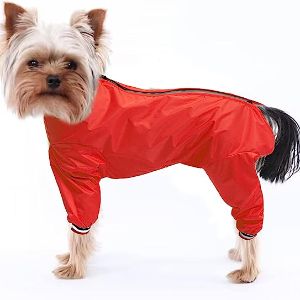 The zip is made of professional outdoor material and is highly waterproof. The jacket is washable and you can wash it in the washing machine. It will not fade for about a year or so.
Prominent Features:
Elasticated leg cuffs
Zip fastened along the back
Lightweight and adjustable coat
The coat also has a reflective trim for better visibility at night. This helps with the safety prospects.
Perks
Complete body and leg cover
Lightweight fabric, hence, washable
Keeps dogs dry in wet weather outdoors
2. Lautus Pets Dog Rain Coat
For dog owners, looking for harness holes in the waterproof coat, Lautus Pets Dog Rain Coat is the best dog rain coat with legs. The waterproof and windproof shell of this coat provides protection from the rain and the mesh linings, provide warmth to their body during cold days.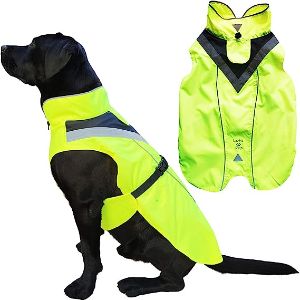 In addition, there is a harness hole at the back of the coat and you can attach a lead or harness for having better control over your furry friend.
Prominent Features:
Windproof and breathable
Harness holes for attaching the lead
Collar with zip and adjustable buckle straps
Further, the coat also has 6 reflective zones on the bright yellow shell for better visibility during the day or nighttime.
Perks
Simple to make the dog wear and take it off
Mesh lining makes the coat cooler when hot and warm when cold weather
Lightweight, portable and machine washable
Drawbacks
Zip opens continuously
Doesn't fit well around the neck
3. Dog Full Body Raincoat by Morezi
Morezi Dog Full body Raincoat comes in handy for keeping a dog clean in muddy wet conditions. The waterproof trench material keeps the dog dry and provides comfort during the rain.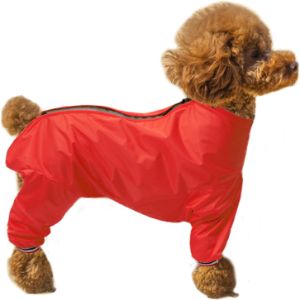 This full-body raincoat is feasible to use on dog breeds having long legs. In addition, the zipper on the back makes it easy to put on the coat on the dog or take it off.
Prominent Features:
Lightweight waterproof fabric
Reflective zipper in the back
Elastic leg open and breathing lining
Further, the top zips of the coat have an extra protective flap inside to stop hair fur from getting caught and also prevent cold air from entering inside.
Perks
Reflective trim keeps dogs safe during the night
The surface of the coat is easy to wipe the mud
Machine washable but, have to use cold water
Holes in the coat for attaching lead or harness
Drawbacks
Elastic is tight for a dog's paws
The length of the legs in the coat is too long, making dogs fall
4. Dogs Waterproof Jacket by the lovelonglong store
The lovelonglong store's Dog Waterproof jacket has luxurious composite fabric. It is windproof, waterproof, and has the capacity to provide protection to dogs from snow as well.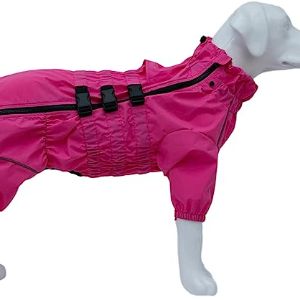 The jacket also has a lead hole for attaching the harness. Also, the reflective strips in the jacket help to spot the in-the-night environment as well.
Prominent Features:
Smooth SBS metal zipper
Lightweight and adjustable design
Reflective strip for spotting dogs at night
The design is such that you can find the exact position that is suitable for your dog and adjust the feet, chest, waist, or neck position accordingly.
Perks
The material is of high-quality composite fabric
Useful in different weather conditions
Metal zipper is smooth so, the coat can be easily taken off and put back on
Drawbacks
Size issues, the chest area is not big enough
Water gets through in heavy rains
Velcro stitching gets loose after some time
5. Bella & Balu Dog Raincoat
If you are looking for a waterproof dog coat that suits your budget, then Bella & Balu Raincoat is well within your range. This waterproof hooded coat is ideal for your dog because it has polyester with PVC coating. It also has a mesh lining that is waterproof, reflective, breathable, and adjustable.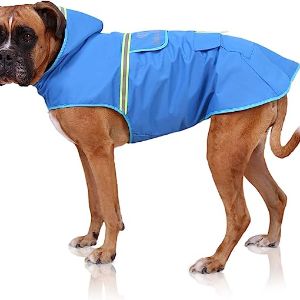 The adjustable chest and neck circumference makes it simple for dogs to wear it. There are reflectors in the coat to help with the visibility issue and ensure the dog's safety.
Prominent Features:
Breathable mesh lining
High-quality PVC Coating
Velcro fastening, reflectors and strap hole
The coat is stylish and there is a hole strapped in it so, you can use the harness as well.
Perks
Is washable
Stylish yet comfortable design
Adjustable neck and chest circumference
Drawbacks
Hand wash only
The hood is far too small
Flaps loose around loosely
6. Warm Winter Dog Coat with Harness by babepet
Dog owners with small dogs can leverage the Warm Winter Dog Coat with Harness provided by babepet. The coat is made of windproof polyester material and is waterproof. So, it provides proper protection to dogs from bed weather.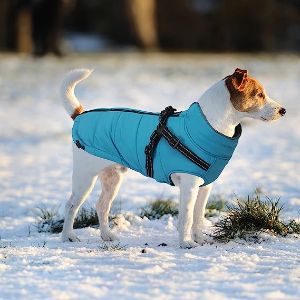 In addition, the jacket consists of a double-layer lining that keeps dogs warm during extremely cold temperatures. Also, the zipper of this coat is easy to handle.
Prominent Features:
Back zipper and high neck design
Polyester+TC (terylene/cotton), Warm and Comfortable
Further, the elastic belly straps in the coat are provided for proper fitting and protection of the dog's belly.
Perks
Double D-ring for harness
Reflective piping in the coat for visibility
Smooth zipper for easy put-on and take off
Drawbacks
Zip breaks after sometime
Loose and messy stitching
Metal ring pulls out of the fabric
7. Dog Raincoat by YFbrite
Made of Nylon fabric, the Dog Raincoat by YFbrite also has fleece lining material. The coat is waterproof and the dirt is removed easily from the surface. Dogs get to enjoy themselves freely while wearing this coat.
The coat has adjustable velcro but, is different from what other traditional raincoats in the market provide. The length of the velcro in this coat is more and hence, one can easily adjust the jacket as per their dog's convenience.
Prominent Features:
Loft collar design
Reflective brim for safety
Velcro tapes for better fitting
In addition, the coat has soft fleece inside and is available in all sizes.
Perks
Machine washable
Lightweight and easily stored
Hole for attaching lead or collar
Drawbacks
Size mismatch
Hooks rubbing against the jacket
8. HUGO & HUDSON Dog Puffer Jacket
HUGO & HUDSON Dog Puffer Jacket comes in ten different sizes and colours. The jacket has polyester padding and is made to be water-repellent. Also, the stuffing inside the coat helps keep the dog warm and makes them feel comfortable.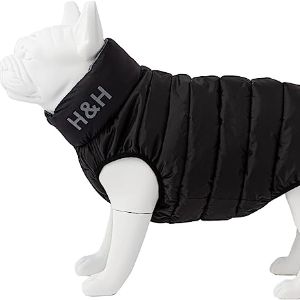 The jacket has a zip fastening for better fitting. Also, you will find a hole in the jacket for connecting your lead or harness.
Prominent Features:
Fully reversible coat
Windproof and has polyester padding
In addition, these jackets are quite stylish and ideal for long walks with your dog.
Perks
Collar access hole for attaching harness
High-quality stuffing for comfort and warmth
Drawbacks
Cost is high
Zip gets stuck
Stitching on elastic is poor
9. Pethiy Waterproof Dog Jacket
For medium and large dogs Pethiy Waterproof Dog Jacket is one of the feasible options. The coat is waterproof and provides strong durability. It also has reflective piping that helps with the visibility prospect.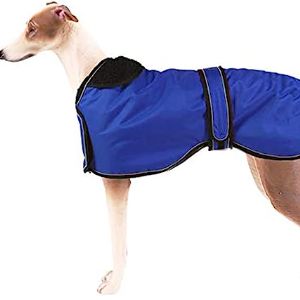 The jacket is useful in snowy conditions because of the durability of the material. The wool lining helps in keeping dogs warm and clean.
Prominent Features:
Folding high collar
Warm fleece lining
Adjustable belt and magic tape
The neck vent is foldable and it's easy to adjust the belt of the coat as per the dog's convenience.
Perks
Machine washable
Hole for attaching the lead
Drawbacks
The sizing appears to be random
Outer covering rips off easily
10. Dog Waterproof Coat Dog (Hooded)
Dog Waterproof Coat Dog from Jodsen is made with the help of high-quality waterproof material. The coat is hooded and the hat used is also waterproof. The reflective strip used at the back is designed for maximum visibility in bad weather conditions.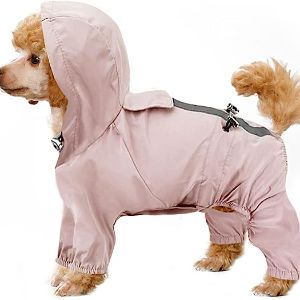 Further, the buttoned chest and belly closure makes it easy to put on the coat or take it off. The waist and hood are designed such that it prevents the coat from getting wet or shaking off.
Prominent Features:
Long reflective strip
Adjustable drawstrings and hidden buttons
The material of the coat is washable in the machine but, you can also use a cloth to clean the surface.
Perks
Cost is low
Simple put on and take off
Drawbacks
The size of the coat is small
Absorbs moisture and water in rains
Cuffs are big and no way to tight them up
Buyers Guide: Best Waterproof Dog Coat With Legs UK
A waterproof coat is a type of clothing which protects your dog from rain. It also safeguards them from dirt, mud, and other such elements. The coat helps keep dogs warm, dry, comfortable, and clean while going out for a walk in rainy or cold weather conditions.
But, how does a waterproof dog coat safeguard dogs in winter? The answer to this question is quite simple. The coat has a fleece lining, insulation, or reflective features which help in providing warmth, and comfort to dogs during winter.
Types of waterproof coats for dogs
There are many types of waterproof dog coats that are available in the market and you can pick the best one depending on the design, material, purpose, and features. Here are some common types you will find:
These are water-resistant and lightweight coats that cover the dog's body and sometimes head as well. You can use these types of coats for moderate and normal rainy conditions. However, you won't be able to use it during winter because of less insulation or warmth.
Suits provide complete coverage to the legs and body of our furry friends. You can use them in dirty or muddy conditions. These coats also stop dogs from getting infections or stains. In addition, these coats also have reflectors, detachable leg sleeves, and pockets for comfort.
Parkas coats are warm and thick, they have reflective features, insulation, or fleece lining. They are useful for providing extra warmth and visibility during cold or snowy weather. These coats are thick and bulky so, some dogs find them heavy to wear it.
These coats are designed for specific sizes, breeds, or requirements of dogs. They have features like hoods, harnesses, snoods, holes, or zippers for fit and comfort. Speciality coats also have various styles, patterns, and colours that can match your dog's personality.
How to Choose a Waterproof Coat For Your Dog?
Picking a suitable waterproof coat for your dog is a tedious task. You need to analyse different prospects and consider different factors before you pick a waterproof raincoat for your dog:
Take measurements of your dog
In order to, pick up the perfect waterproof coat, you need to measure your furry friend's neck, chest, and back length. This will help in identifying the right size. So, make sure you have the measurements and cross-examine the coat you plan on buying.
Select a waterproof coat that is made of windproof, and water-resistant material such as polyester, vinyl, or nylon. In addition, some coats also have reflective features for warmth, insulation, visibility, and fleece lining.
Many dog owners ignore this prospect and end up buying a coat that is not comfortable for their furry friend. For instance, the design of the coat is blocking their dog's visibility or movement. Hence, make sure the coat has the proper design and it's not compromising their visibility, blocking their vision, or restricting their movement.
In addition, the coat must also provide adjustable buckles, straps, or velcro fastenings for a proper fit. Also, the coat should include lead holes or have a harness for safety purposes.
It's important to consider your furry friend's preferences while you are purchasing a waterproof coat for them. Also, different dog breeds have different preferences. For instance, some dogs prefer different styles, colours, or patterns while others may not.
Thus, pick a coat that fits best for the dog breed. Also, make sure that the coat suits their size, and weather conditions, and matches their preferences.
Making the dog wear a waterproof coat
After you have selected the coat for your dog, you also need to make them wear it. But, you need to proceed carefully if they are wearing it for the first time. Below are some of the tips you can consider:
#1. Introduce the coat
Put the waterproof coat near your dog and allow them to touch it, sniff it, and play with it. This helps them get a sense of the coat material and if their behaviour remains positive, reward them or simply provide a food treat to acknowledge the positive response.
Carry out this drill for a couple of days, if the behaviour remains steady and positive, you can proceed with the next steps.
#2. Put the coat on
Now that your dog has had the sniff of the coat, you can put the coat on. Make sure you do this gently and with care. Based on the design, you may have to pass their front paw into the sleeves, wrap the coat around their body, and tighten up the straps.
Lift the back side of the coat and wrap it around your dog's belly and hindquarters. Secure the coat using buckles, zippers, or straps. Now, make sure the coat is not too tight or loose. Also, see to it that their movement is not restricted, their tail remains untucked, and doesn't cover the genitals.
#3. Adjust the coat
You may have to adjust the coat as per the length and fitting. Adjust the hood, snood, or collar of the coat and fold it up or down. Smooth out any wrinkles after folding and if the length remains long, you can also trim the coat to fit your dog's body properly.
#4. Connect the harness
Use a harness and connect it to the coat if there are holes provided for attaching the harness or lead. If there is no hole in the coat, you can use the lead or harness over the coat or as a collar instead. Just ensure, the lead is not twisted or tangled with the coat.
#5. Reward your dog
Use cues such as good boy or good girl after your dog wears the coat. Also, provide them with a toy, food treat, or a reward for responding positively to wearing the coat. This action will register a positive response in the mind of your dog and they will relate this instance with positivity and won't resist wearing the coat next time.
Perks and Drawbacks of Waterproof Dog Coat
A waterproof dog coat is a crucial accessory for a dog owner. It can help in protecting dogs from rain and also provide them with warmth during the winter. Let's have a look at some of the perks and drawbacks of using the waterproof dog coat.
Perks of using a waterproof coat
Maintains dry fur – when it's raining, they provide much-needed protection for the dog's fur by keeping it dry. This reduces the risk of possible infection.
Keeps the dog warm – a waterproof dog coat can help provide warmth during snowy days. The thick material keeps the dog warm and prevents shivering or discomfort.
Reduces smell and mess – waterproof coat keeps dog's fur clean and less messy. The material repels dirt, water, and mud. This saves plenty of time as you won't have to clean and dry your dog after every walk.
Provides safety – many waterproof dog coats have reflective and bright colours which help with visibility. So, when there is low light in the surroundings or at nighttime, the dog is easily spotted because of such colours.
Drawbacks of using a waterproof coat
Needs regular maintenance – the coat needs to be washed regularly and kept dry. Otherwise, the coat may lose its water-resistance capacity and breathability.
Get torn or worn out – if the coat is put at extreme temperatures or exposed to some chemical then, it can tear or damage the waterproof coating. So, it needs to be stored in a cool or dry place.
Nor suitable for every weather – many waterproof coats cannot sustain extreme heat or cold temperatures and require extra layers beneath to provide warmth and insulation for repelling dirt and water.
Fitting issues – different brands have different measurements and designs. Sometimes a coat is too tight or loose for dogs and this fitting issue can also cause discomfort or irritation for them.
Tips to maintain a waterproof coat for a dog
Looking at the drawbacks you are probably wondering how to manage the drawbacks and make sure that the waterproof coat of your dog functions longer. Following are some of the tips that you can consider to manage and maintain the condition of your dog's waterproof coat:
Wash it – you need to wash the coat regularly and make sure the dirt and debris are removed from it. Because if they get stuck in the coat, it will reduce the resistance and breathability. You can use bleach, fabric softener or dryer sheets for cleansing purposes. Check out the instructions mentioned by the brand before using such products.
Dry the coat – you must dry the waterproof coat after every wash. Use a low-heat setting on the dryer and dry the coat. Avoid setting high temperatures as it can compromise the integrity of the cat and it may lose its strength. Also, don't use iron or dry clean the coat, it can cause severe damage to the coat.
Store at the proper location – if you are washing the coat properly, keeping it dry, but, not storing it properly then it's of no use. Store the coat in a cool or dry place, and make sure you are not compressing or folding the coat. Use a hanger to store the coat or simply lay it down in your closet or drawer avoiding sunlight.
Repair the coat – using the coat for a long time will certainly cause some holes and tear the material slightly. Thus, make sure you patch up those holes to prevent a complete tear-off of the coat. You can use a waterproof patch kit for repairing such holes and repair the waterproof coat.
FAQs
How to pick the best waterproof dog coat with legs in the UK?
For picking the best waterproof dog coat you need to analyse the following prospects with respect to your dog – their measurements, shape, and breed. Further, you need to also have a peek at the coat's features and functionalities in detail. The coat must have proper material that repels water. Also, look for harness holes, and removable legs in the coat as per your requirements.
What is the general cost for a waterproof dog coat in the UK?
The general cost of a waterproof dog coat in the UK ranges from £10 – £70 and more. There are many factors that influence the prices of waterproof dog coats. The size and shape of the coat, quality, material, features, functionalities, and brand reputation decide the price of the coat. However, the cost of these coats doesn't indicate their effectiveness, you need to pick one which suits your dog.
How to maintain and clean a waterproof dog coat with legs in the UK?
To maintain and clean your waterproof dog coat with legs, you need to make sure you follow the tips and instructions mentioned in the product. Other tips mainly involve using a mild fabric softener, or detergent and washing the coat properly. For maintaining the quality of the coat, avoid using substances like bleach, and tumble, also don't iron it for drying purposes. Store it in a dry and cool place avoiding extreme sunlight exposure.
Are there any health hazards for dogs if using waterproof dog coats?
Waterproof dog coats are beneficial for our dogs in rainy or snowy conditions, they surely pose some health issues as well if not used wisely. Overheating, Snagging or choking, and Skin irritation are some of the health hazards of using these coats. Overheating is caused when a coat is too heavy and thick. Skin irritation or infection happens when the material of the coat retains rough materials of synthetic materials in them. Lastly, choking can occur if a dog accidentally ingests the buttons, hooks, or cords of the coat.
Final Remarks on Best Waterproof Dog Coats With Legs UK
Waterproof dog coats with legs are useful for keeping dogs comfortable during rainy, snowy, warm, and extreme weather conditions. But, you need to make sure that you pick the one which is suitable for your dog and matches their body measurements. The list curated in this article is an attempt to help you find the best waterproof dog coats.
The best picks are based on different factors like size, shape, material quality, features and functionalities of the coat. In addition, I have also tried analysing different preferences and breed types for better recommendations.
In conclusion, I hope that you found the product you were looking for. But, make sure you examine your dog's body measurements and then pick the waterproof dog coat for your furry friend. Conduct a thorough assessment of the perks and drawbacks of the coat and pick the one that feels best for your dog.