Taking out time of your daily busy schedule to walk your dog is really not possible for a long time, but you want the best for your dog and then you wonder how much dog walkers charge.
It is a genuine question as many things depend on their charges like, their services, duration of walks and above all quality of the dog walker as you are leaving your precious dog with them. 🐾🐶
In this article, we will explore various factors that it will be easy for you to determine. And decide on which dog walker to approach to walk your precious dog's paws!
You Might Also Like:
Julius-K9 Colour and Gray Fur Collar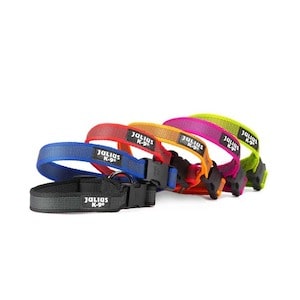 PoyPet No Pull Dog Harness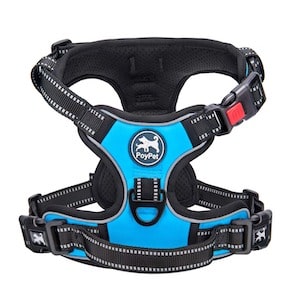 IOKHEIRA 5FT Strong Dog Lead No Pull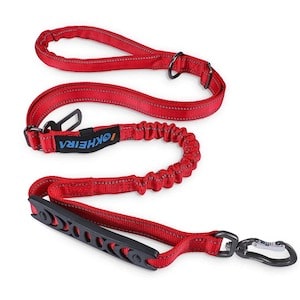 How Much Do Dog Walkers Charge?
Dog walkers walk dogs for clients and follow agreed-upon routes and schedules. They provide food and water and dispose of waste products. They provide companionship during work hours or vacation absences as well.
However, the rates may vary depending on the city, the number of dogs, the frequency and duration of the walks, and the qualifications and experience of the dog walker.
North America: In North America, dog walkers approximately charge an average of $20 per 30-minute walk and $40 per hour-long walk.
Europe: Dog walking prices per hour can vary a lot depending on the UK region. The typical range is £12 to £25 per hour. Some dog walkers may offer discounts for regular or long-term bookings, or for multiple dogs.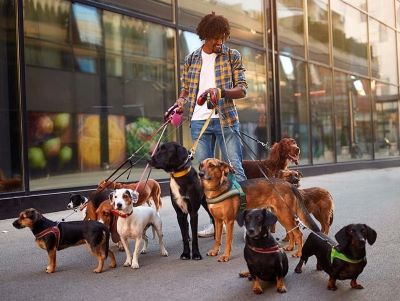 Asia: Depending on the various countries around Asia, dog walking charges vary from $25 to $35. That is relatively low in other Asian countries.
Australia: Dog walkers charge an average of $20 to $50 per hour in Australia. This may vary depending on the region, the size of the dog. And also the demand for the dog walker in that specific region.
Factors Affecting Dog Walker Charges
Dog walkers often carry supplies like poop bags, treats, and water in a dog walking bag, which can add to their costs. Quality dog walking bag UK typically range from £15-£30. Just like the quality of the dog walker, there are some more factors that affect the charges, Here are some of them:
Location
Dog walking charges are influenced by the location of urban or suburban areas a lot. In high-population areas, demand for walkers leads to high prices. There are fewer green places and limited space.
In suburban areas which are comparatively more open, greener and less populated, such factors tend to lead to slightly lower prices. Cost of living also affects charges, the higher the cost of living higher the price of walking a dog.
Duration of the Walk
Out of many other factors, the duration of the walk is important. General walk ranges between 20 to 60 minutes. Shorter walks are typically less expensive and suitable for elderly dogs.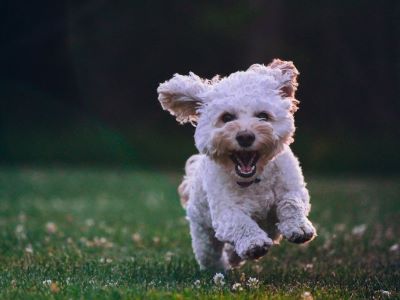 Brandi Hunter at American Kennel Club says, "Whether you have a dog that's a couch potato or an active pup, it's important for all dogs to receive exercise and mental stimulation, If you work long hours or are physically unable to give your dog the required exercise, you may consider hiring a dog walker"
You may choose duration as per your dog's need, duration and exercise requirements that align which your budget.
Frequency of Walks
Pet parents that are occupied with their work schedules should choose the daily walk option as it will require consistent commitment from the dog walker that can lead to discounted charges to encourage long-term arrangements.
Some may don't require frequent services, this can lead to slightly higher charges due to uncertain schedules.
Number of Dogs
As handling multiple dogs require more effort, attention, and responsibility, this can lead to higher prices per dog. On the other side, there are some dog walkers who offer discounted prices due to multiple dogs as a cost-effective option for owners with multiple dogs.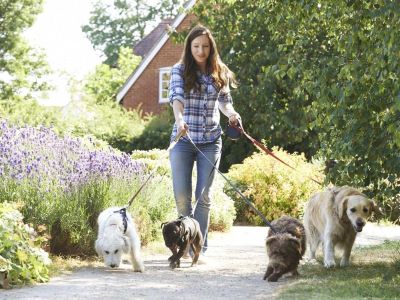 Dogs can enjoy socialization with fellow canines while exploring the neighbourhood. Such walks can be fun and active adventures for dogs, making it a reasonable situation for both pets and owners.
Time of Day
You can also rationalize the prices according to the hour of the day. Peak times such as early mornings or evenings, lead to higher charges.
Fewer peak times, mid-day might offer lower charges due to less demand for walks during these times. They may also offer some discounted prices according to the holiday or weekends.
Types of Dog Walking Services
Charges for walking services differ according to the type of walk, let's see some of them:
Individual Walks: Some dogs like all the attention alone for them individual walks allow the dog walker to focus entirely on a single furry client. This can ensure the dog's specific needs and engagement in activities that match the dog's energy level and interests.
Group Walks: Perfect for sociable dogs, group walks provide a lot of socialization as dogs walk together in a pack. Group walks are often more cost-effective since the charges can be shared among multiple pet owners.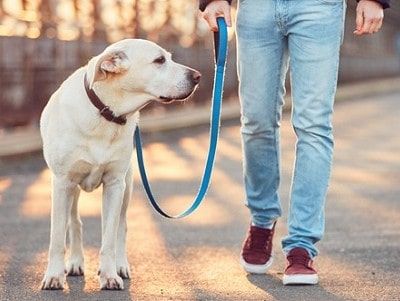 Additional Services: Some dog walkers offer additional services like pet sitting, where they care for the dog at the owner's home, ensuring they feel comfortable and safe. Training reinforcement during walks helps reinforce good behaviour, while grooming services like brushing or cleaning, provide a complete for busy pet owners.
For tips on beginning your own dog walking business check, how to start a dog walking business.
Other Cost Considerations
As we are considering the cost of walking your dog there are some more factors to take into consideration, here are some of them:
Experience and qualifications of the dog walker: The experience of the walker surely affects the charges. With more experience comes more training leading to higher prices. As they might be more equipped to handle situations that are rather tough with some dogs.
Bonding and insurance coverage: The bonding between the dog and the walker is essential which is a pet parent's duty to make sure. This will protect your dog from any unwanted event.
Reputation and reviews: Check out feedbacks and reviews of the dog walker you are choosing for your dog. Prefer to connect with someone who is already walking some other dogs A good feedback and review makes a dog walker trustworthy and reliable with your precious dog!
Additional services or perks offered: Look out for extra services and perks they are offering this may impact the overall cost.
Special needs or requirements of the dog: If your dog has any certain needs or requires specific care, the dog walker may adjust the charges accordingly to adapt to those needs.
Length of commitment: Consider how often you need a dog walker – whether it's for a one-time walk or on a regular basis. Some dog walkers offer discounted rates for long-term commitments.
Tips for Negotiating and Getting the Best Value
While we are considering so many factors before choosing a dog walker for our dog than followings are some tips that will help you:
Research local dog walking rates: Start by researching the average rates for dog walking services in your area. This will give you a better understanding of what to expect and what to avoid.
Ask for recommendations or referrals: Ask for suggestions from friends, family, or fellow pet owners who have used dog walking services. Personal referrals often lead to trustworthy and reliable options.
Request a trial walk before committing: Before making a long-term commitment, ask the dog walker if they offer trial walks. This allows you to survey how they interact with your dog.
Consider bulk packages or subscriptions for better rates: Some dog walkers offer discounted rates. If you expect to need their services regularly, this can be a cost-effective option.
Check for promotions or discounts: Keep an eye out for any ongoing promotions or discounts that dog walkers may be offering. It's a great way to save some money while still getting top-notch service.
Discuss customized services and pricing: Don't hesitate to consult your specific needs and priorities with the dog walker. They may be willing to customize their services and pricing to adjust your needs and budget.
FAQs
How Do I Determine if My Rates Are Competitive With Other Dog Walkers in My Area?
You'll need to conduct some research to find out if your fees are reasonable compared to those of other dog walkers in your neighbourhood. Look for any differences in services or experience level that can justify a higher or lower fee by comparing your prices to those of other businesses in the region.
What Is the Best Price to Charge for Dog Walking?
On average, a walk of 15 to 30 minutes costs somewhere between $15 and $25. A walk of 45 to 60 minutes costs between $30 and $40 on average. A larger dog usually requires longer walks of at least 30 minutes.

How to Start a Dog Walking Business?
Research Your Market. Calculate Startup Costs. Gain Skills and Experience. Register Your Business. Know the Rules and Regulations. Get an Animal Boarding License. Decide Your Pricing.
How Long Can You Leave a Dog Alone?
The length of time a dog can be left alone depends on the individual dog but we advise that they are left for no longer than four hours so they have opportunities to exercise, go to the toilet, and spend time with people.
Is It Okay to Walk My Dog?
Most dogs need to be walked at least once each day, though some dogs, particularly very active dogs, may require more. The breed of dog you have, as well as its level of fitness and age, will also determine how long and how vigorous your walk should be. A walk can make a dog very happy.

Why Do Dogs Lick You?
Licking is a natural and instinctive behaviour for dogs. For them, it's a way of grooming, bonding, and expressing themselves. Your dog may lick you to say they love you, to get your attention, to help soothe themselves if they're stressed, to show empathy or because you taste good to them!
Summary
In conclusion, the dog walking charges may differ according to the location, population and requirements. You should take into consideration all the points mentioned above. And decide according to your dog's needs, your budget and schedule.
There are plenty of options available. Ultimately, it all comes down to investing in someone that is reliable and will make your dog happy! 🐶🐾
If your dog has a condition like kennel cough, you may be wondering if walks are still possible. With care and planning, walks can be done without posing much risk of contagion. Check out "Can I Walk My Dog With Kennel Cough" for guidance on handling walks with an infectious dog.