Starting a business is a dream of many. But at the same time, starting a business is not like wandering in a garden. When your business idea actually requires a street or garden walk, still it doesn't make anything easy. It requires an enormous amount of effort, dedication, and perseverance. Once you have those things in your blood, then you have crossed halfway to success.
People should find a way to earn a living between their skills and their passion. Whereas, If you like dogs and you are capable of dealing with dogs then congratulations, what more do you need? If you are planning to go into the dog walking business, then you have to get some basic knowledge and need go through some necessary steps.
Before you start any business you must be aware of the fundamentals of business. Like Market Research, Business planning, Legal and Regulatory Compliance, Financial Management, Marketing and Promotion, Operations and Logistics, Human Resources, Customer Relationship Management, Technology and Innovation, and Adaptability and Continuous Improvement.
In this article, we will show you how to start a dog walking business and also things to consider. Let us start
You Might Also Like:
Dog Collar and Lead Set by Pumila EU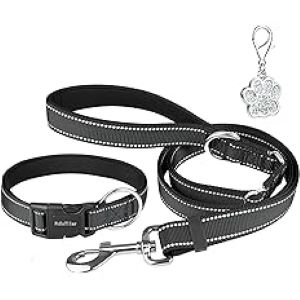 Doggy Dobby Dog Treat Training Pouch Bag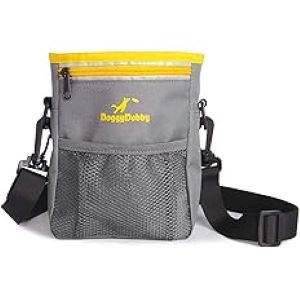 Poo Bags Holder by Acute Business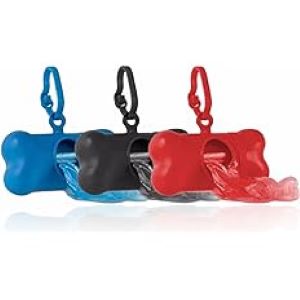 How to Become a Dog Walker
If you have an entrepreneurial mindset, then you must know what aspects of the business you will have to face. But if you do not know about it then I do not want to demotivate you but you can say it is a hard climb but the view from the top will be worth climbing.
The only thing you need to keep with yourself is your passion for dogs and hunger for money. Let's get started.
Start a Dog-Walking Business by Following These Steps
If you want to know how to become a dog walker then we will go step by step and try to cover all the factors of business.
Research and Planning
Anyone who wants to do business must have imagined it in his mind before applying it in real life. "Imagination is greater than knowledge," said Albert Einstein. But to make it happen you have to convert your imagination into reality.
The first step after getting an idea for a business is to dive into it mentally. This means you should do thorough research.
The research will help you to know the reality of a business and also help you to know the market trend.
Also, it will give you a birds-eye view that what exactly you want with your business and what you should avoid,
Finance also plays a very crucial part in business and to conduct any business you require finance, which can be known by doing detailed research on the business.
Knowing your competitors is very important in any business to know their approach to conducting a business and target audience. That could be done by research.
The Blueprint of business will also give you an idea to manage it in the most suitable and effective manner.
Looking at competitors will give you more idea about what facilities and services you should provide to your future customers.
We all know that when you want to go somewhere, you either know the way or you need a proper map. In the same way, while conducting business you need a map or blueprint of the business plan to make it successful.
Making an outline for your business will also give you a clear vision of the future and what you should do next in a few months or years.
Legal and Business Considerations
If you want to do business, you have to compile with the government and its terms and condition for running a business. In case you miss any legal requirement then you can face some strict actions from the government.
This will lead to so much trouble as it can result in ruining the business image in market penalties, fines, or even the closure of your business.
Permits and Licenses:
Government and the customers need a legal license from you to identify general business licenses, professional certifications, health permits, zoning permits, or industry-specific licenses.
For that, you need to visit a consultant, lawyer, or government body that is permissible to give you these licenses. you can also do research online on government websites.
Note: The first step is to register your business with legal terms and conditions.
Business Structure:
Decide which business structure you will be going to have. Because every structure has different kinds of legal requirements and tax breaks. You need to see under which structure of the business you will conduct your business. Like sole proprietorship, partnership, limited liability company (LLC), or corporation.
To decide visit a consultant, lawyer, or government body, so they can help you to decide which is the most suitable structure for you.
Contracts and Agreements:
From day one, you must do all the legal contracts in writing. Never trust any oral contract as in case of any legal action you must have proof to fight over. To protect your rights the contract must be simple and understandable for both of the parties.
Things like terms and conditions of your relationships with clients, suppliers, employees, or contractors. This includes client service agreements, vendor contracts, non-disclosure agreements (NDAs), and employment contracts that must be done under the supervision of an expert like a consultant or lawyer.
Intellectual Property:
When you start a business, the property will not be limited to your office only. There are non-tangible assets like trademarks, copyrights, or patents. You need to properly manage all these and also register that property without missing it.
In the dog walking business mostly, you need to be careful for the name of your company should not be identical and cannot be the same as anyone already existing.
Tax Obligations:
As a responsible citizen of the United Kingdom, You should be a regular taxpayer and it also applies when you are a business person. Tax is not only your responsibility but also a duty.
Once you register your company under the legal norms, you are eligible to pay taxes to the government. In this case, a certified accountant or tax professional can help you.
These are some very important factors that can lead you towards the smooth success of the business.
Get the right insurance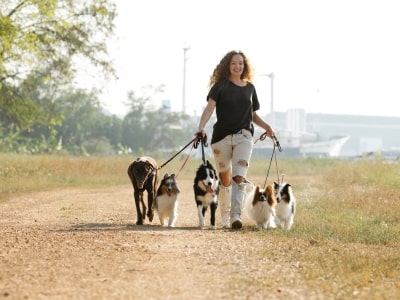 Even the smallest business requires insurance. Especially when the business is about walking a dog. Fine or penalty when a dog either bites or destroys property is very high in the UK. Most people cannot afford that cost.
According to Express Solicitors "based on historical cases, dog injuries have been awarded these amounts for specific injuries:
Minor hand injuries: up to £4,500
Loss of part of a finger: up to £7,400
Serious hand injuries: up to £58,000"
Business insurance might not be compulsory in some states or towns, but it is more necessary. In case of any incident, it can save you from huge losses. Therefore, I would suggest you have business insurance.
As I said when you are working with dogs in public places, insurance is no more option for you. There are a number of agents and consultants who can provide you with legal insurance for your dog-walking business.
Building Your Brand
Let's talk about particularly dog walking business. Giving satisfaction to your customers, and managing your supply of dog walkers from time to time is enough for 50% of marketing. In a small business or start-up, you do not spend a lot just to market your brand. Instead, you just need to provide the best facility, and word-of-mouth will work for you.
For free marketing, the first step you can do is to make a website of your brand. Ensure that website is representing everything about your service like our experience, the area where you're operating, pricing, and methods for prospective customers, people's reviews.
The website is so cheap and easy for you to maintain. Also, you can add social media for a dog walking business so people on social media can also know about your dog walking business. The key to marketing your brand is in service and humility.
When building your brand, it's important to set competitive pricing. Do some research to determine how much to charge for dog walking uk?
Operations and Service
After all the planning, before the execution, you need a proper schedule and method of providing service. Decide the area where you will going to provide your service.
You can start by deciding the route and boundaries for each and every dog walker. This will ensure that the dog timely finishes his walk without compromising the distance.
Moreover, the best service you can provide is to have the application of your company. By using that application, people can schedule their time to walk, book their appointment, and also check the live location of their dog walker.
Additionally, you can have software where you can manage the data of your customers. Where you keep the records of different packages and payments.
It is very crucial for you to know every dog. It is because every dog is different and they can behave differently from other dogs as well.
If you keep a system where the customer has to fill the form in which he needs to give essential information about the dog, including medical history, emergency contacts, and any specific care requirements. This will make it easy for you to make the service smooth with zero accidents.
When you are a provider of any services, you will be expected to have the best quality equipment. Most importantly, you should have leashes, waste bags, gloves, and a first aid kit.
Equipping your dog walkers with best dog walking bag uk that have compartments to carry all the necessary supplies is vital for efficient operations.
Also, the team you are working with, especially all the dog walkers must have to go under the procedure of handling emergencies. You can do it in your training part. where they need to follow some protocols
Client Management and Retention
Remember " If you give enough, you will get enough". You can use the technology now, so why not? If you provide pick-up and-drop notifications to every customer through the application, then even if they are not at home check that. They can stay wherever they are without stressing out.
You can keep a team that responds to your customer service 24/7. This will really be the heart of old and new customers because they do not need to wait for the information.
As I said earlier, you also need to keep records of your customers. Because people are not good at remembering these kinds of things. So, either they ask you or you just remind them about their package, dog status, updates, offers, and many other things.
According to me if you just consider these things before and after starting your own dog-walking business, your probability to get succeded will automatically increase. Therefore, you just keep hustling and try to do your best with keeping things neat and clean.
Risks of starting a dog walking business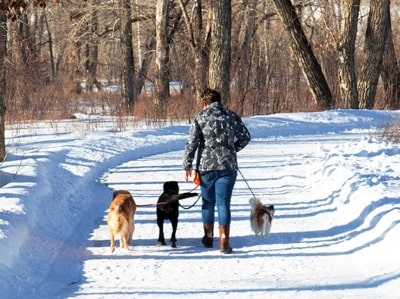 Beyond doubt, the dog walking business has several positive sides but as we know a coin has two sides. There are some potential risks that can be prevented only by taking more care.
Every dog is different. Even dogs from the same bread behave differently. So while, handling dogs, if the walker does not know how to deal with every dog, then it can put the public and himself at risk.
Sometimes even the calmest and most well-behaved dogs also behave very indiscipline. In such cases, if the dog walker is not well trained then it might be a threat to your company. To prevent that you should train every dog walker properly.
When you are working with any animal, you should take care of your health and hygiene. The ratio of dogs with diseases or parasites is very high. If you keep a first-aid kit and plastic bags and gloves with you, then it can prevent the spread of illness.
It is very very important to know the requirement of your client. It is possible that the service you are providing is lesser than the expectations of a client. In such cases, they can get disappointed with your services. Therefore, it is best to know your client's requirements.
FAQs
Do I need any qualifications or certifications to start a dog-walking business?
No, there are no specific qualifications or certifications to start working as a dog walker. But it is best to have some skills of first-aid for animals and about how to handle dogs. And if you are taking multiple large dogs on a walk then it is better to have a good physique.
How much should I charge for dog walking services?
Pricing of dog walking services varies from area to area. Also sometimes it depends upon the type of dog and the number of dogs. You should first do research online and in your area. As there are no specific rates for all.
Should I have insurance for my dog-walking business?
There is no such rule to have insurance for dog walking businesses, but at the same time, it is highly recommended to have liability insurance. In case of injury, accident, injury to the dog, or damaged property the insurance will provide the coverage. The insurance consultant will help you to decide which type of coverage you need.
How many dogs can I walk at once?
How many dogs you can take at once is depend upon the location. Every state has different regulations for it. But I would suggest that as a dog walker if you take only that much number of dogs at once which you can handle, supervise, and control. If you have more dogs than your capacity then it will end up hurting you and others.
Final Words
According to Statista "This means that approximately 33% of UK households own a dog, making them the most popular pet, ahead of cats at 12 million or 27%. The UK has the second-largest dog population in Europe" That means the dog walking business is a great way to earn money.
There are many things to consider before starting a dog-walking business, once you take care of the fundamentals of the business which I have mentioned above, you are very near to a successful dog-walking business as you know how to start a dog walking business. All the best for the future dog-walking business, and we wish that you make the best dog-walking business.
Just remember to stay within the legal limits on how many dogs can you legally walk at once uk based on your local regulations.